GREECE FAMILY HOLIDAYS GUIDE
Get up and go on a family holiday in Greece that alternates between activities, ancient sites and beach time on the mountainous mainland or an Aegean island. Joining a small group of families is great for making new friends and sharing experiences as well as enjoying plenty of quality time alone. Instructors and guides will show your family their homeland as they invite you to go white water rafting, sea kayaking, hiking or mountain biking from Nafplio and Tripoli on the Peloponnese, or Pefkos and Rhodes on the island of Rhodes.

We know the beach is brilliant but put your family in the hands of local hosts and activity instructors and you'll discover Greece, and each other, from a whole new perspective.

Our Greece family holidays guide also includes ideas for self catering on the island of Ithaca where your family will discover shooting stars, sea cucumbers, saltwater infinity pools and Mal's amazing early morning waffles. Sailing, snorkelling and water parks in the school summer holidays or horse riding, cycling and the ancient city of Sparta during spring or autumn half terms; whenever you can get away, get away to Greece.
Our Greece family Holidays
WHAT DOES A GREECE FAMILY HOLIDAY ENTAIL?
Small groups
Most of our family holidays in Greece are multi activity holidays for small groups. This gives children a chance to try new things and hang out with new pals as well as enjoying quality time with parents. For the grown-ups, small group holidays take the stress out of constantly finding things to do. These trips give everyone a chance to join in and try new activities, or visit out of the way locations. The Peloponnese has some great activities for families, such as white water rafting on the Lousios River or cycling around the archaeological sites of Arcadia. Rhode, meanwhile, offers water sports by the beach and the largest water park in Greece. The balance between free time to do your own thing and activities to enjoy as a group works brilliantly.
Tailor made
If you're looking for a much more personalised picture of the Peloponnese or the Pelion Peninsula, a tailor made holiday will definitely fit the frame. Hire cars or transfers can be arranged, a local tour guide will show you the sights, and you can tailor an itinerary to your exact specifications. Good news for families looking for an experience based around their interests – be they educational, active or a blend of both.
Family multi activity holidays
Multi activity holidays typically include trekking, mountain biking, river rafting, sea kayaking and perhaps sailing, snorkelling or scuba diving. This can be dependent on when you visit, of course; water sports by the beach are better suited to the summer holidays, while hiking and biking are much more comfortable in spring and autumn. You'll also be invited to discover traditional Greek culture. Sign up for cooking classes or find out how olive oil is made. Visit some of the world's most important archaeological sites, including ancient Olympia, Mycenae, Epidaurus, Sparta and the Acropolis in Athens. Classics and ancient history lessons have never been so interactive.
Group leaders
Group leaders, tour guides and activity instructors are amazing, and experienced in the art of gently encouraging kids, and adults, to join in without them even noticing. This is not PGL with a British teen teaching you and your kids to windsurf from behind dark sunglasses. Local people run the activities and know the region, the activities and weather conditions, inside and out.

"I was happy that the trip was organised by a local firm, and we worked with several other local companies who provided the different activities. Language was never a problem, and their knowledge of the area and of local history was really valuable." – Rebecca Sutherland in a review of her Peloponnese family holiday
Accommodation
On the Peloponnese you'll stay in small, locally owned hotels in the seaside town of Nafplio and the larger, centrally-located Tripoli. These locations are ideal for enjoying ancient sites and mountains for the first half of the holiday followed by beach time and water sports during the second half. On the Aegean island of Rhodes, small hotels in places like Pefkos and Rhodes town offer unique insight into local lives as well as easy access to a wide range of activities and ancient sites.
Self catering holidays
Self catering holidays in Greece are ideal for families who prefer to do their own thing, or perhaps those with younger children. A villa on the island of Ithaca, for example, invites families to become immersed in life on a luxury estate surrounded by organic olive groves, herbaceous gardens and a privately owned pine forest, complete with sandy trails to the beach and local taverna. Self guided cycling and walking routes offer excuses to explore, while back at base, a salt water infinity pool, outdoor massage pavilion and a resident chef all open up a whole host of options to enjoy in your own time.

With four villas on the estate you'll also be able to interact with other families if you wish, as well as helping out with the chickens and chatting with your hosts over a morning coffee. And before you worry about your kids causing chaos while couples are trying to enjoy the peace, don't worry; dates are arranged at different times for families and for adults only. This might also be worth bearing in mind if you can get a cheeky week off sans enfants… just a thought.
Our top Greece family Holiday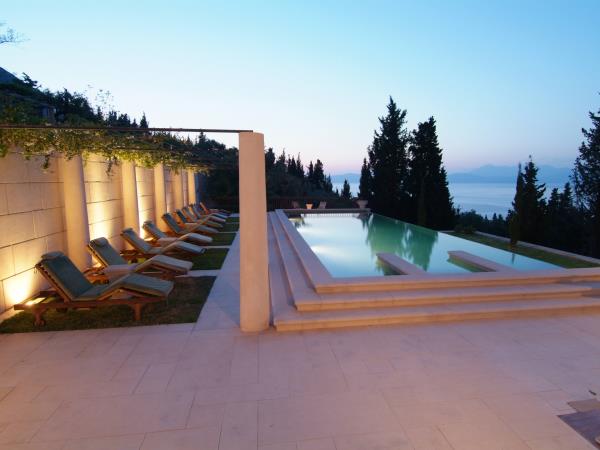 Organic country estate by the sea on Greek island of Ithaca
From
€1425

to

€2600
per person per week
Accommodation
If you'd like to chat about Greece family or need help finding a holiday to suit you we're very happy to help.

BEST TIME TO GO ON A FAMILY HOLIDAY IN GREECE

Greece is popular for the sea but it has magnificent mountains, too, which are ideal for small group family tours in the heat of July and August.

The Peloponnese, especially in the river valleys and mountains, provide an exciting summer holiday alternative to busy beaches and islands. Easter is ideal for walking, cycling and archaeological sightseeing although white water rafting and sea kayaking might be a bit chilly. May and June half terms are great for spring flowers and island hopping, whilst October half term is super for sailing, and sea temperatures are still warm. Although many holiday resorts pack up in the middle of October, Christmas in Greece, as a family, brings peace, quiet and blue skies, worth bearing in mind if you're fans of self-catering.
WHEN TO GO TO GREECE WITH KIDS
Christmas school holidays are a great time to visit archaeological sites around Athens and the Peloponnese. Just don't expect activity centres to be open on the islands, or around the mainland coast. Ferry crossings can also be very choppy if you haven't got your sea legs. Easter, in late March or April, is taken seriously by the Greeks with shops and restaurants closing for celebrations in many mainland towns and cities. Prices can rise at this time of year; however, in the countryside, families will find pine forest trails and ancient temples without another soul in sight. May/June half term is a great time to go on a Greece family holiday, especially if you're looking to visit ancient sites or go hiking and mountain biking inland. White water rafting is a lot more bouncy and bumpy at this time of year, so make sure to hold on tight. School summer holidays are the best time to go on a Greece family holiday if you like warm sea water, blue skies and endless evenings outdoors. It will be hot, hot, hot, especially in July/August. Swimming, kayaking and snorkelling in the sea are great ways to cool off but just make sure kids, especially, are covered up if they're spending time in the sun with little or no shade. Greece really comes alive in the summer – local kids have three months off – with seaside towns exuding energy as communities embrace the influx of families and holiday makers looking for a break at the beach. If you're looking to avoid the crowds, head into the mountains of the Peloponnese for white water rafting or join a small group seeking seclusion by sea kayak. Our tour operators will show families alternatives to crowded coastlines in the school summer holidays. Autumn half term is a lovely time to go to Greece as a family as sea temperatures are still warm and skies are still blue. Just be aware that many of the coastal resorts will be shutting up shop for the winter and small group activity trips might not be running as you pass from October into November and December.
More about Greece family
If you're bored of beach breaks or tired of island isolation then why not discover where to go on a family holiday in Greece that will let you explore and have fun from a whole new angle.
Family activity holidays in Greece are a great way for kids and adults to have fun in the sun as well as making a few new friends along the way.