8 Tips for Nature & Climate-Friendly Holidays
As the COP26 Climate Summit draws to a close the message is sobering. Our world is in crisis and we all need to do more to curtail the quantity of carbon we're sending into our atmosphere and increase our protection of nature – which
absorbs over half
of our manmade carbon emissions.
But what does this mean for you? It can be difficult to make a change in our lifestyles and travel habits when we're not clear what is being asked of us. Here are Responsible Travel's tips on how you can best support climate and nature when you travel. Most won't make your holiday more expensive, but they will enrich your holiday and get you closer to local people and wildlife. You'll cost the planet less too.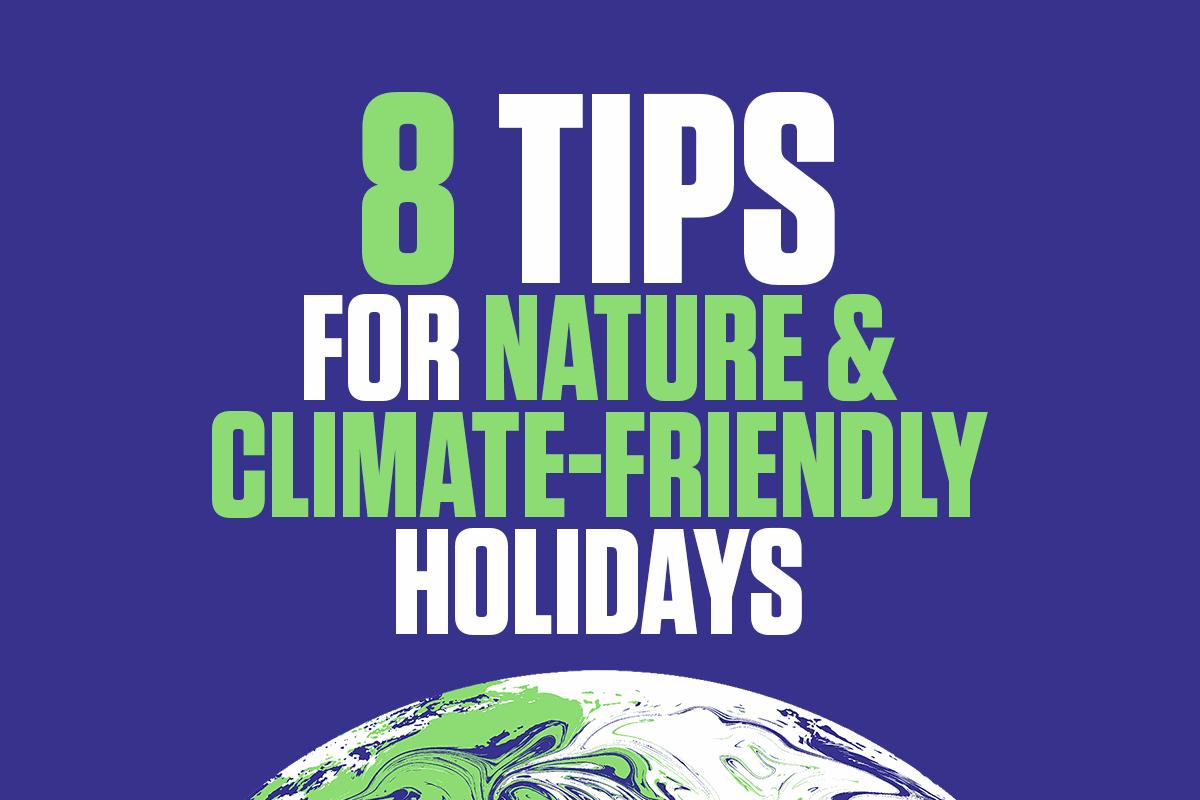 Fly Less & stay longer
We believe that paying to offset the carbon in your flights is a dangerous distraction from the simple truth that we all need to be putting less carbon into the atmosphere. Instead,
fly less, stay longer in your destination and make sure you're supporting local communities and nature when you do.
It's why from January 2022 we won't be selling any holidays with internal jet flights under one hour. This has benefits for you tooWe think this style of travel makes for a more memorable and enjoyable holiday experience and our customers agree with us. You'll still be travelling for the same amount of time, just with less flights and more time to relax and unwind in your destination.
Choose a Responsible Tour Operator
When you do fly, make your holiday count.
Responsible tour operators ensure that their holidays bring tangible economic and social benefits to people living in your destination – whether through employing local guides, staying in locally-owned hotels or supporting community development projects – and support conservation, deliver rewilding projects and enhance wildlife protection. All
holidays with Responsible Travel
have to show what benefits they offer to local people and the planet.
Choose a Nature Positive Holiday
Half of manmade carbon emissions are sequestered by nature – our soil, grasslands, forests and oceans
If we don't protect nature we won't reach our climate goals
, and yet nature is being destroyed at a devastating rate. Since 1970 the world's wildlife populations have
plummeted by two thirds
. Whenever we travel – whether it's on safari or a city break to Barcelona – we rely on nature and can adversely impact upon it. Nature positive holidays address the five key drivers of biodiversity loss - land use change, pollution, over exploitation of resources, climate change and the invasion of non-native species – and leave behind lasting benefits for wildlife and habitats. Look for holidays that go beyond minimising damage and actively support rewildingprogrammes and conservation projects - there are already lots on Responsible Travel and we're committed to becoming 100% nature positive by 2030. They might also offer plant-based meals or use renewable sources of energy among other actions.
Read more about nature positive tourism and what it means to you here.
Choose a More Plant-Based Diet
It has been reported that
switching to a plant-based diet could reduce carbon emissions caused by food production by up to 70%.
When you make the choice to
eat a plant-based diet on holiday
, particularly one which focuses on local, seasonal produce -you're doing your bit to stop trees coming down in Indonesia or the Amazon to make way for intensive meat production.
Travel by Rail
It's not always possible, we know, but
choose trains over planes in regions – like Europe – which have good rail connections
. Alternatively, look for bus links or use local taxis to get you where you need to go. On safari holidays, you'll find more and more opportunities to choose electric vehicles over petrol-powered jeeps too. What's more, travelling over ground can make the journey as much of an experience as the holiday itself. Read what Responsible Travel's Anna Rice, who travelled around the world without stepping foot on a plane once,
has to say about the overland experience.
Be People Powered
We think one of the best ways to explore in your destination is by
bike
or
on foot
.
Not only is it low impact on the environment but it gets you closer to the place you are visiting
. You'll experience more of the unique, small details that make your destination special, eat more locally-grown food, meet more memorable people and become more a living part of the landscape than when you whizz through it on an anonymous air-conditioned coach.
Spend Local
Whether we like it or not, decisions about land use - whether it's preserved for wildlife or used for logging, agriculture or industry – are financial at heart.
Tourism can play a vital role in demonstrating the economic benefits of reserving land for nature
. So, make sure your money is going directly into the local community to ensure tourism is a viable alternative to more destructive land uses. Choose local guides, stay in locally-owned accommodations, and opt for locally-owned restaurants over international chains.
Fight for Lower-Carbon Aviation
We advocate flying less, but to be truly sustainable the future of aviation needs to be low-carbon.
Email your MP to lobby for a Green Flying Duty
, a reformed version of the UK's Air Passenger Duty that would be ring fenced for investment into low-carbon fuels and cheaper, better rail connections. You can also push for a fairer tax on global aviation fuel, with frequent flyers, those in business and first class and short-haul flights taxed more heavily in order to fund the development of sustainable fuels and low-carbon aviation technology.