Responsible Travel goes to the Arctic Circle
One of the most exciting things about working at Responsible Travel is getting to learn how other organisations, companies and campaigners around the world are working to promote responsible tourism in different ways, and to raise awareness in their own countries and communities. As a company, we love to lead the way in promoting responsible tourism – but we also love to know we are part of a far bigger movement that is growing in size and influence every day.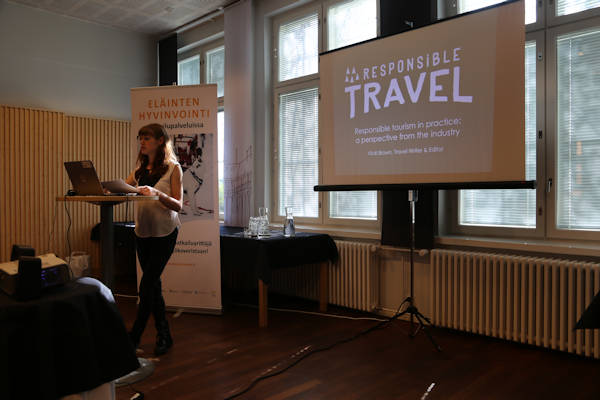 Vicki Brown discussing animal welfare. Photo credit: Karoliina Majuri
In June 2017 I was invited to a seminar on animal welfare in tourism by the University of Lapland, based in Rovaniemi,
Finland
. Rovaniemi is famous for being the home of Father Christmas – although just a few days shy of the summer solstice, with 24-hour sunlight, newly green forests and Finns cooling off at streetside cafes with ice creams, it looked far less festive than I had imagined! However, while Santa's elves may have headed off on their holidays, the reindeer remain a fundamental part of life around the Arctic Circle all year round. They play an important part in local livelihoods – their meat, hides and antlers are all used – and they are an essential part of local tourism. So, too, are huskies, which were not traditionally used in Finland, but have become popular in recent years as tourism has grown rapidly and visitors want to take
dog sled rides
through the Christmas card scenery each winter. Across the region, husky farms have sprung up, with anything from around 50 to 500 dogs.
At Responsible Travel, husky sledding is one of our most popular winter activities. Customers sometimes question the ethics of "forcing" dogs to pull sleds; although the truth is that the huskies, like all working dogs, are unbelievably excited by their "work", and bark in anticipation as soon as they catch a glimpse of the sled. The real concern, I learned in Rovaniemi, is what happens to the dogs when they are not working. Husky sledding is a highly seasonal activity, offered for just four or five months of the year – yet the farmers must feed and care for the dogs all year round, paying staff and vets to look after them, and ensuring they get enough exercise through the snowless summer months.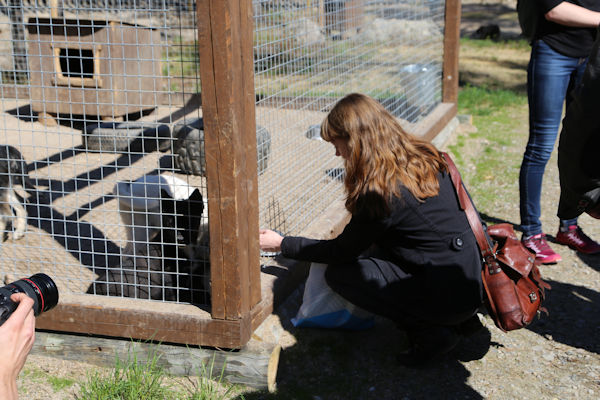 Vicki Brown with husky pups. Photo credit: Karoliina Majuri
Currently, the legal standards for the welfare of these animals are minimal – something which is being challenged by the researchers at the University of Lapland, as well as by responsible husky tour operators such as Hetta Huskies. This superb company
won the Gold Award
in the Animal Welfare Initiative category in the 2015 World Responsible Tourism Awards for their tireless work to educate husky farmers and local communities, as well as to rescue and rehome huskies.
Another big concern at the seminar was the Catch-22 situation of the increase in tourist numbers in what is promoted as a wilderness area. Finnish Lapland is one of Europe's last great wild places – densely forested, home to bears, wolves, and elk, and with a population of just 180,000 people in an area measuring over 100,000km2. This is hugely appealing to those of us who live and work in busy cities. Local residents, too, told me repeatedly how they treasure the silence that can be found here – as well as the pristine nature of the forests and lakes, and the ability to forage for berries and mushrooms, to fish and to hunt birds for food. But as more tourists arrive, they risk destroying the very wilderness and silence that they came for in the first place.
The seminar was a space for the tour operators to share their concerns, to learn from each other and from the researchers, and to hear examples of how companies featured on Responsible Travel have dealt successfully with similar challenges. Encouraging more tourism in the quiet summer months would allow tourist numbers to increase, without putting extra pressure on the already busy winter season. It would also allow dogs to exercise more at this time. Keeping group sizes small and significantly raising prices are controversial decisions – but at Responsible Travel, we believe that people should understand the true value of wilderness and keeping nature pristine, and paying more is one way to do this. The world's population is growing but our available land remains the same; its value is increasing whether we like it or not.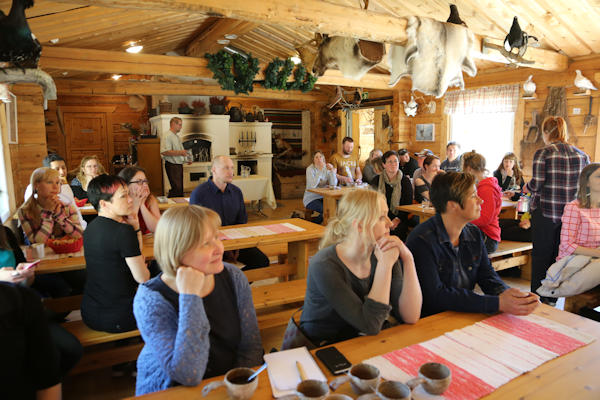 Seminar for tour operators. Photo credit: Karoliina Majuri
I was encouraged by how passionate the Finnish people were about preserving their unique natural surroundings, and their love of their dogs and reindeer. The issues discussed in Lapland were very relevant to the local people. However, they are also variations of the challenges that tourism faces in every part of the world, whether in deserts, mountains, rainforests or cities: overtourism, animal welfare, the conservation of wildlife and habitats, and the intrusion into local culture and communities. I think that by sharing their concerns and experiences, tour operators, tourist boards and activists can learn from each other and successfully overcome these difficulties to make tourism more sustainable and beneficial to local communities and environments. The Finns may love their silence, but I was heartened that they were not willing to hold their peace when it came to preserving the incredible wilderness they are lucky enough to call home.
Read more of our blog posts here