It's time to defend the defenders
The murders of Dom Phillips and Bruno Pereira in June 2022 brought to the fore the risks faced by environmental campaigners and journalists. These killings drew international headlines and widespread condemnation, but they were far from the first.
Human rights group Global Witness recorded the murders of
over 1,500 land and environmental defenders
between 2012 and 2020, the vast majority in Central America, South America and Asia. Some were killed in front of family, friends and colleagues; some were killed alongside them. Figures don't account for those injured, or intimidated and threatened into exile. Yet many persevere despite great pressure and risks to their safety.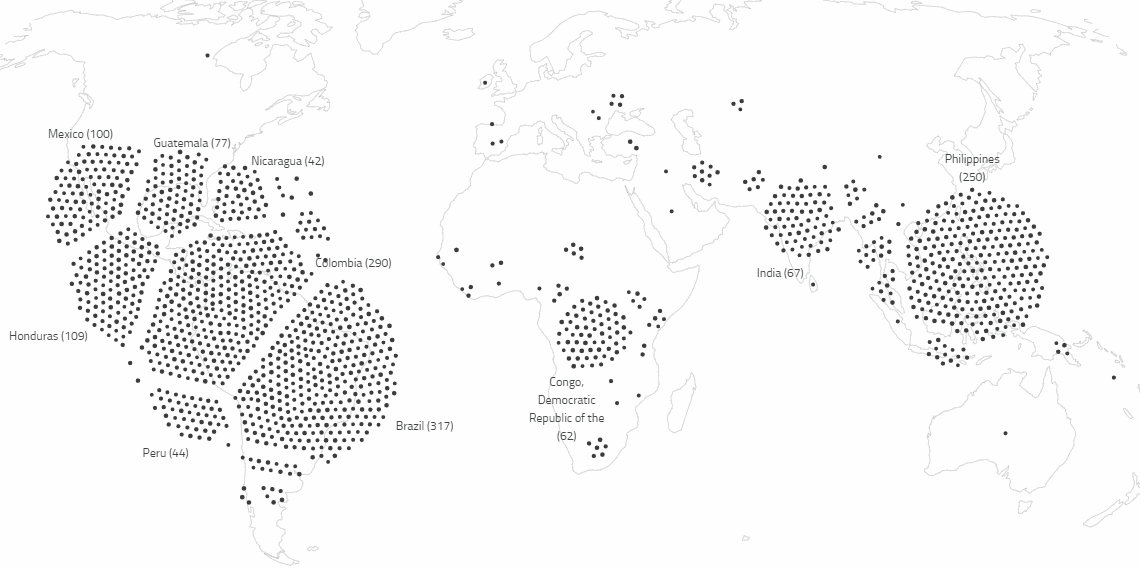 Map showing the location of the 1540 land and environment defenders who were killed between 2012 and 2020. See the full interactive map on the
Global Witness
website.
Breiner Cucuñame was just 14 years old at the time of his death in 2022. He was shot by armed men while patrolling unarmed in a rural area of Colombia as part of the
Indigenous Guard
– a community peaceful protection network.
Berta Cáceres was a Honduran indigenous rights activist who fought a years-long campaign to prevent the construction of a hydroelectric dam, planned without the consultation of the Lenca people and which would have threatened their traditional ways of life. She was killed in 2016, her assassins
linked with US-trained special forces
.
And just weeks after the killings of Phillips and Pereira came the slaying of
Virgilio Trujillo Arana
, who had campaigned against armed groups and illegal mining in the Venezuelan Amazon.
Why didn't their deaths, and those of so many others, garner as many headlines as those of Dom Phillips? For one, none of them were prominent white British journalists. For another, there is still not enough awareness of an issue that threatens us all: the destruction of nature – and the slaughter of those who oppose it.
Global biodiversity and indigenous voices
At the 2021 United Nations Climate Change Conference (COP26) in Glasgow, more than 100 countries made a series of commitments around protecting and enhancing biodiversity, including ending deforestation by 2030.
Some
80 percent of the world's remaining biodiversity
is stewarded by indigenous people. COP26 recognised the generations-old knowledge of indigenous peoples and local communities when it comes to preserving nature, and the importance of their role in combatting biodiversity loss and climate change, and pledged to increase their involvement in finding solutions. Yet there was intense criticism that indigenous voices were not sufficiently heard at the conference, and that their lives were being sacrificed for corporate profit.
And nearly a year on, many countries are
yet to effectively start acting
on some of the most important promises that were made.
2022 began with Amazon deforestation at its
fastest rate in 14 years
. Brazilian president Jair Bolsonaro, whose rhetoric and policies are accused of encouraging deforestation and fomenting violence against indigenous people, shows little sign of changing course, and could be re-elected in October 2022. Meanwhile global banks and supermarkets such as Sainsbury's continue to support rampant deforestation and land grabs through their financing and use of
suppliers including the Brazilian meat giant JBS
.
Land and environmental defenders continue to face intimidation, imprisonment and violence from extremely powerful threats. Loggers, miners, poachers, farmers, armed groups, corrupt politicians, are often aligned with major financial interests, driven purely by profit.
If COP26 is to be deemed a success, if we are to counter the twin threats of climate change and biodiversity loss, the commitments made to respect and involve indigenous people and local communities must be honoured. Defenders must be heard and protected, and those responsible for the intimidation and murder of campaigners must be held accountable.
Can tourism help?
Tourism alone isn't a solution to this crisis. Many of these battles are being fought in places where tourists rarely venture or cannot go without great difficulty or danger.
Historically, irresponsible tourism has been a significant part of the problem, causing huge damage to local ecosystems and trampling over human rights, sometimes even the guise of nature conservation. That continues even today, with Maasai people around the Ngorongoro Conservation Area
fighting eviction from their ancestral lands
in favour of a luxury safari lodge and trophy hunting business backed by the Tanzanian government.
But as our own
map of nature positive holidays
demonstrates, tourism when done well can help.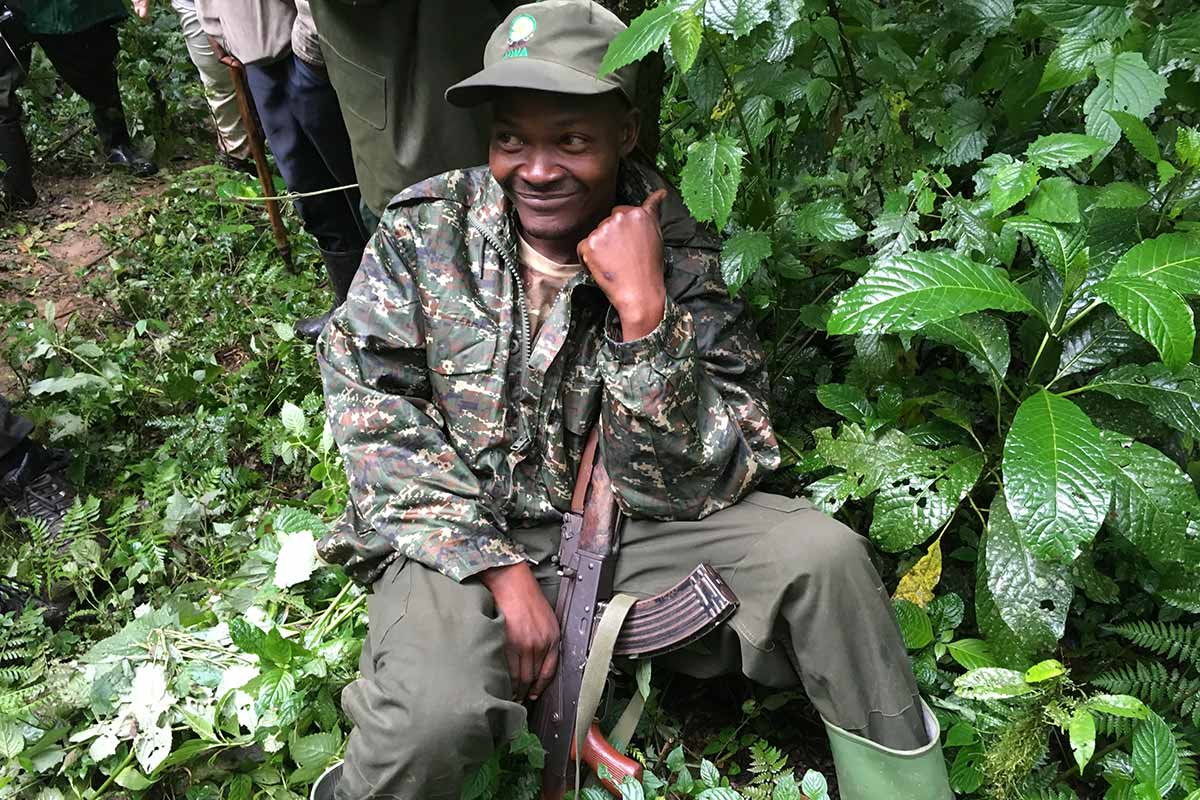 Ranger in Bwindi Impenetrable National Park. Credit:
Sal Roux
.
In Colombia, former FARC guerrilla fighters now
take visitors on jungle expeditions
. Mountain gorilla numbers in Bwindi Impenetrable Forest are improving significantly, with ex-poachers helped to take up
more sustainable livelihoods
, many of them tourism-related. And
Crees Manu
, a company working in parts of the Peruvian Amazon where several of our wildlife holidays visit, has regenerated vast areas of rainforest through community projects funded partly by tourism.
How can you make a difference?
It's more than 25 years since Ken Saro-Wiwa was executed by the Nigerian state, silencing his activism over the pollution of Ogoni lands by Royal Dutch Shell. There has been little improvement since.
We do not have another 25 years. The widespread loss of nature and vital biodiversity is now at critical levels. Destructive businesses and stalling or corrupted politicians must go.
Growing numbers of us are deeply worried about environmental issues, human rights, and clear injustices. As travellers, we can have an impact.
Follow the work of groups such as Global Witness, Amnesty International and Frontline Defenders to raise awareness, and donate to their causes.
Learn about environmental and human rights issues in the places where you're travelling to, and how travellers can make a positive difference.
When you see something that's wrong, speak out – to government departments, tourist boards, your tour operators.
Choose responsible holiday companies that aim to make a real difference, rather than simply 'greenwashing' their trips.
As for the tourism industry – it can certainly be loud and influential when it wants to be. It's time to start making more noise.