In search of Sal Paradise - whatever became of the Beat Generation?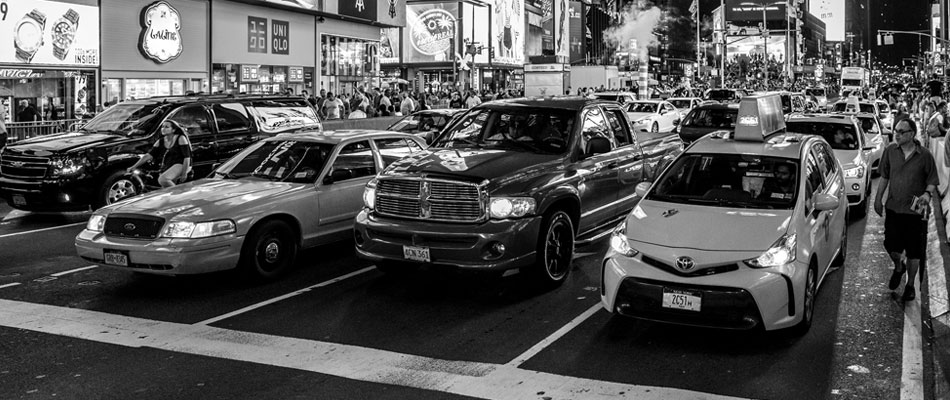 DAY ONE
Midtown Manhattan is bursting at the seams as streets pulse 24/7 to an endless serenade of sirens and car horns. Shoppers, tourists and workers dance under towers of glass decked out in constantly changing images, neon signs and billboards bigger than barn doors.
It's here, at the corner of 50th and 8th, where I find myself spat from a subway at 9pm after a short ride from JFK airport. I'm meeting an old friend who's living in New York City.
When I knew him in England we were both marketing students at Southampton Institute. He was shy, smiley, sweet. Times change. He's become a genuine Mad Man on Madison Avenue: a Don Draper, although he says he's more like the one with white hair.
Divorce, money, muscle and a multitude of sins have created the man I find waiting for me on the 8th floor of a 26 storey luxury apartment block. Scratch the surface and he's the same bloke. Although deeper down, he's different. Wiser, perhaps. Lonely, maybe; depressed, even.
I'm not only in New York to find my old friend. I'm also going in search of Sal Paradise, Jack Kerouac's alter ego from the classic Beat Generation book,
On the Road
. I'm intrigued as to what has become of the bohemian spirit of America. Do the transient soul searchers still exist? Are pockets of poetry, jazz and philosophy still peeking through the capitalist cracks?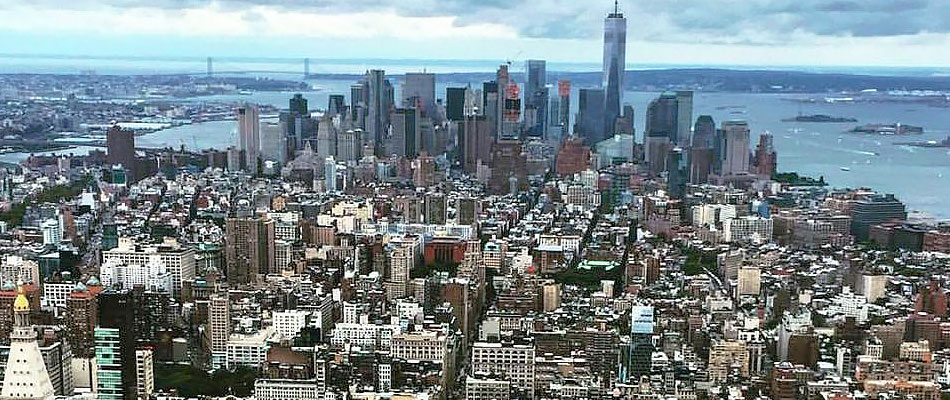 New York City. Photo by Preece Stanhope
To help in my quest I'd been in touch with Cathleen Cassady whose father, Neal, is credited as having been one of the most profound influences on Kerouac's writing style.
"Dad always wanted to be a writer and that's why he was so jazzed when Allen (Ginsberg) introduced him to Jack. It's ironic that Jack's writing style, for which he became famous, was actually Dad's writing style."
Cathy Cassady, daughter of Beat Generation legend: Neal Cassady
Cassady's fast paced, hundred-words-a-minute, breakneck style flowed from his pen in a torrent of words. Kerouac gobbled up his letters and would have rushed to the mat to greet them. It made me think: do we still get these sorts of heart pumping experiences in emails?
I can remember writing to girls I'd met on holiday as one of my first forays into writing for pleasure. The anticipation of a reply built from the moment the letter was sent. Seeing a different coloured envelope just made my heart flip and I'd greedily hope for more than one page so as to eke out the experience ever longer.
I'm sure that the thrill of letter writing, and the favourable response I nearly always received, is what drove me to wish to become a writer myself. Books too, of course, were a huge influence. On the Road, the Dice Man and Naked Lunch were all passed between friends at college in much the same way as Steinbeck, Hemingway and William Saroyan would have been swapped amongst students at NYC's Columbia University in the 1940s.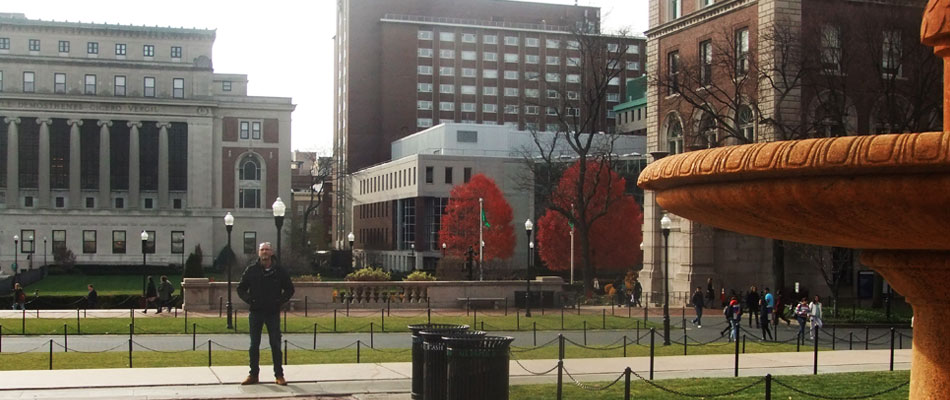 Preece on Columbia's Campus. Photo by Chris Owen
Some books are simply a rite of passage.
But would aspiring writers Kerouac and Cassady have found the same stepping stones to their lofty heights if they'd been chatting over email or WhatsApp?
Here are some more thoughts from Cathy Cassady regarding how her super sociable father would have taken to life in 2018:
"If Dad were around today, I'm sure he would embrace every new gadget and technological advance as it hit the public consciousness. He would LOVE the fact that he could access information at any time. He was an information addict… along with his other addictions, and one of his priorities was learning. He was insatiably curious, and encouraged us kids to 'look it up' whenever we had a question or when he referenced a long word in a letter to us. He would be tickled to know he could have an encyclopaedia in his pocket."
-
Cathy Cassady
New York City, December 2017 - Midtown Manhattan
After dumping my bag and supping a can of beer from the fridge I was ready to hit the ground running. My friend – let's go all Kerouacian and call him Preece 'Stan' Stanhope – had only been living in New York for six months, having moved south from Boston, so we were both excited about discovering new neighbourhood hangouts after dark.
Stan's girlfriend, Jeanine, bid us farewell from the apartment door. An early start for work the next day, Friday, kept her from our night out. Stan had taken Friday off work. One of many generous acts he'd commit over the course of the weekend.
I'd explained that I wanted to visit a few of the old haunts of Kerouac, Burroughs and Ginsberg. Stan was well acquainted with the works of all three but surprised that New York was the birthplace of the Beats. Like many, he thought San Francisco would be more of a starting place for the scene.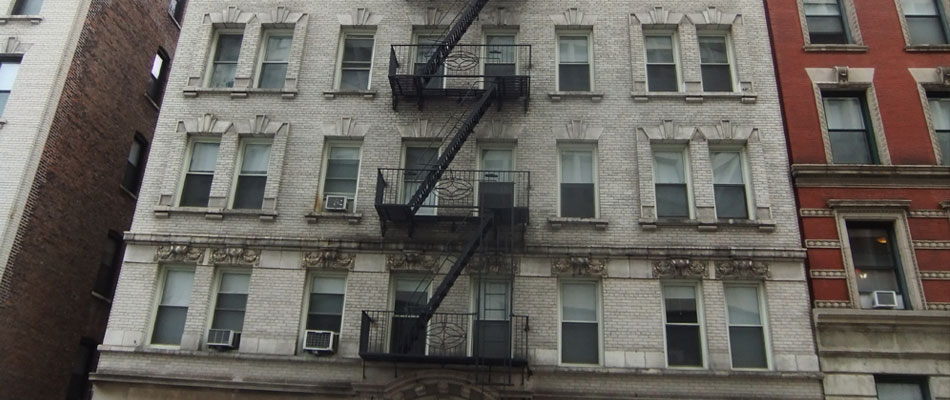 421 West 118th Street – Edie Parker's apartment where Kerouac met Lucien Carr and Allen Ginsberg. Photo by Chris Owen
We hit our first bar around 10pm. I'd been to New York before but still couldn't get the hang of sitting on a bar stool. Another thing that gave me the gripes was the wall to wall TV screens. American football played out in silence, with subtitles. I hadn't watched a game since Walter 'the Fridge' Perry was playing for the Bears. I didn't fancy starting again. I mentioned it to Stan but he was on his phone. I told him off. He put it away and we carried on drinking.
We'd fallen into our natural rhythm as easily as rolling off a couch. Stan told me about his work, New York, his ex wife, his sons, Jeanine. Apparently Jeanine had her own apartment, downtown, but she'd moved in a few weeks ago and let her apartment on Airbnb. This made me laugh, a lot, especially as she was complaining about Stan's lack of storage space.
Another bar, another row of TV screens. We found a booth. My eyes kept wandering to the nearest TV. I faced the corner of the booth and our conversation continued.
Back in the day Stan and I had been on the same college course and met in much the same way as Allen Ginsberg and Lucien Carr at Columbia University. We were both interested in travelling the world, reading counter culture stuff and looking for kicks, although summer work on an Isle of Wight passenger ferry didn't correspond too readily with Kerouac's turns as a merchant navy seaman.
I mentioned a few bars that I 'had to see' during the weekend: the White Horse Tavern and the Kettle of Fish, basically, anything on MacDougal Street. 'Where are we Stan? Are we near MacDougal Street?'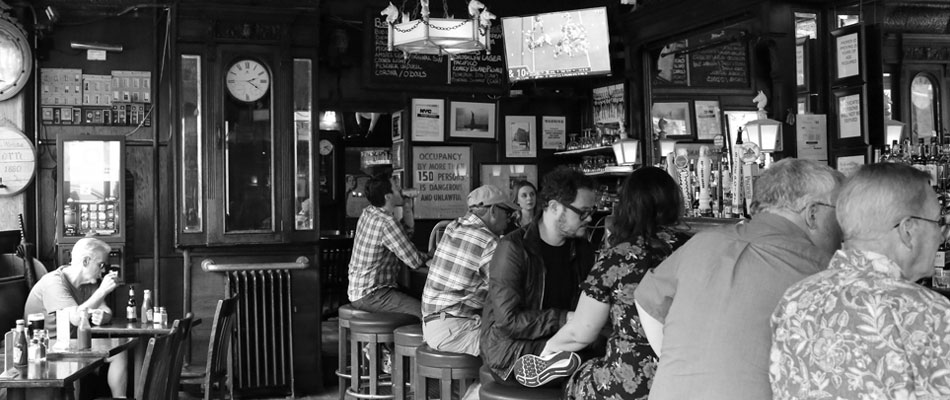 'I could check my phone?'
'Fuck you Stan, fuck you.
It turned out Midtown Manhattan was nowhere near MacDougal Street and we stumbled around Times Square instead looking for the former hangout of William Burroughs, the Taft Hotel on Seventh Avenue. We found what stood in its place: The Michelangelo Hotel and an adjoining TGI Fridays.
Then we found another bar, and another, before finally ending up in some kind of gay-friendly pub. I vaguely recall chatting to an elderly gentleman, questioning him about the Beat Generation. I have no idea what he said. Stan said he was trying to get me to go home with him. Stan took photos, on his phone.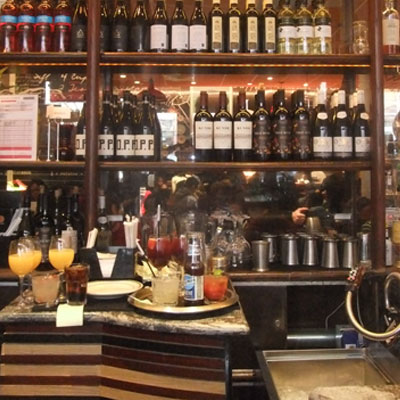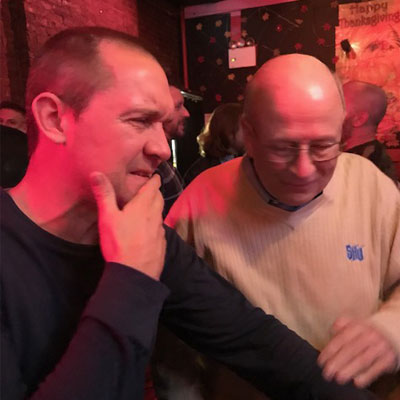 Making new pals in New York City. Photos by Preece Stanhope
The lights never switch off in New York City. We tumbled into Stan's apartment around 2am via a sidewalk hot dog stand. I tipped the guy a dollar. He looked at me like I was crazy. 'I'm getting the hang of this,' I smiled at Stan. He looked at me like I was crazy.
At Stan's apartment we drank red wine on the couch. Jeanine got up and used the bathroom. Stan mentioned running around Central Park the next morning. Stan's a worryingly fit individual. So is Jeanine. I'd foolishly brought my running shoes. I laid out a map I'd bought at the airport and we marked on a few key places to check out the following day. Stan seemed as excited as I was. I fell asleep on the couch.
Still searching for Sal Paradise – Whatever became of the Beat Generation?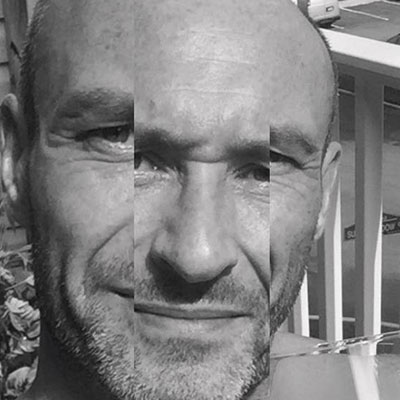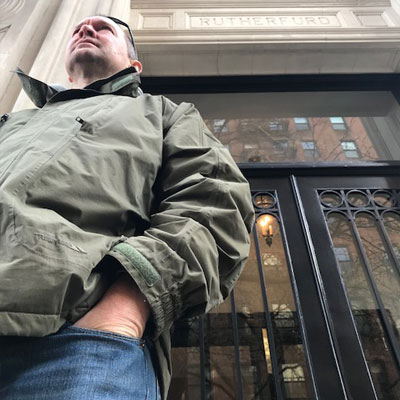 Preece and Chris. Photos by Preece Stanhope
DAY TWO
There's nothing like a crisp December morning in New York City to get your mind racing.
My bed for the night, a plush leather couch, still bore my imprint. I fluffed up cushions and folded the throw before padding, barefoot, to the apartment windows overlooking 50th Street. Eight storeys below, Manhattan's Upper West Side teemed with life. Yellow cabs, cars and vans sat bumper to bumper as wrapped up pedestrians shuffled along sidewalks.
It was 7.40am. I was wide awake, hungover and contemplating a full day searching for Sal Paradise, Jack Kerouac's alter ego from the Beat Generation bible: On the Road. Sitting back on the couch I spread a map over a glass coffee table. St Patrick's Cathedral, a well known sanctuary for Catholic Kerouac, was just a few blocks over on 5th Avenue. I dotted it on the map, got up to go to the bathroom, and sat down again, holding my head.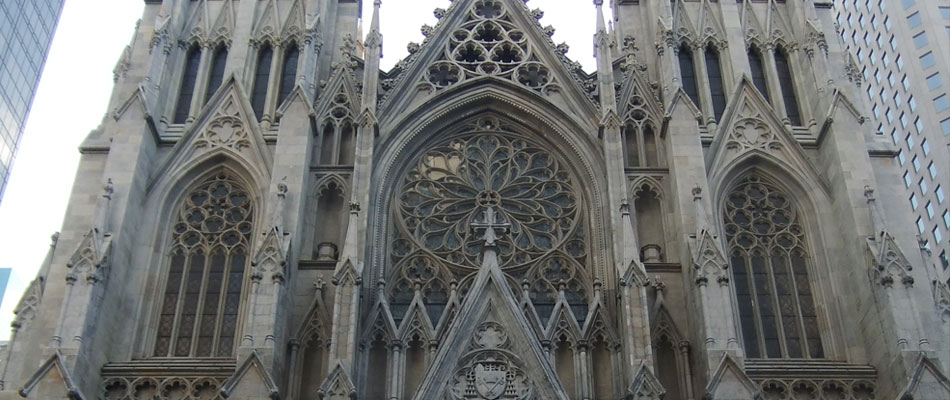 St. Patrick's Cathedral, New York City. Photo by Chris Owen
The previous night with Preece 'Stan' Stanhope, who was currently, I presumed, fast asleep in the adjoining bedroom, came flooding into fragmented focus. I bemoaned my tolerance levels to alcohol that had dipped severely since Stan and I were students, 25 years previous. You're indestructible at that age; ready to go again and again, night after night. You don't think about the future. There's no time to settle down. You've got to keep moving; got to keep writing. Go go go.
Until it's time to move on, grow up, get a job, responsibilities, a New York City apartment.
Kerouac farted in the face of maturity and it was New York and the characters he'd encountered while travelling that went on to shape his lifelong quest for literary immortality.
"Kerouac fully intended to become a writer when he was a boy. Ever the observer, he kept copious notes in his breast pocket notebook with an eye toward writing the stories up in the legend of his life."
–
Jerry Cimino, founder of the Beat Museum in San Francisco
Other members of the Beat Generation, William Burroughs and Allen Ginsberg, were also acclaimed writers and legendary hell raisers, with counterculture classics Howl, Junkie and Naked Lunch still devoured by readers, young and old. Unfortunately, the same can't be said for all the Beats. Neal Cassady was a prolific letter writer and yearned to be an author, but never had anything published in his lifetime.
"Dad loved playing with words. He especially loved alliteration, as I do. In prison, he'd write to Mom using all words starting with the same letter, taking turns with all the consonants. He'd write a whole letter with words beginning with 'b', then one using 'c', and so on. Must've driven Mom nuts!"
–
Cathy Cassady, daughter of Neal Cassady
Although a loving father, Cassady would go on to be something of a parody of himself, still living fast and loose with characters including Ken Kesey and the Merry Pranksters, inspiring and entertaining all who met him, right up to his death in 1968, at the tender age of 41 – four days shy of his 42nd birthday.
As I sat, holding my head, I wondered how many other wannabe writers and soul seekers succumbed to booze and Benzedrine binges but failed to shine as brightly as Burroughs, Kerouac and, even, Cassady. Stroll down city streets the world over, not just New York, and you'll see cardboard box communities, transient hobos and semi-permanent panhandlers. How many of these people started off with a dream of writing or travelling only to be thwarted along the way?
So many stories, yet to be told.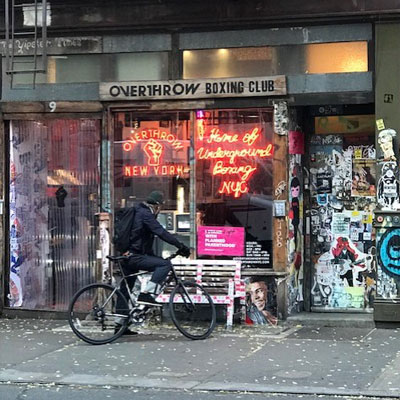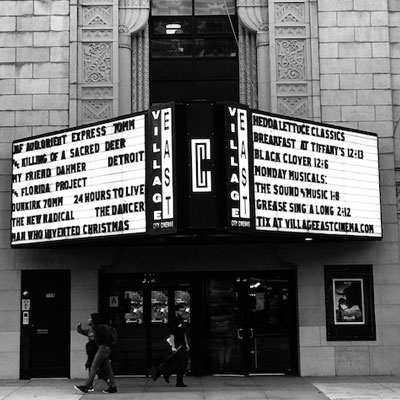 New York City stories. Photos by Preece Stanhope
The picture painted by Kerouac of life on the road is always romantic. I wondered if anyone who'd lived a similar lifestyle in 2018 would compare their own tales to that of Sal Paradise. Before I'd arrived in New York I'd asked Cathy Cassady if she thought it possible to go 'On the Road' in 2018. Here's her response:
"I feel those were definitely 'the good old days' as far as travel was concerned. You could hitchhike, for one thing. The traffic was slower, so you could see the terrain as you passed. The roads were not multi-lane, so there were fewer cars to deal with. I would guess there wasn't as much road rage as there is today with all the stressed out folks behind the wheels. It was more laidback, and, luckily for the guys involved when Dad was driving, the highway patrol officers were probably spread further apart. A trip attempted today as described in On the Road would be difficult to pull off and not as enjoyable."
–
Cathy Cassady
Undaunted, I still intended to search for Sal Paradise, and the origins of the Beat Generation. Kids may not be able to get their kicks on Route 66 but surely the essence of the Beats is out there, somewhere? I just needed to wait for Stan to wake up and I was good to go, go, go.
New York City, December 2017 - Harlem - Greenwich Village
That evening Stan and I headed to MacDougal Street in the Village. We were looking for kicks, for Beats, for jazz. Stan had been drinking double vodkas since midday, after starting with a Bloody Mary in the Red Rooster in Harlem.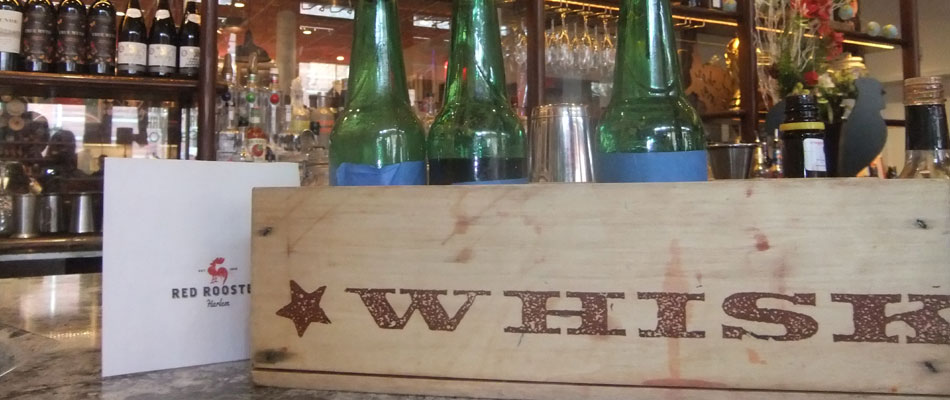 Morning at the Red Rooster, Harlem. Photo by Chris Owen
Yellow cab after yellow cab had taken us Uptown, Midtown and now Downtown. Stan never let me put my hand in my pocket. My role in our financial arrangement was solely 'tip man'. Lights were switching on as we drove past the Brooklyn Bridge. It was cold. Stan had managed to score two tickets to Café Wha?, a well known Beat hangout back in the day. I was excited. Stan was drunk. We got out of the cab around 9pm. Stan paid. MacDougal Street was buzzing. Comedy clubs and live music joints touted for business as cars crawled past crowds falling in and out of bars.
Stan flashed his phone at the guy on the door and we strolled down the famous Café Wha? steps like lambs being ushered into hell. Black painted double doors opened up to an honorary guard of waiters and waitresses welcoming us into the underworld.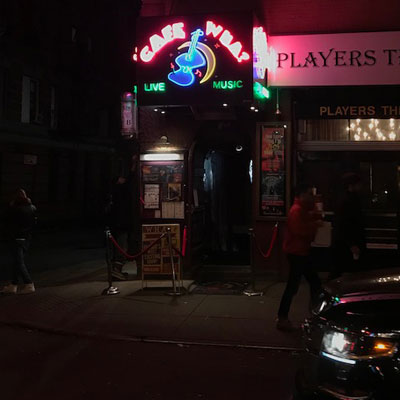 A night at Café Wha? Photos by Chris Owen
"Where you wanna sit?"
We looked around. There was the stage set up with mics and instruments. There were booths, long tables.
"Where the fuck is everybody?" enquired Stan.
"We've just opened, it will get busier soon. Do you wanna drink?"
Stan and I sat down, near the stage. Eyes watched as we made up our minds. Stay or go? Stick or twist?
"We're going to come back in a bit." Stan said to the guy on the door.
"Ok man, no problem."
The first bar we picked to kill time until Café Wha? kicked off was standing room only. TV screens hung off the walls, as per usual. The music was loud indie rock. Students shouted whilst Stan and I stood with our drinks. I was loath to shout that I couldn't hear myself think so I just kept quiet, watched the game and nursed my beer. Stan had a double vodka.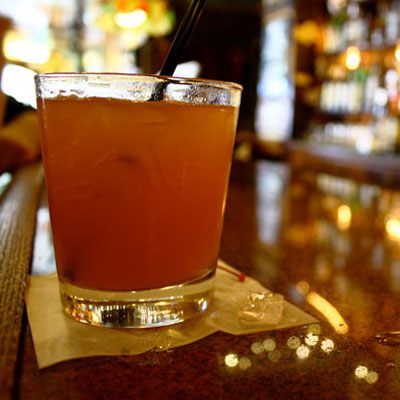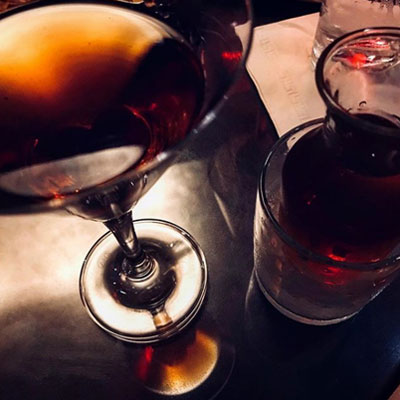 Cocktails. Photos by
Rosy
and Chris Owen
When we returned to Café Wha? it was packed out. We were ushered to a long table full of smiling chatty couples. They shuffled up for us. We did the same for other couples. It became a thing. Stan ordered a double vodka and two bottles of beer. One was for me, I hoped.
The rest of the evening was lively. The house band, touted as the best in New York, rocked . People from our table stood up. Whooped. Danced. I joined them. Arms in the air. More musicians came onto the stage. More people got up and danced.
Waitresses and waiters ran the gauntlet of middle aged party goers. Our welcoming guard of honour had been reduced to table service sailors on a seething sea of swaying bodies and annoying elbows. The music was mainstream but fun. It was designed to get the crowd up and rocking. A night to remember, or try to. Everyone was having a great time. That was what you're supposed to do at Café Wha?. Have a great time. Listen and dance to the best goddamn house band in New York City.
Stan was by my side, 'Let's get out of here,' he shouted. I nodded.
In no time we were sitting at a shared table in Groove, another MacDougal Street hang out. An R&B band were playing. Stan ordered a double vodka and a beer.
"Now this is music man, this is music!" Stan's eyes were wild.
I nodded and smiled. I felt sleepy.
"Yeah man, go, go, go."
The singer came round with a bucket. Stan gripped his arm as he slipped a 20 dollar bill into his hand. "You're amazing man."
The couple next to us were taking a selfie. Stan stopped them mid-smile.
"Let me take that." It was more of a statement than a request. They agreed. Still, thankfully, smiling.
"No wait. My phone's much better. I'll email you the photo." The couple's smile turned to confusion. I kept my eyes transfixed on the stage as the female singer belted out Proud Mary.
An hour or so later Stan and I were back on the MacDougal Street sidewalk. I looked at Stan as he struggled to get on his coat. His eyes were somewhere around his hairline. It was just after 2am.
"Jazz club?" he mumbled.
His eyes now completely shut. I gave him my shoulder.
"It's ok man, we don't have to."
I hailed a cab heading to Midtown. Stan fell asleep. I finally got the chance to pay.
Down & out with Dean Moriarty - Whatever became of the Beat Generation?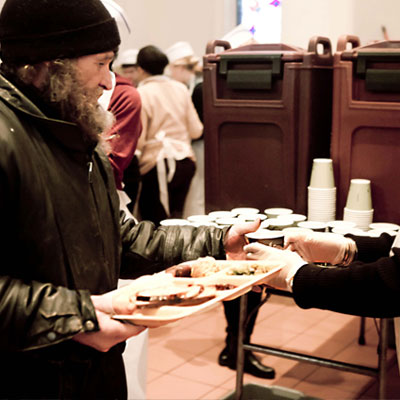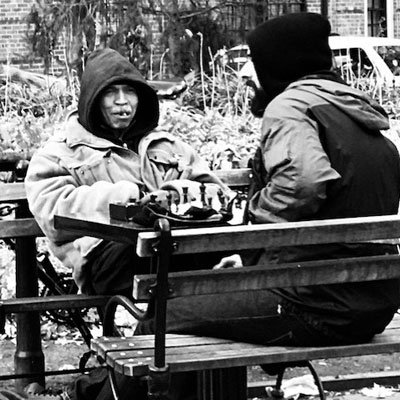 Holy Apostles Soup Kitchen guest and Chess players in Washington Square Park. Photo by Hannah Albee and Preece Stanhope
DAY THREE
Snow settles on a New York City sidewalk. It's cold, real cold; the kind of cold that makes you want to hibernate, especially if you're on the streets.
Soup kitchens, such as the Holy Apostles on 28th St and 9th Ave, are well aware of the affect freezing east coast temperatures can have on the homeless. Guests at the Holy Apostles Soup Kitchen come to keep warm, to eat, to meet, to get help. They come to listen to music, learn how to meditate, watch movies, and join discussion groups. There's also a writers' workshop that's been running for over two decades.
Although not many people passing through the doors of the Holy Apostles come to write, those that do receive pens, notebooks, and optional subject matter to get them started. Topics like 'How I Came to New York City', 'The Other Me' and 'My Best Mistake'. Some stories stand out: tales of hobo camp etiquette; fast paced poems by bicycle couriers; how to travel long distance by freight train; bar fights involving merchant seaman; stories, from the road.
Some writers stand out too. People like Michael Welch:
"I discovered that producing writing is simply responding to the environment that I'm placing myself into. In much the same way as placing myself into a 'psychedelic acid trip' or a shelter; there is no blank page to contend with, there is only allowing myself to enter the scene in which I'm immediately participating, and record."
–
Michael Welch, a regular participant at the Holy Apostles Writers' Workshop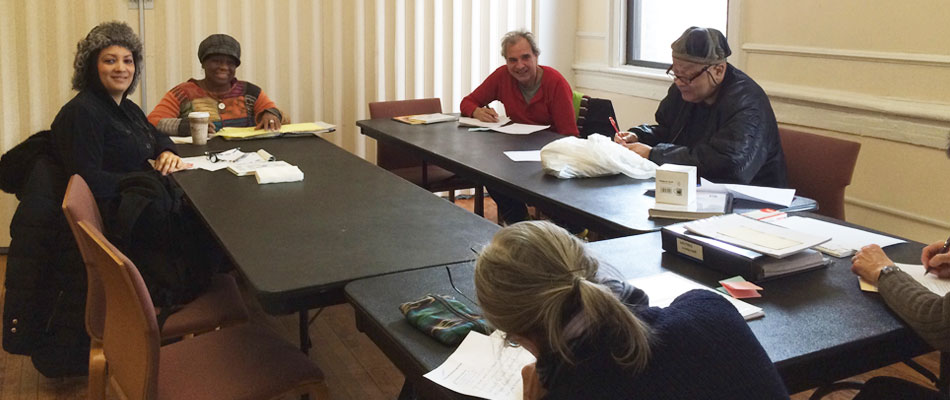 The Holy Apostles Soup Kitchen writers' workshop. Photo by Hannah Albee.
I asked Beat aficionado Jerry Cimino, who runs the Beat Museum in San Francisco, whether he thought the Beat Generation was still relevant. Here's what he had to say:
"Absolutely, yes. The spiritual essence of The Beats is alive and well and it is everywhere you look. The values of The Beat Generation permeate all our lives. The things they stood for are considered 'normal' for most young people around the world today, whether it is racial equality, gender equality, gay and lesbian rights or even things like caring for our natural world. These values come from The Beat Generation of the 1950s and were embraced by the Hippies of the 1960s and travelled around the globe."
- Jerry Cimino
One thing that stood out for me is that 'real life' tales can be way more interesting than fictional ones. Kerouac knew this the instant he read those first letters from Neal Cassady. I knew it from the moment I began to write about my misadventures with Stan.
There's fascination in fact based stories; real life is just much more rhythmic, it flows like the lyrics of a spoken word orator and creates a pace faster than a freight train heading from east coast to west.
Travelling inspires writing. We want to capture not just what we're seeing, like a photograph, but what we're feeling. Encounters with shop workers or observations of strangers can be transported onto a page, before becoming embellished, perhaps, or laid down flat, just as they once stood.
"Having traveled the world as an Officer in the US Navy, as a Public Relations & Advertising executive, as an occasional tourist, and as a homeless vagrant searching for a handout and shelter, I have begun to understand the essence and oftentimes primitiveness of the human condition. It is this empathy for the human condition that, I feel, inspires great writing."
–
Michael Welch
Travellers inspire writing too. Where would we be without adventurers and explorers? From Odysseus to Audrey Sutherland there's something that stirs deep within us every time we read about someone else's travels, mythical or otherwise. Perhaps this is because we all have the ability to step away from our normal routines and make our way onto a path less obvious. No cares, no responsibilities, just living for kicks and grabbing each and every moment for all it's worth.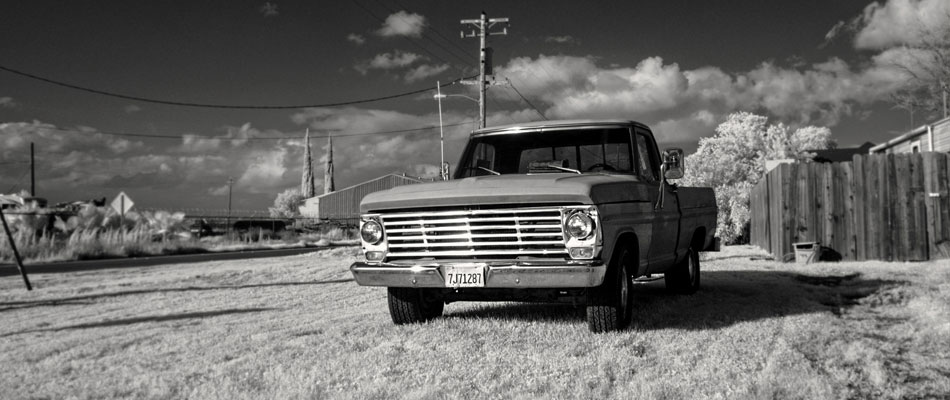 Some of us are observers, like Kerouac; some of us are doers, like Neal Cassady. One is inspired to write and the other is inspired by writing. The Beat Generation lives on in 2018, where we want it to. It's in the coffee houses, the live music venues, on the streets, in the hostels, the soup kitchens, at the festivals, the carnivals, on the plains of Tanzania, the mountains of Nepal, the deserts of Mongolia.
Folklore tales knit together the threads of history to compel campfire listeners to lean a little closer. Hipsters hang on the words of the elder as he implores them to part with pocket loads of cash. It's a spark; it's a word; it's Bloody Marys and devilled eggs at midday in Harlem.
The 'movement' may have been coined 'Beat' in the 40s but it's been going a heck of a lot longer than that and will continue to do so as long as there's life in the old dogs yet.
New York City, December 2017 - Manhattan
I slide off Stan's leather couch and onto the floor like a parcel being posted through a letterbox. There will be no running in Central Park today. I gather my wallet and Stan's keys and exit the apartment. Outside the luxury apartment block, 50th Street shows no signs of slowing down. It's 9am on Sunday morning. My flight leaves in seven hours from Newark, New Jersey.
I get back to Stan's apartment about an hour later. In my arms I'm carrying two bagels, two metal tourist licence plates with my kids' names on them, and a slice of New York cheesecake. The bathroom is occupied so I sit back down on the couch and flick through the TV channels. Nothing's on other than wall to wall Trump news. The bathroom door opens. It's Jeanine.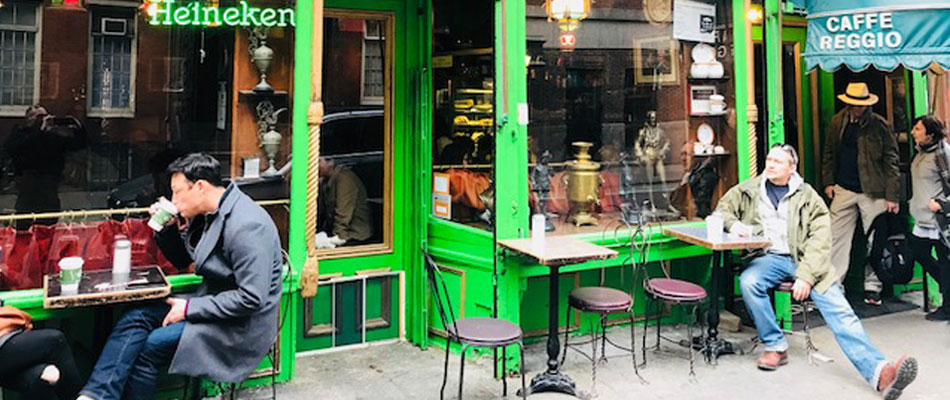 Café Reggio, 119 Macdougal Street, Greenwich Village. Photo by Chris Owen
"Hi Jeanine."
"Hi, how are you doing?"
"Oh, you know."
"Sure. Stan's still sleeping."
I try to act surprised. I don't know why. The last I saw of Stan the evening before he was pouring a huge glass full of red wine. It's still on the coffee table.
"I'm awake!"
A call from the bedroom indicates that Stan is awake.
"Oh, he's awake."
"Yup."
Stan wants to go to an oyster bar at Grand Central Station. Jeanine seems keen. I pack away my toiletries from the bathroom, paranoid I'm cramping the style of a couple's Sunday morning in the city. The three of us exit the apartment and stare at the lift door as it descends eight flights.
I'm fully prepared for the cool blast of December air. Stan is not. Jeanine seems fine in her hooded, fur lined coat. When we arrive at the oyster bar via a comic book store, it's closed. Stan is incandescent with silent rage. Jeanine hugs his arm. I'm glad; the oyster bar menu looks expensive.
Jeanine is on her phone. We head to 43rd Street. There's meant to be a place that does lobster rolls. Stan seems calmer, although it won't take much to push him over the edge. We arrive at Luke's Midtown East Shack. It's open. It's surprisingly quiet. They do lobster rolls. We sit down to eat.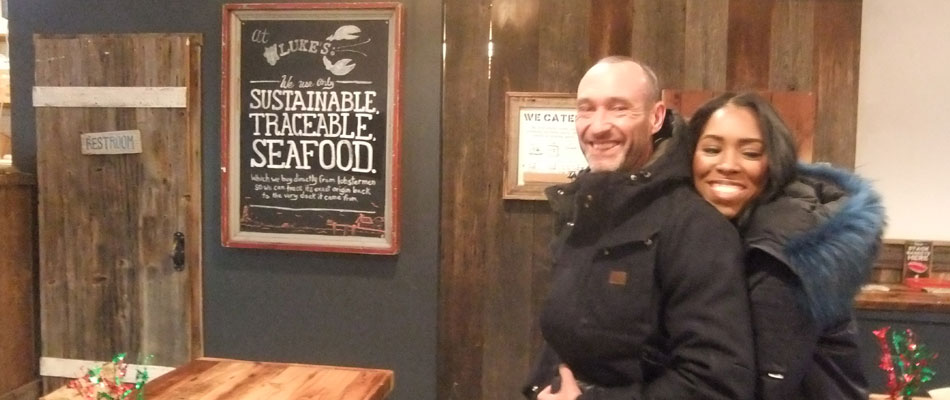 Stan and Jeanine. Photo by Chris Owen
On the way back to the apartment I split from Stan and Jeanine. I want to give Stan space to sail his lobster rolls on a sea of double vodkas. Macy's department store is calling me for Christmas tree gifts. I find what I'm looking for in Holiday Lane on the 9th floor. It's rammed.
Back at the apartment Jeanine is cradling Stan's head in her lap. He barely moves on my arrival. I give them a Macy's Santa Claus and a Christmas card. They're watching a Christmas movie. I get my bag and say goodbye.
Thanks to...
Cathleen Cassady for her personal insight and memories of her late father, Neal. Cathy and her siblings, Jami and John, are responsible for keeping memories of their father, mother and friends alive at the
Neal & Carolyn Cassady website
. Jerry Cimino is the founder and curator of the
Beat Museum in San Francisco;
Michael Welch, Steve Turtell and Hannah Albee at the Holy Apostles Soup Kitchen, New York. Keep up the great work.
All donations greatly received.
Final thanks, of course, go to my buddy Preece 'Stan' Stanhope. God love him.