Traveller interview: Daniel Pawlyn, on his family adventure holiday in Andorra
See / go back to this
adventure holiday in Andorra
Andorra valley and Daniel inset. Photo by Daniel Pawlyn.
Daniel Pawlyn chats with our travel writer Catherine Mack about a big, multi-generational,
adventure holiday in Andorra
that he took with his family for a week in July. Daniel works for the holiday company that operates this trip, and shared with us his stories of three generations of Pawlyns hiking, biking and rafting the Pyrenees together, from ages 10 to 77!
This adventure holiday was a big family reunion, wasnít it?
Yes, and it was absolutely fantastic. We had the idea a few years ago to do a family trip together with myself, my brotherís family, my sisterís kids and my mum Ė a real multi generational holiday. So it was a long time in the planning.
Was it a special event or just a big holiday reunion?
My brother lives in Hong Kong and he comes back to the UK for a month in the summer and usually stays with us, so we just thought that this year we would do an adventure together. So it made a lovely change. We did go to Bali together years ago when the kids were much smaller and had a more sedentary holiday there. And that worked, so we knew it would work again but this time as the kids are older we thought we would do something more active.
And why did you choose Andorra?
We all love the mountains and are quite outdoorsy. So one, for the mountain scenery and two, we wanted the kids to challenge themselves a bit and each day seemed quite exciting Ė hiking, mountain biking or rafting. And so we just thought, well they donít do a lot of that at home, it will be completely new and a bit of a challenge for them.
Had you been to Andorra before?
No, I hadnít. My sister had, she had been skiing. In fact quite a few of the other families on the trip had been skiing there and thought they would like to come back in summer, because they love Andorra and the scenery there. Itís also a pretty cheap place to go, and thatís the other attraction I guess, with cheap flights. And good value in terms of food and drink when you are there too.
So even in the school summer holidays the flights were good value?
Yes, we flew Bristol to Girona, and the flights were about £100 each return at the end of July, which is pretty good.
And did Andorra live up to expectations?
I knew it was going to be attractive in terms of mountain scenery but I didnít expect it to be as lush as it was. I guess they get a lot of rain at certain times of year, and of course they have the snowmelt. But it did look more like spring, and because of the altitude all the fields were super green with what looked like spring flowers, even though it was July.
What is the minimum age on this trip?
It is 10 years old, as it is quite an active trip. Our youngest was 10 and she was just about strong enough to make it up some of those hills with her little legs. Also they really encourage kids to carry their own stuff. They said ĎWe donít want parents to be carrying kidsí daypacks, water and lunches. The kids need to do that. Thatís part of the adventureí. And so yes, you do need to be a bit older to be able to do that. My son is 14. Rose is fit and active as she is a keen gymnast, and we do biking at home, but we donít do any mountain walking so that was a bit of a challenge for them.
Did they resist mountain walking at all, or did they rise to the challenge?
Well you know, there were a couple of incidences where they were saying Ďhow much further? Iím really tiredí, but we had this little dog called Simba to keep us company who belonged to the owners of the hotel and was a gorgeous little terrier. It came with us on the walks, and that was fantastic as the kids wanted to play with Simba and kick pine cones for it and so on. So it was a bit of a distraction when hills were steep. One day we were walking up to this stunning lake in the mountains, and the prize was getting there to put your feet in the water and have lunch at the top. So they got their reward!
The kids must have been chuffed to see their grandmother taking part in the holiday! I always think that is amazing for young people.
Yes, very much so. And for my mum it was wonderful as well. This is a real trend nowadays as people are becoming more active for longer. So, I think it is a good shout.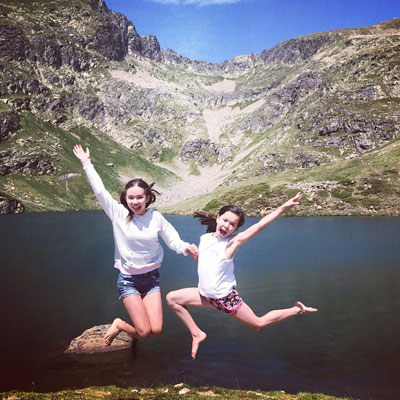 Girls jumping & food. Photos by Daniel Pawlyn.
What were the eating arrangements?
It was half board, so breakfast and dinner were included. But the place where we stayed was lovely, like a chalet hotel, family run, with twin daughters who serve the food in the evening. During the day when we were out on activities, you could order a packed lunch from the chalet, which most people did. It was easier, and also they were delicious.
Great. So it was totally relaxing. You just needed to get up and go do the activities for the day? Everything else was sorted.
Thatís right. I was concerned if the holiday was going to suit everyone aged from 10 to 77, but actually it was fantastic. The kids were doing something for the first time, being challenged, and they joined in everything. And although my mum, aged 77, is pretty fit she just did as much as she wanted to. And the hosts offered her amazing support too. She doesnít ride bikes, for example, so when we were off cycling they dropped her off, gave her a walking route and showed her where she could meet up with the rest of the group, as she headed off independently. So, we met her along the way for lunch and that all worked out really well.
What is the most useful thing you packed?
Probably the most useful thing was a cap. You do need some sort of headgear, especially in summer, as you are at high altitude all the time. A daypack and some sun cream were the other important things.
How was the weather?
There was a storm on the day we arrived, on the drive up there, but after that we had seven days of sunshine. It was superb. The average temperature was around 25-26įC during the day and then around 18įC during the evenings. It was great. Great walking weather, too.
This was a centre based holiday, wasnít it? Staying in the same place throughout?
Yes it was, this lovely chalet hotel which was really relaxed and family run. There were lots of areas for the kids to hang out, play and interact. When you are on a group trip* one of the best things is that the kids interact with other families. So the parents are having a drink at the bar and getting to know each other and the kids are off running around in the fields nearby and local area. Or they had a Nintendo Wii, so they were playing Mario Kart and so on. For me, this interaction is one of the best things about these family group trips.
[
*This holiday is a small group tour, with other families booked in too, not just Danielís
]
Were your preconceptions of this trip very different from reality? Anything you were particularly worried about that turned out to be fine?
The hard bit that turned out to be OK was getting the kids up the mountains and also hoping that that they didnít fall off the mountain bikes. And also that my mum would be OK with all the activities. But that all just really worked. Simba the dog really helped, of course, and the leader guides were really fantastic too. On the mountain biking days, for example, we were going down mountain tracks so they gave us all plenty of coaching along the way. Telling us not to sit on the saddle when going down the hills, or to stand on the pedals so that we would get a lot more fluidity and flexibility in our riding styles, which was brilliant.
How many guides did you have?
On the biking days we had two guides. One goes with the group and the other drives the support vehicle and you meet them at the other end. When you are walking you just have one mountain guide, and then when we were rafting we had a raft expert of course. The hiking guide was the wife of the man who owned the hotel, an Andorran and really nice, and she spoke great English. She was also really insightful about culture in Andorra. The other guides were a Welsh girl and Scottish guy who had been there for about 15 years. They had gone out for a ski season and had just stayed on and are now permanent residents.
Did your mum go rafting?
No she didnít, but she did go for a walk in the valley where we were rafting so she could see us come down the river and wave at us, so that was fun.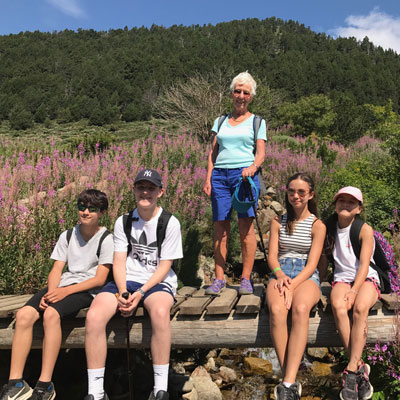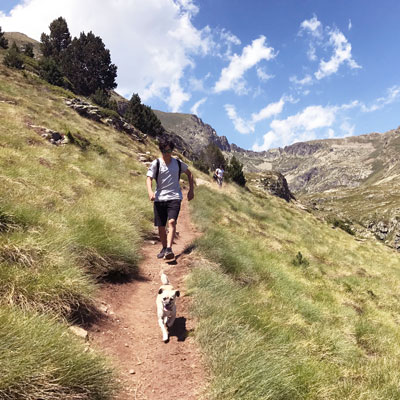 Family shot amongst the heather & walking with Simba the dog. Photos by Daniel Pawlyn.
Had your kids done rafting before?
Yes they had, on a family trip to Costa Rica. Although they seemed to enjoy this a lot more as it was 15km and the rapids were fantastic, about the right level for them. The guide gave them turns to sit up front, with what looked like tidal waves coming over the front, so they were screaming with laughter all the way, which was brilliant! I fell out, so they were also quite amused by that! They had to drag me back out with a paddle.
And were you freaked out or were you OK?
It was a bit of a scary moment for me. However, our guide had been encouraging us to hold on to the side and I forgot, and so when we went up on our side a bit I just slid out. However they had given us some training of course in what we were to do if we fell out. Which was to just lie on your back, feet facing downstream, and then float. And that was what I did, caught up with the raft, grabbed hold of the paddle and they dragged me in. But it wasnít like the Zambezi or anything where it gets a bit hectic! It was fine.
Were there any other scary moments on the trip?
I guess the first time I watched my kids trying to bounce down a bumpy mountain bike track and thinking ĎGod, they havenít done this before, I hope they are alright and donít fall off.í But they took it really easy and were fine. Some of the best biking moments were the downhills on roads with hardly any traffic. We did a 9km stretch freewheeling all the way down, and that was a bit scary negotiating the bends with the kids. That was one of the best moments on the trip.
Do you have any sense memories from your trip, other than Ďsightí ones?
Definitely the food. I wasnít expecting great food in Andorra but the food at the hotel was incredible. The one I will always remember was the Andorran cuisine night. This is very rustic, starting with bread, olive oil and tomato paste with garlic cloves to rub on the bread. We had amazing Andorran sausages, one which was like a big Cumberland round one, meaty and spicy with loads of herbs. Others were more cured, Spanish sausage style, because the cuisine is a bit of a mix between French and Spanish. But it was just amazing, healthy, hearty food.
So no vegetarians in the party then?!
Ha Ė they do cater for vegetarians but no, none in our party.
Do you have a favourite photograph from the trip?
Yes, probably the one of us all together in the Incles Valley. That was the most beautiful walking day, and we have a great photo of us all there. Yes, that was a top day.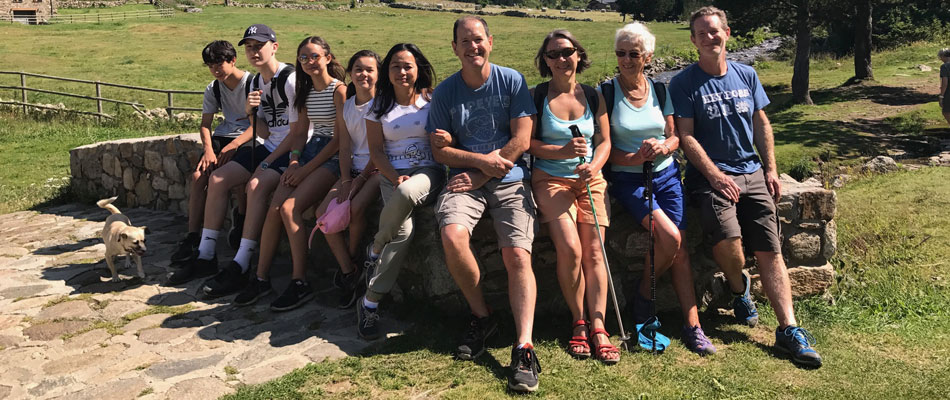 Daniel with his family. Photo by Daniel Pawlyn.
Would you do another multi-generational trip and if so, did you all agree about where/how to do the next one?
We havenít booked another one, but we are thinking about Turkey next. There is a trip where you stay in Fethiye, and itís a really nice mix of culture, all the Roman ruins and Turkish heritage down that way, which my mum loves. There is
gulet
cruising for two days and three nights, and then there is a day at the water park which the kids will absolutely love. So that seems like a nice balance.
Find out more about this trip
Continue reading about this
adventure holiday in Andorra