Traveller interview: Don Stauffer on his cycling holiday to Petra and Wadi Rum in Jordan
See / go back to this
Cycling holiday to Petra and Wadi Rum in Jordan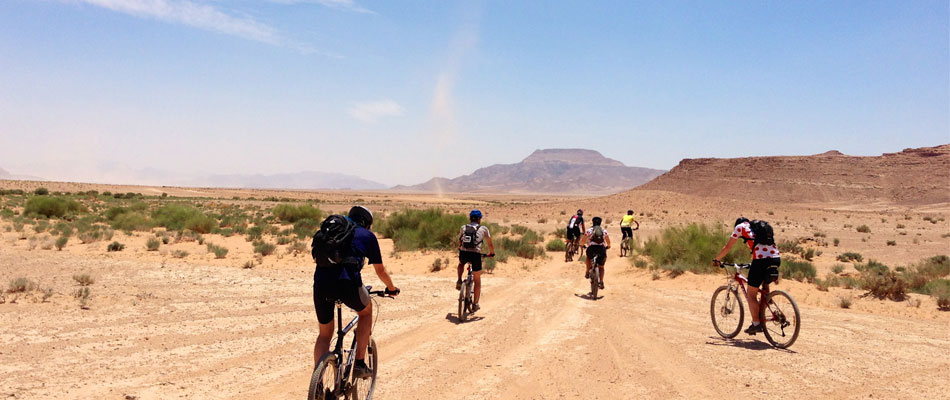 Don Stauffer, from Sacramento, California, made the most of some great value flights to Jordan and went to see the magnificent site of Petra, which he had been dreaming of doing for a long time. What he didnít expect was to find a
cycling holiday to Petra and Wadi Rum in Jordan
which, as a keen cyclist, ticked all the boxes for him. He shares his thoughts on this holiday with one of our travel writers, Catherine Mack.
So, Don, I can see from your online review that you loved this cycling holiday to Jordan? Do tell us more about it.
If there was one thing I could say about the trip Ė I expected Petra to be incredible, and I wasnít disappointed. But I didnít expect there to be something special almost every day. Just breathtaking, unexpected or beautiful. It was a wonderful trip, filled with unexpected moments.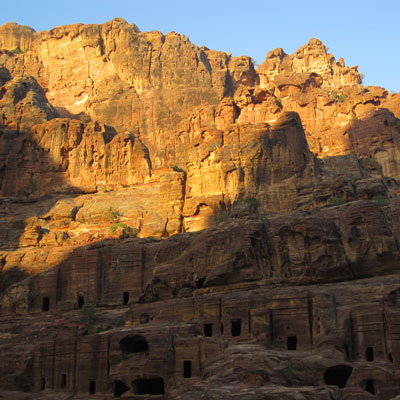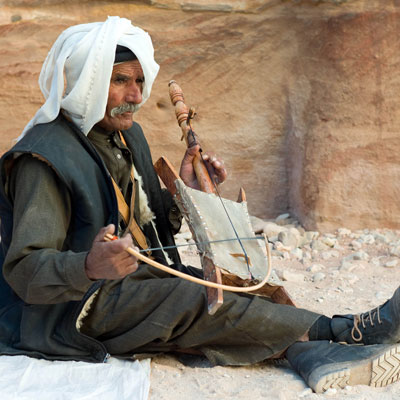 What made you want to go to Jordan? Had it always been on your list?
Petra has been on my list for a long time. So the opportunity came up to travel to the Middle East, mainly because I saw an incredible sale on air fares from Emirates Airlines. And then I came across this holiday of yours, and I thought, this sounds interesting,
Ďa bike trip through Jordaní
and I clicked on it, and that was that! This was my first trip with you guys and the tour operator and I must say I was amazed at how well the trip was put together.
Had you been on archaeology type holidays before, why Petra?
I guess you could say I am a fan of that part of history and the unique qualities of Petra that set it apart. It is a city that is carved into stone, so something very unique and different, and with a very unique beauty as well because the rock has a reddish tinge to it. A couple of years back I went to one of the other places I wanted to go, which is
Angkor Wat
. I spent a whole week there, just at the actual place. And that was an incredible trip too. So these places with real strong historical meaning and import for human civilisation, I am attracted to that. I am a science teacher, and my first major in college was anthropology so that was probably where this interest started.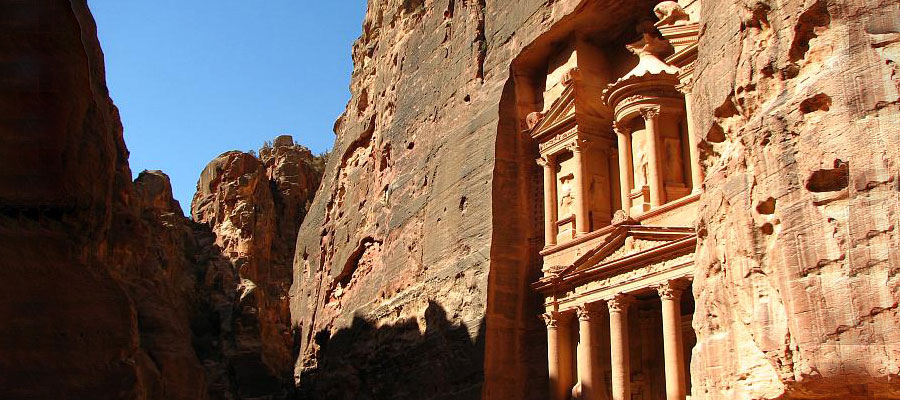 What is the most useful thing you packed? Or was it all Lycra on this cycling holiday?
I took a shirt that was reversible, so I could wear it on more than one occasion and then it doesnít look as if you are wearing the same old dirty clothes over and over! A casual shirt that is, not a cycling one. Many people wore the full cycling gear every day. I went a little more casual to that and, depending on how warm it was, either short pants or short riding pants (which were Lycra) and then usually a cotton t-shirt. I like cotton more than Lycra on the upper part of my body, especially in that heat.
How was the weather?
I was there at the end of March and it was similar to what we have in California in March. Probably days around low 20įCs and the evenings were much cooler, between 10-15įC. There was one day that was overcast and cool and we actually had a little mist. But good riding weather.
Do you cycle a lot back home? And do you need to be an expert cyclist to do this trip?
I would call myself a casual cyclist. There are a number of places for recreational bike riding near where I live, so it is easy to get on a trail here. I might do 15 miles here at home and be comfortable, and so the trip was absolutely fine. That was my biggest single concern before going on the trip. I didnít know how closely calibrated the ratings of the holiday were to actual riding, and it was fine. I felt perfectly comfortable. I was wondering, before I went, if many of the other participants would be serious bike riders, and a couple of them were, but it turned out I fitted right in as a casual rider and in reasonably good shape. We were all there to see Jordan really, rather than do a big cycling trip.
Did you find the people friendly and welcoming in Jordan?
Yes, I did. It was very easy to travel there. Iíve lived in Africa and been to Asia a number of times, and I find that an open, friendly smile will go a long way. So I try to remember that. But even so, I did find the Jordanian people to be very friendly. I just about managed one word in Arabic, which was
shukra
[thank you].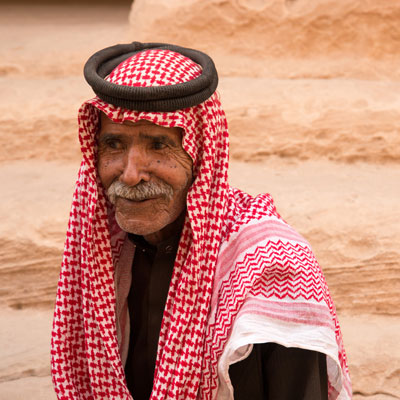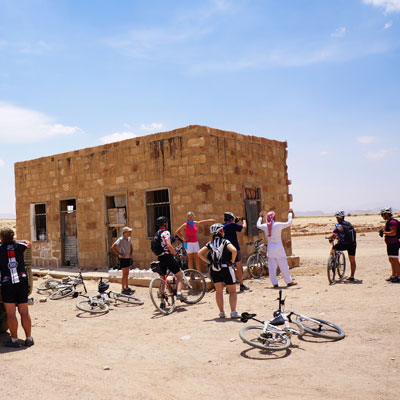 How many people were in your group?
There were 18. There was a woman in her mid 20s, and a couple of people around 70 Ė the whole gamut, really. Most people were closer to my age range, which is late 50s to early 60s.
What is your favourite souvenir or present?
I brought home an inlaid box for my partner, which I thought was very nice and a locally made craft. But surprisingly the gifts that people really liked were the bath salts from the Dead Sea. They went crazy over those, so that was my most well received gift.
Were your preconceptions of the trip very different from reality?
English was much more widely spoken than I expected. Also I was expecting most of the signage to be in Arabic, but it was nice to see some signs also in English, because it made it very easy to get around.
Where was your best sleep?
We stayed at La Maison hotel in Petra and I probably had the best sleep there. We also camped out one night with the Berbers in Wadi Rum. It was a quiet night and actually I had trouble staying awake at all. It was the most beautiful setting, and in the morning we got up early to take a camel ride and watch the sun rise over the desert. So, yes, as you can see there was something new every day.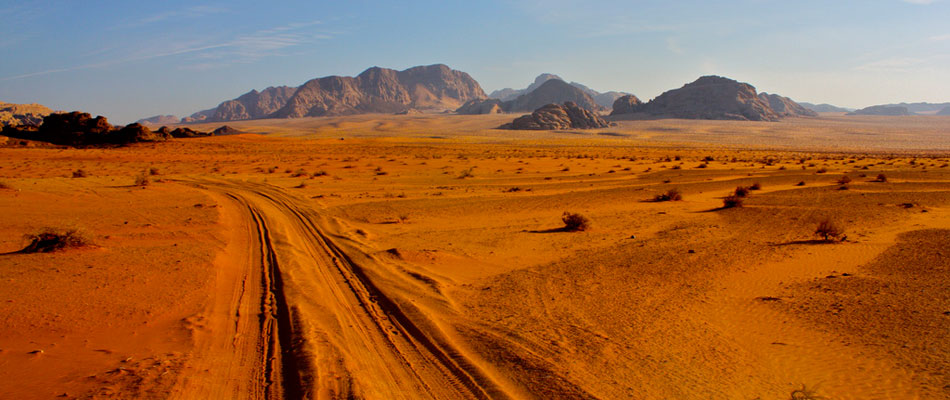 How was your experience of being in the desert?
This is a very stark desert, most similar to Death Valley in California, just in terms of the absence of vegetation. The rocks and sand have a reddish tinge, so it looks different, and really beautiful. In rock colour it is more akin to Arizona or New Mexico. The beauty of the surrounding mountains was also similar to what I would see travelling in New Mexico or Arizona, with beautiful mesas and so on. But this still felt quite unique or different, and I felt a bit like Lawrence of Arabia out there. Especially when I was on my camel!
On one of those days you went to the ancient site of Hadrianís Gate at Jerash. How was that?
There is a whole Roman city there, and it is the most beautiful site. With not one, but two amphitheatres and several other monuments. It was just incredible.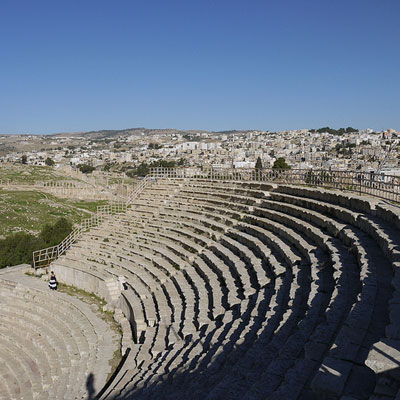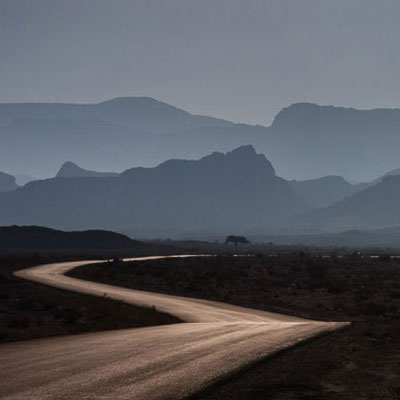 Did you have a scary moment?
In Wadi Araba we had a long bike ride, and there was a long descent where the road was windy and occasionally had rock and gravel. There was also a pretty steep drop off on one side, so I did feel a little uncomfortable on that stretch of road for a while. We did have one rider actually crash on that section. She was trying to negotiate a curve and was going a little too quickly, and she ended up on some rocks with some contusions. But the support vehicle came by, got her bandaged up and she was back on that saddle riding in no time. A real trooper.
Do you have any sense memories from your trip, other than Ďsightí ones?
Probably the biggest one for me was sound, especially in the cities, hearing the call of the
muezzin
, as well as all the other city sounds. Or even outside the city areas, you would hear the call to prayer and the sound would echo through the valleys.
Was there one local person that you met whom you will always remember?
Our guide! He was a Jordanian and his name was Issa. He had lived in the US for some time so his English was good. He was probably in his early 50s and he was just a character. I found him to be very entertaining, he was very solicitous, he really wanted us to have a good trip and he was a good conversationalist, with lots of interesting stories. He was just a wonderful person to be around and I would say probably the perfect guide for a trip like this.
Is there anything that was a bit overrated in your opinion?
The only slight disappointment was Aqaba, but we only had one night there. I think that was because the weather was cool when we were there, and it is a beach resort among other things. I chose not to go snorkelling and it didnít look like it was going to very exciting snorkelling anyway.
What is your favourite photograph?
Probably when Iím on the back of a camel, and itís a photograph of the shadow. Itís early morning and so there is a long shadow into the sand. Seeing the shadows of camels stretching into the desert, for me itís a very nice photo.
Did you get to see Petra at night?
No we didnít go at night. But Issa, our guide, did organise a dinner for us near Little Petra at night, surrounded by rocks and candles, and it was a traditional Jordanian meal. It was very nice.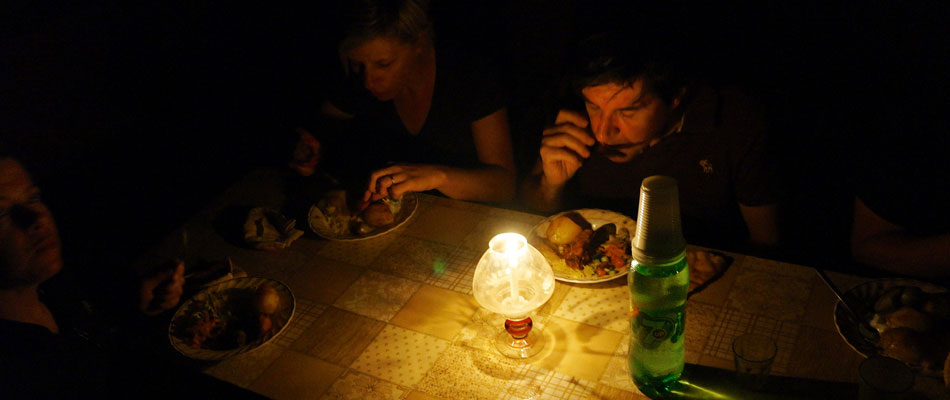 Has this trip influenced where you would like to go next?
Yes, I think I want to do another bike trip Ė I hadnít done a group bike trip before Ė and maybe to
Namibia
next! I really liked the connection that biking allowed me to have as a traveller. So even though I was with a group it wasnít like a bus trip. The bike allows me to be closer to the scenery, the people that we run across along the way and really experience the country. A bit like trekking except that you get to cover more ground. Also these cycling holidays are a nice mix. Not too much cycling and not too little. I would call it the Goldilocks of cycling. Just in the middle!
Find out more about this trip
Continue reading about this
Cycling holiday to Petra and Wadi Rum in Jordan