Traveller interview: Bill McCarthy on his help rebuild Dominica after hurricane Maria trip
See / go back to this
Help rebuild Dominica after hurricane Maria trip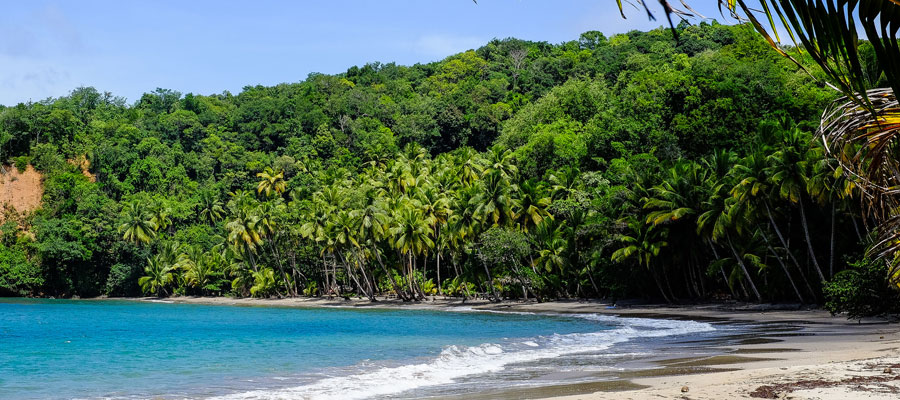 Bill McCarthy, a retired 67 year old from St. Louis, Missouri, had been on holiday to Dominica a few years ago. He was devastated to hear about the destruction caused by 2017?s Hurricane Maria on this beautiful Caribbean Island, which is why he decided to go and spend some time
volunteering there to give a helping hand
with some of the rebuilding and clearing up that needed doing there ? and indeed still needs doing. Here, Bill chats with one of our travel writers, Catherine Mack, about his experiences.
So, you had been to Dominica before, hadn?t you Bill?
Yes, I went there in 1999 and it was mostly a scuba diving trip, but also to see the inland part of the island. The big feature there is the Boiling Lake, and I hiked up to see that. It is quite a tough hike and when I was there for the volunteering trip, this part of the trail was still closed. I hope it is open again soon, but there were so many downed trees all over the island, it really did affect their trail system.
Yes, that?s right. In fact, part of my work when I was there was trail clearing on the Waitukubuli Trail.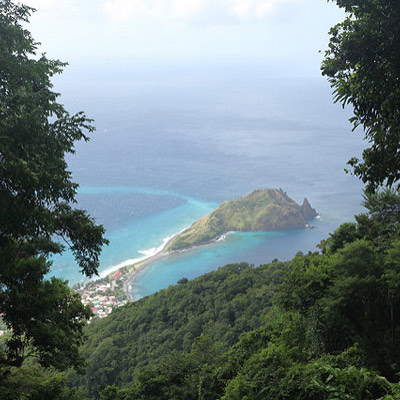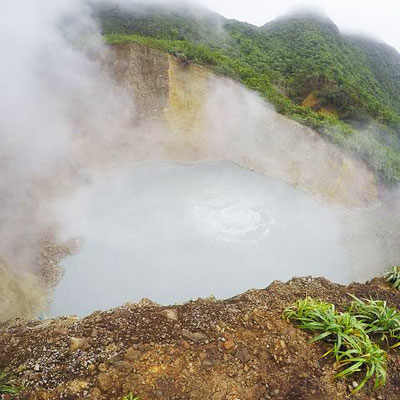 Was it because you had an affinity with the island that you decided to go and help out there after Hurricane Maria?
Yes, that is true. However, there was more to my thought process. Of course, Hurricane Maria was big news in the States because it hit the southern part of the country as well as Puerto Rico, which is a US Territory. It got a lot of coverage but I didn?t think the aid got fairly distributed. Certainly Puerto Rico got the short end of the stick there ? but they did get some aid. I decided to choose a place that might have been neglected a bit in terms of aid and because I had been to Dominica, I thought I would check it out.
What did you see when you got to Dominica?
It had been six months since the hurricane, so trees were starting to show signs of green, and local people felt that it was starting to look a little better. But for me, it was clear that trees were down all over the place and when I drove from the airport to the resort where I was staying, most houses or what was left of them had tarps on the roof. There were a lot of other houses that had been abandoned where the roof and a wall or two were missing too. There were also power lines and electrical cables down all over the place, including across the road, which worried me a bit while I was driving. But then I realised that they didn?t have power back of course. So there was a lot of visible destruction.
Had you been to a scene like that before at all?
No, I haven?t seen a destroyed area like that before, only in pictures. It is quite a wakeup call. We are in the Midwest tornado belt and I do see trees that are damaged and then the occasional house that might have a tree fallen on it, but nothing like this. As an example, I hoped to have fresh bananas but unfortunately the trees were destroyed in the storm. After six months the banana trees are just showing signs of having fruit. They also lost avocado trees which will take years to produce fruit after replanting. The island was also damaged several years ago from Tropical Storm Erika (August 2015).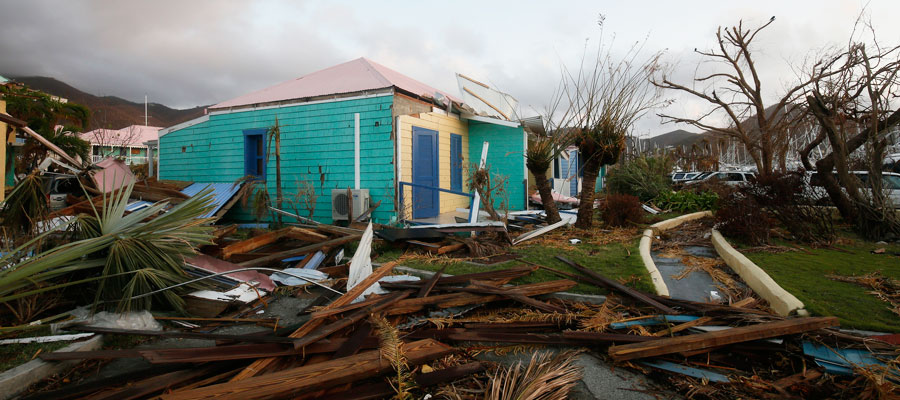 Do tell us more about the work you helped with in Dominica?
There were two options on this volunteering trip, one of them being trail clearing and the other was working on a construction project. And as I do a bit of hiking, the trail work appealed to me. I stayed at the ecolodge on your site, owned by Jem, who hooked me up with people helping clear the trail, and then I also did a couple of days? construction work, so that worked out well.
How did you get about when you were there?
I decided to rent a car. Jem?s resort is in the southeast of the island, and the work on the trail was happening on the northwest side, so it was good to have the car.
How was the work on the Waitukubuli Trail?
The trail work was being led by the owner of a resort hotel, and the crew included Stephan the leader, two paid workers from another Caribbean island and two other volunteers, Richard and Dave, both from England and both booking the trip through Responsible Travel. We worked Monday about four to five hours and cleared about 200 meters of trail. There were trees fallen all over the trail so the group leader and two of the island workers had chainsaws, and I brought a bow saw with me. We just cleared trees out of the trail for two days, which I can?t really describe as fun ? it was quite hard work! It wasn?t a long day of work, however, probably only five or six hours.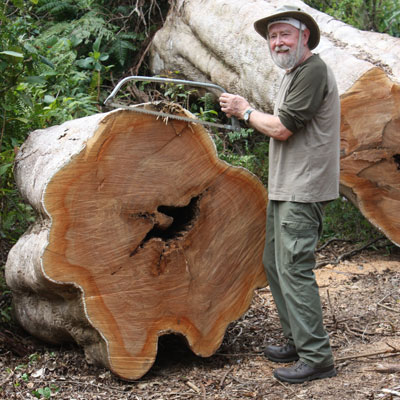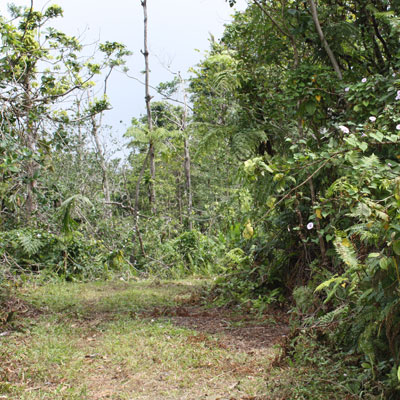 Sawing trees and trail photos by Bill McCarthy
So what did you do when you weren't volunteering?
There is a village nearby that is on the other side of the rivers from where the ecolodge is located, although it is up a pretty steep hill. It is called Grand Fond and I hiked up there for a day with another volunteer. We went to have lunch with his partner who was volunteering as a physiotherapist at the local school up there. It was a makeshift school as it had been destroyed by the hurricane.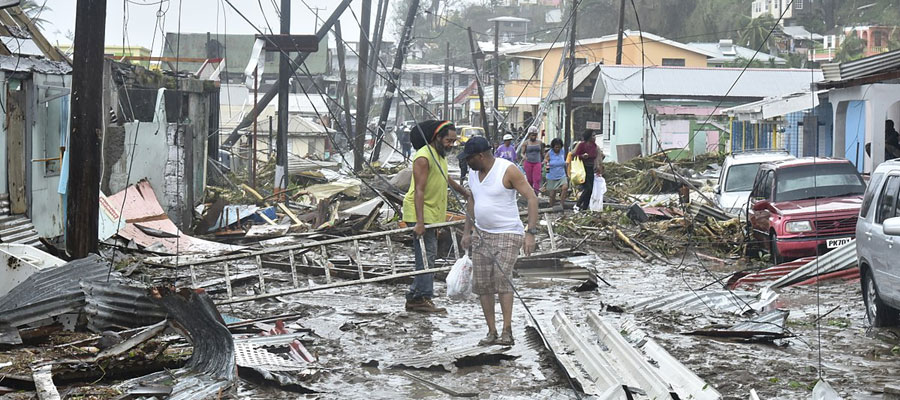 Did you bring anything with you to donate to work there?
Prior to going I talked with Jem about what I should bring. So I brought a tarp, zip ties, screws (preferred over nails as they have better holding capability especially in hurricane areas), flashlights with LED bulbs and replacement batteries. As well as two bow saws, sewing thread and needles. Luckily when I booked the flight, it turned out that I was somehow upgraded because I ticked the ?senior citizen? box on the form, which meant that I was able to bring two 65 pound (30kg) bags! So I was able to fill a bag with all the stuff that they needed on the ground.
And how was the construction work?
I was sent to La Plane on the east coast of Dominica. La Plane has the regional police station which seems to be the central meeting spot partly because it has free WiFi, so the locals hang out there, with their cell phones and so on, making use of it. On the first day I was to work with a guy Jason, but he wasn?t able to come meet me in the end as he was off doing other jobs. So I ended up just hanging out which in one way was frustrating but, in another, I just accepted that this was island life. He was just busy working with different crews on different projects, so it wasn?t a big deal. We worked Thursday and Friday on a residence doing general construction with about five or six others. One woman said her house was gone (as in ? literally no more) as a result of Maria. I was doing carpentry work on the eaves of the roof. Not actual roofing, just the eaves. I had promised my wife that I wouldn?t fall off anyone?s roof down there, so I was careful!
Did you feel that your work had an impact?
I think it was helpful and I guess I made an impact on a very small scale, but I?m glad I did it. The people I worked with were very nice, we got along well, but the bigger picture here is, well? the eye of the hurricane went over Dominica, so you can imagine. One of the things local people talked about was that when the hurricane was approaching, the winds were coming from one direction and pushing things with it. Then the eye came over and things calmed down and then, when the eye passed, the winds came from the other direction. So if the wind didn?t get a structure or a tree when it came first time, it got hit the second time around when it came in the other direction. Hurricane Maria really did hammer the island.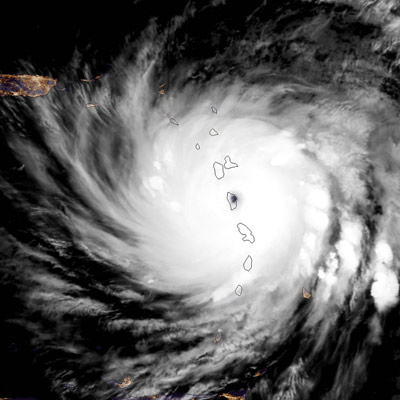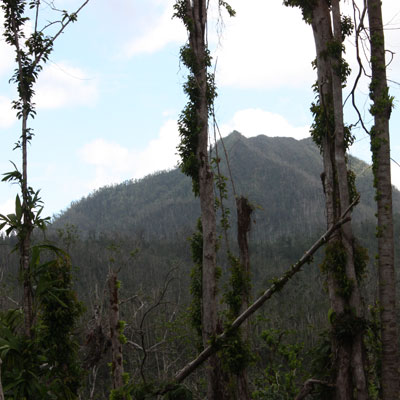 Had you done a volunteering trip before?
Not really. I have done some volunteering here at home in St Louis as they have an organisation that is a bit like Habitat for Humanity, which is called Rebuilding Together, St Louis. You go to someone?s house who doesn?t have a lot of resources or perhaps they are elderly and just can?t do stuff, and you help them fix up their house a bit. I?m not a builder by trade, but a chemist actually. I live in a house that I have been fixing up for the last 35 years as it was what we call a ?gut rehab? which meant that it was a disaster when I bought it. So, I have essentially rebuilt the inside of a house!
What tips would you give someone thinking of going to do similar volunteer work in Dominica, and who might need a bit of encouragement to do so?
People need to be prepared for the fact that this isn?t a Red Cross or Habitat for Humanity, set up where everything is super well organised. Another thing to note is that this eco resort was only accessible by two bridges over rivers. The bridges are now gone, so you have to wade across the rivers, one of which is quite fast flowing, so that is a little bit of a challenge. So you need to be prepared for that. The food was good, the room was fine ? it was actually their safe house, with a bathroom and shower, but no hot water as their system was damaged, and there was solar power for a light by the bed. It was basic but fine. But Jem needs the business for sure, because a lot of his accommodation ? such as the treehouses ? was destroyed, so people can still come and help rebuild these.
Did you visit anywhere else in Dominica?
Yes I did, as I had my rental car. I drove over to Roseau to see what that what the city was like; it was pretty heavily damaged. But I also wanted to do some bird watching. Sadly Jem?s birding book was destroyed by water damage, but I went to a beautiful spot called Emerald Falls, where I swam. I also went to a sulphur hot spring on the north side of the island. Not to bathe in though, as it was too small for that. So, I do recommend people coming here to hire a car ? but of course, if you are coming from the US, be prepared to drive on the left hand side of the road. I had done that before in Ireland ? the other Emerald Isle! There are a lot of potholes on the road, but the traffic was light and made driving very easy.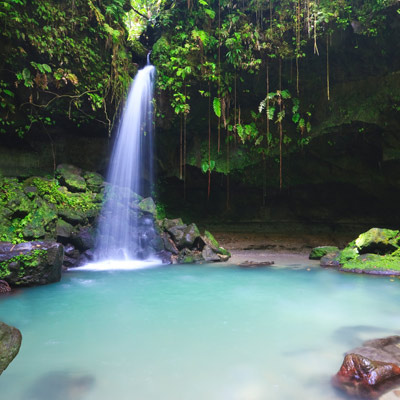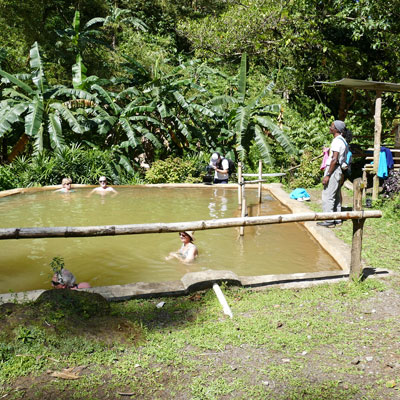 Waterfall and hot springs. Hot springs photo by
Peter Long
Find out more about this trip
Continue reading about this
Help rebuild Dominica after hurricane Maria trip