Walking the Waitukubuli Trail in Dominica
---
First long distance walking trail in the Caribbean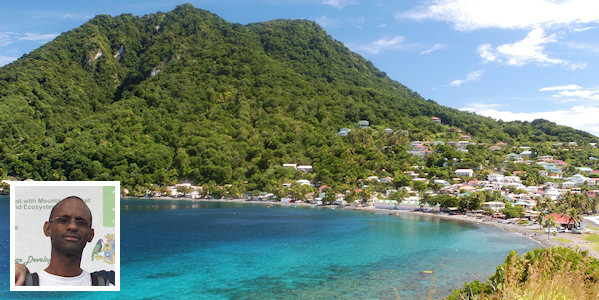 Walking the talk, with Michael Eugene, tour pioneer and one of those behind Dominica's extraordinary Waitukubuli National Trail, the first long distance walking trail in the Caribbean.
When a man walks the length of his country, you know he means business. And Michael Eugene, founder of our Dominican supplier, Jungle Trekking and Adventure Safaris, has made walking on this luscious, mountainous Caribbean island not only his business, but everybody else's living there too. Having left Dominica to go and do the grown up thing, chemical engineering at City University, New York, Michael returned to his native Dominica, where he set up a tourism company in 2002 that takes visitors on adventures along the country's wealth of rivers, under its waterfalls, through its tropical national parks and over its volcanic mountains. He soon realised that in order to do this properly, he needed to walk the talk and go on his own journey of discovery that would link up as many of his beloved country's glories as possible. And do so in what, for Michael, is the best way to adventure, and the way he had always known growing up – on foot.
Realising that yes, most Dominicans know the best paths to navigate the rainforests around, say, Morne Diablotin volcanic peak, or the coastal forests of its far northern coast, Michael also recognised that it is different for visitors. They like signs, maps and a hint of where to stay or where to grab a fresh coconut juice en route. 185km and several years of negotiations with farmers, indigenous Kalinago tribal leaders and government departments later, in 2011, Michael's dream of the Caribbean's first long distance walking trail, spanning from Scott's Head in the south to Cabrits National Park in the north, was completed. It was named the
Waitukubuli National Trail
, named after the indigenous name for the island, which means 'Tall is her body', and it is now the only long-distance walking trail in the Caribbean.
There are 14 segments on the trail, each taking a day to complete. So, you can pick 'n' mix or take on a serious challenge and do the whole thing, with welcoming homestays along the way and local guides to make the journey easier and packed with stories. I imagine that the stories behind achieving this dream would fill a book as, according to Michael, "In terms of developing the physical Trail itself, there was the problem of getting support and buy-in from the (several) land owners along the route to allow for Right-Of Way along the Trail. But now, more than 5 years later, and having hiked the trail many times over, and met many great people, I am finally beginning to understand just why I was drawn away from the big city."
Community involvement is also part of Michael's vision for the Waitukubuli National Trail (WNT), something that we also value at Responsible Travel. However, Michael is very quick to remind us that this is NOT a poverty issue in Dominica: "Sadly enough we are still referred to as being poor in Dominica, but in fact we are so resource rich. So I want to get away from the poverty word – and when we talk about homestays as a way of alleviating poverty, I believe that in Dominica it is almost the opposite of this. Yes, it supplements a farming community's income, but most importantly, homestays highlight the agricultural, sustenance farming heritage and celebrate it through tourism. Because in many ways, this is what we all need to be doing in the world. On our walking tours, we stop at one homestay for a lunch and everything is from the farmer's yard, from the eggs and chicken, carrots and broccoli, chives and all the seasoning, as well as fish that she gets in the local community. I dare say that in most developed countries, it is unlikely that I could go into the backyard and pick me my lunch and breakfast. So to me this isn't poverty."
Dominica does indeed have a wealth of resources, and with responsible tourism aficionados like Michael, they also have a wealth of wisdom. And we warm to this sort of wisdom at Responsible Travel, knowing that travellers can benefit from the sorts of unusual and enriching trips that Michael has made happen within his community. The WNT's opening hasn't been without its ups and downs, if you'll excuse the pun. Tropical Storm Erika in 2015, which devastated parts of the island, being one, but Michael was quick to update us on this: "Post Erika, bridges along Segments 3 and 5 have been extensively damaged and rendered useless. However hikers continue to walk through these areas and other segments along the Trail. There has also been much erosion along the slopes… however these effects have not deterred many and the stream of hikers has continued along all 14 segments." Then of course, there was Hurricane Maria in 2017 which caused even more damage, but clearance work began as soon as all humanitarian issues were seen to.
Maintaining the Trail is now in the hands of the Department of Forestry, but Michael is a realist about how government funding can be allocated. One year it might be forestry, another year it will be something else. And so he and other likeminded Dominicans wisely set up an NGO called Friends of Waitukubuli which has, according to Michael, "a quest to preserve and sustain our island. A few of us who were very passionate about it got together and formed this not for profit organisation, which gives us funds to help us keep an eye on the trail and ensure that it continues to be what it is meant to be."
But Michael's dream doesn't stop there. "The Trail must be the portal through which Dominica is marketed. What better way to achieve this and highlight the importance of this through recognition of this 115 mile long corridor as a national park… whereby everything along the space is revered and automatically protected in law!" He may have a bit of a journey still to go on this front, but Michael Eugene is definitely a man who walks the talk and lives the dream.
Responsible Travel would like to thank the Dominica tourist board for their sponsorship of this guide
Photo credits: [Michael Eugene: Jungle Trekking Adventures and Safaris] [Scotshead: Discover Dominica Authority] [Indian River: Discover Dominica Authority] [Victoria falls: Discover Dominica Authority]