Unlike the Sami or the Sioux, the indigenous people of Dominica, the Kalinago, aren't famous internationally. Despite the fact that they have a 3,400 strong population in a country that is only 750km² in total area, and have survived invasions by the Spanish, French and British over the centuries. Long before that, coming originally from South America, they battled with Arawak Indians for territories. So by the time the colonists moved in, they proved to be fierce resistance fighters, keeping invasions at bay for much longer than some of their neighobouring islands. The Kalinago have become the subject of a well known myth, that they were vicious cannibals over the centuries. However, experts have now confirmed that there is absolutely no evidence to support this in history.
Sometimes called Caribs or Carib Indians, this is a name given by the Europeans, so their own chosen name, the Kalinago, is the one we are plumping for. We also rather like the name they gave to their own island – Waitukubuli, meaning 'Tall is her body'. It is in honour of the Kalinago people that the islands' long distance walking trail, which covers the length of this beautiful tall body, is called the
Waitukubuli Trail
, and it passes through the indigenous territory.
You can visit their cultural centre, the
Kalinago Barana Aute
, for fascinating tours, tours and cultural experiences, but remember that this is not just for tourists. It is a homeland to thousands of people, now living in eight coastal villages over an area of 15km², but who have lived all over the island for generations. Founded 2006 to share the living and ancient culture of Dominica's indigenous Kalinago people. A people who are thriving, with 65 percent between the ages of 18 and 35, and their own democratically elected Chief. However, there are questions over the 'purity' of the people today, and in May 2008 the Chief proposed a law requiring that Kalinagos only marry within their ethnic group in order to preserve the population. He also requested that non-Kalinagos be refused from being resident on the reserve. However, other legislators on the Kalinago Council refused to see these drastic proposals through. See
Minority Rights
for more details.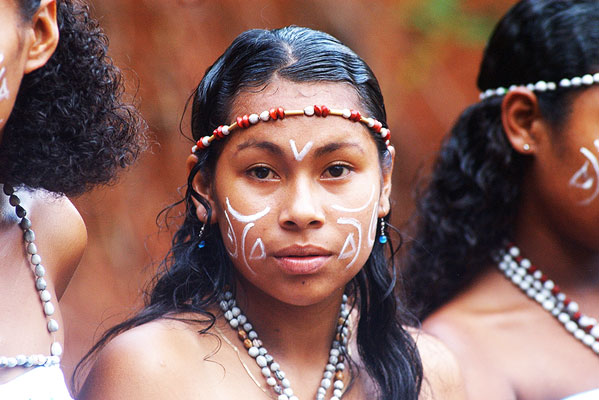 What you can do
Visit the
Kalinago Barana Aute
Cultural Centre, a place to get a real sense of human survival on this island as well as its ancient heritage, be it cookery or craft, politics or performances, collective farming or fishing. They also run Kalinago guided tours into the country's interior.