Traveller interview: Louise Allen discusses her trip to help rebuild Dominica after 2017's Hurricane Maria
See / go back to this trip:
Help rebuild Dominica after Hurricane Maria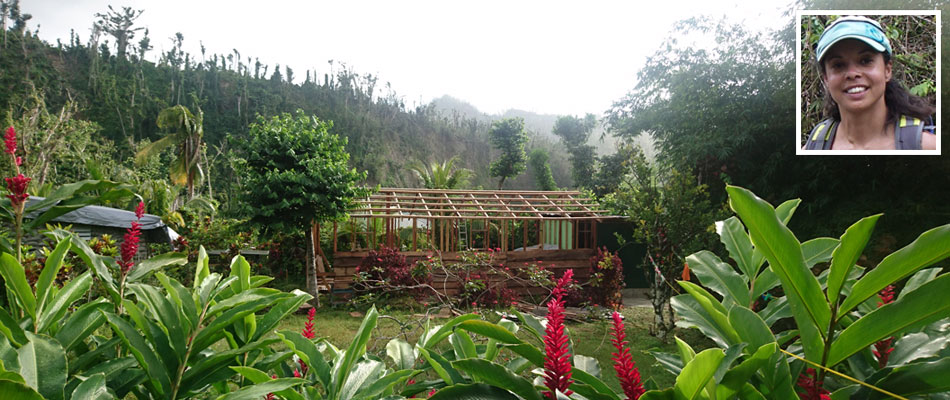 Photo by Louise Allen
Louise Allen, a keen traveller from St Albans, UK, and devotee of the Caribbean, was horrified by the impacts of Hurricane Maria on the island of Dominica, so she decided to go and volunteer there in March to help with much needed reconstruction. She chats with one of our writers, Catherine Mack, author of our
Dominica guide
, about her experiences and how they have made her think very differently about tourism. You can read more about how to
volunteer in Dominica here.
Had you been to Dominica before?
Not to Dominica but I have been to various parts of the Caribbean. My mumís of Caribbean heritage, sheís from Trinidad and Tobago and I love that part of the world.
What made you want to help out in Dominica in particular?
Iíd always wanted to go to Dominica to find out more about this Ďnature islandí, but when Hurricane Maria hit it and the region as a whole, I felt compelled to go. Itís quite difficult really, sitting at home watching everything when you feel part of that community. And you think, well what can I do to help? The obvious option is to give money of course, but rather selfishly I wanted to have a holiday anyway and so went in search of projects to help out on. I came across your volunteering trip in a Guardian article and it coincided with the holiday I was hoping to do anyway.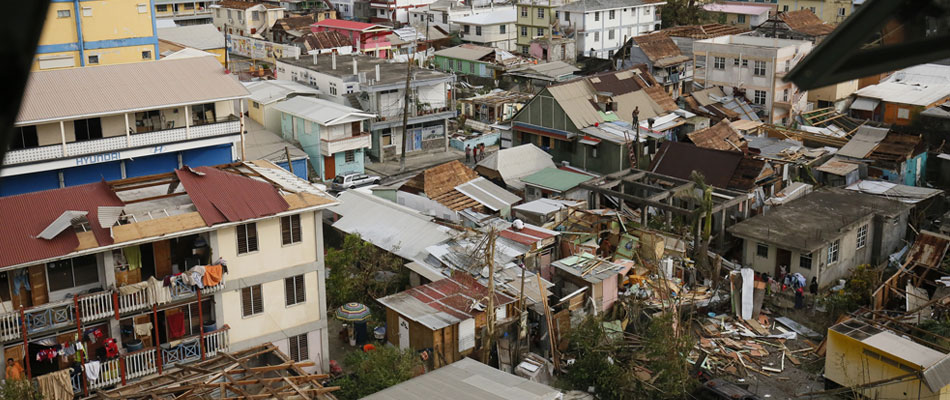 Where you happy to volunteer in Dominica in a way that offered a bit of structure?
Yes, I have a personal dislike of anything that could almost be described as Ďpoverty tourismí as I donít always feel it is a positive thing. But this was completely different as I would actually be contributing to something rather than just peering imperiously at other people.
Had you ever done anything like this before?
Not at all. I had never volunteered abroad. But I needed a break from work, I wanted to do a solo trip and it just seemed to be fortuitous that I saw this one and could make it work. I am in my 30s, I had travelled in this region and Latin America on my own a few times times before and I felt confident and comfortable with it. I do think sometimes that as a female solo traveller you do have to be cautious but I felt very comfortable doing this on my own.
Did you work with fellow volunteers?
It was quiet when I arrived on a Monday with myself and Jem, the owner of the ecolodge where we were staying and the volunteering project organiser, as well as a local friend who was helping him rebuild his lodgeís dormitory. It had been blown down during the hurricane. This was an important job for them to get done because part of his business relies on school trips coming to do wildlife conservation and nature trips, and the school children use the dorms. By the Tuesday a German tourist arrived who wasnít involved in volunteering but he ended up staying for another week after I left and was mucking in! It was quite funny actually Ė he had gone to Dominica to hike the
Waitukubuli Trail
as part of a career break that he had taken for a year. He had been travelling independently to various places and didnít realise how hard hit Dominica had been as a result of the hurricane, nor that the Trail had been so badly impacted.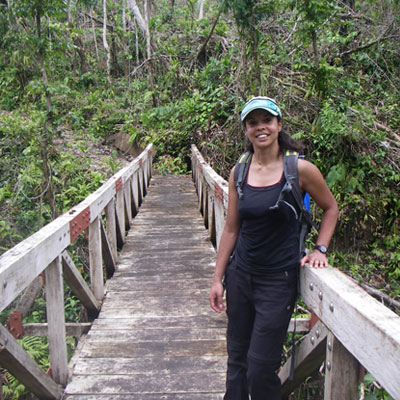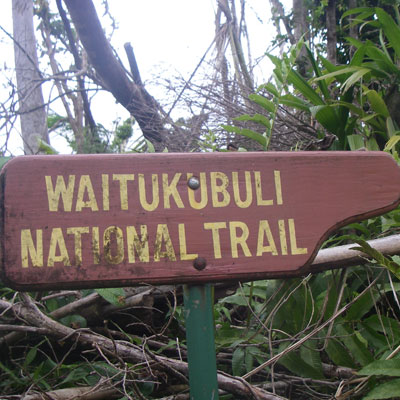 Louise Allen volunteering and Waitukubuli Trail. Photo by Louise Allen
How bad was the island when you got there?
It might be a culture shock for some people going there for the first time. I didnít find it particularly difficult but in a lot of places there is still no water, no electricity, there are a lot of people working on the roads and the infrastructure isnít great. There are lots of foreign workers getting things up and running again but six months after the hurricane, I believe the majority of the population still doesnít have access to running water or electricity. So you do wonder how on earth people cope. From a tourist perspective it is completely different, of course. Jem had hot water and [solar powered] electricity going so it was a different experience for us. But we did have conversations with local people who told us about their experiences.
Did many people talk about the impacts?
Yes they did, but at the same time I didnít want to probe or ask too many questions. Thereís a balance, isnít there? Youíre a guest in their country and I didnít really want to interrogate them about their life. But it was very humbling as many lives were lost as a result of the hurricane.
What sort of work did you do during your week there?
I started off doing some work in the garden with a member of the staff called Pearl, who was a really lovely girl. We were clearing out the vegetable patch and sorting it all out as they need that to all be functioning again. After that I did some forest clearing on the nearby section of the nature tail on site of the ecolodge because it would also used by the students who were going to come later in the summer. That was satisfying as it felt like it was important in the longer term to get this cleared, as it helps generate income and jobs further down the line.
Where did you sleep during your stay?
I stayed in one of the cottages on Jemís grounds. I had a choice of places to stay and to be honest, I didnít really need a whole cottage, but that was what I booked. There were other dorms, but I think it was a mixed dorm. The cottage was very nice and in some ways it felt a bit plush when you go around the country and see what has happened to peopleís homes.
Did you get to explore the island and were your hosts helpful with making that happen?
Yes, I had plenty of time off so Jem drove me, and the German guy who was staying, around various places on the island. He was like a tour guide really, and got other people to show us places like the hot springs. We also paid for the trips and went to the natural springs, the Botanical Gardens, the museum in the capital and also onto a section of the Waitukubuli Trail that was accessible again. So we got to hike up to the Emerald Pool, which was really beautiful. One thing that struck me, however, was that even though regrowth was happening in the trees, I still didnít see or hear many signs of wildlife. Birds, for example. The Trail was very quiet despite hiking through it for three or four hours. So, they obviously havenít returned yet, but hopefully when I go back, which I hope to do, they will have returned. So, as well as being struck by the loss of human life, I was also saddened by the impact the hurricane had on nature there.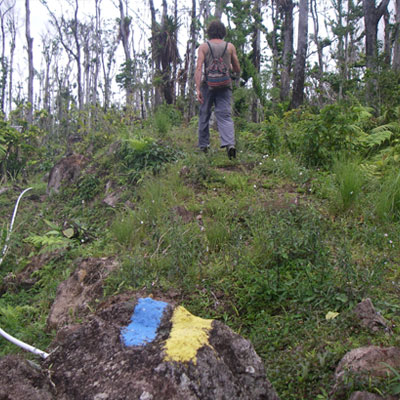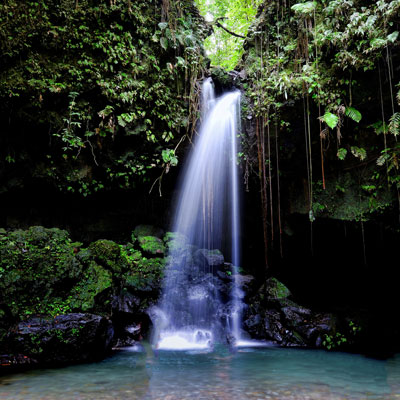 Volunteering on the Waitukubuli Trail and the Emerald Pool. Photo by Louise Allen and
Jiyi Ren
We also went to the Kalinago Territory. I was particularly pleased to do that because this is where the indigenous community lives and I was very interested in meeting people from this community - again, from a heritage perspective. I didnít know much about the Kalinago Territory beforehand, and that it is a protected region for that main surviving group. I know that my maternal grandfather had ancestry from this group of people, so that was really eye opening.
How was the weather?
It was beautiful, yet when I was flying in I could see the palm trees at 90 degrees and all quite parched looking as if there had been a fire. But of course there hadnít been a fire, it was just the impact of the wind as it had been so severe. When I was there it was lovely though. There was a bit of rain but usually at night, and local people were saying that they didnít feel there had been enough rain. They felt that the weather was sort of rebalancing after the hurricane because it still didnít feel seasonal. Jem described the country after the hurricane as being like a Ďnaked Dominicaí, with all the leaves off the trees and very stark. But there were some signs of regrowth and rejuvenation, so there were some feelings of positivity there about that, without a doubt.
What tips would you give someone going to do something similar, because help is still needed there isnít it?
I would say donít worry about going - just go! You will be fine. I guess for some people it might feel like you are roughing it a bit, although to be honest I didnít feel that, but some people might. I was in nice accommodation, all my meals were supplied and I was well looked after. You do have to cross a river to get to the lodge, because the bridge has collapsed after the hurricane, so that was a bit of fun, but it was all fine!
Another tip would be to ask Jem in advance what supplies you can bring as donations. When I got there I realised that were certain building materials such as specific nails or tools that they could have done with, but I had brought other things like school books, toiletries and basic clothing like underwear, which had also been recommended as a donation. So do check in with Jem about this before you come. I also didnít think to check with my friends before I came out if they wanted to donate some stuff too, so that would be a good tip to do that.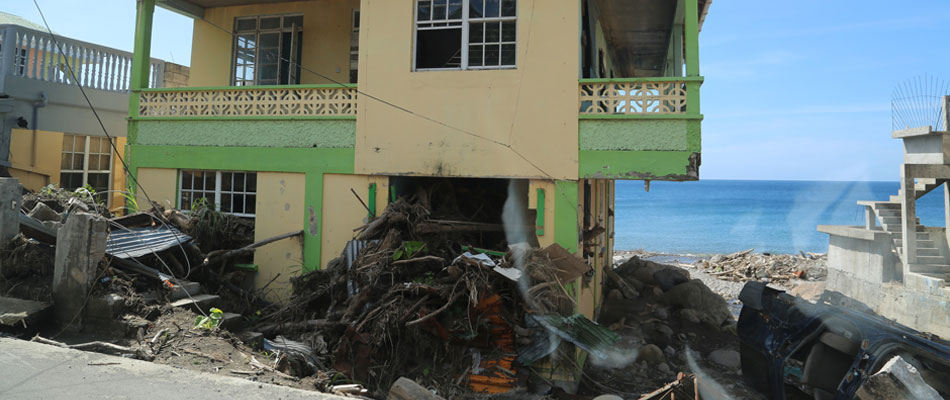 A house destroyed after Hurricane Maria. Photo by
DFID
It sounds like you had a great time from all aspects
I had a really great time, and a really rewarding time, too. It was just a brilliant experience and I would encourage anyone to do it, especially if you are thinking of going to the Caribbean on holiday anyway. I must say, I had quite a culture shock in the reverse way when I went to Antigua afterwards where there are so many all inclusive resorts. People go to these places to holiday and never leave which I found really weird, particularly after my experience in Dominica. It made me think about what I can do next time when I go on holiday that might actually be really useful, and this trip has given me confidence to do that.
So your volunteering has really had an impact on how you see tourism?
I donít think I will go on a holiday with a big hotel company or stay somewhere that isnít locally owned again. The volunteering has really made me think about where my money is going as a tourist, and having a responsibility to keep it local in that respect. I see now that there are aspects of tourism which I donít feel very comfortable with anymore, particularly these all inclusives where none of the money goes back into the local community. So yes, it has really made me reflect on the holiday choices I make.
Find out more about this trip
Help rebuild Dominica after Hurricane Maria