Traveller interview: Anne Steyn, on her Golden Triangle small group holiday, India
See / go back to this
Golden Triangle small group holiday, India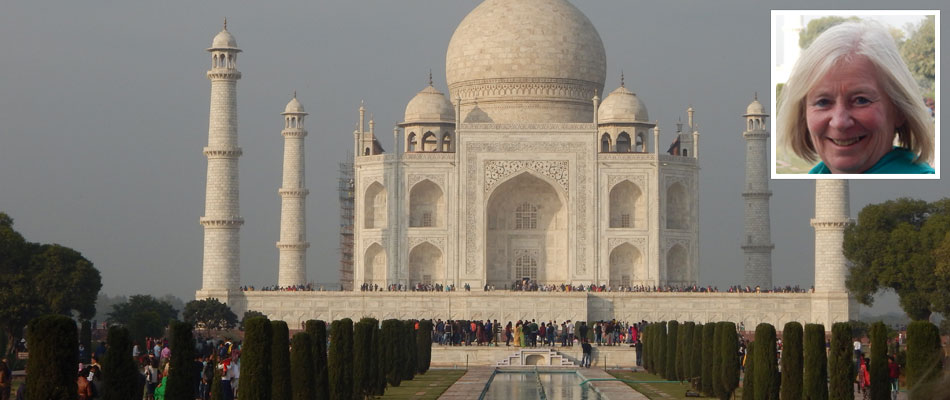 India and Anne inset. Photo by Anne Steyn.
Anne Steyn chats with our travel writer Joanna Simmons about an exciting
small group holiday in India
that she took with her daughter over the Christmas period.
What made you decide to go to India?
My daughter Pam, who is almost 29, has been in the same job for about nine years so she decided to volunteer abroad. In September of last year she travelled to Leh in Ladakh to work in a college, and suggested that we did some sightseeing together before she came home at Christmas. She found this Golden Triangle trip, and to be perfectly honest India would never have been on my list of places to go, but because Pam was out there it was just too good an opportunity to miss.
Why was India not on your list?
Iím quite fair skinned and I donít like the heat, so my partner and I tend to go walking in northern Mallorca in late September when the heatís died down a bit. This was a great chance to travel with Pam and try something completely different Ė and it was completely different, as I discovered when I got there.
When were you there?
Just before Christmas 2017. The temperature in Delhi wasnít as hot as I thought it might be. Apparently the pollutionís quite bad there at the moment, so the sunshine doesnít get through the fog. The highest there was about 16įC or 17įC. The hottest that we had was in Jaipur, that went up to about 27įC, but in all places we visited, quite cool in the evening. It was a good time of year to go, just right for me.
What were your first impressions?
Initially Delhi airport just seemed like any other airport, but then we got in the taxi. The roads are absolute bedlam! We had a bit of a hair raising journey through the streets of Delhi to get to our hotel.
What did you make of Delhi?
I loved Delhi. It probably had the biggest impact. To start with we were cosy in our little taxi from the airport, then got to our hotel, had a really nice meet and greet meeting, met our fellow travellers and went to dinner really near to the hotel. But the next morning we walked through the back streets of Delhi and it was a real eye opener. The noise, men urinating against walls, dogs, monkeys, ladies sweeping the pavement with brushes, people having their hair cut and shaved at the side of the road. We didnít see any cows until the end of the first night Ė maybe we just werenít being vigilant enough. One thing I said to one of the chaps is you can take all the photographs back, but you canít take the smells back.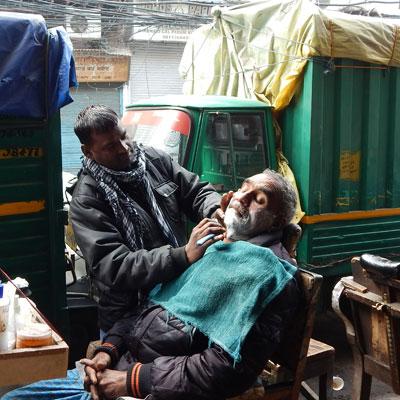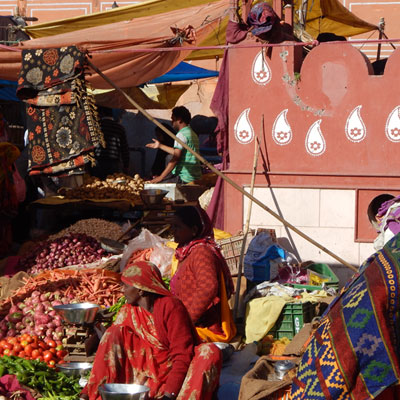 Street barber & market. Photos by Anne Steyn.
So do you have powerful sense memories of the trip?
Jaipur was smellier than Delhi, in terms of offensive smells, but as for pleasant smells, there are always marigold garlands and always lovely food smells. We were taken on a walk and our guide knew where the safe stalls to eat at were, so we stopped for some masala chai and that smelled lovely and sweet. Then we went up another side street where there were sweet stalls; lots of sweet smells going on there. We stopped for some paratha, too. Pam had lived on dhal and rice for three months so she was keen to try other things.
You paint a fairly full on picture, but did you get a buzz from it all?
Oh yes! Thereís just so much going on, so much hustle and bustle, but you can translate it back to big cities here. The traffic possibly isnít quite as well coordinated as it is here, and the modes of transport are different. We rode in auto rickshaws, and battery operated ones which go to the Taj Mahal to help cut down on pollution there.
You mentioned in your review that the guide dissuaded you from taking elephant rides.
We were really cautioned against using any form of elephant transport, because of the conditions that they are allegedly kept in. The tour leader was very geared up towards that.
You also said the Taj Mahal was a highlight. It didnít disappoint then?
Not in the slightest. I loved the Taj Mahal and the story behind it. It was one of the two big Ďwowí things on this trip. The other was Delhi. If I go back to India again, I donít think anything will have the same impact as that first morning walking through the backstreets. It was so busy, quite smelly, full on for noise and smells, new experiences and nice food.
After Delhi and the Taj Mahal, what else did you love?
The skill of the workmanship in the monuments we visited is fantastic, considering a lot of these places were built 600 or 800 years ago. The Palace of Winds in Jaipur was amazing. The Amber Fort is just so big. One huge courtyard, about the size of a Sainsburyís car park, leads through a little arch into another one with beautiful manicured gardens. Itís incredible that it was all built so long ago.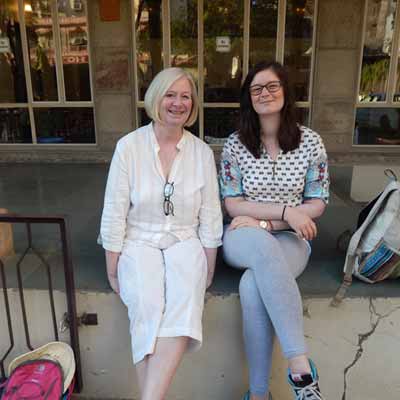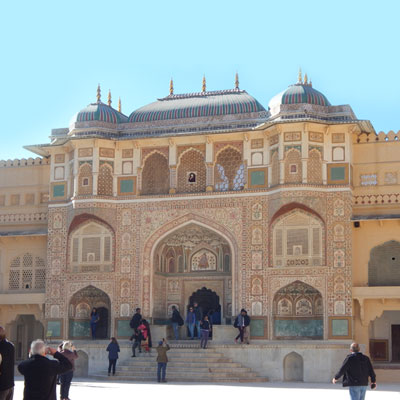 Anne Steyn with her daughter Pam & Amber Fort. Photos by Anne Steyn.
What did you think of the food?
One of the options in Delhi was a food walk, which was absolutely great. We had a lovely guide called Adi who took us to various street cafes and stalls. As we watched the food being cooked, he explained what it all was. Some of these places were famous with locals. Again, it was a great opportunity to try some different food; a taste of Indian food that you donít get in this country. The best food we tried was a little deep fried puff pastry ball called a panipuri. The top is taken off and it is stuffed before being sprinkled with pomegranate seeds Ė delicious!
Where was your best sleep?
We stayed in a rural heritage hotel in Karauli. That was absolutely beautiful. It was an old colonial style building. We were greeted with a ĎNamasteí at the door and each got our little red dots on our forehead, and then we were shown in Ė sumptuous is not the word!
How was the train ride from Delhi to Jaipur?
It was lovely. The train itself was like our little country trains; a bit rattly, but like on an aeroplane, all the seats had little fold down tables. We were brought a cup of tea which consisted of a little cardboard cup and a teabag, and we each got our own individual flask of boiling water. We were given breakfast as well. A few people took the opportunity to sleep on the train and the coach we used, but I was too nosy about what was going on outside. There was just so much to see. The countryside wasnít that much different from ours. It was a lot greener than I thought it would be.
Was there anything useful that you took, or something you wished you had taken?
I wish I had taken a slightly larger rucksack for carrying everything that was needed during the day, including a jacket for when it became cooler in the evenings. I also regret not taking a better camera. I only have a small, compact camera, and while I am quite pleased with a lot of the photographs Iíve taken I wish that I had borrowed my partnerís SLR.
What is your favourite souvenir?
One of the trips in Jaipur was to a fabric shop where they make saris and silk bedspreads and scarves. As Iíve just moved house I bought myself a silk bedspread which looks rather nice in my newly decorated bedroom!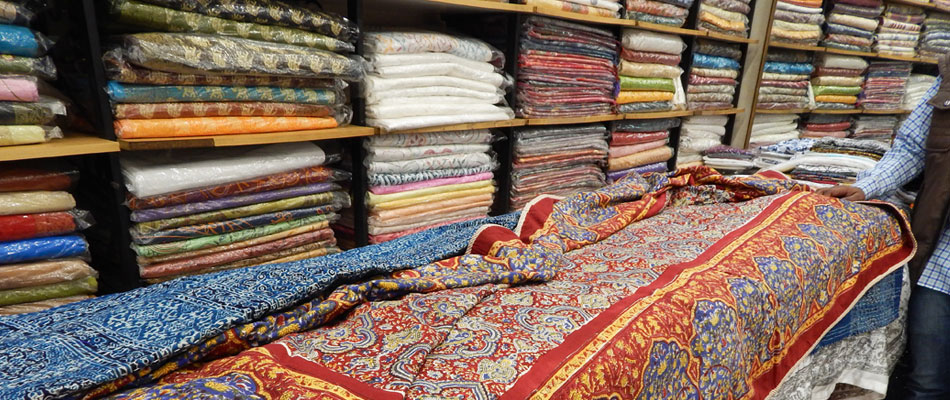 A fabric shop in Jaipur. Photo by Anne Steyn.
Did you have any preconceptions before you went?
Life had been rather hectic before I went away Ė trying to get Christmas organised as well as work Ė so I had little time to think about it beforehand (apart from organising travel vaccinations and the necessary visa, etc). Some friends had done a similar version of this trip earlier in the year, so gave me an idea of what to expect.
How were the guides on the trip?
They were great. And the good thing about them is they always managed to find a flushing toilet. Our leader Parik was fantastic. We had local guides for the monuments and the same coach driver throughout. Parik was not only a good organiser with an excellent sense of humour but was also very knowledgeable about the indigenous birds. He pointed out a hoopoe in the grounds of the City Palace in Karauli, a bird I have been wanting to see for years. One of the other members of our group left his passport in the photocopier in a SIM card shop in the middle of Delhi, which he realised when we were half way to Jaipur. Parik managed to get it back. The passport was waiting for him when we returned to our hotel in Delhi.
Are there any local people that youíll always remember?
Adi was very nice. He was our guide for a Gandhi tour in Delhi and the food walk. Iíll possibly remember him for the wrong reasons, as his mobile phone kept ringing, at inappropriate moments!!
Now that youíre home, what how do you reflect on your holiday?
Itís an absolutely fantastic trip Ė well organised, full of variety and a great and safe way of experiencing a completely different culture from our own. I met some lovely people in my fellow travellers and I am sure we shall keep in touch, if only to share photographs on Facebook!
Has this influenced how you might travel in the future?
I would definitely say so. I would not hesitate to recommend this trip and the tour company that ran it. They were excellent. There were quite a few solo travellers in our group, and I wouldnít hesitate to travel with them as a solo traveller myself. Parik mentioned a food trip which starts in New Delhi and works its way down to Goa. I think I might have to start saving for that!
Do you have any advice for someone going on this trip?
Bring reasonable walking shoes. Although we didnít do a huge mileage on foot we were on our feet for long periods at a time. My mistake the first day was thinking Iíd be a trendy traveller and wear a pair of long white linen trousers, which soaked up half of the streets of New Delhi. Iíd also say donít underestimate the jetlag, especially if youíre not used to travelling. Itís still catching up with me a couple of weeks later.
Find out more about this trip
Continue reading about this
Golden Triangle small group holiday, India