Our stance on greenwashing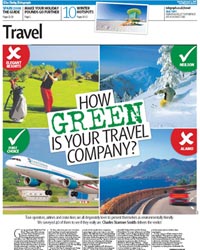 "Greenwashing" is where travel companies claim to be greener than they are in order to benefit from this in their marketing. Having worked hard to establish the concept of responsible tourism since 2000 we are of course against these practices. However, we also believe that it's a sign of progress in some ways as when Responsible Travel was launched, nobody felt that there was any marketing value at all in responsible travel and tourism.
Keeping our own house in order
We screen every tour company, every accommodation, and every single trip against our
criteria for responsible tourism
. We transparently publish tour companies' overall responsible tourism policies, and the details for every single trip which you will see at the bottom of every holiday page.
There is no responsible tourism scheme for individual trips or itineraries, so we've had to screen 400 tour companies ourselves since 2000. Where an accommodation has already been accredited by a reputable scheme we accept this. However, in many parts of the world these schemes do not exist and so we've screened them ourselves.
Less than 25 percent of the companies that approach us with an intention of joining the site pass all our criteria and end up being accepted. We are sadly unable to visit all the destinations and take part in all the trips on our site, but we do publish all our unedited reviews from travellers who have booked their holidays through Responsible Travel. We ask them explicitly about their experiences and about responsible tourism. Every review is sent back to the tour operator who runs the trip or to the accommodation owner, and this valuable feedback helps them to improve their practices.
We monitor these reviews very closely. If a company we work with is found to has misrepresented its practices or greenwashed the holidays they offer then we seek an explanation before removing them from our site. Although our screening helps to remove greenwashing operators in advance, at times we have had to remove companies who we have not been able to be confident about.
In September 2009 we published our first Responsible Tourism Report which examined our social and environmental impacts, followed by a second report in 2010. You can read more about
our values
. We welcome feedback in order to further improve our policies. Please email
press@responsibletravel.com
with any comments.
Keeping it small
While we do have a number of larger tour operators on our site, we're extremely proud of the very many, very small companies that we've helped over the years, and of the benefits that tourism has brought to the people and destinations in which they operate.
It is a common misconception that only charities and non-profit organisations can create positive social and environmental change. In fact businesses and charities can, and indeed must do this if we are to create a better world. By proving that we can be successful as a business we believe Responsible Travel has done far more to persuade other businesses to follow suit than we would have done if we were a charity.
Campaigning against tourism greenwashing
In just six months in 2007, The Daily Telegraph's Travel desk received 142 emails from companies claiming to be green. The difficulty for readers was distinguishing between the good and the less good. In December 2007, The Telegraph asked Responsible Travel to assist with the analysis of 40 of Britain's top travel companies in regards to responsible tourism (front cover of the paper, above). The companies and categories were chosen by The Telegraph travel team; Responsible Travel then began work with the paper to establish criteria and a ranking system on which all analysis would be based. Read more about
our audit
here.