Liz Bonnin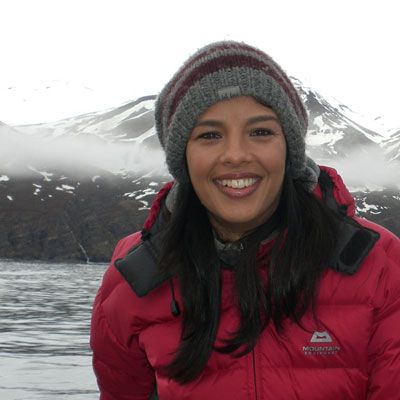 Liz has worked as a science and wildlife presenter for the BBC, ITV and for PBS in the USA on programmes such as Horizon, Nature's Epic Journeys, Big Blue Live, Wild Alaska Live, Super Smart Animals, Countrywise and Stargazing Live. She set up and carried out a research project on the diet of tigers in Bardia National Park, Nepal as part of her Masters. Her travel highlights include listening to the dawn chorus in Botswana and setting eyes on her first wild tiger in Pench National Park in India. She dreams of returning to her roots and setting up home in the countryside in the South of France and is hopeful for a future when we realise we are not superior to the wildlife with whom we share this planet.
Liz Bonnin interview
Where's home?
Home at the moment is London but I have always travelled all my life, since I was very little, and I am not tied down to any one place. Eventually I'd like home to be a little farmhouse in Southwest France, with wild flowers and fruit trees and lots of animals underfoot.
What has inspired you to do what you do?
I grew up in the countryside in the South of France with my sister and we were always running around discovering hedgehogs, spiders and snakes with our two dogs – I think a childhood spent outdoors cements your love of nature. I didn't plan to be a science and wildlife presenter but after accidently working in television for a while I thought it might be nice to combine my passion with a new found interest.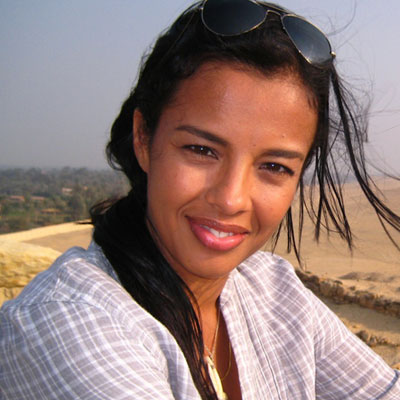 What's your first ever travel memory?
Travelling to the Caribbean to visit family. I must have still been a toddler, but I remember being with my grandmother in the crystal clear water on a beach in Martinique
Describe yourself in three words.
Loyal, hardworking, stubborn.
What do you dream of for our world in the future?
A time when we stop considering ourselves to be different from others, when we recognise ourselves as one species, living on this little rock suspended in this vast Universe, and treat each other with love and kindness. A time when we realise that we are not superior to the wildlife we share this planet with.
Where's the best place you've woken up?
In a tent in Botswana as the sun rises and the wildlife starts its dawn chorus.
Is there one person you've met who you feel you were so lucky to connect with?
An incredible man called Victor Lukarevski – a Russian biologist I met while filming a series about Amur tigers. He is a passionate and dedicated scientist who works tirelessly to protect tigers and leopards in the Russian Far East. He taught me a lot about humility, resilience and inner strength.
Tell us about a time when you felt like walking away from a project?
I set up a research project in Nepal on the diet of tigers while studying for my Masters. But because we only had three months to complete it, and I was getting nowhere in my communications with the Nepali scientists I was trying to work with, my friends on the course and all my lecturers were advising me against it. But I dug my heels in, I even arrived in Katmandu with none of my laboratory equipment (I remember thinking that I was surely going to fail my course), and somehow it all worked out in the end.
What's your happiest travel memory?
The first time I visited India – travelling in an open-top jeep at dawn in Pench National Park, taking in this extraordinary misty landscape that came straight out of Rudyard Kipling's Jungle Book. And the thrilling feeling of spotting a flash of orange through the trees as I set eyes on my first wild tiger.
What's always in your bag – no matter what adventure you're on?
A pencil and notebook. I love reading about the special moments in the company of wildlife and the crazy things that happen on filming trips that I would forget about otherwise.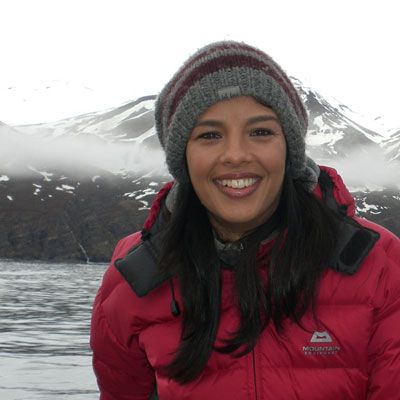 What do you still dream of doing that you haven't yet done?
I really want to do more to help figure out what we are still not getting right when it comes to protecting our wildlife. It's a complex issue but I hope that as I get older I can be more influential when it comes to the big changes that need to happen with conservation policies around the world.
Where would you like to be right now?
At a watering hole in Botswana as the sun is setting, watching elephants take their evening drink, soaking in the magic and poetry of the moment. That, or finally setting eyes on my first snow leopard somewhere in the Himalayas. It's something I am desperate to experience.