"A stunning cruise down the Nile on a traditional felucca, guided by local experts and tailor made for 4 or 6 days. Starting from Elaphantine Island. "
Highlights
4 or 6 day Nile felucca cruise | Elaphantine Island | Kom Ombo temple | Daraw camel market | Wadi el Chott | Edfou | Esna | Gebel Silsila
Description of Nile felucca cruise in Egypt
This felucca Nile cruise can be taken as a four or six day holiday, starting at our guesthouse on Elaphantine Island, where our guesthouse is at the heart of its Nubian community. With room for seven passengers maximum, our felucca cruises are perfect for families and other small groups, and we offer great value too, with all guiding, meals, cabins and historical site visits included in the price of the cruise.

A tailor made itinerary, we recommend either a four or six day journey, finishing at Edfou for the shorter trip and Esna for the longer one. Some of the highlights that we recommend en route include the camel market at Daraw, a hike through Wadi el- Chott and visit to ancient temples and tombs such as at Kom Ombo all of which we endeavour to visit outside busy tourist times.
Every day is different on board the felucca, as you pass by riverside and island life, gain perspective of Egypt from the water and enjoy the company of your friendly crew, all of whom are committed to environmental and social responsibility, real cultural engagement as well as good fun in our tourism venture.

As a tailor made trip, we can extend your stay on land if you wish, either on Elaphantine Island, or further afield in Luxor, for example.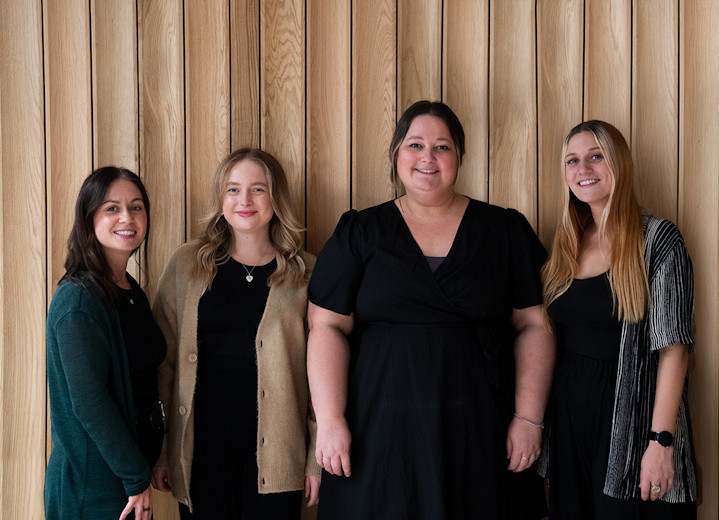 Departure information
This trip can be tailor made throughout the year to suit your requirements
Responsible tourism
Nile felucca cruise in Egypt
Carbon reduction
Your holiday will help support local people and conservation. We must also reduce CO2. Learn about the CO2 emissions of this holiday and how to reduce them.
Our feluccas are just powered by wind and current. This cruise is completly carbon free!
Environment
We are particularly careful to ensure that there are no negative ecological impacts.We use no fossil energy, the feluccas travel exclusively on wind power.As a consequence the banks of the Nile and its wildlife undergo no degradation caused by us in contrast to that inflicted by the larger cruise boats which produce serious damage and erosion due to the waves they create. Moreover the animal life and especially the birds are not frightened or disturbed by the noise of the engines and our guest can see them very close.
We undertake the organization of cleaning up not only after ourselves but of less scrupulous tourists or local people in the areas where we spend the night During the cruise, all the rubbish is kept and put in a proper place.
We create the opportunity to exchange ideas and mutual understanding about ecological behavioursi in a country where Ecology is not the first concern.
Community
Our aim is to propose and promote individual holidays that are environmentally and socially respectful. We endeavour to provide our clients the opportunity to have a clear and precise insight into the characteristics of local life whilst minimizing the negative impact generally associated with mass tourism. We are particularly careful to ensure a fair distribution of the money generated by our activity so that the main beneficiaries are egyptian families.
The felucca owned by our company remains entirely at the disposition of the family of our egyptian associates at Luxor. Cruises departing from Aswan are aboard another felucca hired for the purpose so as not to interrupt the regular work schedule of the boat based at Luxor. All the people who organize the cruises and accompany visitors (captain, mousse, cook) are egyptian .All purchases relative to the holidays are made locally (food, transport, equipment)
Since the "Arab Spring" tourism has diminished substantially and is struggling to restart. With our initiative we wish to support local communities and to bring them a mean to restore confidence in their own future without relying too much on the only egyptian government.
7 Reviews of Nile felucca cruise in Egypt
---
Reviewed on 18 Aug 2019 by
Amandip Uppal
1. What was the most memorable or exciting part of your holiday?

Our 5 days on the felucca will forever be remembered as a truly unique and therapeautic experience. Slowly sailing downstream from Aswan we watched the
Nile pass by, stopping to see a temple one day or a trip into town to see a camel market on another - this was a beautiful way to experience Egypt away from the
larger cruise ships. Our felucca was crewed by brothers Karim and Hesham and their cousin, the cook, Adam and they were all amazing. Always attentive but
never over bearing. The food was great and Karim was a pleasure to be with when we ventured away from the felucca - we cannot praise them enough.


2. What tips would you give other travellers booking this holiday?

We travelled in the Summer, which we worried would be too hot, however the Nile and the breeze over the water sweeps through the open sided felucca and
this kept us cool. We sailed until sunset each day and moored up for the night in a peaceful place on the banks of the river. Sleeping beneath the stars and
washing each morning in the clear waters of the Nile was another beautiful experience. Going off-season meant there were a lot less people at the temples -
maybe 10-30 people rather than the hundreds in high season.


3. Did you feel that your holiday benefited local people, reduced environmental impacts or supported conservation?

We got to know Karim, Hesham and Adam and we realised how important the tourist trade is to Egypt and how reliant they were on this. By going on a felucca
you get to really appreciate the Egyptian people and the simple pleasures that sailing along such a beautiful river brings with it. No noisy engines, just the
wind and the flow of the river to take you from one place to another.


4. Finally, how would you rate your holiday overall?

Amazing. One of the best holidays we have experienced. A truly unique experience and a chance to unwind, slow down, talk, read and play board games.
P.S. our mobile phones ran out of charge after 2 days which was great, but remember to bring another camera!
---
Reviewed on 06 Apr 2019 by
Ines Martins
1. What was the most memorable or exciting part of your holiday?

Chilling in the felucca while it sailed up the beautiful Nile and also getting to know our crew (Karim, Moustafa and Assan). Every day was different and
exciting. The best day for us was probably the one where not much was planned. We spent the night in a tiny river beach and then we swam in the Nile the
morning after... The beauty and serenity of this place were just unbelievable!


2. What tips would you give other travellers booking this holiday?

Don't think twice about booking this holiday, you won't regret it! At first we weren't sure what to expect, but we soon fell in love with our felucca and the lazy sailing up the Nile that made those 4 days incredible!!


3. Did you feel that your holiday benefited local people, reduced environmental impacts or supported conservation?

One of the reasons we chose a felucca was (apart from being super cool!) the fact that is a motor-free boat, which creates no noise or pollution. We wanted a
very special and responsible way of sailing the Nile and we knew that we probably wouldn't get the experience we had in a big cruise... We realised during the trip that big cruises don't really stop in some of the places that only tiny boats can stop, and that made it very magical as well. We got to know local people when we randomly stopped for whatever reason, and that was great! This is definitely THE way to see the Nile and its nature and people.


4. Finally, how would you rate your holiday overall?

This was probably the best thing I've EVER done while travelling. It was the highlight of our trip and I'd do it over and over again! I miss Egypt :)
---
Reviewed on 27 Jan 2019 by
Rich Read
1. What was the most memorable or exciting part of your holiday?

Folks, look no further: Book this trip. It is the journey of a lifetime, absolutely the most special and authentic way to travel down the Nile. Take it from a
seasoned traveler, this felucca voyage rates right up there with the world's grand adventures -- riding the Trans Siberian Railroad, driving across Mongolia,
attending the Pushkar Camel Fair, cruising Antarctica, trekking in Nepal, exploring Bhutan. This journey in a traditional sailboat gets you to villages, tombs
and quarries off-limits to cruise-ship passengers. The three licensed captains who made up our crew -- brothers Karim and Hesham, and their friend, Assem --
sailed us seven days down the mighty river, tackling expertly against the wind, cooking delicious meals, sharing songs and stories, explaining Egyptian customs, mooring at night by remote islands, admiring sunsets and a full moon, and caring for us as thoughtfully and carefully as they did their beautiful boat. This is your chance to dally like Huckleberry Finn along the world's longest river, to watch birds and fishermen, to sleep on deck beneath glittering stars, to experience Egypt close-up. Most memorable? That would be difficult to say. Perhaps visiting the camel auction, or clambering around the deserted quarry that produced rock for the Pyramids, or feeling the river's power when we stopped to swim. Ultimately though, it was the friendships we made with Karim, Hesham and Assem, whose hard work, generosity and humor we will always remember.


2. What tips would you give other travellers booking this holiday?

There are three ways to travel the Nile. 1) On a big stinking cruise ship, which has advantages of speed and comfort but dumps out crowds at every touristed
stop. 2) On a "dahabiya," a glorified houseboat with ornamental sails; promotional photos omit the tugboats that tow these admittedly charming barges, which feature cabins and hot showers. 3) On a felucca (pronounced "fell-oo-ka"), a broad, stable wooden sailboat fitted with mattresses for lounging during the day and sleeping in an enclosed tent-like space at night. The felucca is not for everyone -- you need to be able to walk the plank between ship and shore, holding a carefully tied railing, and you won't have creature comforts beyond a portable toilet in a tent pitched each evening for privacy. But this is glamping, not camping, with catered meals, hot tea upon request, campfires on beaches and guided walks along the way. Good to bring sunscreen, hand sanitizer, binoculars, headlamps, books not Kindles, sleeping-bag liners (they provide warm blankets), and perhaps a few bottles of wine.


3. Did you feel that your holiday benefited local people, reduced environmental impacts or supported conservation?

Yes, booking this excursion directly supports the crew and their families, village economies and the way of life that it takes to sail and maintain a traditional
sailing vessel. We passed scores of big cruise ships, many only partially filled, spewing black diesel fumes. Our boat relied solely on the wind and current, and
at one point a set of oars to propel us under a bridge that required lowering the sail. The boat is owned by Marc, in France, who is helpful with logistics by
email and phone. I can't imagine that he does it to make money. He's supporting purists who believe in traditional sailing and hospitality, and will be grateful for your business.


4. Finally, how would you rate your holiday overall?

Five stars, for sure. For us, this was a special father-daughter trip. We flew to Cairo from Spain, where my daughter had completed a semester abroad in Sevilla. We caught an early flight the next day to Aswan. We sailed for a week -- longer than most people. Along the way, my daughter turned 21, serenaded by
the candle-bearing crew. The boatmen thoughtfully strung up balloons and plastic garlands for Christmas, asking us to explain Santa Claus and whether he is real. With my daughter, they teased me for taking so many photos -- but I couldn't help it, the views are so dramatic and locals so friendly. It was just the two of us passengers aboard, with the crew -- the boat could easily have accommodated more. My daughter, an athlete, loved the trip, although she missed running and working out. We chuckled at the sight of a lady in full Nike gear, running on a treadmill high above us, beneath a parasol on the top deck of a cruise ship. We stayed healthy throughout, encountered no mosquitoes (in December), and enjoyed the crepes, omelettes, fresh bread, cheese, chicken, fish, vegetables and hummus that Karim prepared in his tiny kitchen with a gas stove. The water is calm, no worries about seasickness. Bring bathing bathing suits, travel towels, sunglasses and a first-aid kit (Hashem stubbed his toe during one of his evening climbs way up the mast to gather and lash the sail).
---
Reviewed on 03 Jan 2019 by
Asma Hussain
1. What was the most memorable or exciting part of your holiday?

My friend and I were in Egypt for 13 days and in the middle of it went on this felucca cruise, which turned out to be the highlight of the entire holiday, easily
beating the pyramids, sphinx, temples and tombs! Being on the Nile for four days was exciting in itself, but the title for most memorable must go to our
wonderful crew: Hesham our tour guide, Bassam the captain, Ramadan the captain's mate and Ahmed who was cook (every meal was cooked from scratch
(and vegetarian to cater for me and my friend) and was better than anything in a restaurant!).


2. What tips would you give other travellers booking this holiday?

Don't hesitate, just book! This was the part of the holiday I was most nervous about: having never been camping, I had no idea how I would manage with
having no facilities to wash nor did I have any experience of sleeping on a boat. Be sure to stock up on wet wipes and dry shampoo! But the best advice is to
keep an open mind and relax. The pace of life on the felucca is entirely different to the city. You are at the mercy of the winds so enjoy the scenery, bring a
book, a battery pack to charge your phone/tablet, a pack of playing cards, a torch for the night and a curiosity about the world around you. Also, the crew
take great pride in their boat so be respectful of this; take your shoes off when on the boat and be sure to clean up after yourself .

Finally, I'm glad we opted for the four-day cruise instead of the six-day option. This is entirely down to personal preference but I really needed a hot shower
after four days on the Nile - I'm not sure I would have managed six days!


3. Did you feel that your holiday benefited local people, reduced environmental impacts or supported conservation?

Absolutely. The crew were local and knew people in the towns and villages we stopped at. Anything we spent in these places directly benefited local vendors
and businesses. Every where we stopped, the crew made sure we cleaned up after ourselves. The felucca has no motor and so is the most environmentally
friendly cruise you can take. We did not envy any of the passengers on the dahabiya and bigger cruise ships that were trailing black fumes along the beautiful river.


4. Finally, how would you rate your holiday overall?

Thanks to the cruise, this turned out to be the holiday of a lifetime! Thank you to Marc for being so responsive in the planning stages when we were emailing
back and forth about what to expect and how to prepare; to the brothers Hesham and Karim for making sure the felucca was fully stocked and the route
expertly mapped out for our journey; and to the wonderful crew who took such good care of us. It's worth mentioning I was the only woman on board and felt
completely safe and well looked after.
Read the operator's response here:
Many thanks Asma for your kind commentary . Just one thing / it looks like you did not experience bathing and swimming in the Nile. Or just ask the crew to warm some water for you.
---
Reviewed on 22 May 2018 by
Jost Stollmann
1. What was the most memorable or exciting part of your holiday?

Sailing the Nile with your own Felucca. Late morning on Saturday 5 May 2018 our driver drops us, father and daughter, off on the banks of the river Nile somewhere north of Aswan. There is our Felucca, the traditional wooden
sailing boat that Egyptians have used for thousands of years to transport people and goods up and down the river Nile. We meet our crew: Hesham, the young captain, and Karim, the guide, cook and co-captain. The first sentences are "Welcome to the boat. This is now your boat." Wow, I am a passionate world sailor and traveller. What a feeling not to be a tourist, but the adventurer that now will explore on this new Felucca the secrets of the river Nile with that smiling and experienced crew.In no time, Hesham and Karim have stowed away our baggage, served the tea and off go the lines and we are underway. The breeze is light and most of the work is done by the current. The water level is high, but not at its peak. I estimate the current at 3 knots. The feeling is amazing, from bewilderment settling into our new home to the total deceleration from our modern loud and busy life. It is so calm, so quiet. Occasionally the donkey screams, the muezzin calls and the kids splash into the Nile. We beach the Felucca on an island in the middle of the Nile. There are gazing cows, birds, the night falls and we have candle light dinner. It is amazing what Karim produces on his little stove. All local produces, Egyptian delicacies. The crew tailors to our needs as far as our hygiene is concerned. There is the mobile toilet, the fresh water and the cleanliness on the boat. We sleep under the stars. The voyage continues with us stopping from time to time to visit the temples, the villages, the markets … And our advantage is that we can stop at places off the beaten track and we can play it by ears. We are free. When the wind typically picks up in the afternoon, we tack up the Nile northbound. There is only the sound of the gargling water and the tenderness of the soft breeze. We pass the green fields, the palm trees all with the desert mountains in the background, the reed, the fishermen harassing the fish into their nets, the cows, donkeys, villages. All is passing by like in a slow movie. It is our boat, so I take the rudder. What an exhilarating feeling it is to see the Felucca working its way upwind thanks to its one big lateen sail. That Egyptian invention changed the trade routes, built fortunes and changed the world. Midterm, a strong storm is forecast. We dig the Felucca in at a safe place on the river bank. I arrange a private transport. We fight our way on the desert road through the wall of the sand storm. In Luxor the weather clears up and we experience the overwhelming art and artistry decorating the Pharaohs' tombs in the Valley of the Kings. How elegant, what finesse! When we return the next day, our Felucca is ready again, spot clean and that after the sand storm. We have the sail of the century. There is a fresh breeze and the Felucca starts flying. We spent in total five nights on our Felucca and we made it from Aswan to Esna, where we were picked up again for the drive back to the airport. We were quite impressed to have made it that far. You never know as you are dependent on the currents and winds, but that is part of the experience. Our sail with the Felucca was a special experience. When I dig into why, it has to do with that the boat became ours, the trip was ours and we had Hesham and Karim as new friends who helped us to make the best out of it. We sailed when we could, I was amazed by their skills in navigating the current. Hesham and Karim spoiled us with amazing food, magnificent hidden spots, for ever tea, laughters and stories.


2. What tips would you give other travellers booking this holiday?

If you want an authentic Nile experience off the beaten track, charter your private Felucca! They call their Felucca "Freedom Nile". Very adequate.


3. Did you feel that your holiday benefited local people, reduced environmental impacts or supported conservation?

Absolutely. Chartering the Felucca "Freedom Nile" supports an Egyptian family directly. We used the river current and wind, supplies from local markets, local drivers on our visits. We behaved respectfully when visiting the villages and meeting the locals.


4. Finally, how would you rate your holiday overall?

Spectacular. Probably it is not for everyone. You need to want an authentic experience that will take you into a different world, out of your routine and comfort zone. It is well worth it.
---
Reviewed on 10 Apr 2018 by
Jo Scott
1. What was the most memorable or exciting part of your holiday?

Egypt was beautifully chaotic, dusty and dirty and a treasure to behold. The most amazing part of this was the relaxing, quiet 2 days spent on the Felucca sailing the magnificent Nile. We felt completely looked after, all our needs met and especially great food from cook Ramadon and expert guidance from guide Hesham. Want to thank Captain Hesain for his expert sailing and the special trip to his home. Much appreciated.


2. What tips would you give other travellers booking this holiday?

Be aware that it is not 5 star comfort - which is exactly what we wanted and what we loved about it. Wash in the Nile, bathroom set up on the side of the river and sleeping in your clothes. The experience was amazing and exactly what we wanted, quiet, peaceful, reflective beauty.


3. Did you feel that your holiday benefited local people, reduced environmental impacts or supported conservation?

I do feel it did and I hope it did, this is why I booked here. I felt comfortable that we were less of a tourist venture (as so much of Egypt is) and more of a local experience.


4. Finally, how would you rate your holiday overall?

I would use this company again, I loved the experience as did my kids - really was the highlight. Thank you team you did a great job.
---
Reviewed on 29 Mar 2016 by
Dominic Kelly
1. What was the most memorable or exciting part of your holiday?

Waking up as the sun rose over the milky waters of the Nile was pretty incredible. Walking on the sandy banks and washing as the fishermen and farmers arrived for their work was truly magical.


2. What tips would you give other travellers booking this holiday?

Bring some mosquito repellent and a sheet or sleeping bag liner. The blankets provider are warm but you'd want something between you and them.
Wake up for sunrise.
Be prepared for plans to change slightly as wind and currents are your masters.



3. Did you feel that your holiday benefited local people, reduced environmental impacts or supported conservation?

You only need to watch the huge cruisers pass you by to realise how lucky you are to be sailing with no engine, no other tourists and local sailors/guides.
Food is fresh and bought at markets as you travel. The money is going straight to the staff.


4. Finally, how would you rate your holiday overall?

The felucca part of our Egypt trip was a definite highlight. I could have camped on the Nile for many more days, aimlessly drifting and relaxing.
---
Popular similar holidays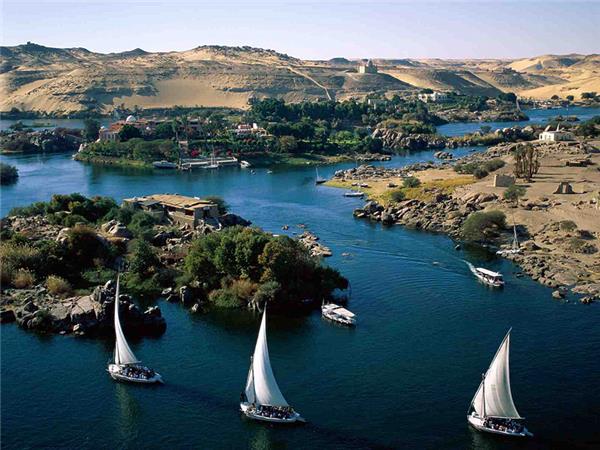 Discover ancient temples & tombs & travel by Nile cruise boat
From £1349 - £1949 9 days including UK flights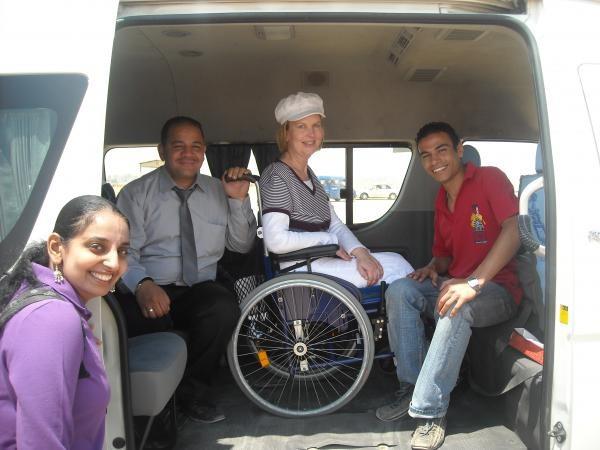 Egypt wheelchair accessible Nile Cruise
From £1169 - £2311 8 days excluding flights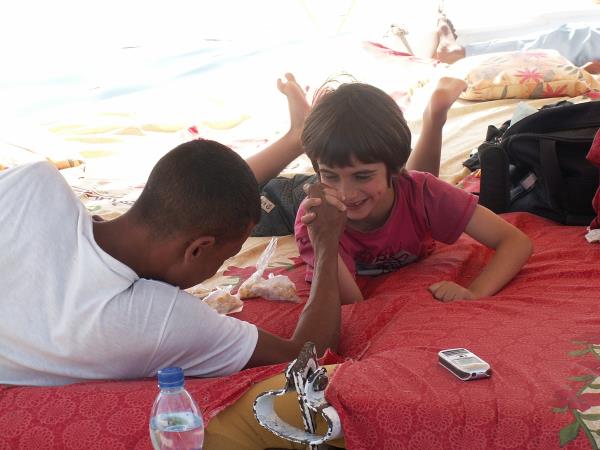 Enjoy a fabulous felucca cruise with your familly
From €340 - €400 4 days excluding flights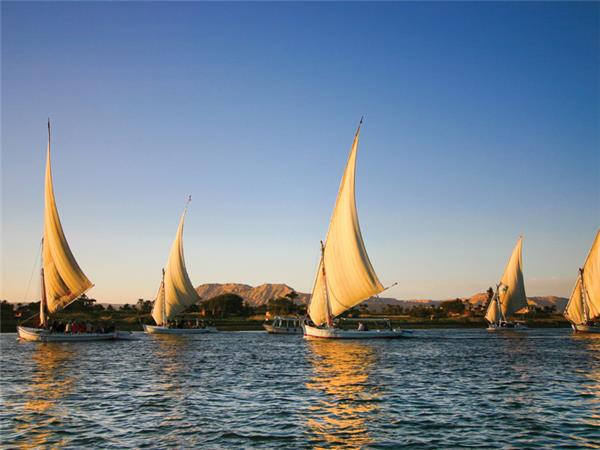 10 day river cruise on the River Nile
From £1399 - £1520 10 days including UK flights