"Volunteer to be part of a small (max 12 volunteers) conservation team in Peru's Amazon rainforest for 16 days and stay at the Rainforest Alliance research centre."
Highlights
Data collection | capture footage of mammals | monitor bird species | transect surveys | pitfall surveys | leaf litter plots | bamboo traps | forest regeneration project | Western Amazon Nature Reserve | Rainforest Alliance research centre |
Description of Jungle conservation & research, Peru
If you're looking to help conserve the rainforests of South America and work on sustainable development programmes then isn't it about time you thought about being a volunteer in Peru? This 16 day jungle conservation and research holiday gives you the chance to volunteer in Peru and support a range of projects featuring several worthwhile tasks, as detailed below:

Collect data on blue headed macaws and monitor other bird species
Get video and stills of local jaguars, tapirs and peccary
Observe and gather data on amphibians, reptiles and butterflies
Carry out transect & pitfall surveys, leaf litter plots and bamboo traps
Assist the Forest Regeneration Project by preparing canopy photos and leaf litter traps
Support local community projects such as helping to create sustainable bio-gardens

Work as a volunteer in Peru can involve early starts and late finishes depending on what conservation projects and research roles you're asked to partake in. Sometimes, for instance, you may be asked to get up at first light and go to the right clay lick to collect data on parrots or, perhaps, journey into the jungle at nightfall with just a head light to help you find and record amphibians and reptiles amongst the undergrowth.

Aside from carrying out conservation projects as you volunteer in Peru you'll also undertake training and be able to watch and listen to presentations that will help you find out more about what research and conservation projects in Peru entail. After an initial training period volunteers will then be asked to work six days a week with anything up to 12 other like-minded volunteers and normally about nine local staff and scientists, all of whom are employed on a full time basis.

As this conservation project in Peru was started well over a decade ago you'll find much has already been achieved in supporting research into the Western Amazon rainforest including finding out how to create and develop sustainable agricultural projects and eco-alternatives for local communities.
Local community well-being is extremely important to our team and we all aim to reduce our carbon and human footprints as well as encouraging sustainable forms of farming and environmentally friendly responsible tourism.

Much of the land that had previously suffered from deforestation has now started to recover and each year new and exciting species of flora and fauna are spotted in areas that were previously blighted by irresponsible land management.

Peru volunteers will be invited to stay at the Rainforest Alliance centre which specialises in research and is situated on the perimeters of the Western Amazon Nature Reserve. This accommodation is set against a backdrop of waterfalls and rainforest and is the perfect place to get orientated after a two day bus and motorised canoe journey from Cusco via cloud forests and the Andes.

All volunteers in Peru will be asked to share a two bed open-air room with rainforest views. Further information on what your placement will feature is listed below:

Pick-up and return transfer from Cusco airport
Three nights' accommodation in Cusco
Overland journey into the rainforest via the Andes Mountains
One night's cloud forest accommodation and a tour of a local plantation
All main meals will be taken at the research centre
Full volunteer induction & training will be given
You'll receive support from our on-site team and UK office (by phone and email)
24hr emergency backup is available seven days a week.
We also include crisis management and insurance
Finally, you'll receive a specially-designed T-shirt


If you would like some help or advice, or just want to discuss your ideas for your next trip, do give us a call.
Check dates
2019: 24 Jun, 22 Jul, 19 Aug, 16 Sep, 14 Oct, 11 Nov, 9 Dec
2020: 6 Jan, 3 Feb, 2 Mar, 30 Mar, 27 Apr, 25 May, 22 Jun, 20 Jul, 17 Aug, 14 Sep, 12 Oct, 9 Nov, 7 Dec
Holiday type
Volunteer travel - what's it all about
Are you looking for an adventurous trip with a purpose, or on a gap year or career break? If you want to make a difference in some of the world's most important conservation areas - and in community projects - then volunteer trips are for you! Volunteers tend to have a sense of adventure, and come from a range of different backgrounds and from all over the world.
Edward Abbey said 'sentiment without action is the ruin of the soul'.
Responsible tourism
Responsible tourism: Jungle conservation & research, Peru
Environment
Through this project volunteers will be contributing to the preservation of the Manu Biosphere Reserve (MBR) and development of initiatives to help protect the environment. It is an integral part of the UNESCO World Heritage Site, the Vilcabamba Amboro Conservation Corridor and is home to an ambundance of wildlife. Our highly motivating and engaging volunteer project makes volunteers a partner in positive change: directly benefiting local communities, the environment and the long-term conservation of the Amazon. Our program combines training, challenging work and a great adventure making it a brilliantly unique and rewarding way to visit and actively understand more about the rainforest, its people and its conservation needs. In addition to this direct benefit, we try to ensure:
Social responsibility - before volunteers depart we provide them with a detailed information pack on the area they will be visiting. We try to educate and encourage our volunteers to understand and respect the local cultures and customs and get involved with local communities.
Economic responsibility – for over 10 years we have been providing volunteers to help at charitable projects around the world. A UK charity has now been launched to build on this success by providing financial assistance to overseas causes as well. The organisations we work with are often struggling to fund the work they are doing so every penny raised makes a real difference.
The majority of the fee that volunteers pay goes direct to the research centre. The centre provides employment for local Peruvian staff. While volunteers are in-country, we encourage them to buy locally and support local businesses.
Environmental responsibility – one of the main negative impacts of our volunteers travelling, is the carbon dioxide created from flights. The centre helps to ensure that an amount of carbon is sequestered through tree planting. While our volunteers and customers are overseas, we identify and encourage simple steps to minimise their impact on the local environment.
Community
The project has a long history of supporting conservation research in the Manu region, with long-established projects monitoring the blue headed macaw, mammal behaviour patterns, human impact studies, environmental management and forest dynamics to name but a few. Their focus is on creating sustainable agriculture, timber and carbon alternatives for local communities on deforested and impacted land. By effectively reducing the human and carbon footprint, these initiatives aim to increase both the communities' wellbeing and enhance the region's sustainable offerings.
The centres mission is to:
* Educate local rainforest communities and visitors
* Promote sustainable natural resource development
* Integrate pure and applied research of the rainforest environment and its natural systems
* Conserve and preserve tropical ecosystems
1 Reviews of Jungle conservation & research, Peru
---
Reviewed on 12 Nov 2010 by
Melanie Veal
1. What was the most memorable or exciting part of your holiday?

Getting to spend time walking through the jungle and seeing so many great animals and birds. The best moments were the tree frogs, manu poison frog and the rainbow boa! I really enjoyed the construction of the bird hides and biogarden even though sometimes it was really hard work! Pancakes for breakfast were great!


2. What tips would you give other travellers booking this holiday?

There was a lot of walking and physical activity so it's really important to expect to do lots when you get there and probably need reasonable fitness!


3. Did you feel that your holiday benefited local people, and minimized impacts on the environment?

We were able to visit local communities helping to plant trees for reforestation in the banana plantations and build biogardens for the local people to produce their own food. The centre was really careful about the impact on the environment even though there is always going to be transport to the centre. The centre is also in the initial stages of some research projects looking into the biodiversity of secondary forest (the centre is on land that was farmed until recently) so those will be really interesting over the next few years.


4. Finally, how would you rate your holiday overall?

Really enjoyed the trip- definitely a good way to see local communities and the rainforest though would have been good to see some primary forest while we were there!

---
Popular similar holidays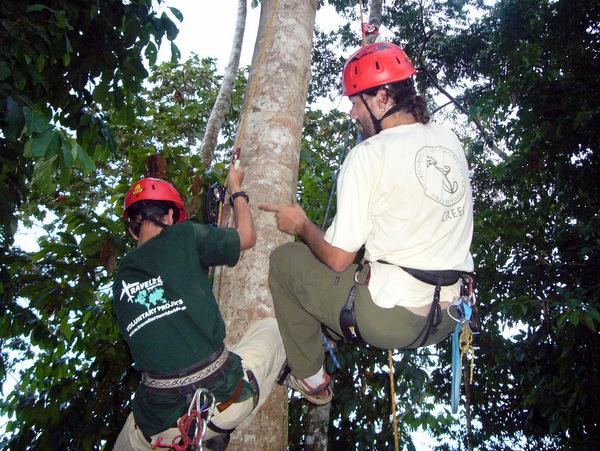 Conservation & Community Development in the Amazon. Awesome
From £1695 14 days excluding flights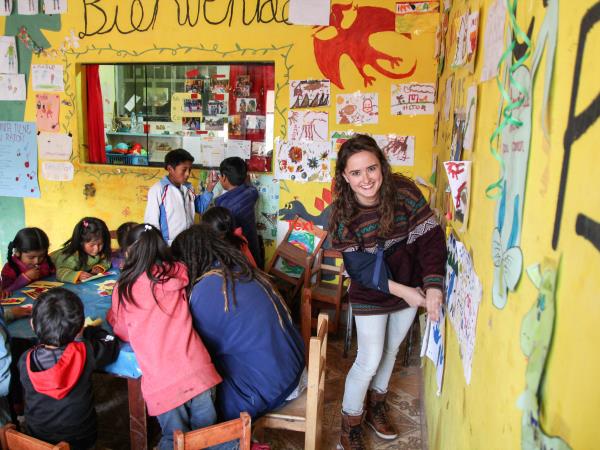 Experience a different side to Peru by living & volunteering
From US $649 7 days excluding flights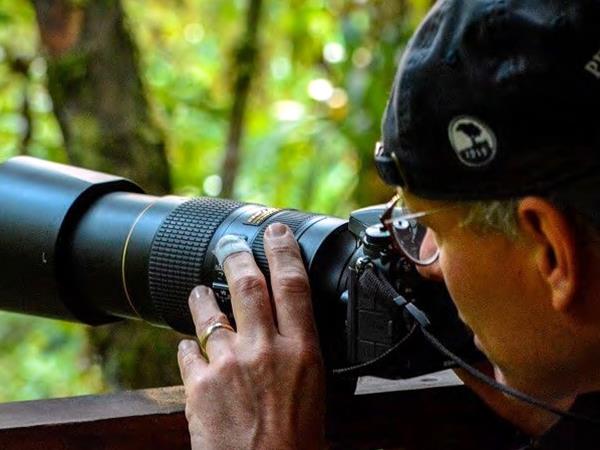 Aid your career: environmental journalism and communications
From £4595 12 weeks excluding flights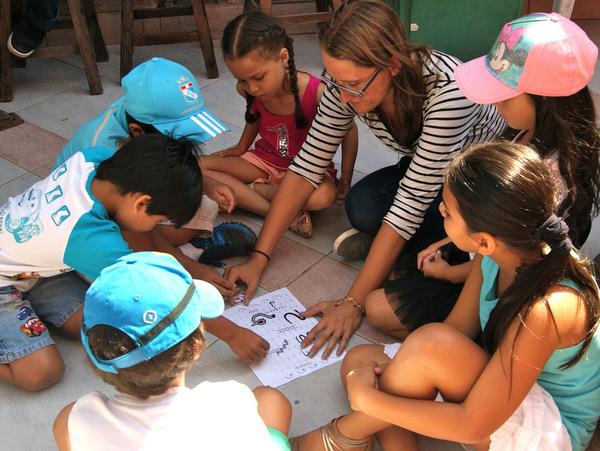 Assist the children in a school in stunning rural Peru
From £1470 4 weeks excluding flights