"Our only week long sailing holiday around the Cyclades with a wildlife expert on board, guiding you through the waters and wild spots on remote islands too. "
Highlights
Syros| Paros | Iraklia | Despotiko | Kimolos | Milos | Polyegos
Description of Sailing & conservation holiday in Greece
This week long sailing holiday shows Greece in all of its marine biodiverse magnificence. To be able to combine a conservation holiday with a love of sailing really is the win win way to enjoy the Aegean, and Greece's famous Cyclades Islands. Our on board naturalist guide, a Greece conservation expert, will accompany you on this sailing holiday, He will take you on a wonderful journey not only at sea where marine greats such as dolphins, seals and sea turtles thrive, but also onto some of the Cycladic island idylls to seek out lizards, vipers, falcons and eagles, to name but a few. Every day a new island with new habitats and unexpected wonderful wildlife.

Please find below an example of what you will experience while sailing with us around the islands of the Cyclades:
Day-by-day experiences
| | |
| --- | --- |
| Day 1: | This sailing holiday starts in the historical port of Ermoupoli on Syros island. With some time getting to know your fellow sailors for the week, as well as learning a little about conservation and marine ecology in Greece's waters, there is still time to take a stroll around the hillside, traditional and beyond pretty town of Ano Syros. |
| Day 2: | Today we start sailing, heading off to the island of Paros and looking out for dolphins en route. Our guide will also help us spot various sea birds that follow in our slipstream, from shags to yellow legged gulls. After a day of sailing, we anchor at Paros in the secluded fishing village, Piso Livadi, where Halaris' famous tavern serves up a fine catch of the day. |
| Day 3: | Today we sail into the heart of the Small Cyclades islands which, although they are small, are stupendous. A string of about a dozen gemstones shimmering in the Aegean and, with only a few inhabited by humans, this is an extraordinary archipelago to sail around and seek out wildlife in their natural habitats. Such as on Iraklia with a human population touching a hundred, hiking through its rocky terrain reveals a world of reptiles, raptors, wild flowers and wild herbs. From Eleonora's falcon to Griffon vultures, wild orchids to ancient olive groves, Iraklia is a micro world of Greece's biodiverse beauty. |
| Day 4: | Sailing east all day along a route frequented by dolphins, we drop anchor in time for sun set off the island of Despotiko, where we will take time to gather our research results, analyse photos and discuss wildlife behaviour that we have witnessed on our sailing odyssey. Leaving time for a swim in the crystalline waters around the island. You can always delay your swim until night time for one of the best wildlife treats of this trip – when the phenomenon of bioluminescence lights up the waters with every stroke. |
| Day 5-6: | On this fifth day we sail to the Cycladic island of Kimolos with a small population but which, for wildlife lovers, also has a fascinating uninhabited island as neighbour. This is Polyegos, a very important habitat for a highly protected and endangered species : the Mediterranean Monk Seal. Our naturalist guide will fill you in on local efforts to protect this beautiful mammal, especially as both these islands are home to the one of the highest populations of them in European waters. |
| Day 7: | From Kimolos to Milos island, this ancient volcanic island is an explosion of flora and fauna. From the famous and rare Milos viper and endemic lizards to migratory birds en route to Africa. The island's wetland at Achivadolimni is temporary home to glossy ibis, herons and flamingos. |
If you would like some help or advice, or just want to discuss your ideas for your next trip, do give us a call.
Responsible tourism
Responsible tourism: Sailing & conservation holiday in Greece
Our primary objective is the study and protection of the marine world and the raising of awareness on environmental issues. In order to support our goal, we have formed a series of ecotourism projects involving sailing, diving and/or exploring unique species. When our sailing boat, is not chartered, we sail around cleaning beaches, recycling or helping researchers and organisations to collect data in order to study and protect the environment and wildlife.

Our base has become the island of Syros where most of the maintenance work is carried out by local people using materials purchased locally.

We encourage guests to visit and try the local cuisine and purchase local goods wherever we go in order to get a taste of the local culture and also support the local community. Under the guidance of our experienced biologist, people are introduced to tens of endemic species, both from the animal and plant kingdoms which exist only in this small corner of the globe. Guests will leave with a different approach towards wildlife and aware of the dangers they face and how to minimise them. We organise visits at the two national marine parks in Greece, in Zakynthos and Alonisos, where the two most important organisations for the protection of the loggerhead turtle Caretta caretta and the Mediterranean monk seal Monachus monachus are based. Our guests are briefed on their work and how they can support them.

During our whale and dolphin spotting, the voices of mammals will be recorded with the aid of our hydrophone and notes will be made on their characteristics in order to help scientists with their collection of data. Our guests are welcome to participate.

We organise marine ecology seminars for divers and present a brief version of this to every diver that joins us. This involves a briefing on how to monitor the level of anthropogenic impact on a marine site and warn our scientist of any deterioration they observe.

We try to minimise the impact of our boat on the marine environment by using the motor as little as possible, mainly just to enter and leave the port. When mooring we avoid throwing the anchor on meadows of sea grass. We always use permanent moorings when provided. We've allowed space in the sailing boat to store waste plastics especially bottles. As there is no drinking water available in the Greek islands, there is a huge consumption of bottled water. We store all the plastic in the capital of Syros, Ermoupolis and we take it back to Athens at the end of the season for recycling.
4 Reviews of Sailing & conservation holiday in Greece
---
Reviewed on 23 Aug 2010 by
Joanne David
1. What was the most memorable or exciting part of your holiday?

The whole experience was wonderful. Sotiris, our skipper was fantastic , very professional, kind and fun. He made sure everyone felt comfortable and respected the sea conditions. In the evenings he would find the most perfect places to eat and really entertain us with the most interesting facts and stories. We were very lucky to have him as our skipper. The Jennings family on board that week were also lovely. When the boat was under sail it was perfect, just gliding over the sea. Stopping on a small island for a barbeque, looking up at the stars, swimming with florescent plankton, visiting
Iraklia, sleeping on board, at anchor in bays, each day better than the next. We could not have asked for a better experience.


2. What tips would you give other travellers booking this holiday?

Go with a good positive attitude.You don't need to take much, just travel light, 2 swimming costumes, tops, shorts, sun cream, hat, sunglasses, cash.
Enjoy the experience more by being ready to help. You are part of a team and being part of a team is rewarding and great fun; cooking together, eating out with the skipper etc...
Remember you are on a sailing boat so should respect and look after the boat, skipper and crew. You are part of the crew.


3. Did you feel that your holiday benefited local people, and minimized impacts on the environment?

Yes. We did a beach clean up. Purchased locally produced provisions. Ate at familly run Tavernas. Supported the environmental work of 'Tahita'. We were under sail whenever possible so did not use a lot of petrol. We were economical with water respecting water supplies.


4. Finally, how would you rate your holiday overall?

This holiday was wonderful...it could not have been better...we should have stayed longer. It really was a very unique experience, very special to me.
---
Reviewed on 26 May 2010 by
Alison Crawford
1. What was the most memorable or exciting part of your holiday?

The passion, skills and knowledge of our skipper and guide really made this trip for us. We felt like we were being shown around the islands by friends, being shown the secret gems and true beauty of Greece. Our skipper was amazing, calm when the sea was rough and patient when teaching us how to help sail. Our guide was deeply passionate not just about conservation, but also about exploring and experiencing the amazing wildlife of the region. We had a wonderful evening having dinner and drinks in the home of a local, a friend of the skipper. Rather than being relegated to sterile restaurants and bars, we had a great time putting the world to rights over a glass of raki and some local cheese. We also visited some amazing locations, where we saw truly beautiful wildlife, ranging from plants, insects, and many, many wonderful and rare birds.


2. What tips would you give other travellers booking this holiday?

Travel light, but bring a camera. And learn the phrase 'yasass', the Greek toast when enjoying the local Raki! Be aware that the boat is not a large vessel and you will not have lots of space, but it is comfortable and quite civilised. I would recommend to those with a passion for exploring and not too scared not to have a detailed itinerary to stick to.


3. Did you feel that your holiday benefited local people, and minimized impacts on the environment?

We felt that by going for this non 'all-inclusive' option, we were able to share the money we spent on food etc. in local communities. We also travelled just before season, which was great for us (quieter) and helps lessen the impact of the massive tourist surge in the summer, and spreads the income to these communities. As part of our trip we also
did a beach clean, and our skipper helped out with local community projects while we were out on our wildlife walks.


4. Finally, how would you rate your holiday overall?

Excellent! Every aspect was amazing. My partner and I are both deeply grateful to everyone who works for the operator for making such a special and memorable experience. We will almost certainly be booking up again!

---
Reviewed on 24 Sep 2008 by
Susan Sargeant
1. What was the most memorable or exciting part of your holiday?

The most memorable and exciting part was the sailing through some of the roughest weather I had ever experienced - huge waves, torrential rain, and thunder and lightning. However Sotiri is a fantastic skipper and although helming a boat full of females, it was a fantastic experience. Not quite the hot, sunny and calm conditions I had been anticipating. The Ionian islands are stunningly beautiful and we visited some beautiful places.


2. What tips would you give other travellers booking this holiday?

Do take warm clothes and full waterproofs as well as the recommended suncreams and hat. Be flexible about the itinerary and be prepared to live in close proximity to your fellow guests. Tahita is a well equipped sailing boat and a joy to be aboard.


3. Did you feel that your holiday benefited local people, and minimized impacts on the environment?

The team are passionate about preserving the environment. We had wonderful presentations on whales, dolphins and other sealife, did a beach clean, watched birds, and did our best to recycle all our rubbish. We ate at small local tavernas, shopped in local markets and used local facilities.


4. Finally, how would you rate your holiday overall?

A fabulous holiday. Sotiri and Melita were delightful and knowledgeable hosts. Annie who did the reservations was efficient and friendly. The boat was well equipped, safe and comfortable and the fellow guests good company.
---
Reviewed on 06 Aug 2008 by
Julia Ward
1. What was the most memorable or exciting part of your holiday?

We loved the villages, the unspoilt islands - we loved the private bay at Sifnos where we stopped in overnight and had a BBQ.


2. What tips would you give other travellers booking this holiday?

Pack as lightly as possible - this is a casual warm weather break. Bring books - you get lots of down time. Book your travel there well in advance to coordinate flights and ferries.


3. Did you feel that your holiday benefited local people, and minimized impacts on the environment?

Yes. The entire crew is completely committed to what they preach. We learned lots about the Cyclades environment had good discussions on global warming and discovered the strength and beauty of the Greek people.


4. Finally, how would you rate your holiday overall?

Excellent - we had the right balance between culture, education, chill and active. The crew were lovely people who enhanced the experience.

---
Popular similar holidays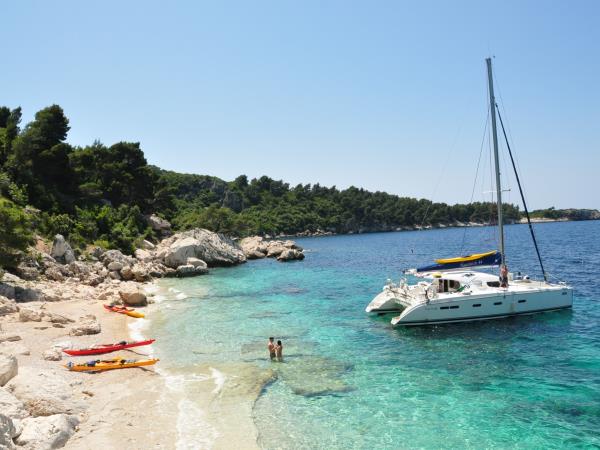 A multi-activity adventure sailing cruise
From €580 - €790 4 days excluding flights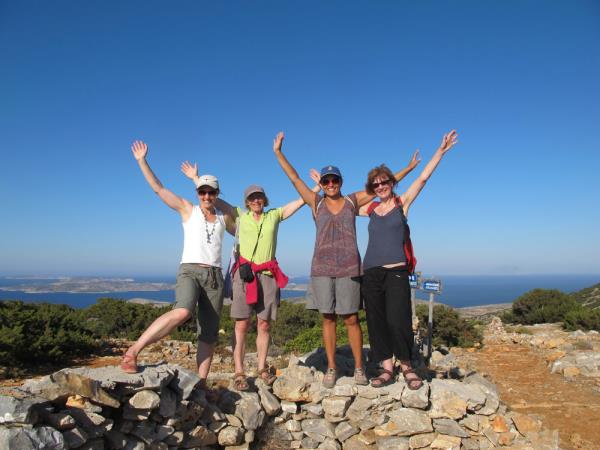 Combine a sailing & hiking adventure around the Cyclades
From £685 - £759 7 days excluding flights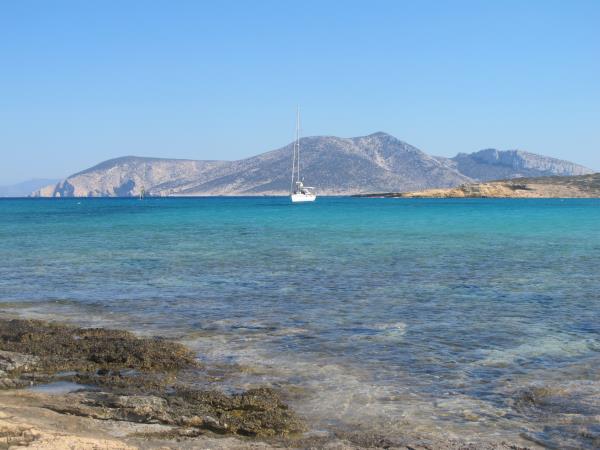 Unique sailing adventure off the beaten track in Greece
From £520 - £635 7 days excluding flights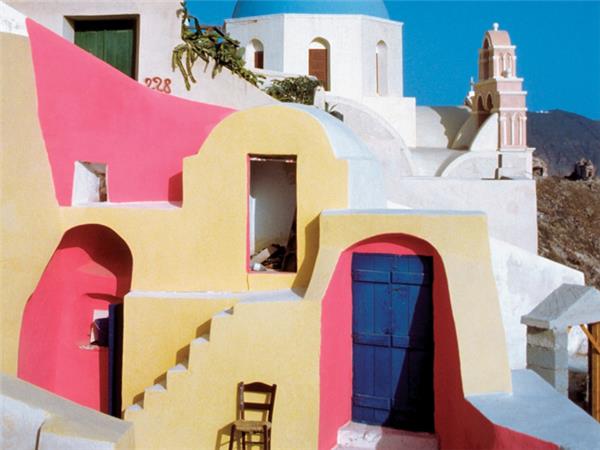 Sapphire waters, whitewashed villages & history laden ruins
From £945 - £1171 8 days excluding flights