"A two week, tailor made volunteering trip, working on an established wildlife rescue sanctuary, staying on site. Working with a variety of animals. Food, accommodation and airport pick up included"
Highlights
Rescue and care of bears, elephants and monkeys | Working with renowned Thailand wildlife charity | Contributing to local education programme | Onsite accommodation | Superb Thai food all included
Description of Thailand wildlife sanctuary volunteering holiday
Volunteer with Thailandís bears, elephants, monkeys and many more... some of the world's most loved animals come together in this incredible wildlife centre off the well-beaten tourist trails of Thailand. Here you will become involved in the workings of a top wildlife charity in Thailand, rescuing mistreated animals from across the country.

Become an important part of the team working with animals to protect them and to offer them a better chance of survival, and indeed life. A significant amount of time is spent preparing food for the various animals, and helping with their feeding. Other time is spent helping with enrichment, cleaning enclosures, general conservation of the sanctuary and assisting with the education programme that is run for children and tourists.

The centre is a very moving place, as many of these animals have been rescued from quite traumatic existences. This is perfect for anyone who has a keen love for all animals, who wants to make a real change and who wants to see a side of Thailand not witnessed by the typical tourist.

Where will I be staying?
You will be staying in accommodation provided on site. This is in the beautiful leafy area of the centre, surrounded by the calls of the animals at night time. Three delicious meals a day are provided on site.
Day-by-day itinerary
| | |
| --- | --- |
| Sunday | Arrivals every Sunday of the year. Flights must arrive into Bangkok (BKK) by 2pm on Sunday for airport pick up. |
| Sunday | The end of the trip is on a Sunday. You can volunteer from just 2 weeks to 12 weeks. |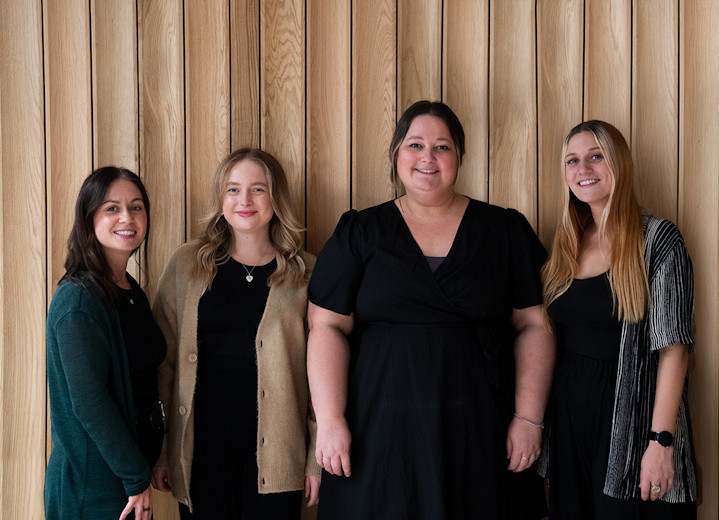 Departure information
This project can be tailor made throughout the year to suit your requirements
Responsible tourism
Responsible tourism: Thailand wildlife sanctuary volunteering holiday
Environment
Wildlife
We are commited to conserving, saving, protecting and, where possible, rehabilitating the animals brought under care at this rehailitation centre. The centre will rescue any animal that is being neglected or maltreated, providing it with a large and comfortable enclosure, constructed as closely as possible to reflect the natural conditions these animals would be living in. So far, over 400 animals have been rescued here, and many of the monkeys and baboons successfully rehabilitated.
Environment
Our company is an environmentally responsible one that operates recycling and reusing of waste products. We also offset carbon emissions in our office (gas,electricity, business mileage) and encourage all participants to offset their flight emissions via a carbon offset scheme run in conjunction with Tree Aid.
Participants are advised to use hand wash gel that does not require water. We also advise, during our pre departure course, to take care with water. In many of our destinations, water is precious and expensive.
Community
Meeting local needs
Volunteers live and work as a member of the local community. This is a small community, located off the traditionally trodden tourist trails, and so bringing volunteers to this area really benefits the local population. Food is bought from local markets and restaurants, trips are all sourced locally and local transport is used when needed.
Campaigning for change
This project works to change the future for animals who have been subjected to harm and mistreatment. The aim is simple: to provide a home for mistreated animals in an environment as close to nature as possible. A programme actively runs to rescue, rehabilitate and release captive wild animals with this hope to repopulate Thailand's forests and jungles. Campaigns are regularly launched against all forms of animal abuse and exploitation in Thailand. An education programme runs for locals, children and visiting tourists to make them aware of the importance of animal welfare.
Volunteering and charity
Whilst the majority of the costs go towards paying for the project, a generous donation is given towards the improving the conservation effort.
Cultural sensitivity
We emphasise the importance of showing respect for local people and their customs in our briefing material. Participants will work alongside permanent staff, forming close bonds and getting an insight into real life in rural Thailand.
We send restricted numbers of people at any one time, which minimises the environmental and social impact that the participants have on the destination. Our participants become fully immersed and integrated into the community.
All of our participants receive comprehensive pre-departure briefing. This covers topics on how to be culturally sensitive, how to best look after the environment when in the country and how to stay safe as well as up to date information on the political situation. They are also briefed on how to dispose of waste properly and where possible, to avoid using plastic water bottles as these are not easy to dispose of environmentally.
2 Reviews of Thailand wildlife sanctuary volunteering holiday
4.5 out of 5 stars
---
Reviewed on 18 Jul 2017 by Stuart Moncrieff
1. What was the most memorable or exciting part of your holiday?

The people with whom you're working with are terrific. From the other volunteers to the staff and those who stay for the long term there was a very good wibe within the WTTF community.


2. What tips would you give other travellers booking this holiday?

The work can be messy and labourous at times, so prepare to be sweaty and dirty! That said, you're with a great bunch of people who are also getting stuck in so it is fun at the same time and brings a lot of satisfaction when you're at the end of the day with a beer in hand.


3. Did you feel that your holiday benefited local people, reduced environmental impacts or supported conservation?

The charity clearly cares for the well being of the animals which came through and I was lucky enough to have seen in my time there some animals being released back into the wild. The hands off approach WFFT has with the animals I think is a good one and works to give the animals in its care as natural a life as is possible - some of which have never seen. I know there are other projects around the same area which are involved with reforestation and regeneration of the site which was once a mango plantation, although I did not get to see this first hand. I would be keen to go back to see what other projects they are involved in.


4. Finally, how would you rate your holiday overall?

I had a great time. The volunteer work could be tiring at times but if anything this added to the satifaction I took away from it. The fact that there were so many great volunteers and staff there with a similar mentality and motivation in life meant that, for me, there were always fun and interesting people to talk to. I'd love to be back there again - it was a wonderful experience.
---
Reviewed on 18 Apr 2016 by Colin Harvey
1. What was the most memorable or exciting part of your holiday?

Working with the elephants was most rewarding, especially when taking them for
walks with a bucket of chopped fruit treats to ensure they follow the volunteers
and don't wander off into the forest. They are such lovely animals and we got to
know them individually. The baby elephant called Pin was quite a character and
quite mischievous.
The wildlife part was very varied with so many wild animals (circa 450) and
different species to look after.
It was also great to meet so many interesting volunteers from many countries and there was a good social atmosphere around the centre. The meals provided by the centre were very tasty and plentiful.


2. What tips would you give other travellers booking this holiday?

The Wildlife and elephant rescue centre is a large and well organised operation,
with around 100 local staff and 65 volunteers. Volunteers are divided up daily
into many small groups and assigned their specific animals to look after.
Be prepared to spend a lot of time chopping fruit and vegetables for the animals,
which mostly need to be fed and watered 3 times per day. Cleaning out the animal enclosures was the other main task, but the work was not arduous with many volunteers, though at times it was quite messy. So take some old clothes.
Although the working days start early and are quite long, there are plenty of
breaks during the day. Volunteers get one free day each week and the staff
organise various trips to beaches, spas and parks in the region.
The centre operates a general no-handling policy towards the animals (many of
which have been mistreated before they were rescued), with the main exception of the elephants, pigs and the dogs.
The volunteers food menu included Thai style meat and vegetarian dishes and also catered for celiacs.
The holiday is suitable for all ages provided you are reasonably fit and active,
though most volunteers are aged 18-30. It is a friendly environment.


3. Did you feel that your holiday benefited local people, reduced environmental impacts or supported conservation?

Yes. The centre employs around 100 local staff in many roles, including elephant
mahoots, animal carers, cooking, cleaning and maintenance staff and a fully
equipped veterinary hospital. It is located in a rural area of Thailand about 3
hours drive southwest of Bangkok, close to a village where many of the staff live
with their families. The centre also treats domestic animals that are brought in by
the local people.


4. Finally, how would you rate your holiday overall?

It was a very rewarding 2 weeks and I would recommend it to anyone who has a keen interest in animal welfare.
---
Popular similar holidays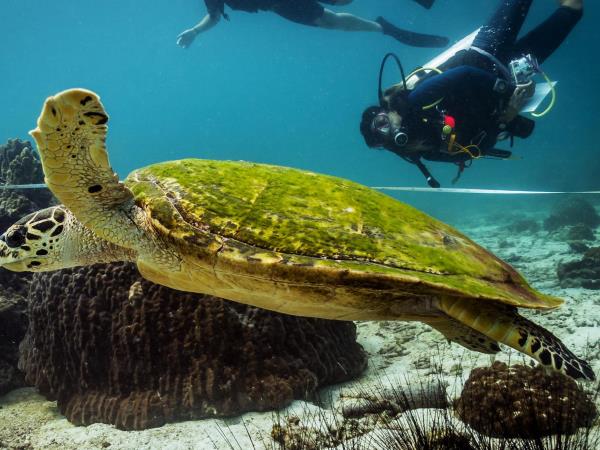 Join a community conservation project on a tropical island
From £795 7 days excluding flights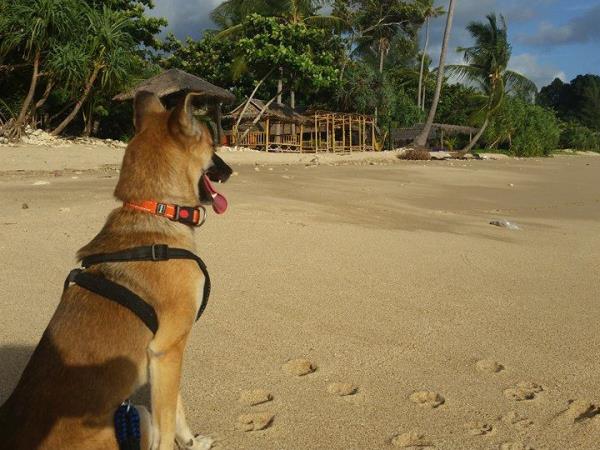 Animal rescue on a tropical island in Thailand
From £645 21 days excluding flights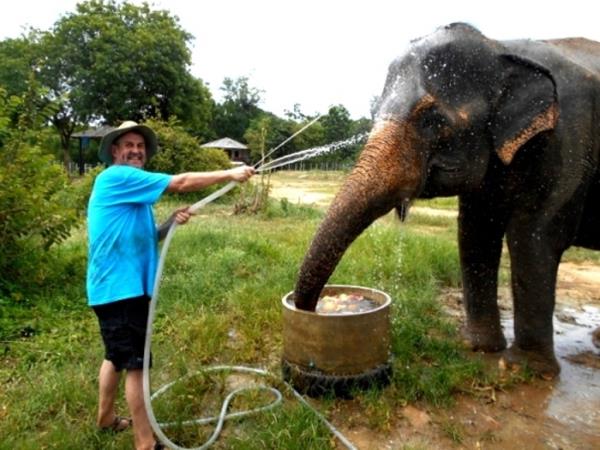 Family elephant refuge volunteering in Thailand
From £739 7 days excluding flights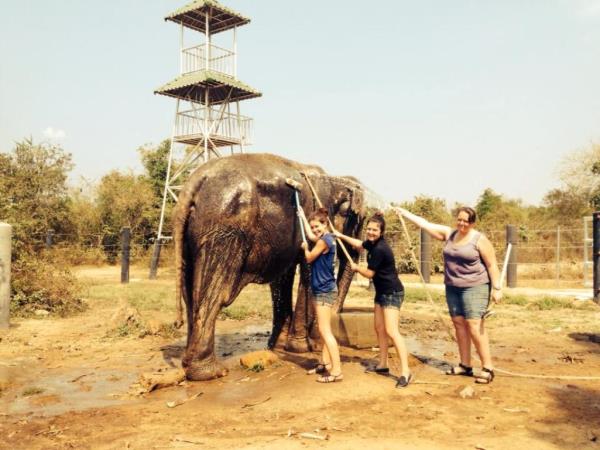 Family wildlife sanctuary volunteering in Thailand
From £739 7 days excluding flights