Best time to visit Angola

The best time to visit Angola is from June to October, when the weather is mild and sunny, and there's little risk of rain or storms.

Broadly speaking, Angola has two distinct seasons – rainy and dry. As it's so huge, there are variations, with the southern coast around Namibe cooler, for instance, averaging 17°C in July. Organised tours focus on the south, where the best time to go is June, July, August and September; our 10 day trip departs annually in July. This is the coolest and driest season, with highs of around 23°C in Luanda in July. November to May is Angola's hot, rainy season, with April seeing the heaviest downpours and often violent storms. The water that falls now in the Angolan Highlands eventually flows into Botswana to form the Okavango Delta.
Things to do in Angola…


Head southwest. As Angola's civil war rumbled on, it became just as much about controlling the diamond mines and oil fields of the country's centre, north and east as about politics. As the southwest provinces of Huila, Namibe and Cunene had no such resources, they were left alone. This not only makes them landmine free, it means the tribespeople living here remain broadly uninfluenced by the outside world. Meet the people. Angola has some 90 ethnic groups, with many living in the southwest and still observing ancient practices, with women typically maintaining their traditional dress more than men. The Mucubal women wear a wicker framed ompota headdress and girls have their upper teeth sharpened and lower teeth removed. Interestingly, teeth sharpening is thought by some anthropologists to be a cultural hangover from the 1570s when Portuguese slavers began shipping huge numbers of Angolans to Brazil. Slaves were valued for the quality of their teeth, so tribes resorted to despoiling them. The women of the Muila tribe coat their hair with a red paste called oncula and wear massive collars, created using beads and ostrich eggs, covered with a mix of mud, cow dung and herbs; the vilanda set of necklaces worn once married can't be taken off. Himba women, meanwhile, coat their braids and skin in butter fat and ochre, creating a reddish sheen. Bring patience and a sense of humour. You're travelling in a remote part of the world, with little infrastructure, and different standards and attitudes. Things may not go to plan, but a positive attitude is helpful when faced with practical difficulties.
Things not to do in Angola…


Come on a budget. Angola may be amongst Africa's least explored countries, but that doesn't mean it's cheap. The oil boom has made Luanda one of the most expensive cities on the planet, although costs outside the capital are lower. Organised tours require a high level of expertise and local contacts, too, so visiting Angola is more expensive than other African countries. When it comes to people, don't point and shoot. The tribespeople you'll meet in Angola are extremely photogenic, often wearing unique traditional dress and jewellery, but don't assume they're happy being photographed; the older generation and particularly women may not be comfortable with having their picture taken. Imagine you can visit Angola independently. Angola is a challenging destination, which sees barely any tourists, so you'll need the organisational support of a specialist tour operator to travel here. There is very little accommodation outside the capital which means you'll often be camping, with no bathroom facilities, and roads are poor or non-existent. A tour will provide a local guide who speaks Portuguese and some local languages, a vehicle, all catering supplies and tents. It will also have built up relationships with local tribes, so you can meet them and camp near their villages. Come for the wildlife. Pre-war Angola was one of the finest places in Africa to see animals, but most were shot for food during the war and the country's rhino were poached for their horns.
Our top trip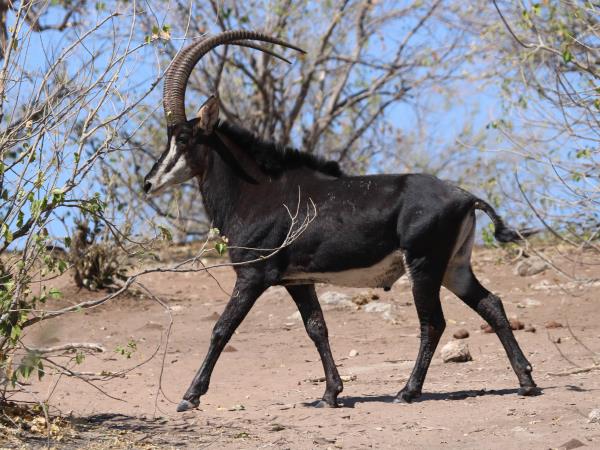 Unique safari taking in Angola's remote national parks
From £10450 to £11495 15 days ex flights
Small group travel:
2024: 20 Aug
2025: 13 Jul
If you'd like to chat about Angola or need help finding a holiday to suit you we're very happy to help.

Jim O'Brien, from our specialist supplier Native Eye, has this travel advice:
Why visit Angola?
"Angola offers some incredible landscapes, fascinating ethnic groups and very little in the way of tourism, so it's a great destination for someone looking for something different. One of its key appeals is its ethnic diversity. It holds some of the most traditional ethnic groups in southern Africa, so for those interested in different cultures it's an amazing place to visit. There's also ancient rock art, Portuguese colonial architecture, Africa's third biggest waterfall… I could go on."
How challenging is travel in Angola?
"The infrastructure here isn't too bad in many parts, but getting off the beaten track often involves going off road on difficult tracks and camping, which doesn't suit everyone. The authorities here are getting a little more used to tourism and by and large are fairly welcoming, but it's not necessarily as polished a destination as others, which is part of its appeal, in our eyes."
Do tribespeople welcome visits?
"The different ethnic groups are welcoming of visitors, if a little curious. However it is incredibly important that we try to make our visits as culturally sensitive as possible. We have noticed a trend in recent years of a small minority of people being uninterested in the culture and customs of the people visited, only in taking photographs – much like a trophy hunter. This does nothing for the cause of responsible tourism, and is offensive and dehumanising towards tribal groups, so we do not encourage this type of traveller to join our trips."
Do you see Angola opening up to tourism more in future years?
"Angola is opening up to tourism. In recent years they finally introduced a tourism visa and in 2018 they introduced an online visa process to (supposedly) make the process simpler. As the reputation of Angola being a war torn country starts to fade, more people are keen to explore this previously hidden country."
More Angola articles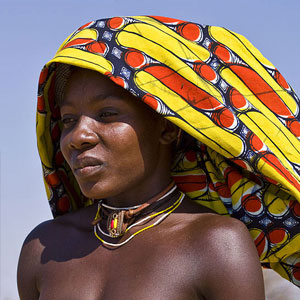 Our Angola travel guide explores this rarely visited country, from its towns to its ancient art and wilderness.
Meeting and learning about local tribal groups is a privilege that demands a responsible and sensitive approach.