Regardless of how ethical your tour operator is, there is only one way to travel responsibly in Benin – and that is with respect. We always urge travellers to consider their behaviour, their clothing, their language – but here, in a destination with high poverty levels and few visitors, it is especially vital. Every Western traveller here, whether they like it or not, is representing the West – and that has mixed connotations in West Africa, a region which has been battered and bruised by slave raids, war and colonisation. You only need to look at Benin's relationship with its ancestors to understand why emotions still run deep; what for us is a historical event is for the Beninese a deeply personal attack whose scars are still visible.
That's not to say the Beninese are hostile to visitors. For the most part you will be welcomed and well looked after. But it does mean that if you cross the line – photographing someone without their permission, disrespecting voodoo beliefs, flaunting your wealth – it can come across as deeply insulting, and you can expect an appropriate response.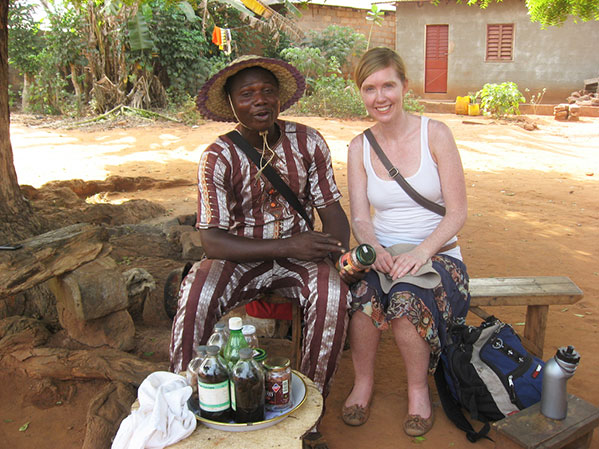 What you can do
Fortunately the rules are simple: treat local people as you would wish to be treated yourself.
Ask permission before photographing anyone
– this includes children – no matter how much they may play up to the camera. Even better, if you'd like to photograph a stallholder or craftsperson, purchase something from them as well, to create a fairer exchange.
Dress appropriately
– you should be covered from shoulders to knees. Sarongs or pashminas are handy if you need to cover up further, particularly in places of worship.
Learn local greetings
. At the very least, dust off your high school French. But it is far better to ask your tour leader how to greet people in local languages – being aware that these will vary as you travel around Benin. A simple "hello", "how are you?" or "thank you" will go a very long way to breaking the ice – and showing respect.
Don't flash your cash
. Regardless of how hard up you may think you are, in Benin you are rich beyond imagination. Your flight to West Africa alone is likely to have cost more than a teacher's annual salary, so if you don't want to buy something in a market, please don't use the excuse that you don't have enough money. Even smoking in some communities can be taken as an ostentatious show of wealth; cigarettes being an expensive luxury.
Use your right hand
for eating and for handing something to someone. The left hand is seen as dirty and holding it out to someone would be disrespectful – although as a foreigner you would be forgiven! Shaking hands is the usual greeting here.
If you are travelling to see the Vodoun Festival, or come across any other voodoo spectacles during your time in Benin,
be sure you are aware of local taboos
. There will likely be people dressed as gods – don't touch them or make eye contact, and follow what local people are doing as much as possible (being aware of any differences between how men and women are responding, too).