"Our forests have been emptied and destroyed." Vanessa Nakate, a business school graduate from Uganda, has been on strike every day now for over a month. Standing on the streets of Kampala, holding a handmade sign that reads 'thanks for the global warming', and appealing daily to a growing audience on Twitter, she's frustrated that her message is not being more widely shared.

The world is not aware of the destruction in the Congo rainforest.

While global attention is focused on the fires ravaging South America, trees across Central Africa have been disappearing. The Congo Basin, an area that spans nine countries from Tanzania to Cameroon, is home to the continent's largest collection of tropical forests. At 3.7 million km
²
, it's larger than Argentina; a stronghold for endangered wildlife and one of only five
High Biodiversity Wilderness Areas
worldwide. It's the world's second biggest rainforest, but it's rapidly shrinking.

But the Congo rainforest is facing a much more pernicious, less attention-grabbing threat.

Menacing the future of rainforests everywhere, illegal logging and mining have contributed to an alarming rate of global deforestation. Although the Amazon has lost the largest area of forested land since the 1990s, the Congo Basin has
lost a larger percentage
of its overall tree cover in the same period. "Of course, once the forest is gone, it's gone," asserts Alison Mollon, Director of Operations, Africa, for Fauna & Flora International (FFI), a conservation organisation that supports the Congolese protected area authority (ICCN). "Which might seem improbable in an area the size of the Congo basin but as we have seen in the Amazon and Indonesia, it can happen within the lifetime of one generation." According to
a study
by researchers at the University of Maryland, the rainforests of the Congo Basin could be gone by as early as 2100.
The Democratic Republic of Congo, home to more than half of Central Africa's forests,
lost 77 percent of its primary (untouched) forests
alone between 2001 and 2018. Mollon explains: "Conversion of forest to agriculture and illegal and unregulated mining - which comes in the form of artisanal and commercial mining (and by rebel groups) - are the two threats with the largest impact." Attempts to turn a profit from more sustainable use of the land, such as wildlife tourism, are also disrupted by the conflict and environmental impact that accompanies logging and mining. "These in turn can cause pollution, whether from the mercury used in gold mining, or chemicals used in agriculture, and the silting of waterways, which all have negative effects on biodiversity."
An unfashionable story
"The rainforest in Central Africa isn't as big as the Amazon and it's just less visited, compared to South America and Southeast Asia," explains Jim O'Brien, founder of Native Eye, our specialists in African small group holidays. "Sub Saharan Africa, with the exception of the well-trodden tourist trail down the east coast, tends to be a blank in most people's minds. When people think about it they don't think of forests, they think of war and corruption and dictators, generally speaking. News often doesn't really focus on that area either, so it's not flashed on your screens in the same way as palm oil plantations in Borneo or fires in the Amazon."

"The Amazon is so well known that it eclipses similar issues occurring in Africa," agrees Aled Evans, travel consultant at our African tour specialists Undiscovered Destinations. He explains that, when rare media coverage does focus on the area, it prioritises regional instability over rainforests and biodiversity. He confirms, however, that travellers to DRC are very likely to witness the effects of deforestation. "A growing population needing homes and land, road building, commercial logging and land clearance for agriculture are all in evidence in many of the regions. Government agencies and NGOs are all working in the areas that we visit but the challenges they face are immense."  

Poverty, political instability and regional conflict all play a big role; some of Africa's most vulnerable populations rely on the local natural resources to survive. Trees are cut for charcoal to be sold to traders or used for cooking, land is cleared for livestock. According to the researchers at the University of Maryland, small scale farming accounts for 84 percent of the deforestation in the Congo Basin. Unlike other rainforests, the deforestation of the Congo has mostly been achieved by hand. 
Tourism is still very much in its infancy in DRC, however Allison Mollon claims that what few tourists there are have benefitted the gorilla sector of Kahuzi-Biega National Park, where FFI are focused. Our Africa travel specialists Native Eye, who offer
gorilla and chimpanzee tracking
tours in Kahuzi-Biega and Virunga national parks, and Gabon's
wildlife-rich Loango National Park
, say that the park fees they pay go towards rangers' wages and paying for conservation staff. Aled Evans also argues the benefit of tourism, saying: "Our tours provide additional employment for guides, drivers and office staff who would otherwise be struggling to find work."
Undiscovered Destinations' tours include a
month-long expedition of the Congo River
, which visits UNESCO-listed Yangambi Biosphere Reserve, in a more stable region of DRC renowned for its important biodiversity. Surprisingly, large areas of protected land already exist in the Congo Basin as wildlife refuges and national parks, but this is not proving a reliably effective deterrent. Jim O'Brien gives the example of Gabon: "They've promoted themselves as an eco destination and 13 percent of the territory is designated as national park, but many of those national parks are parks in name only. There's no infrastructure there, there's no way to visit them, there is poaching going on there and there's no effective protection, so it's a bit of a label."
Viruga National Park
However, tourism has the potential to help, offering an alternative income to communities who rely on less sustainable practices and bringing more money into the local economy. In Africa's oldest national park, Virunga, tourism has already helped to
kickstart
other local economic sectors. Community conservation projects ensure that local populations profit from protecting the land and Virunga's continued existence can be credited to its committed
park rangers
, who come from the local communities. "Empowering communities to make decisions and manage their own natural resources is critical to our approach," says Alison Mollon of FFI's conservation projects. "Community solutions are the only way to achieve sustainability and achieve success in the long-term."
Sadly, regional instability is likely to take its toll on tourism numbers, further compounding conservation problems. Following security issues last year, only small, secure areas of Virunga National Park are currently open to visit. "They've shut off parts of the park that were previously accessible," explains Jim O'Brien, which takes travellers to see the park's famous gorillas, "so unfortunately, while you can still see gorillas, you can't currently see a huge amount of other wildlife there. Apparently there is quite a bit of wildlife, throughout the park, but we haven't come across it." 

Allison Mollon adds: "Any drop in tourism will have an impact on both the financial inputs but also on ranger morale as they work extremely hard and risk their lives daily to bring an element of sustainable financing to the parks."
Our top Congo Holiday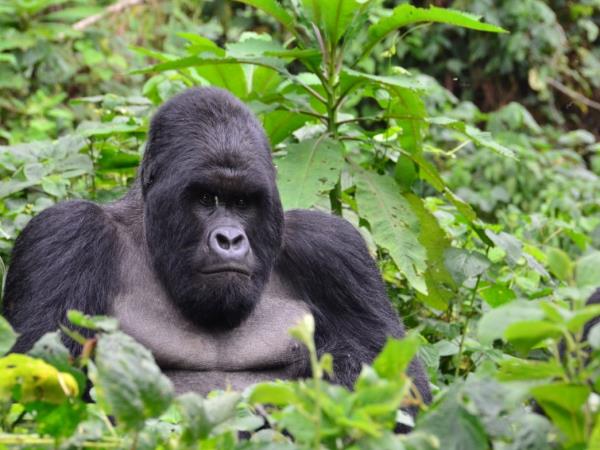 Encounter gorillas, chimps and hike up a volcano
From
£6299
15 days
ex flights
Small group travel:
2024: 10 Jun
If you'd like to chat about Congo or need help finding a holiday to suit you we're very happy to help.

Africa's disappearing rainforests
What's happening in the rainforest isn't confined to the Congo Basin. In Uganda, which borders DRC, the story is very much the same. "Uganda has clear signs of deforestation," says Vanessa Nakate. Describing Mabira forest, one of the country's largest surviving rainforests, she says, "on the outside of the forest, you see trees but when you get inside the forest, the emptiness can almost kill you."
"After school, I wanted to do something that could cause change in the lives of the people in my community," says Vanessa Nakate. She explains she was inspired by images seen online of student Greta Thunberg, and from listening to her uncle talk about the changes in rain from 20 years ago. "I found out that the climate crisis was one of the greatest threats we were facing as a country. I started to look for ways to create awareness about it and that is when I found out about the climate strikes. I decided to start my own strikes in Uganda."
The effects of rising global temperatures can already be seen across Africa as severe weather brings both droughts and excessively heavy rain that
researchers are already predicting will worsen
as climate breakdown continues. Recent widespread water damage has destroyed crops and taken lives, and Uganda has not escaped unscathed. "We are experiencing crazy floods," says Vanessa.
Burning fossil fuels is largely to blame for rising temperatures, tragically doing the most damage to populations that rely on them the least. But tropical rainforests have also been shown to help regulate rainfall and keep temperatures low. As Alison Mollon says, their loss "not only impacts local people directly but also the wider region and life on earth, given the role of the Congo basin in creating rainfall, storing carbon and producing oxygen." 
With deforestation comes the risk of desertification and, even worse,
recent research
suggests that the damage we are doing to our rainforests is having a drastically underestimated impact on global temperatures, as greenhouse gas emissions rise with logging, fires and fewer trees to keep carbon contained. And when it comes to conserving carbon, the trees of the Congo contain the most. The continent's endangered
elephants help its forests store more carbon
by destroying smaller plants and allowing trees to grow taller and wider than those in the Amazon or Indonesia. 
Among these tall and carbon packed trees, right in the centre of DRC's rainforest, is a huge peat deposit, only recently discovered in a flatland area called Cuvette Centrale. If it were to catch fire, it could let off
three times more carbon
than the global emissions of all human activities combined. The trouble with starting grassland fires, in an increasingly dry and rain-scarce country, is
getting them to stop
.
The need for further research
Deforestation is accelerating worldwide
, threatening our chances of avoiding a climate catastrophe. But while we already know that we are reaching an irreversible tipping point when it comes to the destruction of the Amazon, similar in-depth studies have not been done into the deforestation of the Congo Basin. We can't ignore the impact of Africa's lost rainforests any more. As Vanessa puts it: "Climate justice cannot be achieved while leaving out other countries. We need to fight for everyone and not just selected people."
More about Congo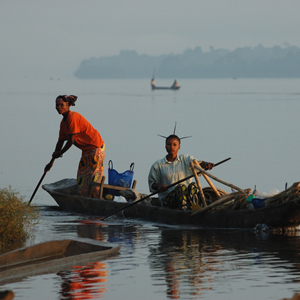 The May to September dry season is the best time to travel to DRC, although this is rainforest country so you should be well prepared at all times.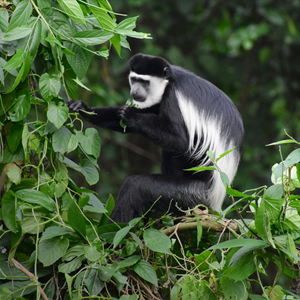 Democratic Republic of the Congo is a vast central African nation, covered in dense, pristine rainforest, sheltering three gorilla species plus chimps, bonobos and a wealth of birdlife.
Gorilla safaris in DRC are particularly special as this is the only country in the world inhabited by both mountain and lowland gorillas.