If there were a medal for the least known country in Africa, Djibouti would probably win it. Often overshadowed by its larger neighbour Ethiopia, little visited Djibouti makes up for its tiny footprint with a ton of spectacle. Turquoise salt lakes, limestone chimneys puffing out steam, hot springs, and flocks of flamingos bright pink against extinct volcanoes provide otherworldly drama in the interior, while Djibouti's coast is home to pristine beaches and waters where whale sharks swim.

It's not generally on anyone's bucket list, but maybe it should be – tiny Djibouti has a strange and dramatic landscape.

Culturally, Djibouti is a mélange of African, Arabic and Indian Ocean influences. Most people are Muslim with Somali the predominant language, and beyond the thriving, multi-ethnic capital, a small population of Afar tribespeople live a nomadic, traditional life in the harsh terrain. Travel here is a walk on the wild side, taking you from Djibouti City's busy streets to apocalyptic landscapes, baking under the cloudless African sky.
Djibouti is…
a sixth the size of England, but brimming with bizarre landscapes and natural wonders.
Djibouti isn't…
on most travellers' radars, but it should be.
Our top Djibouti Holiday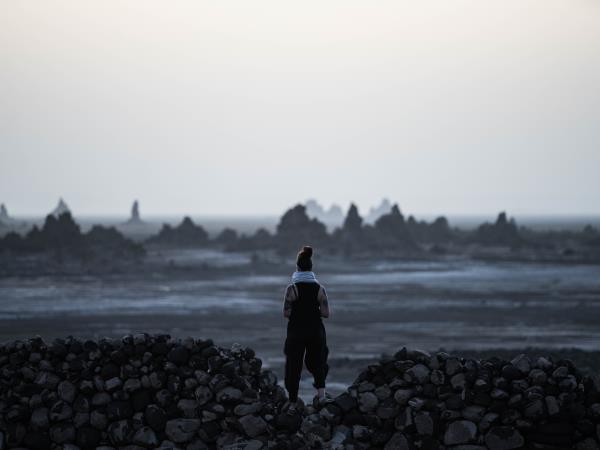 A pioneering overland journey through Djibouti & Somaliland
From
US $2750
10 days
ex flights
Tailor made:
This trip can be tailor made throughout the year to suit your requirements
If you'd like to chat about Djibouti or need help finding a holiday to suit you we're very happy to help.

Djibouti map & highlights
Although Djibouti isn't big, it's not necessarily quick to travel around; joining a small group or tailor made tour is therefore the best option here. Of its 2,900km of roads, only about 12 percent are paved and fewer than half can be used throughout the year. You will need a 4x4 to reach most places, although Tadjoura and Djibouti City are connected by a ferry. There is also a paved road, built in the 1980s, that links the capital and the south. Around 70 percent of Djibouti's population lives in the capital, and beyond you'll discover a country with very little infrastructure and few inhabitants except nomadic Afar tribespeople.
1. Djibouti City
The French founded Djibouti City in 1888 on a previously uninhabited stretch of coast, and it's now a vibrant, multi-ethnic capital with a mix of African, Asian, Arab and European influences. This diversity is expressed in the languages, food and architecture here and exploring on foot is the best way to appreciate the city's people, markets and cosmopolitan atmosphere.
2. Grand Bara
This spectacular plain of dried, cracked white clay was once an ancient lake and one of the Space Shuttle's emergency landing sites. You'll skirt Grand Bara en route to Lac Abbé, via a road built across it in 1981 to connect the capital with the south. Runners congregate here each December for the annual Grand Bara 15km race, organised by the French military and starting at sunrise.
3. Lac Abbé
Straddling the Ethiopia border, Lac Abbé can only be reached by 4x4. Cross a weird, bleached out landscape where hot springs bubble and rock chimneys up to 50m high belch out steam and sulphur – all properly apocalyptic (although the flamingos soften the vibe a bit). Ideally, stay overnight here, in a simple Afar camp, so you can see the amazing scenery lit up at sunset and sunrise.
4. Lac Assal
This dramatic crater lake, ringed by dark, dormant volcanoes, is the lowest point in Africa – it's 155m below sea level – and the second saltiest body of water in the world. It's a dazzling sight, with the aquamarine water ringed by a huge salt field, 60m deep, standing out starkly against the black lava fields beyond. You may see Afar herders here or local people collecting salt.
5. Plage de Sables Blancs
This appealing beach of pristine white sand backed by black basalt rocks, 7km east of Tadjoura, is a lovely place to relax after exploring Djibouti's interior. It's a popular spot for weekending expats, and has excellent facilities. Laze on the beach or head into the water to snorkel or kayak, looking out for whale sharks which visit the Gulf of Tadjoura from October to January.
6. Tadjoura
This is the oldest town in Djibouti, an important port with a ferry linking it with Djibouti City. It's a picturesque place, sitting below the green Goda Mountains, full of palm trees, whitewashed buildings and mosques, with a strongly Arabian feel. There's not much to do here, but it's a nice place to explore before moving on to one of the excellent beaches in this area.
More about Djibouti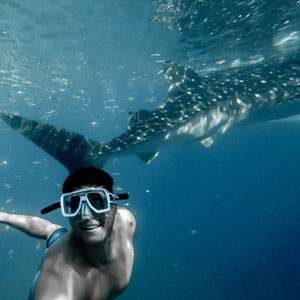 Djibouti experiences roasting hot conditions during much of the year, so find out the best time to go to Djibouti, when the temperatures are perfect for exploring.