Macquarie is entirely unusual. Its shape, compared to squeezed toothpaste, was created 600,000 years ago when a rift in the earth's crust forced a line of molten rock right up to the surface. It is the only known place on earth where this has occurred and its one-off geology is just the beginning.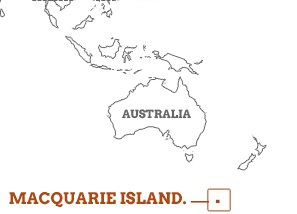 A tiny, verdant island, Macquarie Island isn't ruled by man, but by penguins in their millions, who share their 'city' with thousands of seals and sea lions.

You can only visit Macquarie Island on a small ship expedition cruise, so, sharing an onboard home with up to 50 other passengers, hopping on and off to explore unfamiliar surrounds, you'll need your sea legs. But that's all part of the adventure. Home of the Macquarie Island cabbage – a megaherb that grows up to 90cm tall, sprouting rhubarb-esque leaves and 60cm-wide flower clusters – the island's otherworldly flora provides a safe-haven for newly weaned elephant seal pups and makes excellent breeding grounds for giant petrels and Gentoo penguins. And what of its wildlife? 'Wow' sums it up. Macquarie plays host to over 200,000 pairs of king penguins and 3 million royal penguins, who share their patch with marine mammals including southern right whales and leopard seals.

Read more in our Macquarie Island travel guide.
Macquarie Island highlights
In Macquarie Island and its surrounds there are no roads, only directions. How wonderfully liberating. Known for its tumultuous personality, the Southern Ocean plays to its own rules and though your ship will move on between islands, you will do so to no other timetable than Nature's own. Sleeping onboard and moving between islands and every day or two, you'll be hopping on and off the boat as well as viewing from its decks. Your captain and tour leader have a brilliant knowledge of the 'routes' available and will ensure you reach as many incredible places as possible - remaining safe while you do so.
1. Birdlife
An isolated and oceanic island, the birdlife on Macquarie is made up of seabirds, mostly in the form of the 'big three': penguins, petrels and albatrosses. Not accustomed to humans and utterly unbothered by them, you'll find yourself in a 'penguin city' as four breeds go about their business, chattering around you, and if you're lucky, you'll spot four different species of albatross nesting along the cliffs.
2. Life at sea
Far from being stuffy, or cramped, life on an expedition vessel is a massive part of the fun – you'll share social spaces like the library, lounge and lecture rooms with your fellow passengers (max. 50), but comfy sleeping quarters range from triple sharing cabins to swanky suites with private lounges and bathrooms. Food is prepared by top chefs and there's a bar too – what more could you want?
3. Macquarie Island
Dubbed 'one of the wonder spots of the world', Macquarie Island is the only home of the magnificent royal penguin, who is joined here by king, gentoo and rockhopper penguin species – the sound of their enthusiastic chatter is really quite something! Meeting with scientists and park rangers, you'll also discover hundreds of Southern elephant seals that loll about on the beaches.
4. Meeting the experts
A Macquarie Island trip is as much about understanding your surroundings as it is about gaping open-mouthed at its beauty. Engaging, open to discussion and absolutely brimming with fascinating knowledge about Macquarie, meeting the scientists and researchers who have devoted their lives to finding put what makes this incredible island tick is a riveting and integral part of the trip.
5. Wildlife
A Galapagos of sorts, Macquarie Island and its surrounding Subantarctic Islands are home to some of the most plentiful and diverse wildlife on the planet. You'll meet all manner of pilfering penguins; spot Southern elephant seals, of which there's an estimated 11,000 on Macquarie alone, and seek out New Zealand sea lions, the rarest and most endangered of the 5 species of sea lion worldwide.
6. Zodiac cruises
You're not confined to your vessel on a Macquarie Island expedition – far from it; besides almost daily opportunities to get off the boat and explore on foot, you'll also be treated to zodiac cruises wherever the weather allows. Zippy, inflatable boats that carry 10-12 passengers, zodiacs are a brilliant fun and exhilarating way to reach far flung spots and get right up close to your seascape. ?
Our top trip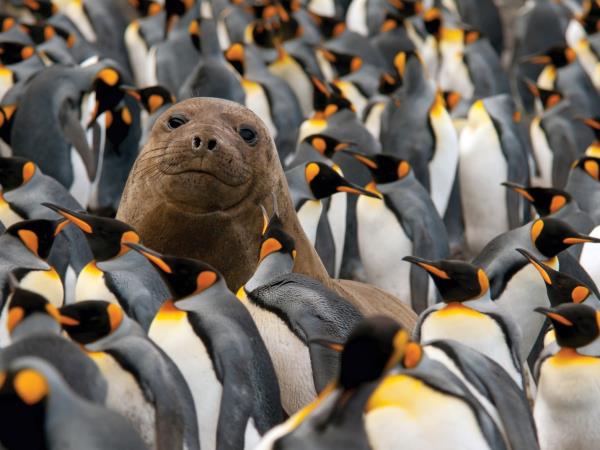 Wildlife voyage to the Subantarctic inc Macquarie Island
From
US $9250

to

US $10725
12 days
ex flights
Small group travel:
2023: 30 Dec
2024: 22 Nov, 18 Dec
If you'd like to chat about Macquarie Island or need help finding a holiday to suit you we're very happy to help.

More Macquarie Island articles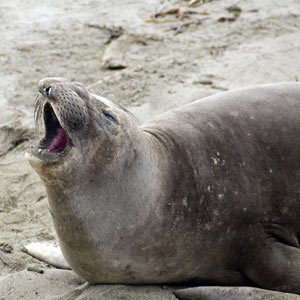 There's a very short window when it's possible to visit this Antipodean Subantarctic Island.