Mercantour National Park
---
Map & highlights
The Mercantour NP is about 150km in length, follows the Italian border and covers two French 'départements': Alpes-Maritimes and Alpes-de-Haute-Provence. Picture a massif with six valleys emanating from it, home to just 18,000 residents scattered through small villages that feel untouched by time. The Mercantour does go back forever in time, however, with prolific evidence of Bronze Age settlements in the Vallée des Merveilles, where 37,000 visible petroglyphs are one reason the Mercantour is awaiting UNESCO World Heritage status. And yet it has escaped mass tourism. No big hotels, no resorts – just real life and Alpine gîtes. Probably thanks to being upstaged by the Riviera. Which may, of course, just have wanted to keep its most glistening jewel locked away in a box. Here's a quick flash of its beauty.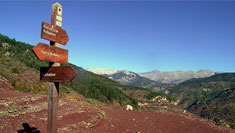 Gorges de Daluis
A 6km-long canyon formed by the River Var, its red glow is thanks to the sandstone, iron oxide and copper mix. It runs north to south from Guillaumes to the small town of Daluis, where houses cling onto the valley slopes. With canyoning and climbing opportunities, following waymarked ways by foot is the sumptuously slow way to revel in the gorge's magnificent rock formations, waterfalls and dramatic drops.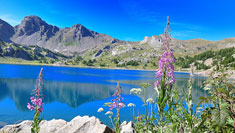 Lac d'Allos
The largest natural glacier lake in Europe at this altitude (2,220m). In the shadow of Mont Pelat, there are a number of hikes possible to this stunning waterfront, such as the one from Allos village, about six hours there and back. The trails are busy during summer weekends, but if you stay at the lake's mountain refuge hut there, you'll have it all to yourselves at sunrise.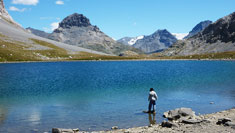 Lacs des Millefonts
Four gorgeously glacial lakes close enough to take on a circuit of all four if you wish. Named simply Lac Gros, Lac Petit, Lac Rond and Lac Long, the walks are not too challenging. Keen hikers can conquer nearby Col de Barn at 2,452m as well, with stunning views out to other peaks and across the Italian border. Following traditional shepherds' trails, this is still rich, undulating (and uplifting) land.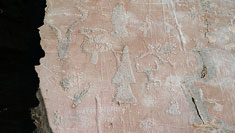 La Vallée des Merveilles
Translated as the Valley of Marvels, it's not only a stunning landscape but also home to the largest quantity of Bronze Age petroglyphs in Europe. Right there, on the rocks, tens of thousands of ancient drawings. It is thought that the people of the time worshipped the mountain that dominates the area, Mont Bégo, with an ancient meaning of divine. The Merveilles Museum in Tende is also worth a visit for more details.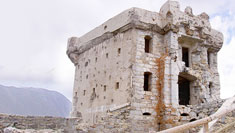 Plateau d'Authion
The Alpes Maritimes have a military history, dating back to Napoleonic times but also as recent as WW2. On treks around this region, you can visit a series of forts and remains of military buildings, or you can seek more a pacifist route into nature and take on part of the Authion Massif Circuit, with views across both mountainous and Mediterranean marvels. A popular cycling route, too.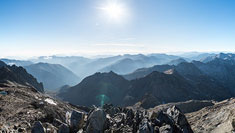 Saint Martin Vésubie
Gorgeous gateway to the Mercantour NP, starting point for many hikes and new found favourite for climbers and canyoners. Pilgrims pass through en route to the sacred shrine and sanctuary of Madone de Fenestre. And for those devoted to alpinism, it's a starting and mountain refuge point for summiting Cime le Gélas (3,143m) the highest peak in the Alpes Maritimes, or less challenging, Cime de l'Agnellière at 2,700m.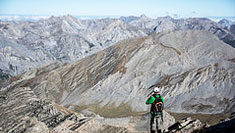 Walking
There are 600km of waymarked ways here. With six valleys emanating from the main Mercantour massif, there is a vast choice of routes. Conquer cols such as the Col du Barn, or take less challenging walks through canyons such as the Gorges de Daluis or around Alpine lakes. Walking the traditional way, with a donkey to carry your bags from gîte to gîte is a top way to meander through the Mercantour.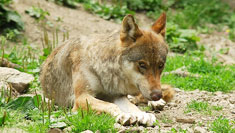 Wolf watching
Having been hunted into extinction in the past, wolves reappeared in the wild here in the 1990s. There is now a small population in the Mercantour National Park and wolf tracking is a wonderful way to combine walking with wildlife. Check out Alpha Wolf Park in Le Boréon for more information and to see some of the wolves in their care, too.
Things to do in the Mercantour NP
---
WHAT TO DO & WHAT NOT TO
Things to do in the Mercantour National Park
---
The Mercantour National Park is a haven for wildlife and wildflowers. With over 2,000 species of flowers, the meadows are a beautiful blanket of martagon lilies and striking blue gentian from late June, with rare glimpses of protected snow-white edelweiss. The hills are also alive with the sound of wildlife, if you keep your ears open. Chamois deer are common, and tune into the whistling sound of marmots too. The ultimate sound, however, is the wolf howl. Reintroduced to the wild in the 1990s, there is now a small population in the Mercantour and wolf tracking in winter, in particular, is a wonderful way to combine walking with wildlife. Check out Alpha Wolf Park in Le Boréon for more information and to see some of the wolves in their care.
Discovering the Mercantour on horseback or with a donkey is the way to go. With a donkey to carry your bags from gîte to gîte, and peak to peak, is a family favourite and one of the most freeing ways to discover the Alps. Or see the park from a saddle, climbing up into high peaks following traditional transhumance routes on horseback.
Snowshoeing and winter walking is sublime. It is hard to imagine Alpine slopes in winter that are free of swarms of skiers – but here they are. Winter tranquility is a big part of the Mercantour's magic
Things not to do in the Mercantour National Park
---
You really don't need to drive around the Mercantour. There are over 600km of waymarked ways, and your hosts will often drop you at a trailhead and collect you when you have finished. And if you want to leave the car behind altogether, there are excellent train and bus services into the mountains from Nice, which take only an hour, and the Train des Pignes is a beautiful journey.
Don't think that it is going to be all blissfully blue skies in the Mercantour. You will get plenty of them, but this is serious mountain terrain, and temperatures can drop rapidly. Pack plenty of layers, waterproofs, and be prepared.
Although it is one of France's best kept secrets, accommodation is still limited so don't leave booking until the last minute. If you want to spend a week of walking wanderlust in summer, you need to book well in advance.
Don't ignore the mountain terrain. This is not just a walk in the park, but serious Alpine terrain, so always be prepared, follow waymarked ways, bring maps, food, water, proper clothing, emergency kits and tell people where you are going. And don't even think about going snowshoeing in winter without an expert guide. As a rule of thumb, don't mess with the mountains, and this means keeping them clean and quiet too.
Mercantour NP travel advice
---
TIPS FROM OUR FRIENDS IN MERCANTOUR
Christine Kieffer, from our Mercantour National Park walking holidays expert, Itinerance Trekking: "Stay at least one week for walking because it is the best way to discover these mountains. The ways are very well marked and it is exceptional in France. Especially our paths are easy to find because every spring, we re-mark the way, dig and repair in order to be safe and secure. It means that even an inexperienced walker can do it due to the 25/000 maps and our advice."
"Go with a donkey. These affectionate animals have been part of our family for as long as we can remember. They love the company of humans, especially that of children, who they will encourage to keep on walking without sulking. For people who want to hike from place to place, but don't want a donkey, we can also organise luggage transport by car of course!"
Hello.
If you'd like to chat about Mercantour or need help finding a holiday to suit you we're very happy to help.
Rosy & team

01273 823 700
Mercantour NP travel advice
---
TIPS FROM OUR TRAVELLERS
At Responsible Travel, we think the best people to advise our travellers are often... other travellers. They always return from our tours with packing tips, weather reports, ideas about what to do - and opinions about what not to.
We have selected some of the most useful Mercantour National Park travel advice that our guests have provided over the years to help you make the very most of your holiday.


---
"We expected our young children to grumble about the hiking but in fact they exceeded all expectations and walked 5 steep miles per day for 3 days in a row. It's easy to under-estimate what your kids (and you) can do. The most memorable part of our holiday was our 6 year old and 4 year old leading "Leonidas" our donkey through the French Alps, sleeping in a beautiful yurt in an Alpine meadow, and feeling like we'd done something completely different to the typical "bucket and spade" type of holiday" - Alison Godfrey on our Mercantour family walking holiday

"Don't worry about having enough snow! Mel is expert at finding a variety of stunning locations to walk in all conditions and we saw many more signs of wildlife and varied plant life (our other main interest) as a result…Having a great variety of walking experiences was wonderful - from full-on snowshoeing to walking over ice and snow with cleats/microspikes on our boots to gazing across from the mountain tops at the Med." - Angie Polkey on our Winter walking & snowshoeing holiday.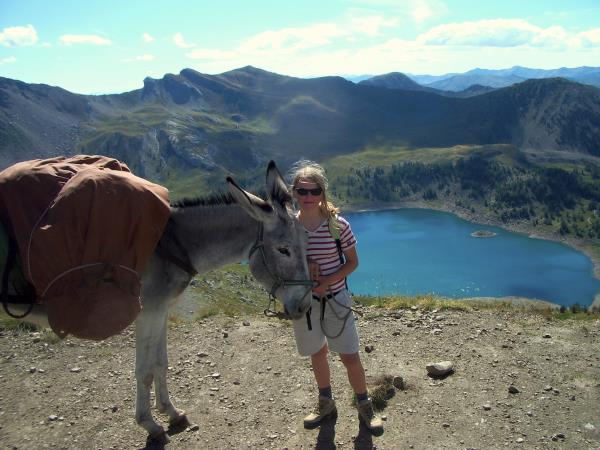 Family walking tour with a donkey in Southern French Alps
From
€550
7 Days
ex flights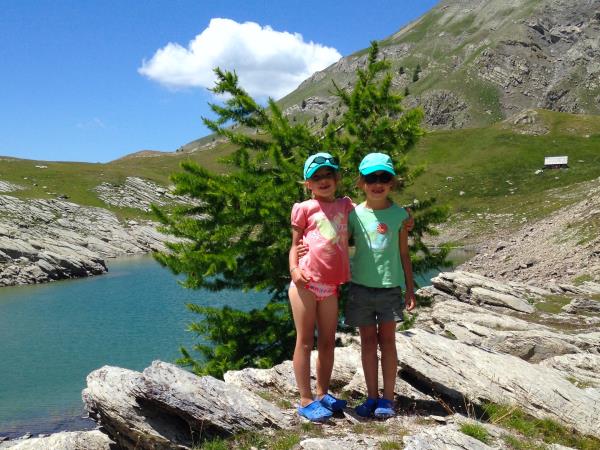 Multiactivities for family, French Alps, ecolodge and yurt,
From
€599
7 Days
ex flights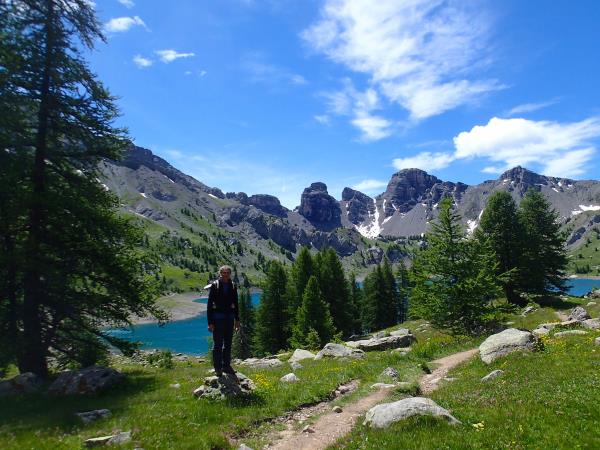 Walking holidays, French Alps, Wild Mercantour national park
From
€550
7 Days
ex flights