The snow leopard is Pakistan's national heritage animal, with a few hundred of these rare beauties roaming its Karakoram Mountains. Travel in Pakistan is similarly rarified, in that few travel companies adventure there these days and, those that do, take you on journeys that will, like the snow leopard, surprise and make your heart leap. Not with fear, as many presume, but with joy, as you experience its natural and cultural greatness.

I thought I was going to need oxygen when I saw the sun rise over the Hunza Valley. Not because of the 2,500m elevation, but because I thought my heart was going to stop with the beauty of it all.

Be it on mountain treks enveloped by 7000m peaks, on the ancient trails of the Silk Road, in alpine pastures dotted with traditional villages where apricot growers dry their fruits, or traditionally clad Kalash people gather their goat herds. However, there are those who, like the snow leopard, strike fear in Pakistan. But thankfully the tide is turning. Pakistanis not only treasure their country but truly value visitors and so, with the combination of increased security and a population that rejects sectarianism, tourism here is, mercifully, changing its spots.

Find out more in our Pakistan travel guide.
Pakistan is...
for mountain lovers. But not necessarily mountaineers. The road access is second to none, enabling peak practice to be, thankfully, open to all.
Pakistan isn't…
poverty stricken. Tourism was booming before 9/11, and beautiful boutique hotels, top service and top museums still astound and delight.
Our top Pakistan Holiday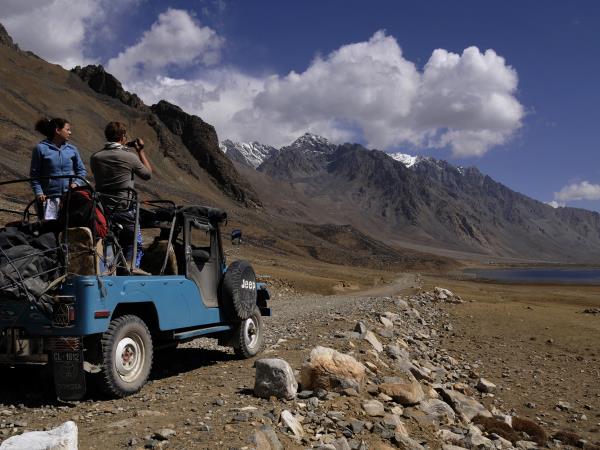 See some of the most breathtaking scenery on earth
From
£4395

to

£4575
21 days
ex flights
Small group travel:
2023: 25 Jun, 6 Aug
If you'd like to chat about Pakistan or need help finding a holiday to suit you we're very happy to help.

Pakistan map & highlights
The few travel companies that have adventured back into these magical landscapes following the last difficult decade and a half, will lead you on a classic circuit through northern mountains that tower over 7,000m, alpine pastures almost devoid of people and remote mountain valleys inhabited by the Kalash people, who have a different religion, language and culture to the rest of Pakistan. You will also follow in the footsteps of ancient travellers along the Karakoram Highway (KKH), or Pakistani section of the Silk Road linking Kashgar in China with Islamabad. All tourist trails also lead to the cultural capital of Lahore, where you descend from the mountains into a world where Mughal magnificence is fused with modern metropolis.
1. Chitral & Kalash Valley
A mountain town in the province of Khyber Pakhtunkhwa, lying at the foot of Tirich Mir, the highest peak of Hindu Kush Mountains (7,708 m), it boasts a wonderful juxtaposition of cultures. On one hand home to a polo ground and, on the other, gateway to the Kalash Valley, home to the ancient and pagan Kalash people. The nearby Shandur Pass, leading to Gilgit is a stunning 4,000m plateau.
Fairy Meadows National Park
2. Fairy Meadows National Park
It may sound lightweight, but far from it. Fierce rather than fairy comes to mind, given it's the point where the three great Himalaya, Karakoram and Hindu Kush mountain ranges meet. The jewel in the crown is Nanga Parbat, the ninth highest mountain in the world (8,126m). Camp here to fall asleep under the stars, wake up with giants, get to grips with greatness and feel reduced to fairy status.
3. Karakoram Highway
The "KKH" is the Pakistani section of the Silk Road, linking Kashgar in China with Islamabad, Pakistan's capital. Although no longer packed with silk traders and occidental caravans, it is crammed with cultural and natural highlights. And high peaks, such as the 'seven-thousanders' of the Hunza Valley, Fairy Meadows at the foot of Himalayan Nanga Parbat as well as Chitral Gol National Park.
4. Karimabad & Hunza Valley
Looking up at the 60-year-old Baltit castle overlooking Karimabad, the capital of the mountainous Hunza Valley, you realise you are in one of the world's very special places. In fact, it was an independent princely state until the 70s, with views up to majestic peaks of the Karakoram Range, the highest being Rakaposhi (7,788m). Accessible via the Karakoram Highway, a highway to heaven if ever there was one.
5. Lahore
Known as the cultural capital, the ancient walled city is its heart, with a modern metropolis pumping all around. It became the architectural hub of all things Mughal in the mid 1500s, with the majestic Lahore Fort, gobsmackingly gorgeous Ajaib Ghar Museum and Shalimar Gardens with their fecundity of fountains. Very close to the Indian border, the bizarre Closing of the Gate ceremony at the Wagah border is a must.
Skardu & Karakoram Mountains
6. Skardu & Karakoram Mountains
Capital of Baltistan region and gateway to Karakoram Mountains. Balti people have Tibetan roots and although now mostly Muslim, you can see their influences in culture and architecture. Perhaps still influenced by the spirituality of these mountains. One particularly ethereal spot is Gilgit and Indus River confluence, where the Karakorum, Himalaya and Hindu Kush mountains meet. Yep, I'll have the Balti please.
More about Pakistan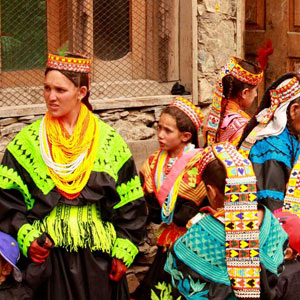 Travelling in winter is generally a no-no as much of the landscape is covered in snow. The best time to visit Pakistan is when it melts, around May...