South America overland
map & highlights
---
POPULAR ROUTES AND HIGHLIGHTS
Rolling along the mountains, pampas, steppe and tropical rainforest in your purpose built truck, you won't be travelling every day of your trip, but when you do, you could be on the road for anything between four and 15 hours. Make the most of it – on a South America overland holiday, the journey is as thrilling as the destination. Some routes do now supplement what could be very lengthy road journeys – such as Ushuaia to Buenos Aires – with flights, and some factor in public transport too. In the main, you'll be driven from A to B in great comfort – the seats in the truck are very high, so you can soak up all of the spectacular scenery as you go, and they also recline fully if you feel like having a snooze.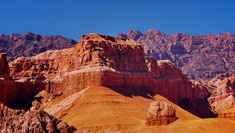 Argentina
From the pulsating capital, Buenos Aires, or the vast Pampas plains where the gaucho roam, to the superb Mendoza wine region where time is best spent cycling through the vineyards in search of your favourite Malbec, and hiking through the intense, colour-changing rock formations of the Humahuaca Canyon, Argentina is a distinctive and passionate country and its pleasures are many.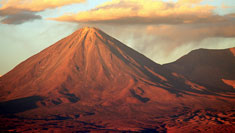 Atacama Desert
If Matt Damon has inspired you to experience life of another planet, you could do worse than to explore Chile's Atacama, where the barren, rock-strewn Valley of the Moon and the Mars Valley resemble their namesakes – especially when sunset turns them a vivid red. Boil eggs in bubbling thermal geysers, see the world's highest active volcano, and kick back in charming San Pedro with a Pisco sour or two.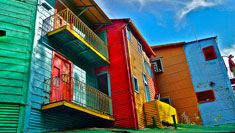 Buenos Aires
Argentina's sexy, sultry capital dances to a late night beat with locals dining at midnight before hitting bars in the small hours amid colonial architecture. Wander understated San Telmo and flashy La Boca, browse galleries and boutiques in upmarket Recoleta or relax in a Palermo park. Be sure to experience a 'milonga' tango hall, and, if you can, a 'Closed Doors' (Puertas Cerradas) dining club.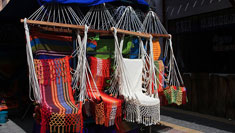 Ecuador
Ecuador may only be the size of the UK, but it packs a massive jungle punch. Pacific Coast rises up into volcanic Andean peaks – which drop down sharply into the Amazon. Jump in a canoe seeking out howler monkeys and sloth, head to Otavalo, an exuberant Andean town with sprawling, colourful markets run by Quichua locals, or stroll around colonial Quito, where woollen ponchos and bowler hats rule.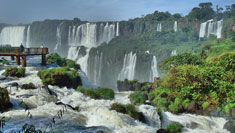 Iguazu Falls
Higher then Niagara, the mighty Iguazu Falls stretch for 3km straddling the Argentina-Brazil border. There are more than 270 falls in total, and you'll need to border-hop to experience the whole gambit - the Brazilian side is all about rainforest walks above the cascades, while Argentina gives you the chance to cruise upriver on a zodiac, navigating rushing rapids to reach the Devil's Throat Canyon.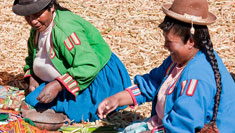 Lake Titicaca
The Inca believed that South America's largest lake was the birthplace of the Sun God. Sitting at over 3,800m high, it is breathtaking in more ways than one. On the Bolivian side, the islands of Sol (Sun) and Luna (Moon) are a jumble of Inca ruins and hardy Aymara residents – trek for a day, or spend the night. Peru offers floating islands made of reeds, where you can see traditional Aymara weaving.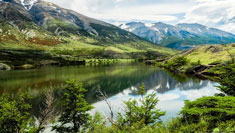 Patagonia
A sparsely populated region shared by Argentina and Chile, Patagonia's combination of remote steppe decorated with jewel-like lakes, glacial peaks and dazzling salt flats alongside proud volcanoes, southern hospitality and full-bodied wine is enough to make anyone happy. Trek the iconic Torres del Paine, cruise up to the ice-blue, 60m-high Perito Moreno glacier, and relish the southern hospitality.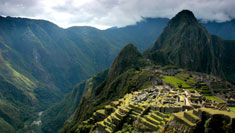 The Inca Trail
A high-altitude challenge like no other, the Inca Trail leads brave trekkers through an incredible Andean landscape of mountain passes, Alpine tundra, steamy cloud forests and Quechua villages. Though there are various routes to choose from, the classic 43km route is usually completed in four or five days and culminates at the "Sun Gate" – the most dramatic entry point to Machu Picchu.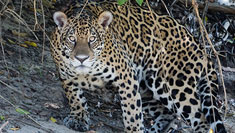 The Pantanal
The Amazon may be what springs to mind when you think of wildlife in Brazil, but the Pantanal, the world's largest seasonal wetland, is actually where you'll spot most of it. Around 700 species of birds and 80 mammals live in this fertile region – and the lack of jungle means they can be spotted more easily. Take night treks, canoe rides and horseback hacks – or head to Porto Jofre to encounter jaguars.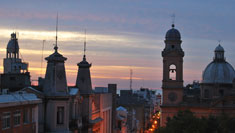 Uruguay
Sat between giants, Brazil and Argentina, tiny Uruguay is a refreshing slice of old world charm among the madness. Founded by the Portuguese in 1860, Colonia de Sacramento has a UNESCO-listed old town surrounded by intriguing museums and churches, and the capital, Montevideo, is a curious blend of 1930s architecture besides a thriving café culture and lots of lovely food markets.


POPULAR SOUTH AMERICA OVERLAND ROUTES:
---
Coast to Coast (19 days):
Brazil: Rio de Janeiro ► Corcovado Mountains ► Iguazu Falls ► Paraguay: Aruncion ► Bolivia: ► La Paz ► Lake Titicaca ► Peru: Puno ► Uros Islands ► Cuzco ► Sacred Valley ► Machu Picchu ► Cuzco ► Lima

Andes, National Parks & Amazon (12 weeks):
Brazil: Rio ► Pantanal ► Iguazu Falls ► Uruguay: Montevideo ► Argentina: Buenos Aires ► Puerto Madryn ► Patagonia: Ushuaia ► Torres del Paine National Patk ► Los Glaciares National Park ► Bariloche ► Chile: Andes ► Lake District (Pucon) ► Santiago ► Argentina: Mendoza ► Salta ► Bolivia: Antiplano ► La Paz ► Peru: Lake Titicaca ► Cuzco ► Inca Trail ► Machu Picchu ► Colca Canyon ► Arequipa ► Andes ► Lima ► Ecuador: Rio Napo ► Amazon Jungle

Patagonia (21 days):
Santiago ► Lake District (Pucon) ► Bariloche ► Puerto Moreno ► Los Glaciares National Park ► El Calafate ► Puerto Natales ► Torres del Paine National Park ► Punta Arenas ► Ushuaia

Hello.
If you'd like to chat about South America overland or need help finding a holiday to suit you we're very happy to help.
Rosy & team.
01273 823 700
South America overland travel advice
---
TIPS FROM OUR FRIENDS IN SOUTH AMERICA
Crossing countries
---
Laura Rendell-Dunn, from our supplier Journey Latin America, shares her favourite South America overland border crossing: "One of my favourite border crossings is from Bolivia to Peru, which is a route that takes you over Lake Titicaca. Lake Titicaca is the world's highest navigable lake and most people heading to South America will want to go and see Peru because it's such a highlight, not least because of Machu Picchu. You drive from La Paz to the edge of Lake Titicaca at Copacabana and then you take a boat across to the Peruvian side; there are lots of little islands across the lake, which are home to some fascinating local communities. One in particular, Taquile, is an island where the men do all the weaving, so as you wander round the island you see men perched on walls, knitting really beautiful, colourful garments. It's captivating."
Packing tips
---
Laura Rendell-Dunn, from our supplier Journey Latin America, shares her South America overland packing advice: In Patagonia particularly, it can get very cold and also very windy – on one day it can be extremely windy, on the next it can be t-shirt weather, so it's best to pack light layers as opposed to heavy clothes. Bring t-shirts with long and short sleeves, a light jacket and a thin jumper, so you can add or take off an item of clothing easily and comfortably. You will be travelling with your luggage too while moving around, so packing light is always preferable to bringing big, thick coats and heavy jumpers."
Is this trip for you?
---
Jess Millett, from our supplier, Tucan Travel, shares her advice on what sort of traveler is suited to a South America overland trip: "To make the most of an overland tour you need to be very flexible, quite patient, and up for a really good adventure. Due to the very nature of these tours, there's always a chance that something can go wrong – like a tyre blowing, or a break down – so you need to be able to shrug that off and make the most of it. An overland trip is ideal for solo travellers as it's a very sociable style of travel – you're mucking in together; you're cooking together; you're cleaning together, so there's a definite community spirit. You're almost guaranteed to make some really good friends and share some incredible memories."
SOUTH AMERICA OVERLAND TRAVEL ADVICE
---
Tips from our South America overlanders
At Responsible Travel, we think the best people to advise our travellers are often... other travellers. They always return from our tours with packing tips, weather reports, ideas about what to do - and opinions about what not to.

We have selected some of the most useful South America overland travel tips that our guests have provided over the years to help you make the very most of your holiday - and the space inside your suitcase.
"If you're going on a Patagonia overland tour, be prepared for some long days travelling in the truck. Unless you'll need a sleeping bag for other times on your trip, it is best to hire one as it is only required for 3 nights and takes up space in your luggage." – Richard Hallam
"Bring clothing for a variety of weather. Be prepared for early mornings and the possibility of altitude sickness. The more in shape you are, the more you will get out of the trip as well!" – Rachel Carbonell
"We had a great time, and made 21 new friends, but it is quite intense being with other people for such a long time. Bring earplugs, an iPod, and a very very warm sleeping bag… My boyf and me both have food allergies and the crew were amazing finding us alternatives so we never went hungry and always had great food. We covered a lot of areas that would have been really difficult to access (and impossible to carry tent, cooking equipment food etc by ourselves) and got a good overview of many of the places and things that people want to see and do." – Caroline Eccles
"If you don't know any Spanish or Portuguese, make sure you take a phrase book. Also, a small point but you tend to get your feet wet and so some decent walking sandal footwear that dries out quickly is a lot better than trainers. Take a travel pillow and MP3 player for the coach journeys too. A boat ride into Iguazu falls itself is fantastic, as is seeing a Tango Show in BA and going to a Samba club in Rio." – Rachel New
"Be prepared for the effects of altitude. We didn't get altitude sickness but suffered from tiredness, headaches and shortness of breath, especially when walking up hills. You need to give yourself longer to do things requiring physical effort." – Dianne Margaret Reidy