Swaziland travel guide
---
2 MINUTE SUMMARY
They say good things come in small packages – Swaziland is proof. At no more than 200km north to south and 130km east to west, it's one of the tiniest countries in Africa. Culture, wildlife, history and beautiful scenery are packed into one small, very accessible package, making it the ideal destination for anyone new to the continent. With 17 protected areas, it's home to incredible wildlife, while hiking and biking trails, zip lines and canopy adventures provide adrenaline junkies with their fix, too (in case encountering a black rhino in a bad mood doesn't do it!).
Lead by King Mswati III, Swaziland is one of the world's last absolute monarchies, and daily life is informed by tradition, but affected by high HIV rates and unemployment. Despite this, Swazi people are famously hospitable and proud of their culture. So take care not to underestimate this tiny, mountainous kingdom. Many travellers tag on Swaziland to a tour through neighbouring South Africa, but as our Swaziland travel guide reveals, it's a glorious destination in its own right.
Swaziland is...
A pocket-sized place with
lots of heart and soul.
Swaziland isn't...
All about going on safari.
Rich culture and warm people complement the wildlife.

Hello.
If you'd like to chat about Swaziland or need help finding a holiday to suit you we're very happy to help.
Rosy & team.
01273 823 700
Swaziland map & highlights
---
MAKE THE MOST OF YOUR TIME
Most visitors to Swaziland arrive via South Africa. You can fly from Johannesburg in 45 minutes, or drive here, reaching the capital Mbabane in a few hours. It's an easy drive in from Kruger or Durban, too and you can also reach neighbouring Mozambique, which has excellent beaches, or the St Lucia wetlands on the South African coast. Roads connect the key highlights and since Swaziland is roughly the size of Wales, everything's in easy reach. The key route between Mbabane and Manzini is much-used, but on less popular roads expect to bump over pot holes, pass ramshackle settlements and negotiate wandering livestock.
Hlane Royal National Park
This is Swaziland's largest park – 220sq km of beautiful African bushveld dominated by hardwood trees. Some say it's like Kruger was 30 years ago – basic, really quiet and absolutely lovely. It's home to fantastic wildlife, including lions, elephants and rhino, but also rich birdlife, with the highest density of nesting white-backed vultures in Africa. Bush walk with a local ranger to get close to the creatures.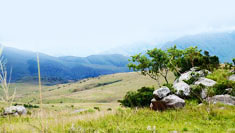 Malolotja Nature Reserve
This impressive Highveld conservation area boasts diverse habitats, from scrublands to sub-tropical forests and lush mountain wilderness. With its wonderful views, the 95m-high Malolotja Waterfall, abundant wildflowers in spring and 200km of hiking trails, it's a joy to explore. Try the canopy tour, navigating rock formations and cliff faces in the forest via platforms, slides and suspension bridges.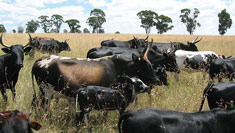 Mkhaya Game Reserve
Staffed and patrolled entirely by Swazis from neighbouring communities, Mkhaya has arguably Africa's most effective anti-poaching unit. The reserve is criss-crossed with dry riverbeds and dotted with waterholes, and offers some of the best black and white rhino viewing in Africa, on foot or by open vehicle. Other giants may swing into view, too, from elephants and hippos, to giraffes and buffalo.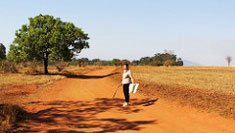 Mlilwane Wildlife Sanctuary
This is Swaziland's most accessible and frequently visited reserve, a beautiful, secluded sanctuary situated in the Ezulwini Valley. Nothing too predatory lives here (although there are hippos) so walking, cycling and even horse riding are possible – unheard of in most reserves – bringing you close to herds of relaxed animals. Guides can also point out mountains streams that are safe to bathe in.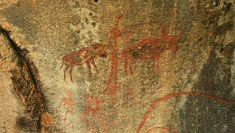 Nsangwini Rock Shelter
Some 4,000 years ago, the San people used this Highveld area for spiritual rituals and they recorded events, visions and dreams in etchings on the rocks. These images are still visible today and members of the local community, who manage the site, offer informative interpretations of them. Check out nearby Maguga Dam, too, a vast structure across the Komati River, completed in 2001.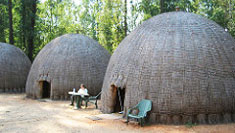 Shewula Mountain Camp
One of the most successful community tourism projects in southern Africa, Shewula Mountain Camp was built on land set aside for conservation and is owned and run by local people. Learn about traditional Swazi life from its friendly residents, who live in thatched houses among fields of maize, cotton and vegetables. Enjoy the incredible view, too, over the Lubumbo Conservancy.