Teaching abroad travel guide
---
2 minute summary
Volunteering as a teaching assistant in a rural village, a township, an afternoon club or a boarding house puts you right at the heart of a community, and the knowledge and skills that you impart may just go on to make their mark for months or even years after you have departed. Children living near popular tourist destinations can go on to find work; those from immigrant communities can learn the skills they need to integrate; women can be empowered and connected by learning to use computers; and underprivileged teenagers can be inspired by arts or sports sessions. And the volunteer teachers themselves? Well, they'll return home with an extraordinary education – having had lessons in a foreign culture, traditional beliefs, a new language and a completely different way of life.

You can teach abroad in many different countries, and combine work days with yoga classes, language lessons and daytrips, making this a wonderful choice for anyone who wants their holiday to be much more meaningful.
Where to teach abroad
---
MAP & HIGHLIGHTS
Choosing where to teach abroad can seem daunting; placements are available across the globe, with a particular focus on sub-Saharan Africa, Southeast Asia and southern India. For some people, the work they will be doing will be more important than the location; choosing to teach adults, teens or younger children, and deciding if they want to assist with English classes, or focus on subjects such as IT skills, sports coaching or art. Then you can see which locations have those options available. Other volunteers might opt to teach as part of a longer trip – tagging a few weeks' volunteering onto an Asian gap year. And others still will want to improve their own language skills as they teach others – in which case South America might appeal. Have a look at our teaching abroad highlights on the map below to get you started.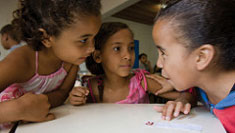 Brazil
Based in and around Rio de Janeiro, placements in Brazil are hugely varied, and volunteers can opt to teach at several different institutions in order to gain a wider experience of Brazilian society. Assist English teachers in schools, run sport or dance sessions for street children, or choose to support adults with their English in order to help them with their career prospects.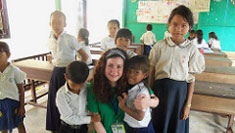 Cambodia
Teaching assistant placements in Cambodia offer a thought provoking immersion into Cambodian life, Buddhism and the daily reality of poverty which sits side by side with the thriving tourist town of Siem Reap. Buddhist monks supervise the daily lessons, and volunteers will mainly be assisting with English, with sports, art, music and other subjects also possible. Children are aged between 4 and 15.
India
Volunteer opportunities in India tend to be based in Kerala, where you can combine teaching with daily yoga sessions and ayurvedic breakfasts for a truly life enhancing experience. At the weekends, make the most of the backwaters and massages. Alternatively, volunteer as a sports coach in Tamil Nadu, or spend a month in Jaipur, assisting teachers, teaching IT skills to women or working with street children.
Morocco
Morocco is a culturally diverse country, with many inhabitants already speaking Arabic, Berber and French. English speaking volunteers can assist in a secondary schools tucked in between the High Atlas and the desert. Female volunteers can support Berber girls in a boarding house as they improve their English or French skills, as well as giving classes in art, sports or environmental awareness.
South Africa
Head to the Limpopo province, near Kruger National Park, to work with preschool and primary school pupils, assisting with a range of lessons as well as homework clubs and meal schemes. Volunteers who can commit to longer placements can assist in Port Elizabeth, while those with a knowledge of sign language will find rewarding placements at a school for deaf children in Cape Town.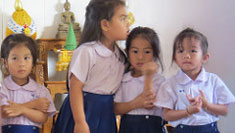 Thailand
Thailand is one of the most popular destinations for volunteer teaching assistants, thanks to the great demand for English as so many Thais work in tourism. Teach ethnic minorities in Southern Thailand, where tourism is booming but Burmese children struggle to gain an education. Or assist in a summer camp, teaching English through crafts and games. Weekends are free for beach time or exploration.



Hello.
If you'd like to chat about teaching abroad or need help finding a holiday to suit you we're very happy to help.
Rosy & team.
01273 823 700