Turkmenistan travel guide
---
2 MINUTE SUMMARY
If you only visited Ashgabat, Turkmenistan's capital, you'd form a pretty weird impression of this desert country, bordering the Caspian Sea. After a devastating earthquake in 1948, the city was rebuilt in Soviet style, but wealth from its oil and gas reserves drives an ongoing modernisation scheme, with huge, white, marble buildings continually popping up, in amongst the bizarre monuments and golden statues erected by one-time dictator-president Niyazov. It's definitely worth exploring, but Ashgabat scarcely prepares you for the true Turkmenistan beyond – a land of sweeping desert, deep canyons, bazaars selling brilliant red carpets, plateaus peppered with dinosaur footprints and ancient cities that once thronged with Silk Road merchants. It is one of the least explored of Central Asia's 'stans, but rewards the adventurous traveler with more than just unique sights. There's fascinating recent history, too, weird natural wonders and surprisingly tasty food!

Discover more in our Turkmenistan travel guide.
Turkmenistan is...
waiting to reward the 21st century traveller with
ancient sites, modern follies and mysterious landscapes.
Turkmenistan isn't...
crowded. This is a huge country
covered mostly by desert
with a population of around 5 million people.
Turkmenistan map & highlights
---
MAKE THE MOST OF YOUR TIME
If you're exploring Turkmenistan in depth, expect long drives. A two-week tour might include a few internal flights, but there will still be several road journeys of over 200km. Key roads between major centres are good, but step off these and roads are typically horribly potholed, requiring a 4x4. Border crossings can be painfully slow, too, so pack some patience. Organised tours, often in small groups, are the easiest way to explore the country. They include a private driver and vehicle, plus a guide, which all visitors on standard tourist visas have to be accompanied by. Most Turkmenistan trips include other countries, too. Allow a month to see all the other 'stans – Uzbekistan, Kazakhstan, Kyrgyzstan and Tajikistan – while a fortnight reveals some of the Silk Road's highlights, adding cities such as Samarkand and Bukhara in Uzbekistan into a Turkmenistan itinerary.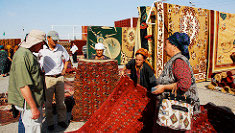 Ashgabat
Often described as bizarre, Ashgabat was rebuilt in the 1990s after the earthquake of 1948 which killed 110,000 people. White marble buildings, boulevards and fountains give it a Vegas feel, while its numerous monuments are futuristic and flat-out weird! Visit the excellent National Museum, the Carpet Museum – see the world's biggest carpet! – and the open-air Tolkuchka bazaar, which sells red Turkmen rugs and camels.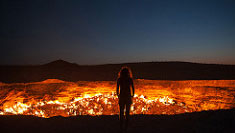 Darvaza gas crater
In the midst of the magically bleak Karakam desert, the Darvaza gas crater has been nicknamed 'the door to hell'. The origin of this 30m-deep pit of flaming methane is shrouded in mystery, but it's been burning for some 40 years. Camp here to appreciate its bizarre glowing beauty and heat at night, when passing birds circle above, attracted by its searchlight beam.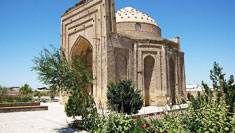 Konye-Urgench
This ancient capital of the land of Khorezm was once the centre of the Islamic world. The old town contains incredible architecture, with a series of monuments from the 11th to 16th centuries, including a mosque, fortresses, mausoleums and a 60m minaret. The city's influence spread into Iran and Afghanistan, even shaping the architecture of the Mughal Empire of 16th century India.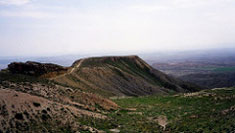 Kugitang Mountains
Near the border with Uzbekistan, the western slopes of the Kugitang Mountains are a nature reserve with a unique ecosystem. Deep canyons and mountains with walnut, maple and juniper forests are home to rare mountain sheep and markhour, an endangered mountain goat, while the Dinosaur Plateau contains more than 400 dinosaur footprints. Hike to the Umbar Dere waterfall and the Kyrk Kyz pilgrim cave.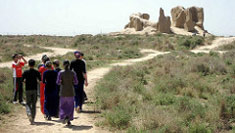 Merv
Near the city of Mary, the Silk Road metropolis of Merv dates back 2,500 years. In the 12th century, at its height, it was a place of palaces, irrigation channels and fertile gardens. By the 1220s, though, it had been destroyed by the Mongols, with an estimated 700,000 deaths. Today its windswept ruins are a UNESCO World Heritage site, consisting of five walled cities from different periods.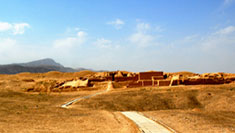 Nisa
Nisa, 18km southwest of Ashgabat, was capital of the Parthian Empire, one of the most powerful and influential civilisations of the ancient world, from the 3rd century BCE to 3rd century AD. A city of fortresses, palaces and temples, it formed a barrier to Roman expansion and was a crucial trading centre at the crossroads of north and south, east and west.