My Montenegro adventure holiday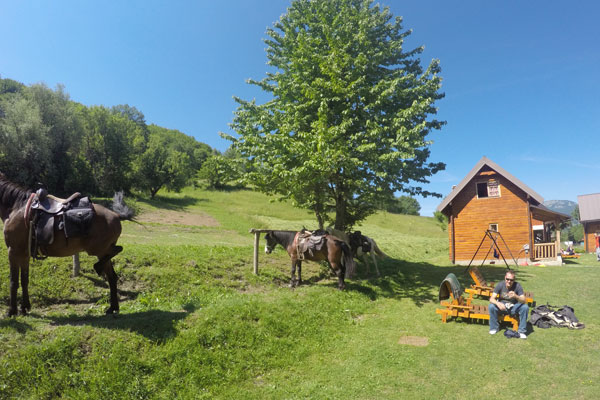 Chris in Montenegro.
Visiting Montenegro for the first time was a real eye opener. I'd been to Croatia, well Zagreb, in the depths of winter the year before and was looking forward to comparing both countries as I embarked on an adventure holiday of group activities in Montenegro's mountainous north. Weather conditions in May provided an immediate contrast and from the moment we touched down at Podgorica airport, the wave of heat hit me as it had on summer holidays past.
I'd met the rest of the group at Stansted airport departure lounge and although there was only four of us: myself, Brett, Dave and Emma, a certain sense of camaraderie was beginning to blossom as we went through customs and met our local guide at the arrivals gate.
It was pretty difficult not to spot Ivan
, an ex-pro basketball player, and we duly followed him into the back of a Jeep and set off on the road to Kolasin, about 80kms north of Podgorica, which would be our base for the week ahead on the border with
Biogradska Gora National Park
.
Pitt stops en-route included the ornate interiors and peaceful surrounds of
Moraca Monastery
and an equally beautiful scenic lookout whereupon we got not only our first sighting of a sparkling blue glacial river but also Brett's GoPro video camera, complete with head band.
Roads were pretty good, not at all pot-holey, and it was obvious that Montenegro is a country that's on the up in terms of building transport links although, as Ivan mentioned, the south still tends to get the lion's share of government investment.
But, perhaps, this was a good thing as the closer we got to Kolasin the more the countryside scenes naturally came to life with road side stalls selling locally-produced honey, jams and various types of fruit brandy whilst vineyards, farmlands and mountain peaks appeared beyond.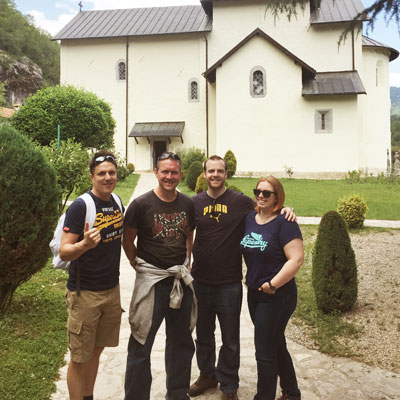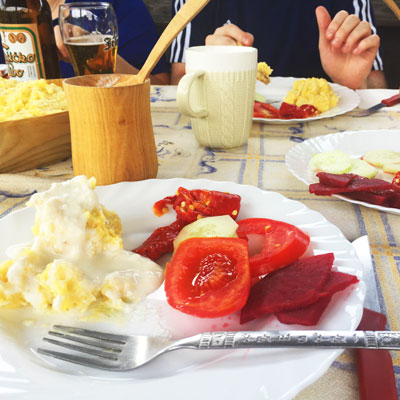 The group and breakfast.
Arriving at our 'eco-village'
was a bit like entering an out of season Swiss ski resort with lovely wooden chalets surrounded by long grass, veg patches, horses and a trickling stream helping to create an idyllic environment, complete with singing cicadas and welcoming family to greet us.
The weather really helped as despite fears that life in the mountains would be a lot cooler than down south it was pleasantly warm and we sat outside with our host, Sylvia, as she took us through important points such as meal times and the rudimentary requirement of drinking fruit (in this case, plum) brandy when being welcomed into a Montenegrin's home.
An evening stroll after a meal of cold meats, cheeses, homemade bread muffins and veggie soup introduced me further to mountain life as well as reinforcing the need to learn a language as soon as possible so as to say 'is your dog friendly?' when walking down a dead end farm track.
A relatively lazy start - I have young children so anything after 7am is considered a lie in – was met with more meats, cheeses, scrambled eggs, tomatoes and muffins for breakfast as well as a rather delicious mug of
mountain tea
featuring various local herbs blended within boiled spring water.
I'm a coffee drinker - which was also available within the communal dining lodge - but I stuck to mountain tea throughout my time away and never looked back. Well, for that week anyway.
The first day of my Montenegro adventure holiday
took place on four legs as we were fitted for helmets and suitably-sized horses, before being invited to fill our saddlebags with snacks and water and follow Nemanja, our horse riding guide, away from the eco-village and into the wide blue yonder.
Drinking from fresh water springs, pausing in pastures thick with wild flowers and witnessing some magnificent mountain scenery were just some of the of
Montenegro horse riding
highlights; with bruised buttocks and a steep descent through a forest also never to be forgotten.
A wonderful stack of homemade crepes awaited our return from horse riding and assuming they were to be the starter we politely declined any more than two per person, one with cheese and one with jam. We only realised that this was the main meal and dessert when we saw our chef driving off with the remaining crepes stacked on the passenger seat of his car.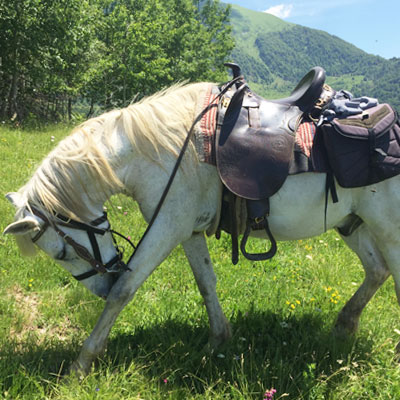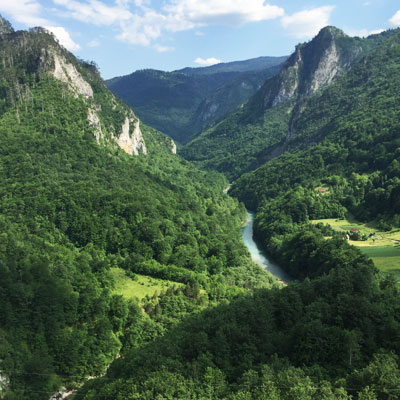 Horse and mountain valley view.
Perhaps hunger, perhaps a newly acquired sense of adventure, whatever it was, that night, we went exploring. The four of us, intrepid adventurers that we were, made it to the local store that was next door to the local 'pub' which was about 5 minutes' walk from our lodgings.
Smoking is still permitted indoors within much of Montenegro, and Croatia – as I'd discovered in a crowded late night bar in Zagreb – so it wasn't much of a surprise to be met by a thin cloudy haze although open doors and windows meant this was hardly noticed, especially after a couple of
pivos
(beers).
One thing we did notice within the small, very small, one room village pub was the religious iconography and saintly pictures hanging on the walls as well as one of Novak Djokovic who, despite considering himself Serbian, is still highly thought of in these parts, well by the publican anyway.
A star-studded blanket lit our way back to our beds from where thoughts turned away from international tennis players and smoky rooms packed with local people – well six local people, it was a very small pub – and onwards to tomorrow's adventure:
white water rafting on the Tara River
.
I fell asleep hoping Brett had his video camera on full charge.
We were told that we'd be driving for about two hours to reach the start of our Montenegro white water rafting adventure, deep within
Durmitor National Park
, but were pleasantly surprised to disembark just an hour after leaving Kolasin.
Montenegro is a small country so it's really easy getting around even when based in one place.
The four of us had been joined by a Czech family, a father and his two young daughters, who were also staying at the eco-village. This shared excursion gave us a chance to chat with our fellow travellers as well as ensuring we weren't too, openly, scared about jumping into an inflatable and heading down stream in search of white water river rapids.
It was a great day. We were fully kitted out with helmet and buoyancy aids and four of us were armed with paddles; although I'm fairly sure that Ivan, the basketball great from the arrival gate, had things covered on his own.
Stopping off to watch waterfalls tumble past and butterflies make the most of the resulting moisture were just a couple of more peaceful reflections on our day although jumping off big boulders and swimming back against the fast-flowing current was pretty cool too. The water was flipping freezing!
As Brett's GoPro went into overdrive - it also worked underwater, he hoped – our white water rafting adventure finally came to a close just short of the
Durdevica Tara Bridge
. This bridge spans the beautiful Tara River and was once home to a popular bungee jumping site although this had to be shut down due to traffic congestion as people paused to watch tourists chuck themselves off.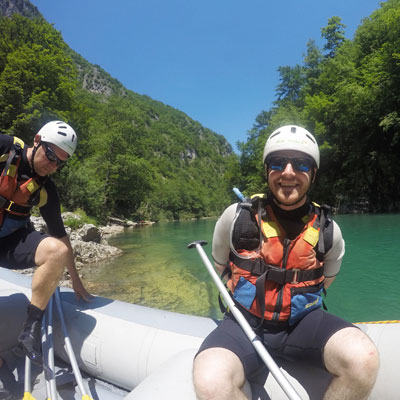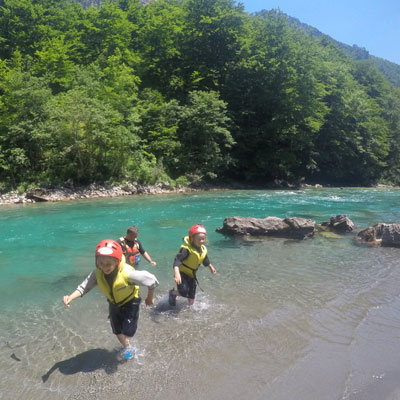 White water rafting.
These days it's
zip-lining
that puts the extreme into this section of the
Tara River Canyon
– Europe's longest – and after a delicious grilled trout and pivo lunch, we bravely walked across the bridge and followed Brett as he strapped his video camera to his head and zipped back over the river, 172 metres below.
Hey, it was more scenic flight and bird's eye views than white knuckle thrill ride but zip-lining over Europe's longest canyon is something I can tell the grandkids about - right after I tell them about trekking in
Biogradska Gora National Park
accompanied by a member of the Montenegrin Special Forces aka: Daddo.
We met shaven headed, scarred, Daddo the morning after our day spent white water rafting and despite feeling like we were in the presence of some kind of giant bear/man we listened, intently, as he explained where we were going to be trekking and when we would be leaving - after breakfast.
With rucksacks packed full of meats, cheeses and homemade bread and muffins we clambered back into the Jeep – in exactly the same seats, obviously – and drove until we were well and truly far, far away from everything, and everybody, except for peaks and pastures above the tree line.
Daddo was an amazing guide and talked us through every aspect of our hiking experience as well as ensuring we were safe and secure, especially when Emma was struck down by blisters during the early stages. With Emma's feet strapped and now enclosed in sturdy sandals we continued onwards and upwards into Biogradska Gora National Park before stopping for lunch at a remote mountain community owned by Ranko the former coach of the Montenegrin swimming team.
These sorts of remote mountain villages stem from sheep and goat herders bringing their flocks into the hills during the spring and summer to graze, before returning down into the valleys and towns in readiness for the harsher climes of winter.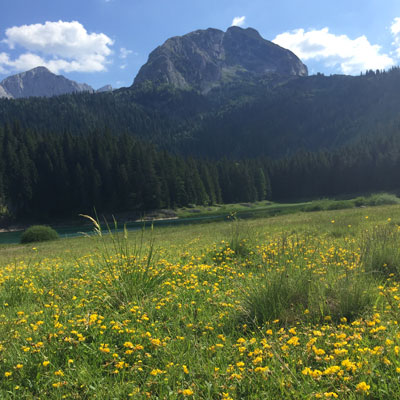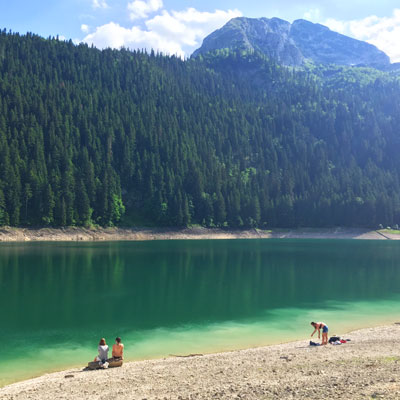 Meadow and lake.
Ranko was a most gracious host and showed us around the wooden cabins that he'd helped to build that also served as accommodation for summer hiking groups and Israeli students.
After producing a chilled bottle of pivo each and the obligatory shot of brandy - I think it was cherry - we sat down to eat outdoors on a long wooden bench. Ranko's wife brought plate after plate of tomatoes, cucumbers, peppers and homemade biscuits to accompany the main event – a steaming wooden bowl of
kacamak
: a cheesy, potato, polenta, porridge type dish served with creamy yoghurt.
It was delicious and just the sustenance required to get us down the mountain as light rain began to fall to make our woodland trail through the heart of Biogradska Gora forest all the more slippery.
We'd seen no one over the course of the day, apart from Ranko's family, and as we reached the end of the trail at Biogradska Gora fresh water lake, surrounded by beech trees, we stepped back into the relative reality of what was obviously a well-known natural beauty spot.
After a quick dip in the lake we headed back to base for what was to be the final night of my Montenegro adventure holiday. A friend's ill-timed wedding had meant I had to cut my week in the mountains short and that evening I bid farewell to Sylvia, Daddo, Ivan and the Czech family over a banquet of meats, cheeses, vegetable soup and homemade bread and muffins.
An early start the next morning found the four of us clambering into a minibus for a snooze as we headed to Tivat, on the south coast, where I'd be flying back to the UK whilst Brett, Dave and Emma would be staying on for
mountain biking and a 4x4 Jeep safari
following a free day by the beach.
One of the most abiding memories
I'll take from my Montenegro adventure holiday is watching the local folk cut the long grass surrounding the eco-village using old fashioned scythes. This wasn't a gimmick for the tourists it was just cutting the grass in the sunshine like they always have done. Pretty soon, due to the hard graft of the leather-skinned workers – one guy must have been over 70 - a haystack appeared. It was this haystack that met me with the sunshine every morning and bid me farewell to my bed with the singing of cicadas every evening – unforgettable.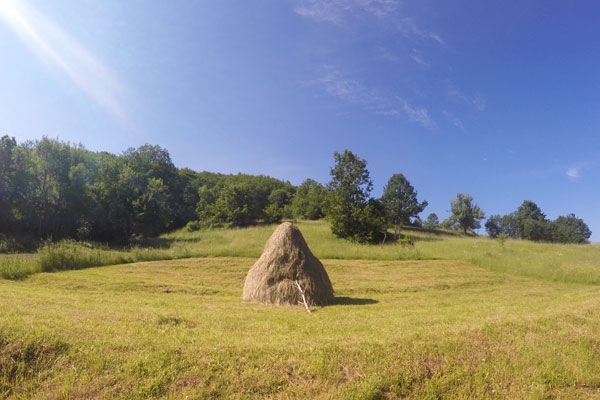 Hay bale.
For more information please check out our
travel guide to Montenegro
Or see more of our
Montenegro holidays