The public have zoos on a fake pedestal
Zoos' spend over ten times less on conservation than visitors expect, survey revealed.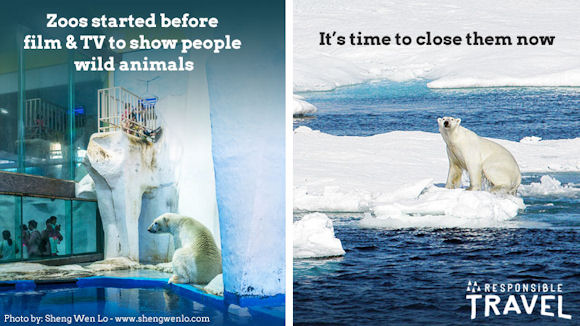 In 2017 we became the first travel company to stop promoting any holidays that included a visit to a zoo. Our reasons, which centred around the education value of zoos, how much is spent on conservation efforts and what percentage of animals are endangered can be read in detail
here
.
We were delighted by the messages of support we received from travellers, our members and from other NGOs. Keen to learn more about the public perceptions of zoos we undertook an independent survey* of recent UK zoo visitors, with some powerful results.
The survey revealed that visitors overestimate zoos' spend on conservation by tenfold. Furthermore, almost 90% of visitors are concerned that many animals are adversely affected by being held captive.
The study asked 1000 people who visited a zoo in a five year period about their understanding of the contributions these facilities make to wildlife conservation and education. The results showed a huge disparity in public perceptions about zoos and the reality of their contribution to conservation – both in terms of economic input into conservation in the field, and in protecting endangered species.
Conservation commiseration
Many zoos market their conservation value with gusto. However, reality bites for the 84% of UK zoo visitors who were surprised or very surprised to hear that zoos are encouraged to spend only 3%of their expenditure on conservation in the field
[1]
, with respondents on average estimating figures that were over ten times that amount.
Furthermore, just 12% of respondents had carried out any form of conservation volunteering during the past 12 months prior to receiving the survey, despite having visited a zoo in the last five years. It seems that visiting a zoo is not inspiring the British public to take action when it comes to conservation issues.
In fact half of the 16-24 year olds surveyed said that watching wildlife-related TV programmes such as Planet Earth or films at the cinema would help inspire children to look after our world's wild animal populations. Just one quarter of that age group thought visiting a zoo would provide such inspiration.
Unhappy animals, means unhappy visitors
Almost 90% were concerned or very concerned to hear that behavioural studies have found that many animals are affected adversely by being held captive
[2]
. It seems that when presented with the reality of zoo life, visitors are as unhappy as many of the animals.
Endangered reality
61% of UK zoo visitors were surprised or very surprised to read that just 10% of animals in zoos are endangered
[3]
. When asked, over three-quarters of respondents estimated that at least one fifth or more of the animals kept in captivity by zoos would be endangered species.
Responsible Travel CEO Justin Francis said:
"What this survey shows is that zoos have been pulling the wool over the public's eyes when it comes to conservation claims. Visitors are leaving zoos with the message that their visit has contributed greatly to conservation projects and with endangered species. Very often this is simply not the case.
"It is our view that zoos have put themselves on a pedestal for too long and in reality most zoos are simply keeping animals in captivity for our entertainment, to continue their existence and to make money. They provide little of the conservation and education value they claim.
"We hope that more people will question their visit to a zoo and consider other ways, here in the UK or abroad, to support efforts to conserve wildlife in its natural environment".
*The survey was carried out by Censuswide between 12 April and 13 April 2017, by 1,000 people in the UK who have visited a zoo in the last five years or less.
References:
[1] World Association of Zoos and Aquariums [2]
BBC Horizon – Should We Close Our Zoos? 17th April 2016
)
and (The EU Zoo Inquiry Born Free Foundation (2012), pp32 & 33.)
[3] (Born Free Foundation
http://www.bornfree.org.uk/campaigns/zoo-check/captive-wildlife-issues/abnormal-behaviours/
)
Main photo used with permission from Sheng Wen Lo -
https://www.shengwenlo.com