Traveller interview: Andy Wood on his small group Albania holiday
See / go back to this
Small group Albania holiday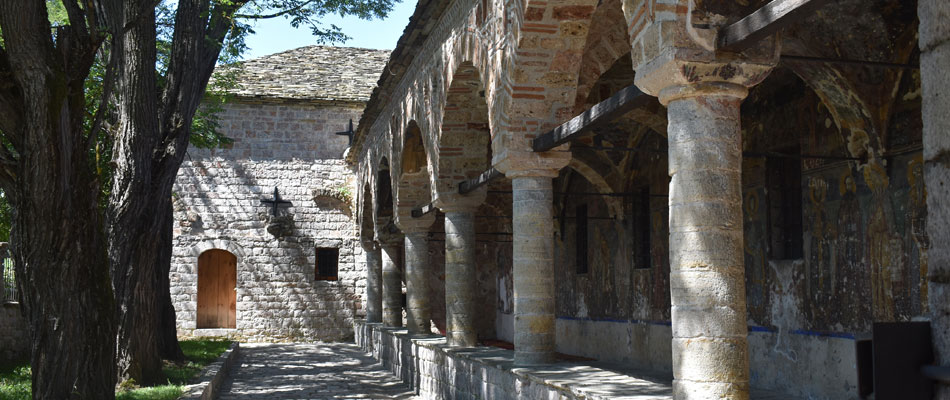 Photo: The cloister of the Orthodox church of St. Nicholas, Voskopoja. By Andy Wood
Andy Wood and his wife went to
Albania
in early September and reviewed it as "one of the best holidays we've ever had!" So we asked him to chat with one of our travel writers, Catherine Mack, to share more details and delights about this much unknown tourist destination. Which he kindly did – in the most inspiring way.
What made you want to go to Albania?
Curiosity. When I was growing up Albania was a little bit like the North Korea of Europe. It was a place that was just impossible. We didn't understand it, it was locked away and the odd things that we did hear about were just so peculiar. That just got the hook in really and I have always been curious about it since then. So the opportunity to go and see what this strange place was actually like was irresistible.
Were your preconceptions very different from reality?
We didn't really know what to expect. Obviously there is an image of Albania over here in the UK, and one thing that we were fairly sure of was that it wouldn't be like that! Otherwise there wouldn't be holiday companies going there. We had heard that there were infrastructure problems, maybe power outages or water shortages and stuff like that. So we were slightly dubious about meeting problems of that kind but actually none of that happened. And we came away thinking what a fabulously wonderful country.
What is the most useful thing you packed or wish that you had packed?
We packed for all weathers but actually we only needed stuff for one, because it was just dry and very hot for two weeks. If I could have packed anything else it would have been an extra pair of shorts. Even when we were up in the mountains it was still lovely, even in the evenings. However, I think the weather was quite unusual for Albania, and they had just experienced an unusually wet summer. So we were expecting rain some days, but we had none at all. And the temperatures were mostly around the 30 degrees mark.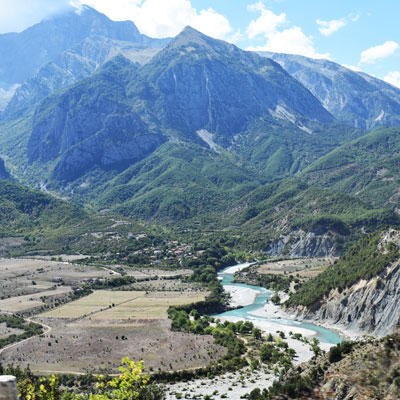 Photos: Viosa River Valley and mosaics in a ruined Byzantine church by Andy Wood
Did you try speaking any of the language?
We stumbled on a couple of occasions but actually English was pretty widely spoken, and people seemed quite keen to speak it. I know that's not an excuse though! Towards the end of the trip my wife successfully ordered drinks in Albanian a couple of times and we considered that great progress.
How was your guide?
He was fantastic. He was a bit of a force of nature because even though he was going down with a cold when we were there, his enthusiasm, pride, knowledge and his totally engaging nature were just fantastic. He was a bundle of energy, and just all round nice guy. His name is Edjon, but he preferred to be called Ed. He is Albanian and he had his 38th birthday when we were there. Arriving in Albania did feel unfamiliar, as it's not your normal destination, but Ed immediately put us all at ease from the minute he met us at the airport and we knew everything was going to be alright. And from then on in, we didn't look back!
Did you celebrate his birthday with him then?
Yes, that was a lovely story actually. As a group we all liked Ed very much and so we decided we were going to get him a cake for his birthday. The day before, we were in Sarande and looking everywhere to find something that looked remotely like a birthday cake. We were starting to think we might have to find a Plan B when my wife walked up to this young Albanian girl, asked her if she spoke English, which she did, and if there was a bakery nearby where we could get a cake. She took us to a lovely bakery tucked away down a side alley which we would never have found otherwise. The lady behind the counter said 'Yes, I can do a birthday cake. Just give me ten minutes. It was only £7, she asked us what we wanted on it and we said 'happy birthday Ed'.
Sitting outside the bakery, in a little courtyard, was the granny of the household, who asked us to sit with her. She didn't speak English but somehow we chatted away just with sign language and then she went and got us ice cream. She didn't want payment for it or anything. Then the cake arrived and it was all just wonderful. That really summarises how we found Albanians. They were just so helpful, open and generous. And they make great birthday cakes!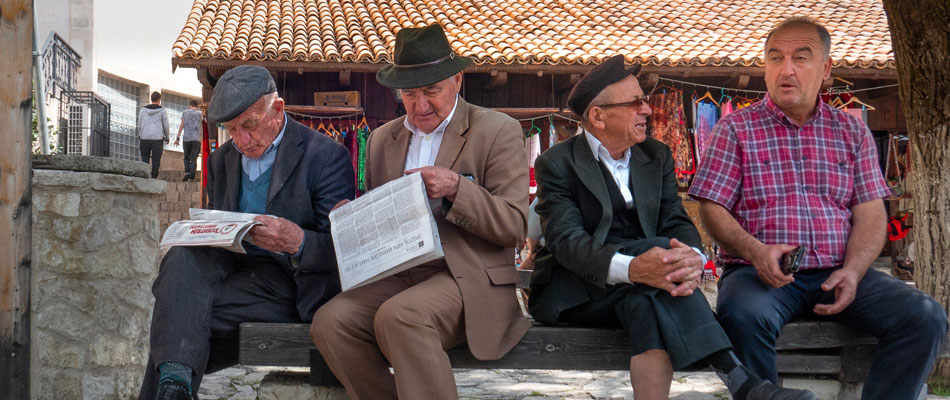 Do you have any sense memories from your trip, other than 'sight' ones?
Yes I do. Lots of taste memories and I don't mean just drinking
raki
, which was very nice. Because we were there at the end of summer, all the produce was coming fresh off the land. So there were lots of fresh fruit and vegetables at roadside stalls, and it is all organic as well. They can't afford fertilisers or pesticides and this kind of thing. So, in general the fruit and vegetables were just fresh and delicious.
The other sense memory would be music. Occasionally we got to hear traditional Albanian folk music and it is pretty wild stuff. We would hear it coming out of bars or from buskers but also the best place was the market place in Tirana where a group of people formed a big circle to dance. Lots of people joined in which is what they do in Albania, and they got the band going. The circle just got bigger and bigger to about 50 people dancing, and encircled about 30 of us where we were sitting. We enjoyed every minute. That Balkan clarinet music is just wild really, no other word for it. Check out
saze
music if you want to hear what it's like. [We found
this clip
as a rather wonderful example.]
Was anything a bit overrated in your opinion?
There is a set of natural springs called Blue Eye which sounded like it was going to be lovely and quiet, but it had a massive car park and thousands of people. So to be honest, I would rather have spent a few hours doing something else. Especially as we had spent so many days in very quiet, rural places in the mountains, so it did feel like a bit of a shock.
And was anything a pleasant surprise?
Well the whole country, to be honest! The food was lovely, with Greek, Italian and Turkish influences, but it was consistently good and consistently interesting. Albania is also great value for money and because tourism is only taking off, there are no chain restaurants anywhere, even when you are wandering around Tirana. So most places where you eat seem to have fresh, local produce. Dinner for two, with a couple of drinks was around £15. And the meals were normally pretty hearty – Albanians don't hold back on their portion sizes!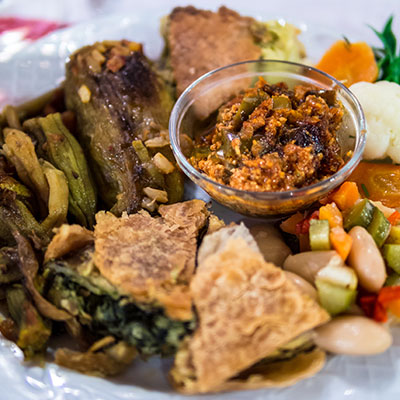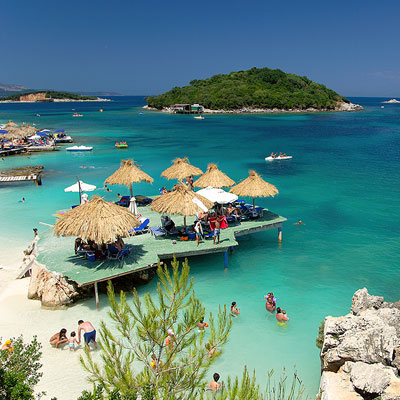 Has this trip influenced where you would like to go next?
Yes, we just want to go back! We have done the south and now this has just whetted our appetite to go north. And also discover the rest of the
Balkans
,
Montenegro
,
Kosovo
, everywhere. I just love this mishmash of everything and its fascinating history. We also loved the fact that everyone seemed to get on very well in Albania – lots of mixed marriages between Muslims and Christians and I think that might be why the people are just so friendly and open, because they have learned to live with each other over the centuries. They don't let all that kind of stuff get in the way.
Any final thoughts?
As well as the trip being well organised and doing what it set out to achieve, it was actually all supplemented by Ed, our guide and what he did. The holiday really conveyed history, culture and landscape. There was something in there for everyone. It was very good at giving you a sense of not only the geography and the landscape but also a taste of the people, a great introduction to the food and drink but also the history, which is something we really like. We loved it so much that I think it might benefit from being one or two days longer!
Find out more about this trip
Continue reading about this
Small group Albania holiday