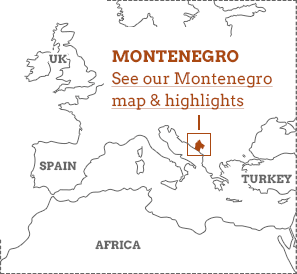 You know those triathlon competitors who are small and strong, indomitable and inspiring? Well Montenegro is a bit like one of them. And it is only by getting to know the three sides of Montenegro – mountains, lakes and not just the coast – that you really see its strengths. To put these peaks into perspective, there are actually 63 of them reaching heights of over 1,800 metres, all thankfully protected by five national parks, in a country the size of Northern Ireland.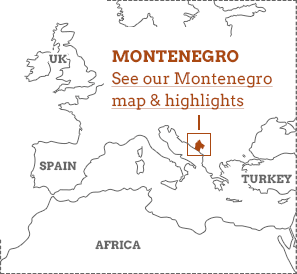 Montenegro is like a play which has all its drama and excitement packed into one short act. It's epic, the set is mesmerising, and the cast is passionate and engaging.

Yet most of the visitors cram into a handful of beaches. Many of which are stunning, but made even more so by their omnipresent peaks. Peaks where vineyards thrive, cheesemakers abound and Slavic stories are shared. Don't just go to Montenegro . Tri-Montenegro.
Read more in our Montenegro travel guide.
Montenegro is...
a European rarity. Still full of secrets and surprises.
Montenegro isn't...
just about the coast. If you want moving mountains, this is for you.
What we rate & what we don't
Lake Skadar
This national park's lake is enormous and also almost always mirror like in its calmness, with 400km² of water, birdlife, carpets of lily pads and a backdrop of the Prokletije or 'Cursed Mountains' reflected in it. All making it a paddler's and photographer's paradise. Not forgetting wild swimmers, for whom this is a whole new wild world.
Bird watching
Skadar Lake, the Bojana Delta and Ulcinj saltpans are all Important Bird Areas, boasting beauties like the greater flamingo, Kentish plover, rare Dalmatian Pelican and the Pygmy Cormorant. There is, in fact, a total of 280 different species homing in on these special habitats. Just take your binoculars when you are out and about, or go on a specialist holiday with local expert ornithologists.
Mount Lovcen climb
Accessible from Kotor Bay you can access the lower hills on mule trails created during Austro-Hungarian times, starting at the old fortress in Kotor. Keep room in your backpack for cheese and ham. You will find plenty of mountain huts selling it en route. This is a long trek, about ten hours to the top and back, so you need to be fit. But the views are worth it.
Wine
Lake Skadar area is Montengro's wine country, with over 30 small wineries to tour around. And given that the local culture is never to leave a guest's glass empty, you will do well out of a wine tour. Vranac and Kratosije grapes are the indigenous and irresistibly good ones, with producers all in stunning locations around the lake and mountains. So there is plenty to raise a toast to.
Cycling
Montenegro's coastline is something else, especially for cycling, with routes taking you along some of the most stunning coves and cliff top views that the Mediterranean has to offer. Including the UNESCO World Heritage Site Bay of Kotor. It's not all coastal cycling here though, with opportunities to bike around the shoreline of Lake Skadar, the biggest in the Balkans, or up into the Budva Mountains for some challenging climbs.
National Parks
Montenegro has five national parks: Lovcen, Durmitor, Biogradska gora, Lake Skadar and Prokletije. Durmitor is probably the most visited, with the Tara River canyon cutting through it, along with brave white water rafters. On dry land, this is also a favourite with horse riders. All the parks have hiking and biking trails though and, as Montenegro is so small, it is easy to dip in and out of all them. Especially Skadar, with its mammoth lake. You can't miss dipping in that.
Balkans bundle
By travelling through several of the Balkan countries, you get a wonderful overview of this most stunning mountainous landscape, but also its culture and history. In two weeks you can easily dip in and out of four countries: Bosnia and Herzegovina, Croatia, Serbia and Montenegro, without feeling rushed. Choosing an expert tour operator who can give you a short cut to the cultural and natural highlights helps though.
Culture
This small country is brimming with all sorts of cultural curiosities. A great starting point is "Old Montenegro", comprising the former capital Cetinje and its ancient surroundings which put the whole Ottoman heritage into context. Orthodox Christianity is also very important, and you could spend two weeks just looking at churches if you wanted. From sampling its cuisine, with its plethora of produce and artisan producers on every mountain turn.
Budva & Petrovac
Especially during peak season when Budva's beaches are overcrowded, bars play loud Europop, there are horrific traffic jams, it has a history of corruption and, although the old town is pretty, the rest has become a case study on how not to develop a traditional coastal town. And now Petrovac is joining the race to win the award for best concrete monstrosity.
Casino culture
Gambling in Montenegro was put on the map by the James Bond film, Casino Royale, which features in the story. None of the filming was done here, however, so local casinos might cash in on chips, but they can't do so on location. And gambling your money into corporate coffers rather than community is not high on our list of responsible tourism things to do.
Cruise tourism
Following in the footsteps of its neighbouring Dubrovnik and Venice, Kotor Bay is becoming cruise central. These floating hotels are starting to create a lot of anchor angst with thousands of people landing in on this ancient, tiny town for a few hours at a time. They contribute little to the local economy and the pollution levels in a biodiverse beauty spot are not well documented.
All inclusive package resorts
Montenegro's fantastic coastline sadly has its share of fly-and-flop resorts low on ethical cred and high on ugliness and environmental impact. All inclusive resorts get particular black marks – research suggests less than 10 percent of daily tourist spend goes to local permanent shops outside the holiday bunker. You'll enjoy Montenegro more if you get out and connect with local life. And it is so small, you have no excuse for not just getting on your bike and finding it.
Eating & drinking in Montenegro
Montengro is so cheesy. Every village seems to have its own variety. So, off to market.

Pršut – the local version of Prosciutto, especially if it's from a place called Njeguš.

Vranac is a top local red wine with Krstac a whimisical white.

Krempite are vanilla slices, and bakers' delight

The coast is seafood central.

Skadar Lake's local dish is "krap", aka carp, prepared with dried plums, apple and quince. Which is so not crap.

Our top Montenegro Holiday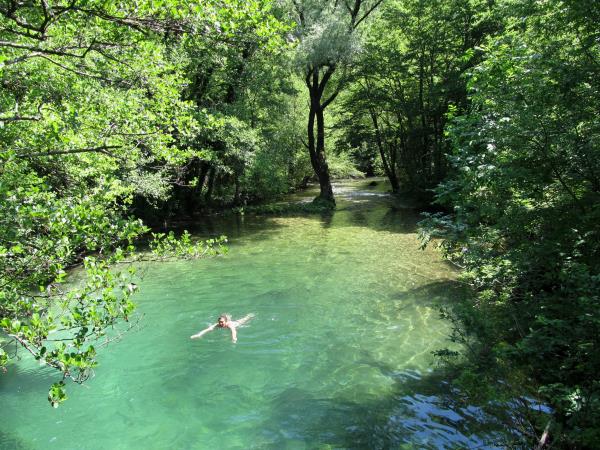 An active villa holiday at stunning Lake Skadar, Montenegro
From
£745

to

£845
7 days
ex flights
Small group travel:
2023: 11 Jun, 18 Jun, 25 Jun, 27 Aug, 3 Sep, 10 Sep, 17 Sep, 24 Sep, 1 Oct, 8 Oct, 15 Oct, 22 Oct
2024: 7 Apr, 14 Apr, 21 Apr, 28 Apr, 5 May, 12 May, 19 May, 26 May, 2 Jun, 9 Jun, 16 Jun, 23 Jun, 30 Jun, 7 Jul, 14 Jul, 21 Jul, 28 Jul, 4 Aug, 11 Aug, 18 Aug, 25 Aug, 1 Sep, 8 Sep, 15 Sep, 22 Sep, 29 Sep, 6 Oct, 13 Oct
If you'd like to chat about Montenegro or need help finding a holiday to suit you we're very happy to help.

People & language
Nothing is ever straightforward in Montenegro. There are nearly always two or three answers to one question. Same goes for language. After gaining independence, the official language was declared as Montenegrin. However, the majority of the population claim Serbian to be their native language. Politics apart, they are pretty much the same, but there are plenty of Montenegrin twists to differentiate the two. Our Montenegro travel guide hopes to encourage you to try a little of their language, with added twists or not.
Thank you ."Hvala"

Yes = Da

No = Ne

The word 'super' works as the perfect compliment in Montenegro. Pronounced 'superrrrr', a bit like the French might say it.
Gifts & shopping
Honey infused with wild sage is so Skadar, so sumptuous.

Keep room in your luggage for a bottle of Vranac wine.

Handmade olive soaps from Bar or Bay of Kotar.

Traditional wooden instruments such as the single stringed gusle.

The Belgrade to Bar railway, between Montenegro and Serbia, is one of Europe's finest train journeys. Even if you just have the starter, an hour between Bar and Podgorica with causeways, coast and castles, you'll be replete.

How much does it cost?
Bar to Belgrade rail ticket: £15 one way

Loaf of bread: £0.50

Cappuccino: £1.00

Everyday local wine: £2.20

Big jar local honey: £8.50

Ferry across Kotor Bay: £3.25 one way with car. On foot - free.
A brief history of Montenegro
It may be small but it is certainly feisty. Montenegro has fought for independence throughout history, going as far back as the 15th century, when it was first founded as a state. It stayed independent throughout the map-changing carry on of the Ottoman Empire, with the exception of one tiny region, as did Serbia. It was only after WW1, when it fought for the allied powers, that it became part of the rather impressively named Kingdom of Serbs, Croats, and Slovenes, although then renamed as the Kingdom of Yugoslavia in 1929. Independence did come again, however, but not until 2006.
Read more