Montenegro walking routes
There's fantastic walking all over Montenegro, from moderate trails in the rocky massifs near the coast, to steep routes through alpine pastures, beech woods and along precipitous ridges in the Dinaric Alps. There's every kind of walking holiday, too, from guided small group trips, to tailor made self guided breaks, and some move between multiple locations. Montenegro isn't big, so drives are never too long and although the best walking regions aren't next door to one another, you can often see your next destination from each summit. It's the perfect way to appreciate Montenegro from all angles and try a variety of walks in a single week, from short and easy, to downright demanding.
1. Bay of Kotor
The beautiful Bay of Kotor is an island-filled inlet enveloped by mountains, with excellent walking trails rising up from its shores. Climb Mount Vrmac along a military zigzag trail named after Austrian emperor Franz Josef; discover abandoned villages and intact forts; admire long views across the bay and enjoy a post trek beer or a boat trip to islands in the quiet lakeside town of Perast.
2. Bjelasica mountain range
The Bjelasica massif is one of Montenegro's most beautiful ranges, a place of lush hillsides, wide pastures, shady valleys, freezing cold lakes, and fields of blueberry bushes and wildflowers. It's part of Biogradska Gora National Park, the smallest park in Montenegro, home to the only primary forest left in Europe. It's also considered the second oldest national park in the world, after Yellowstone.
3. Durmitor National Park
This park in northwestern Montenegro, rising above the Jezera Plateau, has 48 peaks over 2,000m and 18 beautiful glacial lakes, known as 'mountain eyes'. Climb up to ridges and down into valleys resembling amphitheatres, where meadows dotted with huge boulders and blanketed in mountain flowers await. Cool your feet in the many small lakes, where the water is brilliant turquoise and beautifully clear.
4. Komovi Massif
Lying within the Dinaric Alps, the Komovi massif is utterly spectacular. It's a thumping great muscular mountain, and the walking here can be demanding, with steep routes and wild, rocky areas. You can also follow old stock routes, through alpine meadows with views over magnificent forests of pine and beech. Wild strawberries grow by the trails here, and wolves and bears live in the surrounding wilderness.
5. Kucka Krajina
This mountain chain northeast of the capital Podgorica has more than 20 peaks over 2,000m above sea level. It's a sparsely populated place and extraordinary karst landscape, with huge rocky pastures set against a backdrop of high mountains. Lake Bukumiri sits amongst this wilderness and according to legend, is home to a dragon that comes out at night to terrorise shepherds.
6. Lovcen National Park
Lying within the Dinaric Alps, Lovcen is a favourite place for walking and a cool escape from coastal heat. From Jezerski Vrh summit (1,657m) you can see half of Montenegro, including the Bay of Kotor, Lake Skadar, the Adriatic coast and the mountains of Albania. Abandoned military mule tracks and alpine trails wind down to Cetinje, Montenegro's capital from the 15th century to 1918.
7. Prokletije National Park
This park may not have the highest peaks in Montenegro, but it has some of the best hiking trails and most exhilarating scenery. Climb from the shady floor of Grebaje Valley, towered over by huge mountains, through beech forest and up to walk dramatic trails along the spine of steep peaks, with breathtaking views to Albania. In spring, wildflowers fill the alpine meadows here.
Our top Montenegro Holiday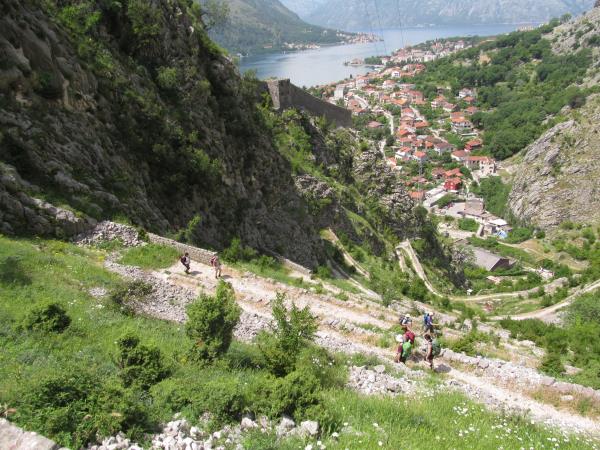 Self-guided walking in the Bay of Kotor in Montenegro
From
€690

to

€790
8 days
ex flights
Tailor made:
This trip can be tailor made throughout the year to suit your requirements
If you'd like to chat about Montenegro or need help finding a holiday to suit you we're very happy to help.

MONTENEGRO WALKING HOLIDAYS ADVICE
When to walk
Nikola Radovic from our specialist Montenegro Eco Adventures:
"There is indeed a lot of snow in the high mountains in the winter. It can be sunny or very snowy! It is possible to walk (snow shoeing) but activities are pretty extreme, and only for experienced mountaineers. The snow level can be over 3-4 metres. If the spring is sunny, then definitely spring is the best time to walk in Montenegro. Though autumn can be very colourful as well, spring is the greenest time of the year, and autumn would be the golden time of the year. And for the northern part of Montenegro, summer is definitely the best!"
What to bring for walking
What to bring for walking
Nikola Radovic from our specialist Montenegro Eco Adventures:
"It is recommendable to bring some snacks (but you can find plenty in supermarkets here), a reusable water bottle (there are lots of fresh water sources), whereas walking sticks is very much dependant on people's habits. I personally like to use them as the paths are often uneven! Our guides are experienced in providing first aid if necessary."
Small group walking holidays
Small group walking holidays
Nikola Radovic from our specialist supplier Montenegro Eco Adventures:
"Small groups flexibility is good if there is consensus within the group about changing the route due to limited fitness of some members. It is not always possible but we can offer as well linear hike roads which allow the group to decide when to turn around. If we are aware in time, we can hire an extra guide and split group in two, or if it is a group of 10 to 15 people, we always provide two guides, so group could be divided in order that less fit and more fit people can enjoy different routes."
Training advice
Nikola Radovic from our specialist supplier Montenegro Eco Adventures:
"It would be advisable to have a certain level of fitness for a walking holiday in Montenegro, as it is a country of countless mountains. The elevation difference to cross per hike can be over 500m easily, so proper training is advisable, if the holiday is strictly walking. If you are doing couple of easy day walks in the programme, then it is not necessary."
Water tips
Nikola Radovic from our specialist supplier Montenegro Eco Adventures:
"I hate people buying bottled water here. I always recommend guests bring a reusable water bottle. It is the most important thing to have in your daypack when out and about on our trip. We are rich in absolutely gorgeous spring water, and at our own Villa Miela as well. So there really is no need to buy water here."
Eating tips
Angelika Temper, from our Montenegro adventure travel specialist 3eTravel, has some foodie recommendations:
"In Cetinje: locally produced ham and cheese, but also honey varieties. In Lake Skadar: fish specialities including trout, carp, eel; seasonal fruits such as figs, pomegranates, and wine like the red variety of Vranac. There are many wineries in this area, some still produce in the old traditional way, others already offer many different varieties and qualities. We are happy to advise where to taste wine. In Kotor, try seafood, fish and for dessert, the famous Kotor cake."
At Responsible Travel, we think the best people to advise our travellers are often... other travellers. They always return from our tours with packing tips, weather reports, ideas about what to do – and opinions about what not to.
We have selected some of the most useful Montenegro walking holiday tips that our guests have provided over the years to help you make the very most of your holiday – and the space inside your suitcase.

Hiking sticks proved to be very helpful

"It can be tailored to different levels of fitness so don't worry about thinking you will be the least fit person going on the holiday." – Lynn Murray

"Be prepared for challenging hiking but relax and enjoy it. Bojana, our guide, was committed to doing everything possible to ensure we had a great trip. She gave good advice about the local food and wine. (don't expect to lose weight on this trip!). We visited areas away from the usual tourist routes and met interesting locals doing their daily work. If you don't like Turkish coffee bring your own. Montenegrin wine generally good." – Linda McDonald

"As the altitude is quite high, make sure you have some warmer clothes especially for the night. Bring repellent. Hiking sticks proved to be very helpful." – Magda Pokorna

"Some lovely walks, a chance to see and sample the local culture and the incredibly diverse flora and fauna. Plus abundant opportunities to swim! Definitely a great hol if you want some relaxed walking, leisurely lunches, to nature spot and to experience the traditional Montenegran way of life. Worth a trip to the more commercial coast for the contrast." – Rosie Smith

"Make sure your footwear is quick drying...we often got our shoes wet!!!" – April Saltmarsh

It can be tailored to different levels of fitness so don't worry about thinking you will be the least fit person going on the holiday

"Make sure you are well briefed on each walk & study details of individual trails. Challenges involved in some of the tricky descents are understated. Discuss any questions with the tour operator. We were concerned about one particularly long, steep uphill walk in the sun. We phoned Vlad & he suggested doing the walk in reverse so problem solved! We were driven to the top & walked down. Bring rain gear, serious walking boots and all the usual walking clothes. Our first walk was on April 29th and it bucketed rain for four hours. Rest of our time it was ideal walking weather." – Rosemary Cunniffe

"Some hikes could be challenging for families with children and a good health condition is a must. Feel free to share your concerns and wishes with the holiday provider, they have been very helpful and flexible with what we asked for, including last minutes changes because of stormy weather. It is good to have a day or two planned for other activities than hiking – for us this was rafting on Tara river or a day on the Buljarica beach close to Petrovac. It is necessary to be able to read the map on the self-guided walks, even though the tracks are mostly well marked. Be prepared for all kinds of weather! In mid-June, we had temperatures from 16 to 34 degrees." – Magdalena B

"If you want less walking, do a day's kayaking on Lake Skadar. Make sure to include at least one night staying in a Katun. We would also recommend flying to and from Dubrovnik. This allows you to visit the Ostrog monastery on the way to Durmitor and the journey is not that long (though there can be delays at the frontiers). And of course visiting Dubrovnik is a must. We found that the local map provided for Durmitor was sufficiently detailed to allow us to improvise and deviate at times from the prescribed walks. You will have to be reasonably fit to do the walks we did, since there are quite some height differences and the terrain was occasionally tricky. I went on long walks during the two weeks before going to Montenegro to get my legs and lungs in shape." – Andrew Thomson