Montenegro self drive holidays
Montenegro packs a huge amount into its modest footprint – historic towns, ancient monasteries, muscular mountains and quiet coastal bays, all topped off with lashings of local organic food. Its friendly people, who are fiercely proud of their country, are another highlight of this tiny Balkan nation: they're hospitable, warmly humorous and always ready to welcome you with a tot of fruit brandy – a tradition as ingrained in Montenegrin culture as offering a visitor a cup of tea in Britain. If you're looking to scoop up all the country's contrasting riches in a single trip, and are not simply here for an adventure sports or beach break, say, then self driving is a superb option.
Self drive holidays give you the freedom and flexibility to explore at your own pace. There's no group to fit in with, no set schedule. Your tour operator will supply an itinerary, and book all accommodation for you, but that's as far as the structuring goes. You're then free to tootle around, stopping off at recommended sights or pushing off the beaten track now and then to find some of the country's many hidden gems – pretty viewpoints, deep gorges, roadside honey vendors or tucked away vineyards. Self driving is an option all year round, but is particularly wonderful in low season, when you can enjoy Montenegro without the crowds or traffic.
Why book an organised self drive holiday?
While it's perfectly possible to simply hire your own car at the airport and take off, booking a self drive holiday through an experienced tour operator has many advantages. Your car hire and all accommodation will be booked for you, and you'll be supplied with driving directions, route notes and sightseeing suggestions so you get the most from every day here. The itinerary will be carefully designed to fit one or two weeks, and to limit how much driving you do on a single day. It may include extended stays of a few days at some places; this is not a road trip, after all, it's a relaxing holiday. So, you might have three nights in Durmitor National Park, for instance, where you can hike and mountain bike, and leave the car in its parking spot.
A tour operator – and they're often local to Montenegro – can also work in special experiences that wouldn't be available to someone planning a trip in isolation. An afternoon at a private wine estate, off the beaten track accommodation that's welcoming and unique, lunch cooked at a farm where you can spend time learning about local life while filling up on food cooked over an open fire. These things can be near impossible to arrange without on the ground contacts and expertise, but they elevate a self drive holiday from sightseeing to something much more culturally enlightening.
Do read itineraries carefully, though – if there looks to be too much driving for your taste, speak to the tour operator about rejigging the schedule and perhaps trimming a few places out, to give you more non-driving time. Self drive holidays are always tailor made, with flexibility their whole driver (pun intended) so there is always scope to extend or shorten the trip, and to shape the itinerary to your tastes and interests, whether you want to explore ancient towns or hike mountain trails.
Our top trip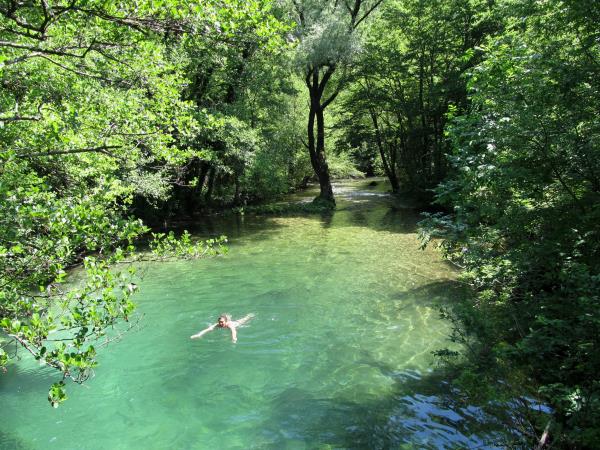 An active villa holiday at stunning Lake Skadar, Montenegro
From
£745

to

£845
7 days
ex flights
Small group travel:
2024: 7 Apr, 14 Apr, 21 Apr, 28 Apr, 5 May, 12 May, 19 May, 26 May, 2 Jun, 9 Jun, 16 Jun, 23 Jun, 30 Jun, 7 Jul, 14 Jul, 21 Jul, 28 Jul, 4 Aug, 11 Aug, 18 Aug, 25 Aug, 1 Sep, 15 Sep, 22 Sep, 29 Sep, 6 Oct, 13 Oct
If you'd like to chat about Montenegro or need help finding a holiday to suit you we're very happy to help.

Best time to go on a Montenegro
self drive holiday
Self drive holidays run all year round in Montenegro, but the country can be very cold in winter and roasting hot in summer, and those extremes will impact not only on the driving but on what you can do while here. Both snow and fiery temperatures can hamper hiking or even simple sightseeing in the country's mountains, national parks and pretty towns, with the cold a problem at higher altitudes and heat more an issue at lower. That said, some self drive holidays make a virtue of seasonal extremes and can be extended to include winter sports in the mountains near Kolasin. Whenever you come, be aware that the temperatures can vary by as much as 20°C between the coast and the mountains, yet you can drive between the two in a few hours – bring lots of layers to cope with this.
Practicalities
It pays to be a reasonably confident driver in Montenegro, for two reasons – some of its roads, and some of its other drivers. On the good fast roads, you may find bad fast drivers, as well as lorries, which can lead to some tense driving moments. Away from the main routes, roads are much quieter, but they can be narrow, which makes passing vehicles a little tricky, especially when there's a sheer drop on one side and no crash barriers. Montenegro is mountainous so almost anywhere you go involves some tacking up or down switchback roads, which at best is tiring and at worst is nauseating. On the whole though, the driving here is enjoyable. A decent network of broad, well signposted roads link the main towns and traffic is often fairly light, particularly away from the coast and the capital Podgorica, or during off peak months.

Check whether your car has Satnav before you leave home – not all of them will – and make sure you have the relevant Google maps downloaded to your phone if not. Basic road maps of Montenegro, which you can buy back home, don't include the smallest roads, which makes it possible to get lost. A car with air conditioning is essential if you're visiting in summer, when temperatures can soar into the 40°Cs.

Cars are sometimes leased with an almost empty fuel tank, so find out from your car hire rep where the nearest service station is before you drive off; they aren't on every corner, so you need to be organised. Some self drive holidays dip into Croatia (perhaps starting and ending in Dubrovnik) or Bosnia and Herzegovina, so you can get a taste of the wider region. Be prepared for delays at border crossings, though, if you're driving beyond Montenegro.