Sea kayaking holidays
in Montenegro
Sea kayaking holidays in Montenegro are perfect for anyone who wants to combine beach towels with buoyancy aids as they paddle their way along the coast in between red roofed towns and tiny fishing villages. Flanked on both sides by the Orjen and Lovcen Mountains, and featuring fabulous fortifications, churches and monasteries, the Bay of Kotor is one of Montenegro's top kayaking spots. The bay is tidal and resembles a fjord or an estuary as it spreads and meanders inland from the Adriatic to open up over 100km of sheltered shoreline.

Wild boars, foxes and rabbits all inhabit the forested slopes around the Bay of Kotor but you're much more likely to spot fish swimming under your kayak, or perhaps an occasional sea turtle or dolphin, if you're very lucky. Sea kayaking holidays, as part of a guided group, will have you paddling for around 8km a day with plenty of pit-stops en route between locally owned hotels and guesthouses.

From the mega marinas and luxury properties at Porto Montenegro, to the beautiful Bajova Kula beach and seaside retreat of Sveti Stasije, sea kayaking around the Bay of Kotor opens up a side to the Adriatic that tourists rarely encounter.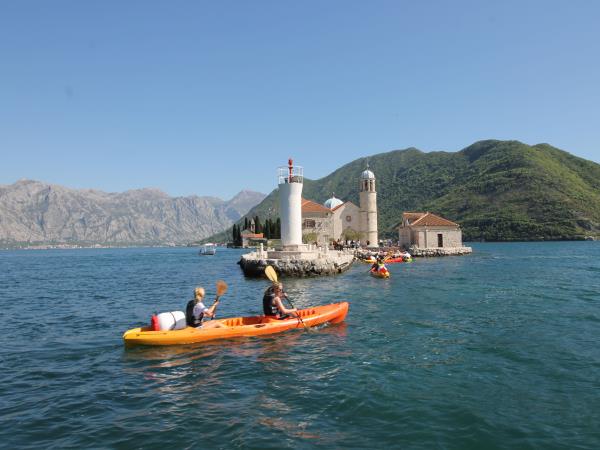 Kayaking holiday in The Bay of Kotor and Skadar Lake
From
£800
8 days
ex flights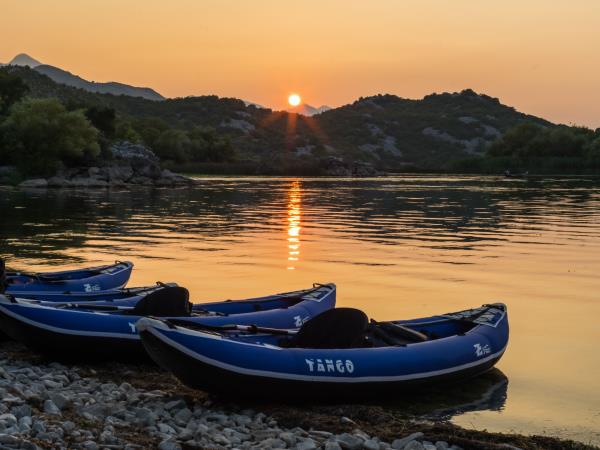 From Montenegro to Albania by kayak: Lake Skadar to sea!
From
£1150
7 days
ex flights
Where to go sea kayaking
in Montenegro
The sea around Montenegro's southwest coast is captivatingly clear and the shoreline has a superb selection of scenic and historic sites to keep kayakers satisfied as they paddle inland from Kotor to Lake Skadar National Park. The Bay of Kotor is an extensive ex-estuary – it was formed by rising sea levels, not glacial activity – and you're just as likely to find towering cliffs and flourishing foliage as you are seaside resorts and stone wall ramparts

The little city of Prčanj is lined with Venetian villas where gardens and olive groves reach down to the shore. Its sizeable church is quite a sight as you paddle past or pause for a picnic on the beach, followed by a spot of swimming and snorkelling. Strolling around the medieval old town of Kotor is capital, for some, but paddling past on a sea kayak allows you to observe the ancient Adriatic architecture from an even more unique approach.
Islands and islets protect natural harbours where empty beaches and fish-filled shallows are superb for snorkelling. Many of Montenegro's Adriatic islands feature churches and monasteries. Our Lady of the Rock and the island of St George, just offshore from the UNESCO-listed old town of Perast, are prime examples in the Bay of Kotor. The short shoreline and red roofs of Perast are like something out of an enchanted fairy tale and stand in contrast to the super yacht marinas and seafood restaurants elsewhere on the coast. Paddling into Lake Skadar National Park conjures contrasts of a freshwater and feathered variety as this is one of the largest bird reserves on the Balkan Peninsula, and a rare nesting site for Dalmatian pelicans. An overnight stay in the former trading village of Rijeka Crnojevica gives you instant access to the lake as well as a fantastic setting in which to complete your tour.

The Bay is 7km across at its widest, but you might experience some boat traffic around more popular beaches and seaside resorts. Sticking to one shallow side of the coastline is key to avoiding speedboats and cruise liners that create wake in deeper, central, water. Several stretches of coastline have been declared motorised transport-free zones – like cycle lanes for sea kayaks. Crossing from one side of the Bay to the other is possible but not really recommended, even at the narrowest section, the 340m-wide Verige Strait – a picturesque equivalent of Piccadilly Circus.
When to go sea kayaking
in Montenegro
The best time to go sea kayaking in Montenegro is in May, June and September, for great weather, smaller crowds and lower prices. In peak school summer holiday months the coast can feel very crowded and temperatures can reach 30°C. Of course, as you'll be all at sea you will be escaping the summer hordes by day, but there may be an increase in water traffic so bear this in mind if you're looking for peace and quiet. Road travel from the airport or to your accommodation can also take longer in the busier months due to the narrow roads.

Weather in the spring and autumn can be changeable with winds and clouds increasing the chance of choppier conditions. If it gets too windy best advice is to simply stop and take time out on shore; it may die down quickly. Neoprene can handle chilly spring conditions and sea temperatures are still suitable for swimming in September. Boka Night in August is worth ringing on the calendar as everyone takes to the water for a fiesta of fireworks. Stari Grad, Kotor's old town, is the place to paddle as part of a decorated flotilla of fun.
Our top trip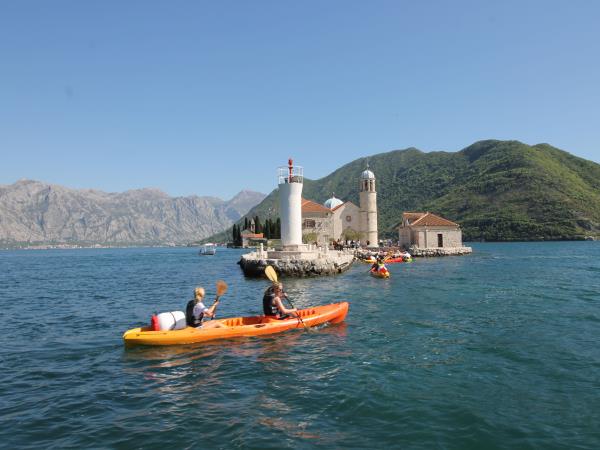 Kayaking holiday in The Bay of Kotor and Skadar Lake
From
£800
8 days
ex flights
Small group travel:
2024: 19 May, 16 Jun, 7 Jul, 25 Aug, 15 Sep
If you'd like to chat about Montenegro or need help finding a holiday to suit you we're very happy to help.

Staying safe while sea kayaking
in Montenegro
Our tour operators use licensed local guides who know the Bay of Kotor extremely well. Having spent many years leading kayaking tours they are well versed in staying safe in any scenario and will provide expert instruction as well as first class equipment. As Montenegro doesn't have its own safety regulatory body for sea kayaking or other similar activities, some tour operators are affiliated with organisations like the British Canoe Union or European Paddle Pass.

Do ask how many guides you will have per kayak. A good ratio will be around one guide to eight or fewer kayaks. As the Bay of Kotor is protected on both sides by mountains it's never going to get too choppy but it can get slightly rough when the wind gets up, especially outside of the summer months. Follow your guide and stick to safe, kayak-friendly sections along the shore. Your guide will explain how equipment works and the most efficient way to paddle, and share information about what you're seeing on both sides of the Bay. And it goes without saying that you should always wear a life jacket.
How to go sea kayaking
in Montenegro
Small group tours are great for anyone looking to sea kayak as part of a mixed-ability group, with anywhere from two to 16 people. Family run hotels and apartments are located within towns and villages so you can get orientated on foot after a day spent afloat. Plentiful continental breakfasts set you up for the day and evening meals always come served with genuine hospitality, and obligatory brandy.
Beginners can learn the ropes and develop and grow in confidence over the course of a week. Solo travellers and couples often like joining a small group both from a social and a safety perspective, and single room supplements are also available for anyone travelling on their own who'd prefer not to share their room with a member of the same sex. There's something really enticing about meeting new people, including your guide, and trying out a new or established activity in an Adriatic environment.

Daily distances of around 8km require a certain level of fitness but there are plenty of places to stop for a rest. Anyway, you'll hardly notice any aches as the variety of natural and historic settings allow for a fascinating experience, one that your guide will be more than happy to embellish as you paddle around the Bay.