Things to do in Montenegro
Kayaking
Lake Skadar comprises 400km≤ of paddling perfection. Imagine Como or Constance a century ago, and you pretty much have it. In fact, you do pretty much have it - to yourself, with a few traditional fishing boats, a nun going past on a motor boat, en route from one of the island convents which, with a guide, you can stop at to buy honey and other baked goodies, if you are in the know. Otherwise this is a lake where nothing much happens except bees buzzing, fish jumping, birds tweeting and everyone chilling. The water is usually so calm, it creates the perfect reflection for the Prokletije or ĎCursed Mountainsí all around it. The sea kayaking on the Bay of Kotor is also a Montenegrin marvel, paddling along this this giant fjord like inlet which is 28km long from its opening into the Adriatic Sea to the harbour. There are also over 100km of shoreline, all enveloped by the Orjen Mountains to the west, and the Lovcen mountains to the east, keeping those winds at bay. Or not at bay, as the case might be.

Leave room in your pannier for a picnic along the way. Everywhere you go there are cheese, ham, olive and wine producers

Cycling
Montenegroís coastline is something else, and cycling is one of the best things to do in Montenegro, with routes taking you along some of the Mediterraneanís most stunning coves and cliff top views. Including the UNESCO World Heritage Site Bay of Kotor. Itís not all coastal cycling here though, with opportunities to bike around the shoreline of Lake Skadar, the biggest in the Balkans, or up into one of the five mountainous national parks for some challenging climbs.
Hiking
Montenegroís relief map looks like it was designed by children intent on creating a magical obstacle course. Where nothing is too far, the peaks are not so outrageous that they canít be summited, and there is always water to jump into at regular intervals. However, even though there are five national parks in Montenegro, they are not up there with the likes of USA or France in terms of signage, so local knowledge is good. For pointing out the best farm to stop at for home produced wine and cheese en route. Or the best secret waterfall to seek out for a secret skinny dip. Whether you are trekking up with other pilgrims to the mausoleum on Mount Lovcen, along the undulating shores of Lake Skadar, or up among the heights of the Tara River Canyon, you will be stunned into silence by its beauty, and wonder how it has still managed to remain so elusive to other tourists.
Our top Montenegro Holiday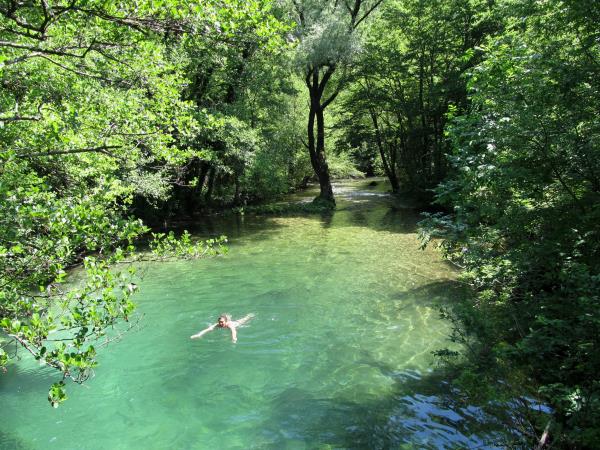 An active villa holiday at stunning Lake Skadar, Montenegro
From
£745

to

£845
7 days
ex flights
Small group travel:
2023: 1 Apr, 8 Apr, 15 Apr, 22 Apr, 29 Apr, 14 May, 28 May, 4 Jun, 11 Jun, 18 Jun, 25 Jun, 2 Jul, 9 Jul, 16 Jul, 23 Jul, 30 Jul, 6 Aug, 13 Aug, 20 Aug, 27 Aug, 3 Sep, 10 Sep, 17 Sep, 24 Sep, 1 Oct, 8 Oct, 15 Oct, 22 Oct
If you'd like to chat about Montenegro or need help finding a holiday to suit you we're very happy to help.


Lake Skadar is a wonderland, with waterfalls, wine tasting and wildlife. And for those who love wild swimming, there are only two words. Get in.

Montenegrin mix
Montenegro is a like a play which has all its drama and excitement packed into one short act. It may be tiny but there is no shortage of adventurous things to do in Montenegro. Just pick Ďn mix. Go hiking in the mountains in the morning, swim in a coastal village in the afternoon, and still have time for a nap. Go white water rafting in Durmitor National Parkís Tara River one day and hiking around itís Black Lake the next. Itís go go go in Montenegro.