Emma Heywood is the co-founder of our leading activity supplier, Undiscovered Montenegro and gives great Montenegro travel advice:
Itinerary tips
"It's a small country. Think about basing yourself in one location and making side trips from there. I see a lot of tourists rushing around trying to pack it all in rather than relaxing into one place and getting a deeper kind of experience".

"Don't miss a visit to Cetinje, the former capital when Montenegro had a royal family. You can visit King Nikola's palace and see the old embassies which were built in each national's architectural style. It's high up in the mountains and quite quirky – full of artists and cafes".
Cultural tips
"Remember to cover your shoulders and knees when visiting Orthodox Christian chapels and monasteries".
Water
"I hate people buying bottled water here. I always recommend guests bring a reusable water bottle. It is the most important thing to have in your daypack when out and about on our trip. We are rich in absolutely gorgeous spring water, and at our own Villa Miela as well. So there really is no need to buy water here."
People tips
Adam Jarvis from one of our leading walking holiday suppliers, Headwater:
"There is much to love about this small Balkan country but our own favourite things would have to be the friendliness – it is common when passing to be invited to join locals for either coffee or (for the brave) local Rakia, a typically home-made fruit brandy".
Food tips
Sanja Janovic from our supplier Adventure Montenegro:
"For food, you want to try seafood along the coast, but in the mountains, it's lamb. I particularly like the seafood risottos on the coast, with mussels and squid which are very good here. The best presents to buy in Montenegro are food rather than crafts, as we have very special food. Especially wine, cheese and our Njeguski prsut prosciutto .You can find crafts, but a lot of them are from China whereas with food you know it is local. The best place to buy is the markets, and in summer they are open until 11pm, even on Sundays. At the night markets you can also go and eat some food and drink local wine".
Angelika Temper, from our supplier 3E Travel:
"Local greenmarkets offer a wonderful variety of seasonal fruits, fish, cheese and meat products. Almost every village has its own cheese – do not miss to try them – best with a local guide, who can explain you the varieties and their origins. And also, you must try the freshly made burek" (freshly made pie or pasty)"
HEALTH
Tap water is considered safe in Montenegro, so you can ease off on the bottled stuff. Especially in the mountains and around Lake Skadar where fresh water springs are two a penny.
Montenegro is not in the EU, so your European Health Insurance Card (EHIC) card is no use here. Make sure you get travel insurance and that it covers activities such as white water kayaking if you are planning that.
If you are hiking in summer, be wary of ticks. Carry tweezers so you can remove carefully, apply a deterrent and then sun cream afterwards.
Rabies can be found in dogs, bats, and other mammals in Montenegro, so avoid touching animals.
It gets seriously hot in summer, so ensure you stay hydrated and wear a hat. The wind is deceptive on the coast and some don't realize how hot they are getting. Similarly, temperatures can suddenly dip in the mountains, so always travel with layers and a waterproof.
SAFETY
If you are kayaking or rafting always wear a buoyancy aid and ensure it is fastened properly. Especially with children, who can slip out of them easily. There is no government organisation regulating safety in the growing activity sector in Montenegro, so check that the equipment is in good condition, that there are helmets for rafting, and how experienced the guides are. If they are affiliated with an organisation like the British Canoe Union or European Paddle Pass, a good guide will have Level 3 qualification. If they only have level 1 or 2, they should only paddle in very sheltered and non-moving water, and no more than 50m from the shore. A good question to ask a sea kayaking company is "what are your guide ratios?" In other words, how many people are out on the water for each guide. This applies to boats rather than people, and anything from one to eight boats per guide is acceptable. There is a bit more flexibility in a sheltered bay such as Kotor. If you are a nervous parent when you take your children on the water, don't be embarrassed. It is normal. Don't be afraid to tell the guides what you feel your, or your child's, comfort levels are. They are professionals and know how to deal with every situation. So, if you get the wobbles because you think your child has gone too far, then tell your guide. Good ones will have a beady eye on all of you, and especially the children. And the top guides will also quietly reassure you from time to time. If you worry that your child might get tired and not able to cope with activities such as kayaking, all guides should carry a rope and can give you a tow if necessary. This is normal and prevents exhaustion on the water. In cold water environments, be extra vigilant regarding safety. In severe cold, if you are not well equipped with dry gear, safety equipment and radio contact, the rescue time can be very short. This applies when white water rafting in the mountains, for example, especially early in the season. If you are hiking, let someone know where you are going and when you plan to be back. Thunder storms are common in summer. If hiking in a remote spot when lightning occurs, stay away from summits or isolated trees. Stay as low as you can. If you are cycling, dismount and stay away from your bike. If travelling around Kosovo, off road in remote areas, there is a risk of unexploded land mines. Talk to locals who are in the know before going off the beaten path. The quality of roads is an issue, but they are improving. Take care on mountain roads in particular if you are unfamiliar with mountain driving. Although homosexuality is legal in Montenegro, there is a general cultural intolerance in the country, particularly in traditional Orthodox areas. LGBT travellers need to, sadly, take caution.
Our top trip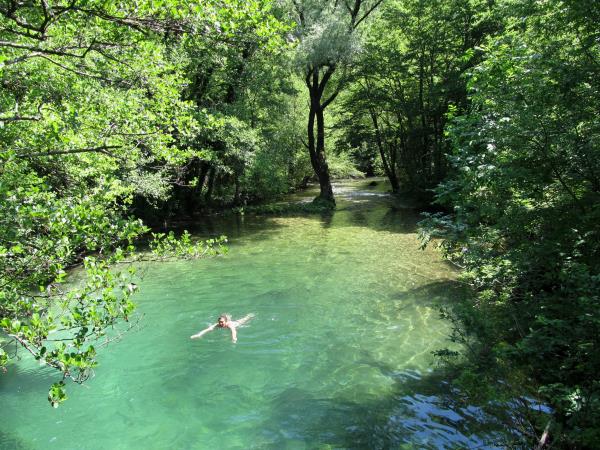 An active villa holiday at stunning Lake Skadar, Montenegro
From
£745

to

£845
7 days
ex flights
Small group travel:
2024: 7 Apr, 14 Apr, 21 Apr, 28 Apr, 5 May, 12 May, 19 May, 26 May, 2 Jun, 9 Jun, 16 Jun, 23 Jun, 30 Jun, 7 Jul, 14 Jul, 21 Jul, 28 Jul, 4 Aug, 11 Aug, 18 Aug, 25 Aug, 1 Sep, 15 Sep, 22 Sep, 29 Sep, 6 Oct, 13 Oct
If you'd like to chat about Montenegro or need help finding a holiday to suit you we're very happy to help.

Tips from our travellers in Montenegro
At Responsible Travel, we think the best people to advise our travellers are often... other travellers. They always return from our tours with packing tips, weather reports, ideas about what to do - and opinions about what not to.

We have selected some of the most useful Montenegro travel advice that our guests have provided over the years to help you make the very most of your holiday.

Leave the Adriatic coast which is too busy and too artificial and enter the country, discovering the real Montenegro... We loved being in the area of Skadar lake!

This holiday can be as active as you make it, but I would suggest taking advantage of the water-based activities. I was particularly lucky to hitch a ride to the coast with a couple staying in the villa on our day off. I found it would have been easier to hire a car, but it's definitely do-able without one. - Mandy Reynolds on our kayaking holiday in Lake Skadar

Every single day had really memorable moments….relax and enjoy it all and leave everything to Ben and Emma who lay on brilliantly planned days out. Not sure it's worth bothering going to the coast. Lake Skadar region has all you need for a week, especially with knowledgeable and well-connected guides like Ben and Emma. - Jon Aldous on our walking holiday in Montenegro

Remember to bring walking trousers, light quick-dry towels, a backpack and tea bags! - Sarah Sneller

Try to take Euro notes in 10 Euro or lower denominations. It is a low cost destination and not many places can give change for a 50 Euro note!

It's quite possible with the range of activities on offer that there's something... that unnerves you somewhat. But you'll also probably find yourself doing things you didn't particularly want to do, or didn't think you could do, and enjoying it! Go for it. - Jo Jackson

Unfortunately my UK mobile network did not cover Montenegro, but for me that was just what I needed. No phone/work prone or internet for a week... bliss. - Agatha Willoughby

It can bit quite chilly during the Easter holidays! Take cash because typically restaurants etc don't take cards although you won't need too much because prices are very low compared to other European countries :) - Hazel Edwards