This Balkans travel guide focuses not only on the Balkan region but also, for the main part, on holidays that take you to more than one country here. The first question on most people's lips is: where exactly is the Balkans? Well, it comprises one of Europe's three main peninsulas (the other two being the Italian and Iberian peninsulas). And the word Balkans comes from the Turkish for 'mountains', because although the peninsula is surrounded by four seas, namely the Adriatic, Ionian, Aegean and Black Sea, there is also the most colossal collection of mountain ranges running through it.

The Balkans are not just former Yugoslavia, with faded 50s glamour usurped by a faded dictator. They are all now countries in their own right. Fascinating, fun and the antithesis of faded.

The most prolific are the Dinaric Alps, which stretch down the Adriatic coast like an additional decorative ribbon to the already exquisite package consisting of Slovenia, Croatia and Montenegro. These countries, along with Albania, Bosnia and Herzegovina, Kosovo, Macedonia, Bulgaria, Romania and Serbia make up one big load of Balkans.
Balkan holidays are...
for the most part, small group tours taking in a combination of countries.
Balkan holidays are not...
for fly and flop travellers. History and culture, adventure and architecture are what make them so very appealing.
Our top Balkans Holiday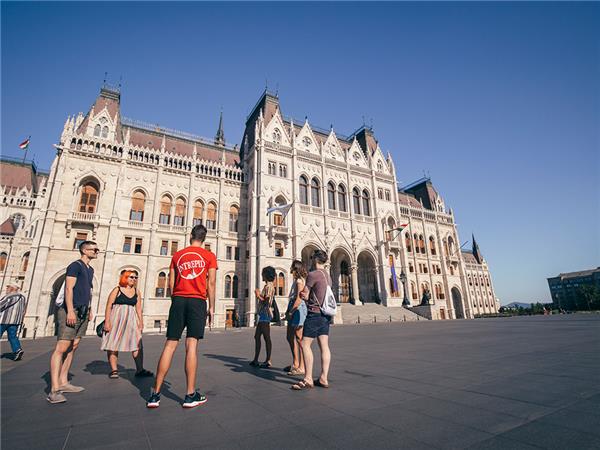 Explore Hungary's capital to medieval towns
From
£1010

to

£1080
10 days
ex flights
Small group travel:
2022: 3 May, 31 May, 7 Jun, 5 Jul, 2 Aug, 6 Sep, 13 Sep, 20 Sep
2023: 2 May, 30 May, 6 Jun, 4 Jul, 1 Aug, 5 Sep, 12 Sep, 19 Sep
If you'd like to chat about Balkans or need help finding a holiday to suit you we're very happy to help.

Balkan holidays map & highlights
Overland small group trips are a fantastic way to discover this region. Transport is typically by private vehicles which can take you to lesser-visited towns, although there are spectacular train journeys such as the sleeper from Budapest to Belgrade, too. These holidays offer myriad Balkan combinations, from undeveloped Albania, Kosovo and North Macedonia, to more of a grand tour taking in Croatia, Slovenia and Montenegro, where Dubrovnik, Lake Bled and Lake Skadar are respective highlights. With added gems such as Sarajevo in Bosnia and Herzegovina, Pelister National Park in North Macedonia and other great capital cities such as Pristina, Tirana and Skopje. It's one beautiful Balkan map.
1. Albania
Albania
is a forgotten part of Europe, It is tantalisingly close to home, yet a whole world away in terms of culture, history and landscapes. Slowly, it is making its return to the tourism scene, and we reckon it won't remain forgotten for long. Albania offers magnificent mountains, beautiful Ottoman towns, Greek and Roman ruins and gorgeous Mediterranean beaches – all with a fraction of the visitors of its Balkan neighbours.
2. Bosnia & Herzegovina
BiH
for short is one of the Balkans' hidden wonders. Tragically known for years of civil conflict and huge loss of life, we like to celebrate its relatively new found peace by using the correct name: Princedom of Bosnia. Majestic it is too, with the Dinaric Alps, lakes and waterfalls, Rakitnica Canyon, Ottoman architecture and ancient capital of Sarajevo. The train journey from Sarajevo to Mostar is a treat.
3. Croatia
Already celebrated for its array of archipelagos,
Croatia
also boasts eight national parks. Balkans holidays nearly always include Dubrovnik, its Adriatic 'pearl' and walled city, or the less well known ancient marvel of Split. If you are approaching from Slovenia, Croatia's Istrian Peninsula is all things beautiful and baroque. It's also popular as part of tri-destination cycling holidays, with Montenegro and Bosnia and Herzegovina part of the pannier.
4. Kosovo
Europe's newest country,
Kosovo
is not only open for tourists but also totally open hearted. Its cities are culturally cool, such as capital Pristina, which boasts mosques, churches and other sites dating back to the 15th century. Prizren has Roman, medieval and Ottoman architecture. Don't miss Decani Monastery at the foot of the Prokletije Mountains, where monks gave refuge to all ethnicities during the war years.
5. North Macedonia
North Macedonia
is often included in an Albania-Kosovo package, or on a tour from Dubrovnik to Athens. You will want to come back for more but, for starters, try Mavrovo National Park, home to the country's three highest peaks, Lake Ohrid, with its waterside churches, and the magnificent Matka Canyon. This karst limestone valley is just 17km from the capital Skopje, which features just about every ancient influence you can imagine.
6. Montenegro
Montenegro
boasts a triumvirate of leading highlights, its mountains, lakes and coast all hiding secrets and surprises. Coming from the north, Durmitor National Park and Tara Canyon are musts. The centre has the historic capital of Cetinje, while Lake Skadar and the Prokletije Mountains, bordering Albania, dominate the south. Cycling holidays combining Montenegro with Croatia are greedy in their gorgeousness.
7. Slovenia
The northern starting point for many Balkan holidays,
Slovenia's
lovely capital of Ljubljana is a 'pretty' hard act to follow. Lake Bled is another favourite stop, with its romantic fairytale church on an islet, medieval castle clinging to a rocky cliff and Julian Alps backdrop. If you are looking for a dream photography holiday, look no further, especially with Croatia, the next stop south, thrown into the mix.
8. Sofia, Bulgaria
Some Balkan overland trips include
Sofia
on their itineraries, as the sandwich city visit between Belgrade in Serbia and Skopje in North Macedonia. A very cosmopolitan city, with cafés and boutiques along Vitosha Boulevard as well as sacred marvels like Alexander Nevsky Cathedral and other Byzantine churches. Enjoy a mineral bath or the Natural History Museum, both in the shadow of the great Mount Vitosha.
More about Balkans
For hiking, spring and autumn are wonderful. Avoid peak season in cultural hotspots such as Dubrovnik and Lake Bled.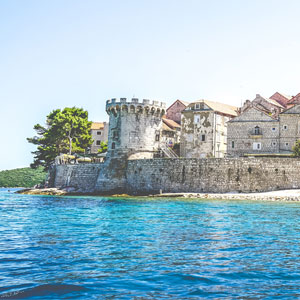 Make the most of the Balkans as you visit not one, not two, but three countries.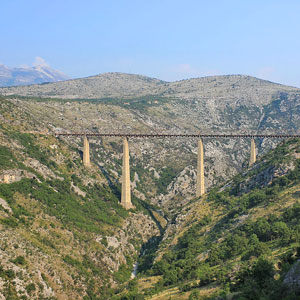 Balkans rail holidays take you on a winding route from Slovenia to Kosovo via a string of utterly underrated cities.