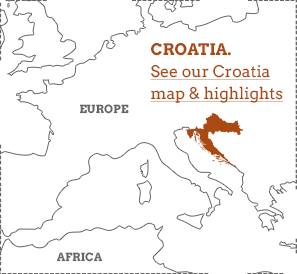 It is apt that the famous Dalmatian dog comes from Croatia. Both are covered in hundreds of beautiful spots, distinctive and bounding in energy. There are so many spots along the map of its coast, with 1,200 islands clinging to the shores, it can almost make you dizzy.

The accessibility of the islands has made it a sailing haven for a long time. It is like a much smaller version of Greece except the islands are greener and closer together.

It is also a country that has come from dark times to light in a very short space of time. Consequently, people's pride in the country is infectious, their independent streak inspiring and, if they could bottle their new found joie de vivre, they would be on to something.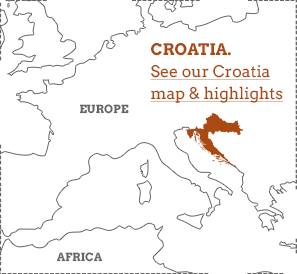 Croatia is a place to slow down. Escape the crowds and find the Zen corners. They are everywhere. You just have to look.

The pride in their land is also illustrated by the amount of it they have protected. There are eight national parks in Croatia, many inland, with hiking and biking routes, waterfalls and white water rivers. It isn't all go in Croatia, however. On the island of Vis there is a saying "pomalo, pomalo", meaning "slowly, slowly'". It may be small, but don't try to do it all. Discover the right region for you in our Croatia travel guide.
Croatia is...
for people who like the outdoors all year round
Croatia isn't...
just for a yacht-owning elite
What we rate & what we don't
The secret capital Zagreb
Zagreb is quieter in summer as everyone heads to the coast, and only locals know that in winter you can ski within an hour of this pinnacle of inner, real and urban Croatia. Similarly, those mountains are there to be hiked when the snows melt.
Inland Croatia
You don't have to go too far from the coast to discover national parks with lots of ups and downs. Hiking and cycling up. White water rafting and kayaking down. Slavonia in the far east of the country is still totally untouristy too.
Border hopping
With Italy, Slovenia, Hungary, Serbia, Bosnia and Herzegovina, and Montenegro just over the border, you can easily go where the Croatian tourist board won't tell you to go.
Slavonia
Slavonia is the agricultural region of Croatia in the far East of the country. Unknown to most tourists, it was badly hit during the wars of the 1990s and is still recovering. This is a flat landscape of wineries and wetlands, with the Nature Park Kopacki Rit at its heart. The main towns of Osijek and Vukovar are quaint and culturally rich.
Dubrovnik
It's the 'Pearl of the Adriatic', a UNESCO World Heritage Site, a medieval walled city and it's on the sea. What's not to love? The crowds, the cruise ships, the crappy souvenir shops. However, go outside summer and it's a different story. Or just go late afternoon, when the cruises have done their bruising and the tidal wave of tourists has turned.
A well-crafted itinerary
With all those beauty spots you might make a mistake of trying to take them all in. This is when expertly organised trips really come into their own as they have spent forever creating the perfect itineraries for you. From hiking in the national parks, cycling around Istria, to kayaking en famille on an itsy bitsy island, there is a pretty package for everyone.
Rovinj
Rovinj is the beating heart of the Istrian peninsula, with ancient cobbled market streets, a strong artists' community, a picture postcard market, a cathedral, and cycle routes spreading out like webs along the coast. Ferries also leave from here to Venice in Italy, which is two hours away. Within 30 minutes from Pula airport, you can be swimming beneath the walls of this gem.
Food
Food is not a la carte, but it is Croatian. If you want Michelin Star, go elsewhere. If you want fresh fish, seafood, olives, local wine and smoked dried hams, you will eat this place up. Literally. A lot of Dubrovnik has gone from slow to fast food to cater for the cruise ship roll-on-roll-off culture, which is a shame. But dig deep and you will find.
Island hopping
Island hopping looks like a dream when you look at the map. But sometimes it can be more of a nightmare, as usually you need to go back to the mainland and then back out again, and suddenly you have lost a day. Some activity holidays use speedboats to go between islands, taking 45 minutes instead of 4.5 hours
Split
Split is fine as a ferry hub and a day trip, but for smaller and so much sweeter, head to nearby Trogir. The medieval old town is actually on an island, and is so spectacular it has UNESCO World Heritage status.
Service
Service is still a notion that is catching on in Croatia, particularly in the south. Istria is more ahead of the game, but with such a huge influx of employees from farm labourers to students simply to cater for July and August madness, staff turnover is high, and the mood can verge on cranky sometimes.
Discussing history
The wars in Croatia were very recent, and so do take this opportunity to read up on them. Some local people want to talk about them and others don't. Some tips, however: don't refer to them as a civil war. It was a collection of wars about territory and independence and calling it civil will not go down well. Nor does calling it a Balkan country, or worse, former Yugoslavia.
If you'd like to chat about Croatia or need help finding a holiday to suit you we're very happy to help.

Eating & drinking in Croatia
Croatian wine is serious business here. Expect to pay between €12-20 for a decent bottle. For whites try Malvasia Dubrovacka and Posip , and a fruity red is Plavac Mali.

Vis island has a very strong slow food scene. Local specials include an anchovy pasty called a pogaca od srdele, or the hib, which is a pressed fig cake, flavoured with grappa.

Istrian is Italian when it comes to food. You will find all the usual pastas, gnocchi, risotta and markets packed with sausages, cured ham (prsut) olives, peppers and tomatoes.

October is phenomenal on the islands. The olive and grape harvests are done, the tourist season has calmed and local people finally get to chill.

People & language
Croatians are proud and extremely patriotic people, especially as their independence is relatively recent. Language and culture is important to them, so raise a glass and say, "Zivjeli", or cheers, to all that you love about their culture and your glass will soon be filled. Pronounced zhee-ve-lee, it means 'life is beautiful' which is the way Croatians like to see things now, after many years of war trauma. Sometimes, on the face of it, Croatians may come across as a bit cranky, but usually this is in areas that are flooded with tourists. They like the peaceful life, and after the past they have endured, who can blame them?
Bok, cao or dobar dan will all work as hello
Gifts & shopping
Croatian olive oil is superb, but check carefully on the shop shelves because even here they sell the cheap Spanish and Greek versions.

A piece of artwork. Croatia's artists' colonies work around the clock capturing what they most love about their homeland. Jewellery making is also popular, but stay clear of red coral unless you get a firm reassurance it is from farmed sources, under a sustainable scheme.

Salt and lavender are produced in various parts of Croatia, and make for great gifts. Not usually together, but then again, why not?

A lot of people think Croatia is cheap. It isn't any more expensive than other EU countries, but don't kid yourself that it is cheap as chips.

How much does it cost?
Loaf of bread – £1.10
Litre of beer - £2.80-£3.50
Bottle of good Croatian
red wine - £9-£12
Main course in a
restaurant - £6-£10
Foot passenger ticket from Dubrovnik to Sipan Island ferry - from £2.30 single
A brief history of Croatia
If it wasn't Croatian, it could almost be Greek. In so much as its history is so dramatic, and indeed tragic, based around issues that are of such mammoth proportions they are hard to get your head around. But when you look at the number of borders around Croatia, you can start to imagine the territorial turmoil that has happened over the years.
Read more