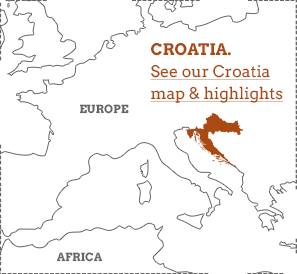 Our Croatia holidays help relieve the pressure on over-visited destinations such as Dubrovnik by getting you offshore to the islands or inland to less-known national parks ideal for exploring on self drive holidays. Croatia's craggy coastline is best discovered on small ship cruises that visit peaceful islands and communities that far larger vessels miss, or on family activity holidays where you're rarely out of the warm sea. Croatia can be reached without flying if you have time, but carbon footprints are minimised anyway, since our partners seek out family-owned hotels and restaurants that source as much of their seafood and wine from the local area as possible.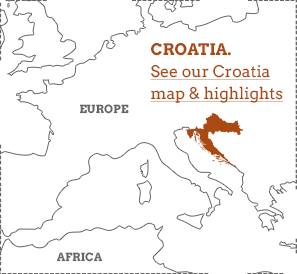 Our top Croatia holidays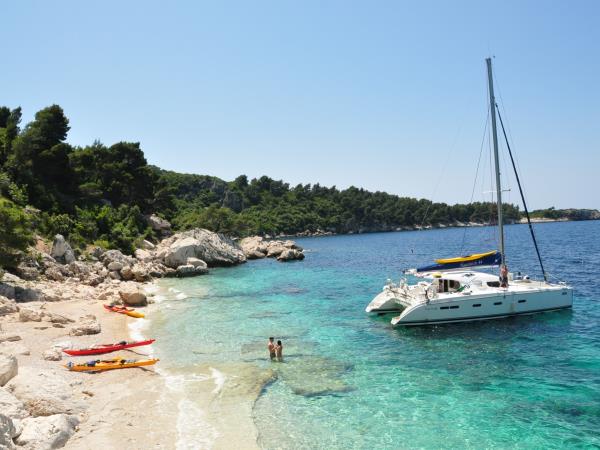 4 days
ex flights
A multi-activity adventure sailing cruise in Croatia
Small group
2023: 15 Apr, 16 Apr, 17 Apr, 18 Apr, 19 Apr, 20 Apr, 22 Apr, 23 Apr, 24 Apr, 25 Apr, 26 Apr, 27 Apr, 29 Apr, 30 Apr, 1 May, 2 May, 3 May, 4 May, 6 May, 7 May, 8 May, 11 May, 13 May, 14 May, 15 May, 16 May, 17 May, 18 May, 20 May, 21 May, 22 May, 23 May, 24 May, 25 May, 27 May, 28 May, 29 May, 30 May, 31 May, 1 Jun, 3 Jun, 4 Jun, 5 Jun, 6 Jun, 7 Jun, 8 Jun, 10 Jun, 12 Jun, 13 Jun, 15 Jun, 17 Jun, 19 Jun, 20 Jun, 22 Jun, 23 Jun ...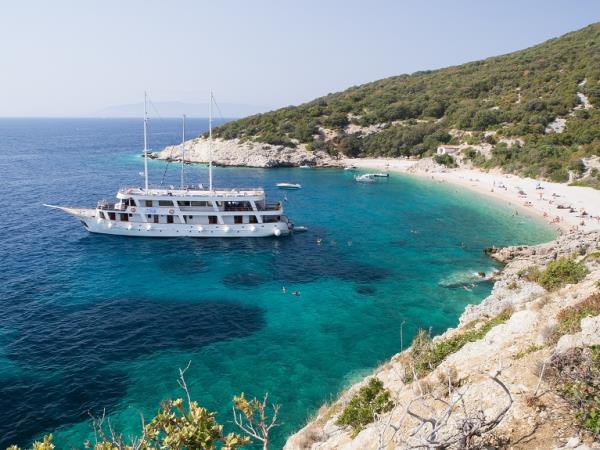 8 days
ex flights
Cruise Croatia's beautiful islands on a small cruise ship
Small group
2023: 6 May, 13 May, 20 May, 27 May, 3 Jun, 10 Jun, 17 Jun, 24 Jun, 1 Jul, 8 Jul, 15 Jul, 22 Jul, 29 Jul, 5 Aug, 12 Aug, 19 Aug, 26 Aug, 2 Sep, 9 Sep, 16 Sep, 23 Sep, 30 Sep, 7 Oct, 14 Oct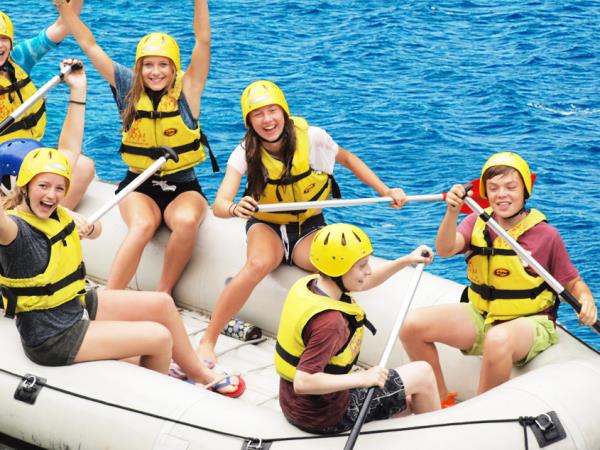 8 days
ex flights
Rafting, kayaks, canyons & beaches. Family action in Croatia
Small group
2023: 15 Jul, 22 Jul, 29 Jul, 5 Aug, 12 Aug, 19 Aug
About our Croatia holidays
Croatian islands
Over 1,000 islands dot-and-dash the Croatian coast – so where do you begin? Our guide to the
top 10 islands in Croatia
is a good place to start. The Elaphiti Islands near Dubrovnik are the most-visited by day-trippers, but if you stay overnight in Sipan or Lopud you'll get sunset dinners in snoozing villages with islanders and yachties. Families often focus on Vis, where cliffs and kayaking waters sit well away from the cruise ship terminal, while Hvar specialises in picturesque fishing towns. Mljet National Park is a forested retreat where you can hike to lakes and a Benedictine monastery.
Small ship cruising in Croatia
'Small' is key when it comes to cruising in Croatia – the industry has a bad rep, thanks to the mega ships that clog up Dubrovnik with thousands of passengers. But Croatia is a seafaring nation and often the best way to see it is under sail. Small ship cruises are slow travel. They stick to Croatia only, slipping through dolphin waters and dropping anchor in sunset-facing bays with barely a ripple. With a maximum of 40 shipmates (on yachts, it's more like 10), you'll eat at harbour restaurants and explore vineyards, supporting island communities without overwhelming them. Read our
Croatia cruising guide
.
Family activity holidays in Croatia
Croatia and Italy have a shared sea, history, cuisine and way of life – but there's also something very Italian about how Croatians welcome families. Most restaurants and hotels are kid-friendly, and the best family activity holidays in Croatia are less kids' club and more kayaking, white water rafting, caving and cycling. Many trips root you to an island to minimise travelling, too. They're also the most relaxing activity holidays you'll find: while some days are all-go, your free days and evenings can be spent lounging with a glass of Plavac Mali (or a peach mocktail) by the water.
Adventurous destinations
Some people like to kick back and watch Croatia roll by; some like to dive straight into it. High-energy
adventure holidays in Croatia
take you from Dubrovnik to Zadar, weaving over the Bosnia and Herzegovina border to Mostar and then back to Krka, Velebit and Plitvice Lakes national parks, where you can canoe along rivers and hike up to waterfalls. Other trips stick to one adventurous destination: sea kayaking from Dubrovnik, perhaps, or biking, boating and scuba diving around Vis island. You can find out more about the most adventurous places in Croatia in our
multi activity travel guide
.
Water activity holidays in Croatia
It doesn't matter if you're exploring the islands and Venetian cities along the Adriatic Coast or the lake-spattered national parks – it's really, really hard to resist getting out on the water.
Sea kayaking in Croatia
is as good as paddling gets, thanks to the sheer number of islands (most uninhabited) and craggy, cracked-open scenery.
Sailing in Croatia
is like stepping back to the Renaissance, when the Adriatic Sea fluttered with white-sailed trading ships. Stand up paddle boarding is gaining popularity, or you could simply swim in warm, glassy waters that feel like they've flowed from the Tropics.
Types of tours & holidays in Croatia
Activity holidays are the most common type of holiday in Croatia – and they can be as leisurely or as action-packed as you like.
Cycling holidays
swoop along curvy coastal roads and peninsula vineyards, before taking you on ferries to islands laced with cool, piney forest paths.
Walking holidays
are your chance to go off-piste with a Croatian guide who'll take you for lunch at villages that make their own
basa
cheese or to little-known inland national parks. There are also self guided trips, if you fancy adventuring on your own. Read our
cycling in Croatia
and
walking in Croatia
travel guides for more.
If you'd like to chat about Croatia or need help finding a holiday to suit you we're very happy to help.