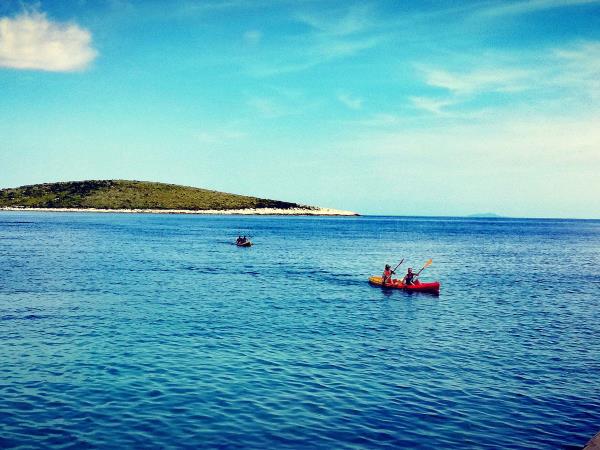 From
£765
excluding flights
Impossible to pick out one highlight, it was a blissful week with a perfect balance of activities and relaxation. Matko and family made us feel part of their lives and did everything to fit the activities and set the pace around what worked best for us.
(more)
Tanya Nash
For us the most memorable part of the holiday was that we were treated like friends rather than paying guests, showing us the culture, history, sights and wildlife of the Island.
(more)
Alison Griffin
A fantastic, varied holiday that we both enjoyed very much.
(more)
Mathew Blumler
The highlight was Craig and Xania's warm hospitality, the natural beauty of Vis island and the awesome Adriatic.
(more)
Robert Solomon
Swimming and kayaking in picturesque bays with turquoise seas was the best highlight.
(more)
Felicia Norman
Coming from a stressful job in the U.K. the best bit for me was the yoga by the sea. I have never done yoga but it was taught very well so I could follow along with ease. It was so relaxing and jumping into the sea afterwards was refreshing and truly revitalising!
(more)
Katie Gormley
Kayaking for the first time! The sea around Vis is stunning and the views from the water are something else. Craig and Xania are great instructors. Impressively relaxed with our diverse group, the youngest of whom was six. I was the only true beginner but I didn't feel out of place.
(more)
Lucy Crystal
The highlight was Kayaking along the rugged coastline into beautiful secluded bays. Enjoying Xania's exquisitely cooked vegetarian evening meals.
(more)
Leone Bentley
The holiday was brilliant. Activity balanced with proper relaxation. We have come back really rejuvenated. Craig and Xania (and Zora-the dog) work very well together to pull the experience together so you can just get on and enjoy your break.
(more)
Paul Irving