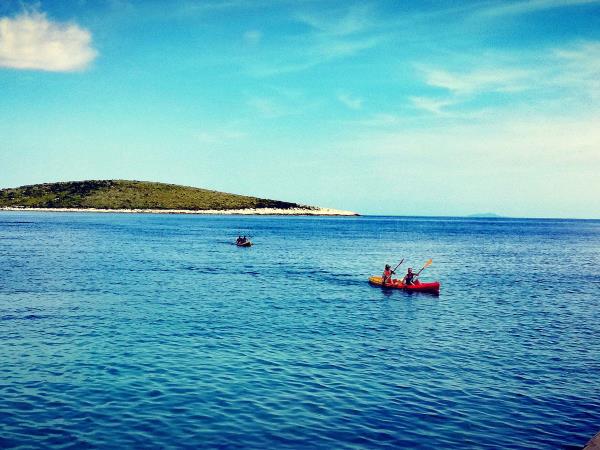 From
£765
excluding flights
The holiday was utterly delightful. I received a warm and friendly welcome from the hosts Matko and Marina, who made me feel like part of the family, providing wonderful home cooked food, and equally wonderful company.
(more)
Lynn Molloy
10 out of 10. Beautiful beaches, Crystal clear sea, fantastic views, wonderfully peaceful, excellent hosts, great accommodation, fun and interesting activities, and lots and lots of really well cooked home food.
(more)
Ruth Catchpole
Impossible to pick out one highlight, it was a blissful week with a perfect balance of activities and relaxation. Matko and family made us feel part of their lives and did everything to fit the activities and set the pace around what worked best for us.
(more)
Tanya Nash
The most memorable part of the holiday was...The children (aged 7 and 9) trying so many new activities and foods and loving them!
(more)
Victoria Meheust
We had an excellent day kayaking along the south coast of Vis. It was nice and relaxed, and had some brilliant coastal scenery. We enjoyed lunch in an idyllic bay, and also went snorkelling and cliff jumping along the way.
(more)
Robin Whitworth
Kayaking for the first time! The sea around Vis is stunning and the views from the water are something else. Craig and Xania are great instructors. Impressively relaxed with our diverse group, the youngest of whom was six. I was the only true beginner but I didn't feel out of place.
(more)
Lucy Crystal
I loved kayaking into the cave and jumping off the cliffs! And the food and wine was wonderful. I couldn't have asked for a more well balanced vacation.
(more)
Kimberly Null
The holiday was excellent and you could do as much or little as you wanted without any pressure. Xania and Craig were fantastic hosts and guides...truly inspiring people.
(more)
Shehnaz Bharwani
We thoroughly enjoyed our holiday in Vis, your fantastic hospitality, excellent organisation and guiding of activities was superb – you could even say it was relaxingly active.
(more)
Alex Golding