One of Croatia's islands is a little different from the others. A scattering of abandoned World War II army bases gives a clue to Vis Island's past. The island was off-limits to tourists until 1989 and it's still relatively unspoilt. The furthest large island from the shore, with a population of just 3,000, its harbour is too small for cruise ships and its shores far quieter than neighbouring Hvar. Vis Island has always been an outpost. Now, it's a great place to start an adventure.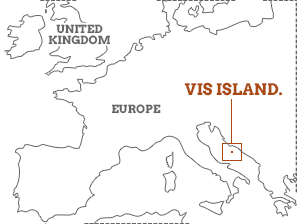 In World War II, Vis was a hideout for the head of the Yugoslav resistance. It's still got that out-of-the-way wonder about it.

Vis is ripe for exploring. You could fling yourself around the island on a bicycle, or hop between rocky coves on a boat. You could drink wine that's been grown, pressed and bottled within a few miles of your dinner table. You could play a riotous game of Picigin (think hacky sack but with a real ball, played in the sea) just off a deserted beach. Whatever you do, you won't be able to resist the water: it sparkles like the eyes of a leading lady.
Vis is...
Unspoiled Croatia: a great place for a relaxed escape or an adventurous family holiday.
Vis isn't...
Just a filming location. Though Mamma Mia 2 was shot here.
Vis Island map & highlights
Vis Town and Komiza, the main towns on the island, sit on two opposite harbours about a 15 minute drive apart. You can reach Vis from Split on the ferry and it generally takes between an hour and a half to two hours and a half, depending on whether you take the speedy catamaran or the slower ferry, to reach the port at Vis Town. In high season, the boat departs three or four times a day. Once you're on Vis, you could make your way around the island by scooter or bike, or by local taxis and boats.
1. Blue cave
We know, we know, lots of islands boast a 'blue cave'. But at Biševo you might get it all to yourself. This tiny island off the coast of Vis has an amazing cave that glows an extra-terrestrial blue. There are boat trips to take you. There's also the Green Cave you can visit. You'll find it on Ravnik, a slip of an islet that's an easy kayak from Vis.
2. Komiza
On the opposite shore from Vis Town, Komiza makes a pleasant destination for a cycle trip. Its quiet harbour is peppered with little fishing boats, and there are lots of waterfront restaurants, but the town quickly gives way to terraces of vineyards. In September, a music festival, Goulash Disko, enlivens the village and brings curious new visitors.
3. Remote islands
The tiny little islands around Vis provide more than just focal points in your camera's viewfinder. You can take day trips from Vis over to the hidden beaches and caves of diminutive Brusnik, little Budikovac which has a wonderful lagoon for snorkelling and swimming, and tiny Ravnik off the coast of the main island: your own treasure islands.
4. Stiniva beach
The chalice-shaped Stiniva beach has a narrow entrance that would be near-impossible to spot from the sea – except for the flotilla of boats anchored outside. Visitors who squeeze through a teeny-tiny gap in the rock will find a bowl-shaped cove with a dazzling beach. It's hard to get to... but worth it. Take a water taxi or take a short but steep hike from the road.
5. Vis Town
Ferries from Split come into Vis Town and the calm harbour is most people's first impression of Vis Island. It's a charming bay. An attractive church and monastery sits on a peninsula at one end of the harbour, and Venetian-style 17th century houses make up Kut, the crumbly old town. A handful of restaurants and bars offer dinner, with local produce featuring prominently on the menu.
6. Vineyards
Some 20 percent of Vis Island's farmland is devoted to viticulture. The neat terraces start to burst with grapes in summer and are ready to harvest in the early autumn. If you want to drink local wine look out for plavac mali – a common Croatian grape variety that makes a fine glass of red. Agro-tourism is taking off on Vis Island; visit a vineyard and you can buy direct from the grower.
If you'd like to chat about Vis Island or need help finding a holiday to suit you we're very happy to help.

More Vis Island articles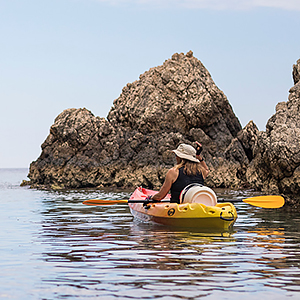 This island changes gently with the seasons, the temperature rising and rising as the months progress.