Best time to visit Croatia

Easter is the beginning of the swimming season for local people. That is when we Croatians consider the water warm enough.

Croatia has a mild climate all year. In July and August, however, the mad Med kicks in quicker than you can say factor 50. Consequently, there is an international summit meeting of sunbathers in peak season, with bordering Italians, Slovenians, Serbians and Bosnians joining the throngs of other international tourists for one giant Eurovision Sun Contest.

The vote from this jury in terms of best time to visit Croatia is early June, or September to October.
February may still be cold in Croatia, but the festival scene is hot. Carnival is celebrated in the main towns and cities, with floats and fun. The Feast of St. Blaise on 3 February is a riot too. March is a lovely time to visit Dubrovnik, as it is devoid of crowds and feels as if local people are reclaiming it. March is also a particularly lovely time for a cycling holiday in Croatia. Depending on when it falls, March or April brings Easter, a wonderful time to head into rural areas to see the traditional processions, costumes, bonfires and general festivities. May and June are bliss, with temperatures around 23 -27°C, but the winds along the coasts are less predictable at this time, and storms can happen, affecting ferries and sea-based activities. If you are going to the islands in July and August, get to the port early. There are long queues for ferries. The roads can get busy now, especially as Italian tourists like to visit by car, so you might want to consider the islands for cycling rather than on the mainland. And check out the car-free islands such as Lopud and Zlarin. August really is peak of peaks in Croatia, and so if you are going to some of the popular spots on the coast, be prepared for crowds. Check out the inland national parks, though; they're a tranquil treat during these times. In peak season avoid the cruises that arrive into the big ports early in the morning, bringing a tidal wave of tourists. They all head back on board around 3pm generally, so time your city visit accordingly. There are ships around in spring, summer and autumn, with July and August the busiest times. The end of September marks the end of the season on some of the islands, with restaurants and bars closing for the winter. But it varies per island, so research before you go. Ferry services are less frequent too after this time. However, islands like Vis are very chilled as the harvest is done, and tourist season is done. The place becomes real again. As well as being much quieter, the hills are alive with families undertaking their wine harvest in October. A grape time to visit. November 11 is the Feast of St. Martin, when the wine is ready and brought out to be blessed by the priests. And drunk by everyone. December and January in Dubrovnik, with the build up to Christmas and New Year, is gorgeous.
Responsible Travel recommends
Tomi Coric is the founder of Epic Croatia, one of our activity holiday specialists in Croatia: "I like Christmas and New Year in Dubrovnik – there are hardly any tourists and it becomes a real town again. The weather is mild and dry and families all go out in the streets together. The town is decorated and there are lots of things to do outside, such as traditional acappella singers and concerts. It is a very special time of year here."
Our top Croatia Holiday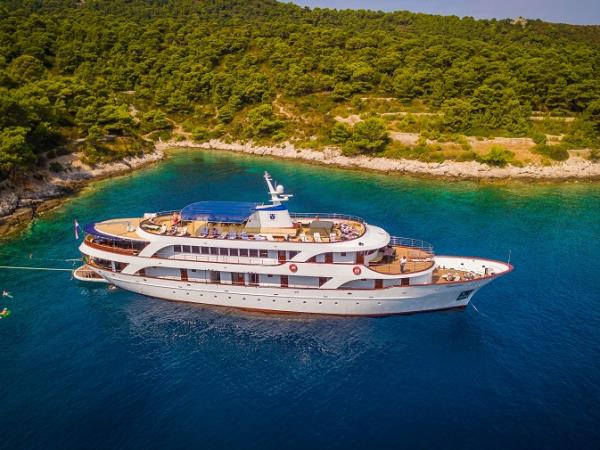 Cruise Split to Dubrovnik in luxury via Croatia's islands
From
£899
8 days
ex flights
Small group travel:

If you'd like to chat about Croatia or need help finding a holiday to suit you we're very happy to help.

Festivals & events in Croatia
Dubrovnik Summer Festival
The Dubrovnik Summer Festival is a major event running through July and August. Think Edinburgh in the sun with a piρata of cultural pickings from around the world. There is world class theatre, classical music and dance to delight the masses. The arts movement has always been a backbone of Croatian culture, and played a major role in battling for independence during the Tito years. With a history of artists who pushed for change through their work, no wonder the festival is now such a prestigious event.