Bosnia-Herzegovina travel guide
---
2 MINUTE SUMMARY
Bosnia and Herzegovina is often abbreviated to BiH which, if you pronounce it in English, isn't exactly an inspiring acronym. But this country is far from being a bit 'BiH'. In fact the secrets that it conceals from the world of mass tourism hype, such as the Dinaric Alps, limestone lakes and waterfalls, Ottoman architecture and ancient hilltop villages, are the complete opposite to 'BiH'. More like 'hell yeah'. Because that's what you will shout when you climb to the top of Maglic, the Durmitor Mountains' highest peak. Or when you watch local divers plummet off Mostar Bridge, a famous symbol of peace and reconciliation. Or finish a hike in Sutjeska National Park with a swim in a deserted mountain lake. Or snowshoe through the deserted Bjelašnica Mountains. For these reasons, plus the fact that you will receive a right royal welcome in this country that still gets relatively few tourists, we prefer the literal translation of Bosnia-Herzegovina. Welcome to the Princedom of Bosnia.
Read on in our Bosnia-Herzegovina travel guide.
Bosnia-Herzegovina is...
mountainous:
snowy in winter and snowshoeing heaven. Sunny in summer, hello hiking.
Bosnia-Herzegovina isn't...
luxurious.
It's real people leading real lives in really impressive landscapes. For chichi (and crowds) head to Croatia.

Hello.
If you'd like to chat about Bosnia-Herzegovina or need help finding a holiday to suit you we're very happy to help.
Rosy & team.
01273 823 700
Bosnia-Herzegovina map & highlights
---
MAKE THE MOST OF YOUR TIME
About the same size as Costa Rica, Bosnia-Herzegovina may not offer the same wow factor on species, or indeed 'costas', but it does on scenery. And secrecy – because this is one of Europe's best kept secrets for lovers of rugged wild places. Sarajevo, the capital, is one of Europe's most fascinating cities for history, from its Ottoman founders to the 1993 siege; medieval Mostar is a must; and – oh! – those mountains. From the Bjelašnicas, famous for 1984 Winter Olympics to the Durmitor range, with the country's highest peak Maglic, well protected by sublime Sutjeska National Park, this country is quickly climbing its way up the ladder of trekking tourism, summer and winter.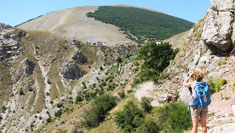 Bjelašnica mountains
Sarajevo's 1984 Winter Olympics were thanks to these mountains on its doorstep, making this one of the most perfect winter activity destinations, so close to the capital. Snowshoeing is popular, travelling from peaks such as Visocica and Crveni Kuk, passing remote mountain villages, frozen waterfalls and white powdered canyons. There are myriad walking trails in summer, too.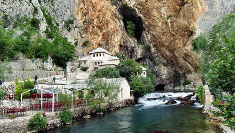 Blagaj
This town has an almost fairytale like quality, set into a rock face with a spring oozing through it to form the Buna River. Also set into the rock is an ancient 'tekke' or Dervish monastery which, for a mystical cult, is pretty impressive. Take a walk along the river here, or just hang out in one of the river cafes and watch the world go by.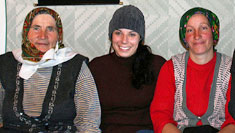 Lukomir
The country's highest village, at an altitude of 1,495m in the Bjelašnica Mountains, is also home to a semi-nomadic traditional Bosniak community. Wearing traditional dress, and living in ancient stone and wooden houses, this village goes back to medieval times, seen by the ancient 'stecci' or tombstones. The views of, or hiking to the Rakitnica Canyon just to add to this lost in time and beauty experience.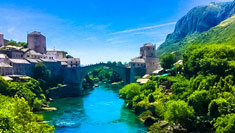 Mostar
Mostar is all about building bridges, with its famous, single span Stari Most Bridge over Neretva River built during the Ottoman Empire, but destroyed in the war. It has been restored, and is now the greatest symbol of Muslim, Croat and Serb reunification. Travel by train from Sarajevo if you can, cutting through mountains, following the river and taking time to take in this now, thankfully, tranquil terrain.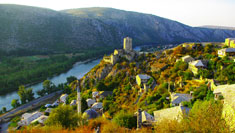 Pocitelj
Located in a natural karst amphitheatre on the banks of the River Neretva, this stunning ancient town was recently awarded UNESCO status. Going back as far as Ottoman times, this walled town was a fort to protect the Neretva Valley, resulting in this impressive architecture of Sahat Kula fort. Similarly impressive, set into the rocky limestone terrain, is the nearby Kravica Waterfall. Again, pack your swimsuit.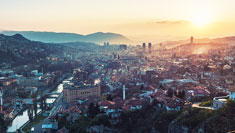 Sarajevo
Notorious for the longest siege of the Yugoslav wars, it now takes siege only of hearts and minds, with culture in every cobbled street, church and café. Don't miss the Historical Museum or the Tunnel Museum, constructed during the Siege of 1993. Or the Jewish and Orthodox museums, to learn what an ethnically eclectic city this was for generations. If ever there was a city to taking a guided walking tour, this is it.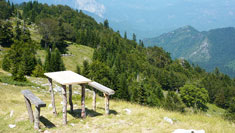 Sutjeska National Park
Here you will find some of Europe's most hidden hiking trails through one of its last primeval forests, Perucica, with added bonus of mighty Durmitor Mountains to ooh and aah over. Not just with delight either, with some peaks to push those muscles, such as Maglic (2,386m), the country's highest, or Ugljesin (1,858m). If you like a wild swim, pack your swimsuit and dip into the waters of Donje Bare Lake.