Croatia, Bosnia-Herzegovina & Montenegro
Croatia's
got the coast;
Montenegro's
got the mountains; and
Bosnia-Herzegovina
...well, you'll just have to visit for yourself to find out what BiH has in store. And therein lies the beauty of a tri-country tour in the Balkans. You never know what you're going to get from one area to the next.
These three countries once fell under the banner of Yugoslavia, and were ravaged and divided by years of civil war. Making a return to the European tourism stage has been no easy task although Croatia, especially, has managed to do just that, and Montenegro's certainly not far behind.
Bosnia receives far fewer visitors despite boasting the beautiful Bjelašnica Mountains. These rugged peaks and curvaceous canyons once hosted the '84 Winter Olympics. Walking trails to waterfalls and canyoning expeditions along the Rakitnica River offer ample excuses to expand Eastern European horizons as well as inviting opportunities to meet local people in mountain villages like Lukomir.
Of course, Montenegro and Croatia still have their secrets. The city of Cetinje, for instance, at the base of Lovcen Mountain, has more museums than anywhere else in Montenegro. Konavle, in Croatia, is where waterwheels turn for flour mills whilst you can expect a smorgasbord of smoked hams, grilled trout and goat's milk cheeses to accompany a tour of the surrounding vineyards.

Yes, you can walk the walls in Dubrovnik and take a boat out into the Bay of Kotor, but the beauty of bringing Bosnia-Herzegovina into the mix is that you also get to experience areas that aren't as well known. There simply aren't the crowds associated with the neighbouring countries, even around the UNESCO sites and on the streets of the capital city, Sarajevo. The rock hewn town of Blagaj on the Buna River, for instance, or the medieval architecture of Mostar or the preserved Ottoman-style village of Pocitelj – these are the places that are sorely missed by the cruise ships and coachloads.

Visiting Bosnia-Herzegovina, Croatia and Montenegro is a great way to experience the area, as a whole, as well as inviting cultural exchanges with local people across every border.
Here's what Mojca Peterka from our Balkan holiday specialists Grand Cuvée Tours, has to say:
"By visiting all three countries on the same trip, you can experience quite a large part of the Balkan peninsula, with all its natural beauty, culture and history and also all the differences. All three of them are neighbouring countries, so you can easily visit on the same trip. Travellers are always surprised by beautiful and pristine nature (mountains, rivers, lakes, sea – there are many natural parks in the region) and hospitality of people from all three of countries. They are also astonished by old traditional villages and medieval towns."
Religious relatives
One of the most obvious cultural contrasts between the three Balkan nations is religion. The majority of Croatia is Catholic, Montenegro is Eastern Orthodox Christian and Bosnia is a blend of both alongside a Muslim majority. This sort of cultural collision has, unfortunately, led to many of the problems of the all too recent past. However, in these present day, peaceful times it's the architectural contrasts within the churches, monasteries and mosques that provide travellers with fascinating insight into each country's cultural heritage.
Architectural influence
Other than the ecclesiastical architecture the majority of man-made buildings that you'll find throughout the region are pretty similar. Building materials have been sourced from the land. Stone and wood structures are commonplace with just as many preserved examples to be found in rural villages as you'll find in the old town districts of Dubrovnik, Mostar, Sarajevo and Budva.
Taste the difference
Fish suppers, seafood risottos and buzara-style dishes – shellfish stew from Croatia – are always worth tasting along the Adriatic. Further inland dishes become meatier with Montenegro and Bosnia both favouring chunky stews and seasonal salads served with grilled lamb and mutton. Filo pastry also features further from the coast with cottage cheese, meat and potato pies (burek) conjuring up mouth watering mountain meals whilst baklava and tufahija create sticky treats on city streets.
The pace of tourism
One thing you might have to get used to is the pace of life from one country to the next. Croatia, for example, is well accustomed to accepting guests from all over the world whereas tourism in Bosnia-Herzegovina is still starting to regain traction. You're far more likely to meet people in Bosnia who have had little or no contact with international travellers. Go slow and respect the rights of rural people making a living off the land. Don't ask, or expect, too much if you're spending time in the mountains. Life is a lot different to the yacht marinas and five star hotels on the Adriatic coast.
Things to do
Tailoring a tour of all three Balkan countries allows you to build in lots of different activities to take part in along the way. Aside from the cultural walking tours you'll also be offered opportunities to take a boat out into the Bay of Kotor, cycle to traditional villages - such as Podgora on the Zabljak Plateau - or try your hand at canyoning in Bosnia's Rakitnica Canyon. Families, too, especially those with teenage children, can tailor a tour to suit the whole gang. A morning of wine tasting in Croatia's Konavle vineyards, for instance, followed by an afternoon of water sports at the beach - that's the beauty of a tailor made tour: you can build in as many activities, or as few, as you wish.
Best time to go
Although the best time to go to the Balkans is often considered to be the summer, please be aware that the Adriatic coast can get extremely crowded during
June, July and August
. Either side of summer, in our opinion, is a far better option. Spring flowers cover the alpine meadows of Montenegro in
April and May
whilst late
September
signals the harvest as Bosnia's ancient woodland turns into a kaleidoscope of colour to complement steaming bowls of
Bosanski lonac
– chunky meat and veg stew. Click the links to read more information on the best time to visit:
the Balkans
,
Croatia
,
Montenegro
and
Bosnia-Herzegovina
.
Our top Balkans Holiday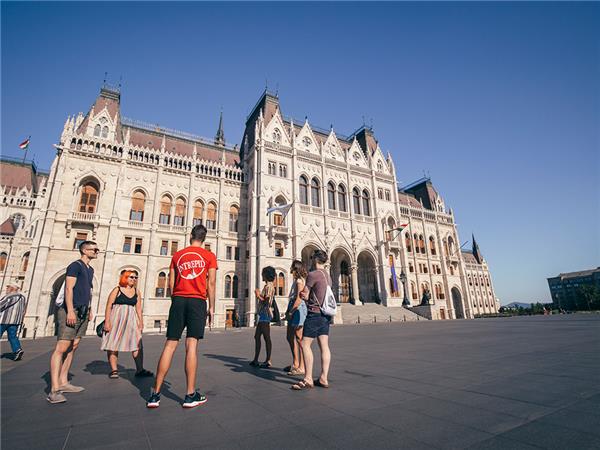 Explore Hungary's capital to medieval towns
From
£1130

to

£1315
10 days
ex flights
Small group travel:
2023: 4 Jul, 18 Jul, 1 Aug, 8 Aug, 12 Sep, 19 Sep, 3 Oct
2024: 14 May, 28 May, 4 Jun, 18 Jun, 2 Jul, 16 Jul, 6 Aug, 20 Aug, 3 Sep, 17 Sep, 1 Oct
If you'd like to chat about Balkans or need help finding a holiday to suit you we're very happy to help.

Top tips for responsible travelling
A tailor-made tour of Croatia, Bosnia-Herzegovina and Montenegro encourages travellers to book into locally-owned B&B guest houses and city hotels. Each accommodation will offer an authentic and welcoming place to stay as part of an organised tour. Breakfasts, on all sides of the border, are bound to be wholesome and hearty with veritable banquets of freshly sourced local produce setting you up for a day of exploring. Another benefit of breakfasts being included is that you'll also get to visit locally-owned restaurants or tuck into some street food delicacies along the way. This is a far more authentic and organic experience when compared to an all-inclusive hotel option.

A tailor-made tour will also provide you with a guide and a driver to accompany you throughout your trip. You can even request the same driver/guide to stay with you in all three countries. Although in some locations, Dubrovnik for example, you will also require a local city guide to show you around. Putting yourself in the hands of a local expert is a great way to find out more about each area that you're visiting as well as being able to ask questions without having to put your hand up in a crowd.
It's also very important to be aware of the events that led up to the conflicts in the 1990s. Understanding the ethnicities that form each country's main inhabitants allows you to be more sensitive when approaching questions. Think about where you're visiting and what has happened before. Consider reading the novel Na Drini ćuprija (The bridge on the Drina) by Ivo Andrić or Zlata's diary by Zlata Filipović, which describes a life of a girl in war torn Sarajevo.
Being a responsible traveller requires empathy and understanding for the reasons behind cultural differences. Visiting remote regions, off the typical tourist track, will bring you into contact with communities who live off the land and who may have had little or no contact with foreign visitors. Cultural exchanges should be just that. An exchange. A chance for travellers and local people to learn about each other. That's why visiting Croatia, Montenegro and Bosnia-Herzegovina encourages interaction across borders and hopefully provides a positive outcome for all sides.