Things to see & do in Durmitor National Park, Montenegro
Durmitor National Park is the jewel in northern Montenegro's crown. Carved by glaciers and underground streams, it's a place of muscular peaks, deep canyons, glacial lakes, alpine meadows and thick fir forests. The Piva River skirts the park to the west and the Tara River runs through its northern side, with the 1,300m deep Tara Canyon its show stopping feature. Day trippers frequently only take on the gentle 3km walk from the entry gates to Black Lake, but active adventurers push deeper into the rugged landscape, to mountain bike and hike, canyon and wild swim, or to scale one of its 48 limestone peaks rising to over 2,500m.

Durmitor was made a national park in 1952 and a UNESCO World Heritage Site in 1980. It's a gloriously pristine environment, and its mix of habitats supports 163 bird species, about 50 types of mammals, including bears and wolves, and a huge variety of butterflies.

"The most memorable [part of the holiday] was the natural meadows. To look at the beautiful flowers waving in the breeze with the butterflies and bees buzzing almost brought me to tears. It was like going back in time." – John Tuffin in a review of his Montenegro multi activity mountain holiday
Multi activity holidays give you the chance to explore the park's landscapes through a variety of exciting adventure sports. Trails wind through the park and hiking is a popular activity here, but for a dose of adrenaline, you can scale the via ferrata at the top of Uvita Greda mountain at a height of 2,199m. Two day trekking and climbing adventures offer total immersion in Durmitor's limestone peaks. Summit Bobatov Kuk, Durmitor's highest peak, camping out around Skrcka Lake before tackling the peak of Prutas mountain the next day.

You won't be solely reliant on two feet, either. Jeep safaris, quad biking and horse riding take you deeper into Durmitor. Mountain biking is excellent here, too, offering a thigh-pumping, challenging ride along trails that wind up and down, through villages and to tucked-away lakes. In summer, break off to wild swim, and there's also the option to take the ski lift to the top of Savin Kuk mountain (2,315m) and bike from the top.

Canyoning in the Canyon Nevidio is the chance to jump into pools and wild swim your way through this gorge while rafting through the Tara Canyon gives a river-up perspective on this incredible site. The water is at its fullest in May, after the winter rains, so if you like your rapids rapid and your rafting adrenalised, come towards the start of the season. You can also ride horses through the park, or take a jeep safari or quad bike tour of the park.
Stan Zivanovic runs our supplier Montenegro Mountain, a multi activity holiday specialist based in Durmitor National Park: "Once we set up our camp in the mountains a few seasons ago and began to offer our adventure tours to guests, I guess we only then really and truly started to realise just how beautiful and peaceful the Durmitor Mountains were, while exploring for ourselves the different and contrasting aspects of nature in the park. Although this is our business, we actually love and enjoy each step that we take along with our guests, as if we are experiencing it for the first time ourselves all over again! The scenery is absolutely perfect and the air is fresh and so your body already naturally feels at ease and relaxed. There are sayings here in Montenegro that are very appropriate to Durmitor: 'every person needs to escape into nature in order to find themselves' and 'there is no better feeling in the world, then the feeling of silence deep in nature'. On top of this, we have a great team of guides and our activities are all carefully planned out, so that our guests get to experience an array of different experiences and have a feeling of both fun and achievement!"
Our top trip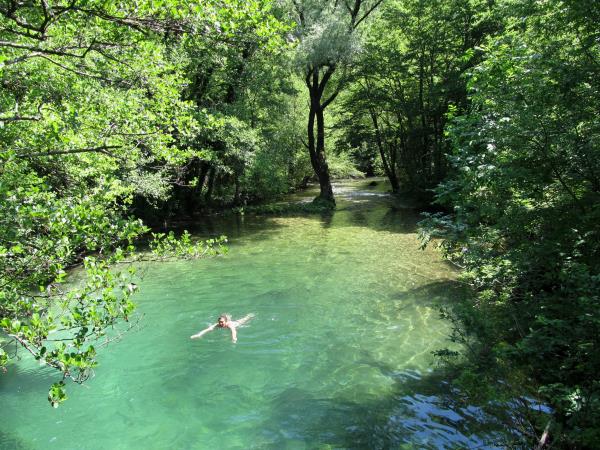 An active villa holiday at stunning Lake Skadar, Montenegro
From
£745

to

£845
7 days
ex flights
Small group travel:
2024: 7 Apr, 14 Apr, 21 Apr, 28 Apr, 5 May, 12 May, 19 May, 26 May, 2 Jun, 9 Jun, 16 Jun, 23 Jun, 30 Jun, 7 Jul, 14 Jul, 21 Jul, 28 Jul, 4 Aug, 11 Aug, 18 Aug, 25 Aug, 1 Sep, 15 Sep, 22 Sep, 29 Sep, 6 Oct, 13 Oct
If you'd like to chat about Montenegro or need help finding a holiday to suit you we're very happy to help.

Highlights of Durmitor National Park
Black Lake
Durmitor is dotted with lakes – 18 in total – known locally as as gorske oči or mountain eyes. The largest and most visited is Black Lake, an easy stroll from the park gates in Zabljak. It's towered over by the rounded, dome-like mass of Međed, the Bear, rising to 2,287m, and it casts an inky shadow over the water.
Bobotov Kuk
This is Durmitor's highest peak, soaring to 2,523m. Multi activity trips with an emphasis on adrenaline adventure will include a climb to the top where, standing on its craggy summit, you can gaze out over the Balkans: Bosnia to the left, Albania in the distance and all Montenegro laid out in front. This is one of the best, but most strenuous hikes in all of Montenegro. There's a box at the top containing a book that you can sign, alongside others that have managed this tough climb.
Tara Canyon
Carving through the mountains on the northern side of Durmitor National Park, the Tara River has created a deep canyon. It's the deepest canyon in Europe at 1,300m, and the second deepest in the world, pipped to the top slot by the Grand Canyon in the USA. The best views are from the water, and multi activity trips usually include rafting along the river. This delivers stupendous views, and a hearty dose of adrenaline, particularly if you come at the start of the season when the river is at its fullest.
Zabljak
The growing town of Zabljak is the park's main hub, with lots of accommodation, restaurants, cafes and bars. There is also a good choice of supermarkets, so it's easy to stock up on snacks. It has a nice buzz during the peak months of July and August, with both foreign tourists and Montenegrins here to explore the park and enjoy a meal.
Stan Zivanovic, from our supplier Montenegro Mountain:
"The town has many places for guests to go out in the evenings for meals and so even if guests are staying for a week, they could try out a very good but different place to dine out each night. For sporty guests there is a basketball court, tennis court and bowling alley that are all worth a try as well!"