FCO travel advice & your travel insurance – what does it mean?
Finding the right travel insurance
Travel insurance is unusual: you buy it hoping that you'll never need it. It's a worst case scenario safety net, which can prevent a difficult situation from becoming an awful one. When it comes to holiday incidents, happily, the more serious the incident is, the less likely it is to happen. However the associated costs tend to rise in direct proportion with the seriousness of an issue, which magnifies the problem. You might need to claim a refund for a lost or stolen camera (low cost), get hospital treatment for a persistent stomach bug or broken finger (mid cost), or the cost of an air ambulance during a medical emergency (very expensive – but also incredibly unlikely).
Small print is both dull and daunting – but when it comes to travel insurance, understanding exactly what you have signed up for is crucial. You may need to upgrade your cover to include expensive items such as laptops or cameras, or adventurous sports such as rafting, diving or quad biking.
For British holidaymakers, it's also important to understand exactly how your cover is affected by the
travel advice issued by the Foreign and Commonwealth Office
(FCO). If you travel to a region which the FCO advises against visiting, in most cases your insurance will be invalidated.
However, we can sell travel insurance that will cover you via
Campbell Irvine Direct
– which will cover travellers in these regions under certain circumstances. For example, Chad is on the FCO's red list (see below) due to security issues and a high risk of terrorism. If you visit Chad and fracture your ankle walking down a sand dune, the insurer may cover this and refund medical care or offer emergency evacuation to the nearest suitable hospital. If a flash flood washes your luggage away, it might be possible to claim back costs. But if your hotel is evacuated due to a terrorist attack – the insurer reserves the right to decline a claim, as this is a direct consequence of travelling against the FCO advice.
Talk to Campbell Irvine Direct
It can take a while to ensure you have the best possible cover, but if travelling to high risk area, it is absolutely worthwhile to invest the extra time. The chances are that if something does happen – even something as simple as a twisted ankle or a lost passport – you will be further from a clinic or consular support, and this is when you will need back up.
Campbell Irvine offer bespoke travel insurance, and their application forms allow you to send them the details of your trip – rather than just purchasing an off-the-peg policy. Unusually, they cover areas with FCO travel warnings. At Responsible Travel we offer trips to over 190 countries – and several of these have regions which the FCO advises against travelling to, so we have partnered with
Campbell Irvine
to provide the most comprehensive cover, wherever you are in the world.
What is the FCO travel advice?
The British Foreign and Commonwealth Office (FCO) is a government department which represents Britain overseas, and is responsible for foreign policy. If British citizens get into difficulties while abroad, the FCO may be able to offer help and advice.
Travel advice for each country is published on the FCO website. This includes general safety advice regarding crime and terrorism, as well as natural disasters such as hurricanes and earthquakes. We always recommend reading this advice before travelling to any destination, no matter how close to home – this is an extremely useful resource for travellers, with advice on every country all in one place.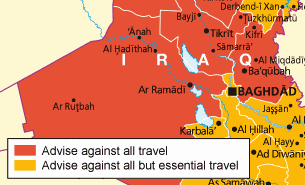 FCO Iraq map example from Feb 2016
The FCO also publishes official travel warnings, which are usually shown on colour coded maps.
Green areas have no warnings (though you are still recommended to read the travel advice), yellow areas are where the FCO advises against "all but essential travel", and red areas "advise against all travel". It is rare for an entire country to have a warning; instead, many countries have red areas close to international borders or in regions where trouble has recently occurred. It is therefore important to check the itinerary of your planned holiday to see if it visits any of these regions.
Ultimately, as a British citizen, travelling into an area which the FCO advises against is likely to invalidate your travel insurance, unless you have taken out a specialist policy such as those offered by Campbell Irvine Direct.
How up to date is the advice?
While travel warnings seem to be put into place very rapidly following a natural disaster or other incident, they may take time to be removed. For example, a yellow travel warning was issued for the regions of Nepal affected by the April 2015 earthquake. Despite many routes opening again in November of that year (albeit with some disruption on parts of the trails), as of January 2016 the warnings were still in place.
It is also likely that the advice tends to be more cautious in countries where the British government has no consular presence – partly because of the difficulty in obtaining accurate, up to date information, as well as the lack of support for travellers who do experience any problems.
Do political influences affect the FCO advice?
In our opinion, we think that this happens in certain instances. For example, despite publishing a number of unofficial warnings about travelling in Israel (including rocket fire from Gaza, issues along the Egyptian border, violent protests in Jerusalem and attacks on vehicles – and a general warning about the security situation being "tense and unpredictable") – the only official FCO travel warning here is for Gaza and along the Syria and Lebanon borders. Likewise with Turkey; despite recent troubles, only the Syrian border is marked in red.
Do all countries issue the same travel advice?
Not always. Even some countries that you would assume would have similar views can differ wildly. Australia's Department of Foreign Affairs and Trade performs a similar function to Britain's FCO – but the advice is very different. For example, the FCO's advice for Nepal focuses on two small trekking areas which were affected by the 2015 earthquake. Australia, meanwhile, has blocked off the whole of the southern region within around 50km of the Indian border – due to the risk of protests and fuel shortages. These areas were not affected by the earthquake.
On the other hand, the US Department of State has issued a general Nepal travel warning following the earthquake, but has not specified which areas to avoid.
At Responsible Travel, around half of our travellers are from the UK – anyone residing in other countries will need to check their own government's travel advice and terms and conditions of their insurance in the case of travel warnings. And make sure you purchase the correct insurance which covers you for the region you are travelling in.