Stephen Fabes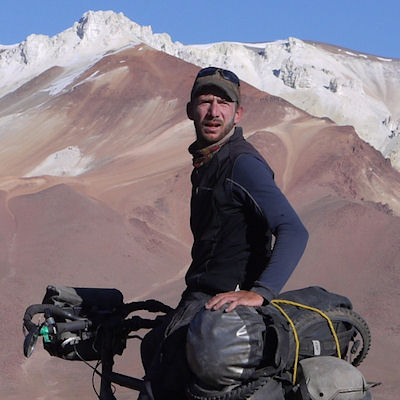 Medical doctor Stephen Fabes is back from a six year cycling trip across six continents. Here he talks to Responsible Travel about ignoring the 'doomsayers' who stood in the way of him setting off from London to achieve his dreams, plus the time a Syrian family threw an impromptu birthday party for him in the desert, setting up a sheet-tent in the garden for him! His dream is of 'more cooperation and less polarisation' for our world in the future and for him personally, another trip perhaps, but this time he hopes to swap the bike in favour of a boat, kayak or raft!
Stephen Fabes interview
Where's home?
Oxford, UK
Tell us about yourself. What inspired you to first embark on your epic journey?
In 2009 I was working as a medical doctor in a big London teaching hospital. I loved my job, life was easy to enjoy and chugging along. But one evening in a pub I took a pen to a mini-atlas and sketched out a route around the planet, and across six continents. The plan: bike it all. I was set on an adventure, a new challenge and a more simple life for a time, the bicycle seemed the perfect way to explore the world in a bit more detail.
What's your first ever travel memory?
Though my plan was born in the pub, the idea took root years before, in a desert on another continent. I was 19 years old, my brother was 17, and we were looking across the dunes at Arica, a town in northern Chile, our final stop on a five month journey northward from the southern tip of Patagonia. It was a massive misadventure looking back – we ran out of money and food and relied on local people to help us. Our bikes broke because we didn't maintain them. We fought, failed often, cycled hard and loved it.
Describe yourself in three words?
Succinct, if required.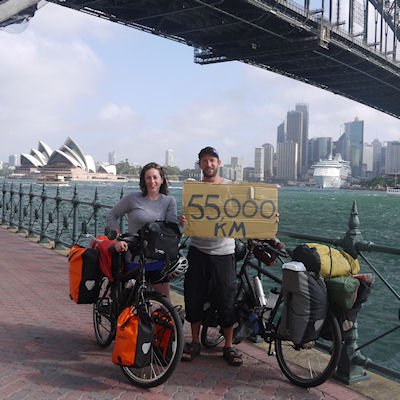 What do you dream of for our world in the future?
More cooperation and less polarization and bigotry. A fairer spread of wealth, access to healthcare and education. Teleporters would be cool.
What's been the biggest challenge you've faced on your journey?
Only four months in I had swelling and pain in my left knee. A scan revealed two centimetres of cartilage had spontaneously broken from my femur. I stashed my bike in Istanbul, hitch-hiked 3000 miles across Europe for surgery. I spent two months in London recovering. It was the only time I returned home. My whole dream felt in jeopardy, I was sure this problem would recur or fail to heal well. In the end I managed to continue, and the knee was still turning 80,000 kilometres later.
Where's the best place you've woken up?
On a terrace in the Christian monastery at Ma'loula in Syria, about six months before the country spiraled into war. The view over the terrace and cliffs was outstanding, and I could hear the monks praying: some of the only people still able to speak the ancient language of Amaraic, the tongue Jesus would have used.
Is there one person you've met who you feel you were so lucky to connect with?
I can't single any one person out, but of all the people I met, my riding companions were the most special, especially since my life on the road usually held little prospect of familiarity. Nyomi Rowsell in Africa, Claire Press in Australia and Indonesia, and Oli Davy in Georgia.
Has anyone ever told you that you won't make it?
People often liked to explain that a road I had in mind was too something: too rocky, too dangerous, too steep, too cold, too impossible! I tried to ignore them. If I'd listened to the doomsayers, I probably wouldn't have got much further than France.
Tell us about a time when you felt like walking away from your adventure?
I never did. There were low points: times of cold, hunger and loneliness, but I quickly learnt that those times never last. Persevere and things will pick up (and if they didn't, home was only ever a couple of flights away).
What keeps you going if you ever feel like giving up?
Confidence that things will improve. The fact that you quickly forget pain and the other ill effects of pushing yourself afterwards. Visits or messages of support from my family and friends.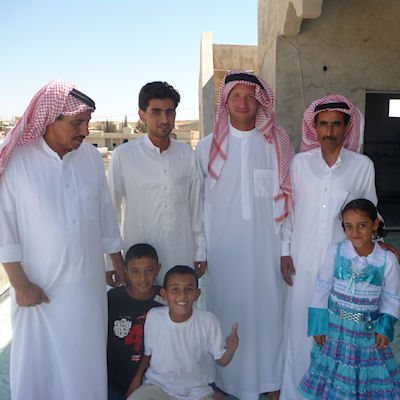 What are you most proud of?
Taking the risks, and making the sacrifices required, to realise a dream.
What's your happiest travel memory?
A Syrian family throwing me an impromptu birthday party in the desert, which involved dressing me up in Arabic clothes, inviting all the other villages round, and putting up a sheet-tent for me in the garden.
What's always in your bag – no matter what adventure you're on?
A book, or seven.
What do you still dream of doing that you haven't yet done?
Some kind of rafting, kayaking or rowing boat journey would be great.
Where would you like to be right now?
I'm at home. I got back from a six year bike ride two weeks ago. So right here is perfect!
Read more about Stephen's adventures on
his website
.