Overland holidays travel guide
---
2 MINUTE SUMMARY
Perhaps the definitive 'road trip', an overland holiday is a chance to explore multiple countries across a continent or region within one epic itinerary and then discovering more about them individually by road – usually in an enduring, but very comfy and well kitted out truck that's been purpose built to conquer all kinds of conditions and cover very long distances. In essence, an overland journey is an adventure from point A to point B that you share with a group of likeminded travellers in a vehicle, and this style of holiday is popular for many reasons, not least because continents are huge and made up of very different, but equally remarkable countries that are often quite simple to combine. Travel by road (or railway in the case of the Trans-Siberian) is a chance to cross borders and boundaries that can only be tackled by hardy vehicles and gives you the opportunity to really get under the skin of scenery and civilisations that would be inaccessible by any other vehicle other than that specifically built for overlanding.
What does an overland holiday entail?
---
Group sizes, expedition trucks & lodging
An overland holiday is a really good fun, sociable and often money-saving way to see a lot of a continent over an extended length of time – not just in terms of the phenomenal variation of landscapes you'll see, but in terms of the local culture and buzzing city life you'll come across in each country you visit too.
You'll travel with a group of equally intrepid travellers, in group sizes from as small as four to as large as 20 people. Most overland tours are carried out in a self-sufficient expedition truck, which has been purpose built to carry everything you need and be really comfortable too, with water tanks, cooking equipment and fridge-freezers on board, plus plenty of room to stow luggage, high, cushioned seating to allow great views, and plenty of leg room. But others incorporate public transport, classic train journeys – and even the odd flight to cut down on some of the longer driving stints.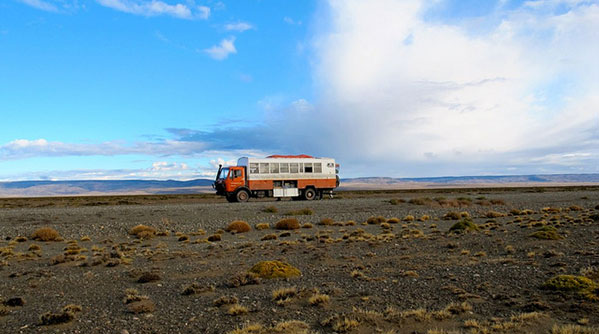 The trips are all about staying in the thick of the action, so it's common to camp out in the wild, or stay in a selection of locally-owned hotels and lodges or in multi-share accommodation. Some trips are more participatory – with travellers taking it in turns to cook or shop for provisions, while others let you kick back with your book or camera while cooks take care of your meals and the washing up. A huge emphasis on any overland holiday is to do as the locals do, so the ingredients that you use and the fantastic mix of dishes you try will vary from country to country – something which is particularly noticeable for trips which border-hop so frequently.
Most trips are run by a minimum of two tour leaders (both western and local leaders are used) who are highly informed and passionate about the part of the world you're in and can provide lots of exciting ideas for things you might like to see as you travel. In addition, local guides will join you at sites of interest en route to ensure you get the very best local knowledge and can get the most out of your activity.
An overland holiday doesn't come without challenges – tours take at least three weeks and will involve some lengthy travel days; you'll need to be good at sharing your space and time with other people; and you should make peace with expecting the unexpected, but no other style of travel allows you to get to grips with the sights and sounds of so much of the world in one holiday.

Hello.
If you'd like to chat about Overland holidays or need help finding a holiday to suit you we're very happy to help.
Rosy & team.
01273 823 700
Things to do on an overland holiday
---
WHAT TO DO ON AN OVERLAND TOUR & WHAT NOT TO
Things to do on an overland holiday…
---
Trek the Inca Trail. South America's most iconic trek is a fascinating journey and a destination in itself, peppered by a plethora of natural and cultural rewards. You'll dip between looming windswept tundra to hot and humid cloud forest along the inimitable Andean landscape, but the fascinating hidden ruins you'll discover along your path to Machu Picchu, and the priceless opportunity to get lost in Quechua villages and customs are worth their weight in gold too.

Make the most of the local guides. No one knows the quirks of a country better than those who live there, from the Quechua porters on the Inca Trail to the Thai hill tribes whose homes you share or the villagers who pole your canoe through the waters of the Okavango. What's more, responsible tourism provides them with a sustainable income – and may mean people can choose to remain in rural areas, rather than migrating to the cities in search of work.

Unleash the adventurer within. At the very core of any overland trip is an palpable sense of adventure – trekking to the top of a soaring Andean mountain peak, or becoming spellbound by massive glaciers at Patagonia's Los Glaciares National Park; standing before the one-mile long rushing cascade of Victoria Falls in Zimbabwe; or boating along Indochina's Mekong Delta – an overland trip is a sensory overload of adventurous experiences, so throw yourself in at every available turn.

Things not to do on an overland holiday…
---
Worry about your schedule. On trips of three weeks and upwards, covering a lot of distance over varying terrain and through a mixture of weather patterns, the first thing on your packing list should be your patience. There might be a delays; the truck might need some maintenance; or it might take longer one morning to pack up and move on – of course, it's just as likely that nothing will happen and your itinerary will run like clockwork, but the nature of overland travel dictates that not everything can be planned and mapped out by the minute.

Treat Africa or South America like countries. One of the best things about an overland tour is really discovering that each country, no matter how similar to others it may seem on the surface, has sights, sounds, tastes and smells entirely of its own. An overland holiday is about recognising that a continent isn't greater than the sum of its captivating parts.

Be antisocial. Overland trips tend to last a minimum of three weeks – but some of our longer itineraries can be six-month odysseys. You'll be sharing a truck or train carriage, maybe even a tent or dorm, and while there is free time factored in, this is not the kind of trip for those who like lots of alone time. Camaraderie really makes these holidays for a lot of people – and they are popular with solo traveller for that very reason. So much in, share stories around the campfire – and make new friends, as well as lasting memories.